Burial Chamber – Full Review
Burial Chamber is a Haunted Attraction located in Neenah, WI.
500 North Lake Street, Neenah, WI 54956View All Details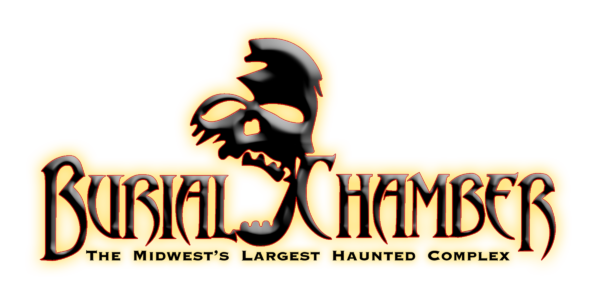 Features:

Free Parking, Paid Parking, Restrooms/Porta Potties On-Site, Food/Concessions, Gift Shop/Souvenirs, Optional Games/Midway, Uncovered Outdoor Waiting Line, Indoor/Outdoor Attraction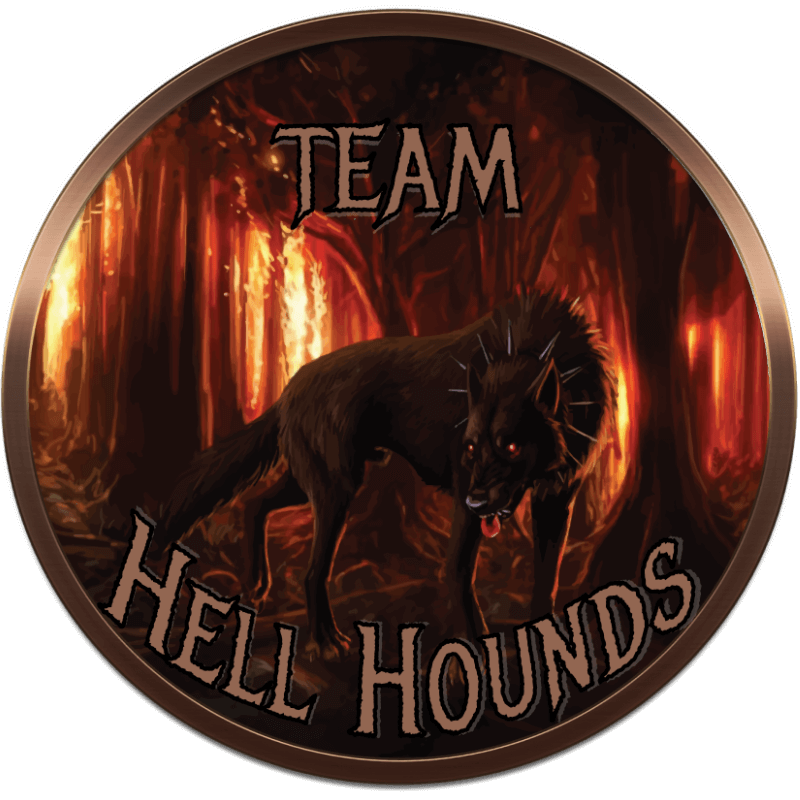 This attraction was reviewed on October 13, 2023 by Team Hell Hounds.
---
About Our Reviews and Rating System
---
Final Score: 8.81
Final Scores – By Category

Final Scores – By Attraction

Summary:
Burial Chambers, or BC for short, advertises itself as 'The Midwest's Largest Haunted Complex.' Here, you can find four haunted attractions all at one location. During our time here, our Team sadly only got to experience both indoor haunts, 'Adrenaline' and 'Insanity.' Unfortunately due to the heavy downpour on our visit, they had to close their customer-favorite outdoor haunt 'Phobia Haunted Woods.'
This attraction is typically open every given night during the operating season, so it is rare to experience both indoor haunts on a given night. Usually, they flip one indoor haunt per night while the Phobia outdoor haunt is almost always open. This was both a blessing and a curse, as we experienced some of our best indoor haunts to date, while unfortunately having to forfeit the outdoor haunt. While they could run all three actor-filled haunts in a single night, not running the all haunts gives BC the ability to showcase a large number of actors inside each open attraction to enhance the guest experience.
Aside from the three main haunted attractions, BC also has the 'Trapped Buried Alive Experience.' In Trapped, you get a fully immersive experience to feel what it would be like to be buried alive. This should be on your agenda if you stop by. This experience has a whole back story with other immersion effects to amplify your time to justify adding this to your ticket option. They fill the room with plastic balls more than needed to really showcase what it feels like to be buried and become immovable. If you are claustrophobic, we still recommend giving it a shot, but this is the true fear of being alone, limp in darkness for what feels like forever.
After completing the array of haunts and experiences, be sure to check out the well-versed gift shop located on the property. Here, you can find a wide variety of BC-themed merchandise with which to reminisce about your experience as you part ways from this complex of horror.
If you do not want to leave quite yet, be sure to try out the 'The Hunt I Spy Experience,' which is only a few seasons old. In The Hunt Experience, you play a real-life game of I Spy. This is something we have never seen before anywhere, even outside of the haunt world. Our Team felt this was almost the highlight of the night. It is something worth trying to experience as it is still so new and unique compared to anything offered anywhere else. It breaks up the scaring aspect and throws you into a whole new activity that is just as good as the haunts they provide on the grounds.
We HIGHLY recommend giving The Hunt a shot and adding it to your ticket. They even offer a free Quick Pass upgrade if you can beat the goal in time! This can be used the same night or carried into next year if you already have a Quick Pass Ticket purchased. If you have not already done so, be sure to snag some pictures with the queue actors or grab some food from one of the multiple stands.
---
Cast Score: 8.74
Cast Scores – By Question

Cast Scores – By Attraction

Cast Review:
In Adrenaline, the actors did a very good job in creating that old-school haunt style of attack by being in our faces. Many of the actors tended to use less dialogue, but more screams and short phrases to keep the adrenaline high for customers passing by. During each scene, it was clear that the actors were portraying what they needed to do. You will find many actors not standing around, but located on top of decor to help amplify their attack on unsuspecting victims.
Insanity had its own unique actors that complemented this haunt. We noticed that the actors engage in more improvised and personalized dialogue based on the group entering the room, creating a unique experience. This is achieved in a few ways, such as encountering a male stripper, a fetish-like cat lady, or even the psycho clowns inside.
In both haunts, it was evident that actors occupied every crevice located inside. Throughout the experience, there was never a prolonged period of emptiness without an actor to enhance the experience. While both haunts had their own unique styles, we observed actors between both haunts working together and creating cunning plans to attack patrons going through. This ranged from the talkative western bartenders located in Insanity to multiple zombie-like military-themed crew members strategically positioned to surprise you from various angles in Adrenaline.
While we didn't score Trapped as a haunted attraction, we did still notice an impressively convincing role portrayed by the cast member inside. The cast member responsible for this attraction did an excellent job of conveying the backstory of miners being trapped in a cave. She embraced her role as portraying a member of the rescue team and guiding you to the location of the trapped miners by first visiting the elevator. During our time inside, the actor adeptly displayed a range of emotions, including seriousness, humor, and fear. Since this is not a traditional haunted attraction, it was not filled with many actors, which is not necessary. Having one actor who carries the story throughout is truly all you need.
---
Costuming Score: 8.89
Costuming Scores – By Question

Costuming Scores – By Attraction

Costuming Review:
In an attempt to keep our blood pressure down in Adrenaline, we noticed many actors being well put together by the use of airbrush-style makeup. We also came across actors with a variety of masks that fit their roles perfectly in the haunt. It could be that since this tends to be a much darker lit experience, we did not notice anything above and beyond most actors inside — but the times we really could see an actor up close, we could see the theming head-to-toe, through and through.
We tried to keep our sanity intact in Insanity, but it was a bit difficult, as we saw a bit more above-and-beyond detail in the costuming. A bit more creative freedom showed through in the crazy clowns and unique characters, like what could be imagined when thinking of an insane person. This haunt was more well-lit in areas so we were able to appreciate the more creative outlook in some of the characters, with good use of masks and makeup combined with unique attire to give its own insane look.
For whatever reason, the most memorable cast member we can recall from this attraction was the fetish-themed cat lady who just gave such a creepy vibe to patrons passing by. This was nothing over-the-top themed, but something you don't see in a traditional haunt and it gave the impression of a much higher intensity experience where boundaries may be crossed compared to others.
During our time here, we noticed some of the most impressive queue actors to date. Here you will see a few of the most detailed custom works of art in the costume designs. We were blown away by the creativity and appeal of the robot-mixed Mad Max actor with glowing orange eyes, as well as the demonic tooth collector lady. Hands down, these were some of the best and most unique queue actor costumes we have seen. We did not see this level of detail put into many of the actors located inside the haunts, but each actor inside was appropriately completed in their respective roles' costuming.
---
Customer Service Score: 9.74
Customer Service Scores – By Question

Customer Service Scores – By Attraction

Customer Service Review:
Locating BC is relatively straightforward, as it is just a few minutes off the I-41 freeway. When looking for parking, there are signs indicating which lots to use and which ones not to use. Once you are at the designated parking lot, staff members guide you using light-up directional sticks into staff-selected parking spots. We parked on a semi-flat gravel lot.
When navigating the grounds itself, BC has multiple signs to direct you where to go for attraction entrances. While there was a ticker booth on site that we passed when we parked, we didn't see any signs to guide us back there, so we had to rely on our memory of its location when we initially entered the parking area. We also discovered that it was somewhat challenging to locate the Quick Pass line entrances for Adrenaline and Insanity. While there are signs, they are considerably smaller in size compared to the General Admission entrance signs, making them easy to overlook.
Some people may consider Neenah, Wisconsin to be unsafe, while others may disagree. However, while we were in town and on the grounds, we did not feel any sense of danger. We heard 'stories' from friends and families who had visited the city, but after our own visit, we felt safe from arrival to departure. We did not observe any security or police presence, which is typically found at other haunts we visit. We were unsure if some staff members might also serve as security without it being immediately evident. When inside, we did notice that Insanity had a few wet sections due to the heavy amount of rain that day. Staff informed us about this before we entered the haunt, and we didn't consider it to be a significant slipping hazard once we went through.
Any and all staff members we encountered were extremely friendly and knowledgeable. They all gave off the impression that they were very happy to have customers, even on a busy Friday night with lots of rain. All staff had smiles and appeared to love what they do, seemingly more than just working for a paycheck. As we spoke with various staff members, we could hear the enthusiasm in their voices, revealing their passion for working at this outstanding haunt.
Although the actors inside the attractions understandably may not always smile, we could genuinely see the effort put in by each and every cast member dedicated to their role inside. When we were at the Hunt Experience, we were in awe of seeing the faces light up of staff members operating this experience, as they explained their work and how this specific attraction works. Furthermore, when we asked a question to a queue actor, they still provided the answer we were seeking without breaking character.
If this is your first time visiting, do not panic as BC has a website with many answers you may be looking for. Despite not being the most eye-catching website, it is still easy to find any info you want. The website provides information on tickets, hours, attraction info, and an FAQ page. While it covers the basics and more, finding information about their weather operation or parking may require a bit more scrolling and reading, as it's not front and center for you. It does take a bit more scrolling and reading but if you look, you will find this information as well.
This haunted complex is open rain or shine, so don't get deterred in the event of rain because they even offer free ponchos if it's raining. BC also has a handful of YouTube videos, such as a preview video. They also have an online merchandise store if you did not get a chance to pick up any souvenirs from your visit.
---
Immersion Score: 8.92
Immersion Scores – By Question

Immersion Scores – By Attraction

Immersion Review:
While waiting for the attractions, we found an above-average amount of queue actors roaming the midway area and among the victims waiting in line before stepping inside the haunts. On top of seeing some of the most outstanding queue actors, we were accompanied by not one but three projectors showcasing a plethora of haunt-filled videos. These three separate projections appeared noticeably smaller compared to other haunts that also incorporate this pre-haunt addition and the audio level is often drowned out by the multitude of customers talking amongst themselves in line. It remains a valuable addition nevertheless, providing multiple sources of entertainment to alleviate wait times.
We chose not to score a storyline for both the haunts we experienced because no storyline was provided before entering the attraction or on the website. Adrenaline does align with the description posted, as it is an old-school jump-in-your-face haunted house, which was certainly the case.
They presented a variety of scenes that transitioned from one section into another, incorporating different styles of sets, including what appeared to be a military compound base at one point. This is also true for Insanity, which is described as an interactive haunted house. During our walkthrough, we noticed this to be the case with the creepy psychotic clowns, western-themed bartenders, and much more. This haunt incorporated many interactive aspects from props, slanted rooms, special effects, and more which match the description posted on the website.
While immersed in each indoor attraction, we saw very well-detailed rooms from start to finish. When we entered the clown area, we very much knew what the theme was, which carried over into every section of the haunt. Our Team felt that the haunts had wider walking paths than others we have visited. We felt the level of detail of the haunt was not as high as in the larger show scenes or smaller corridors. When walking in these larger pathways, it seemed that transition points were less detailed from ceiling to floor. However, at times we were thrown into some incredibly detailed rooms, from top to bottom, and in some small walking paths… even to the point of being squeezed three separate times through inflatable hugging walls.
One of the things BC excels at is keeping you within the grounds. This is a nice feature in contrast to many other haunts that simply usher you to the parking lot. Here, after you finish both indoor haunts and the Trapped experience, you exit through the same door of the facility and descend the stairs in front of the gift shop. This exit point also leads you back to the midway, where you can encounter roaming queue actors, find multiple food/drink stands, and enjoy other activities like The Hunt I Spy game, all designed to extend your stay. This logistical design is exceptionally well executed.
---
Special FX Score: 8.69
Special FX Scores – By Question

Special FX Scores – By Attraction

Special FX Review:
Special effects at any haunt can really amplify the customers' horror experience. BC did a very good job of this throughout. Following our experience of both indoor haunts, Insanity had a more diverse use of special effects. In Insanity, you will encounter multiple inflated hugging walls, a vortex tunnel, and various other special effects. Insanity also excelled in constantly maintaining an atmosphere of unease and discomfort, achieved by having rooms slanted and at various angles at times.
Between both haunts, there was a strong focus on actor-driven scares, but BC also incorporated a wide variety of animatronics. These animatronics were strategically positioned in areas that maximized their startle factor. Navigating Adrenaline in its dimly lit environment really caught us off guard at times due to several well-placed animatronics.
It is also noteworthy that BC has incorporated a kind of easter egg in the form of an oddly placed Oompa Loompa. This is something not many haunts do, and it gives a unique touch as patrons can look for it while going through, or to stop and wonder if they had really just seen an Oompa Loompa from 'Charlie and the Chocolate Factory' inside an intense haunted house. To answer that question, yes, yes you did! Try to find the Oompa Loompa yourself when you visit this season.
BC does well in incorporating sound effects throughout the attractions. At times, it does become quieter in select hallways and rooms, but actors make up for this with more dialogue. The moments of quiet still create an eerie ambiance, as you only hear sounds deeper into the haunt or other screams in the distance. Upon entering Insanity, the haunt sounded alive and breathing, which was unexpected but an amazing touch!
Something we generally don't see much is the creative layout of incorporating windows to showcase scenes. In numerous rooms here, we looked past open window cutouts that offered a glimpse of an upcoming room. This played a psychological trick on you, as we saw groups ahead confused about how they were there, while we continued our journey deeper inside the haunts.
Even the actors used this as an advantage by appearing in these windows for pop-out scares or waiting patiently until we fell victim to them soon enough. Overall, BC used different varieties of effects and we were truly impressed by their wide variety. Be aware of where you may be walking in dark spaces, as there are design elements designed to rub up against you to truly creep you out!
---
Scare Factor Score: 8.43
Scare Factor Scores – By Question

Scare Factor Scores – By Attraction

Scare Factor Review:
Being someone who does not scare easily, BC did a great job of throwing me off at times to deliver some great scares. This was done well with the variety of actors, special effects, and use of the haunt layout to their advantage. Just when least expected, a room will reveal a secret door with something terrifying waiting on the other side.
We were impressed with how well the actors delivered scares to everyone in the group we were paired up with. It did not matter if we were in the front, middle, or back; everyone was a target. Hats off to everyone at BC for effectively doing this to truly involve everyone inside to be a part of the experience. The only downside was if only one person in the group might have been on the receiving end of one of the 'wow' scare effects — but don't worry, more terrors always await shortly ahead.
It was hard to see the vast majority of the scares waiting inside. Actors used the sets to their advantage by positioning themselves above us or on top of barrels and other set designs. This heightened the intensity of many scares because we often couldn't see the actors before it was too late. We encountered intense actors running up to us and getting in our faces, which was well done in Adrenaline.
BC went above and beyond executing the scary grand finale inside both indoor haunts. In Adrenaline, we faced an attack by spinning saws, accompanied by large sound effects and air blasts. This is just a glimpse of how it's executed, there's more to it that we will leave to you to experience.
In Insanity, we were attacked from the side by a large common phobia many fear. It threw us off guard and left our heart pounding. Both of these finales we experienced were far better than a typical cliche ending. Any patron going through can appreciate that level of effort.
---
Entertainment & Value Score: 8.75
E&V Scores – By Question

E&V Scores – By Attraction

E&V Review:
Our team spent a total of 2 hours and 30 minutes on the property. Within this time we hit both open haunts, which were Adrenaline and Insanity. It took us a total of 14 minutes and 30 seconds to complete Adrenaline, while it took us 13 minutes and 30 seconds to complete Insanity. Naturally, this time can vary depending on your pace as you walk or run through the haunt.
This resulted in a total walkthrough time of 28 minutes between both open haunts for the night. When considering the price for experiencing these two haunts alone, it is $35 for a 2-event General Admission. This gives BC a $0.80 Minute Per Dollar rating. When compared to other haunts, this rating is a typical fair price for the area.
With our time spent on the grounds, we also experienced the Trapped and The Hunt experiences. These are more attractions you can add to your ticket option. Both attractions are something we highly recommend adding. BC is one of the few haunts that offer an experience to feel what it would be like to be buried alive and The Hunt is something not offered anywhere we know of! We did not score or factor in Trapped or The Hunt, but if you were to add these to your ticket price, the value minute per dollar rating would be much higher as you get a better bang for your buck.
While on the grounds, you will find a gift shop offering a variety of merchandise to purchase. Apart from the main four paid haunted attractions on the grounds and The Hunt, there is not much more to do free of charge. You are welcome to stay, socialize, and grab paid food/drinks, but not much other free entertainment is really offered. Everything you pay for is well worth the money, considering the detail, duration, and experiences provided. We will say that BC does like to keep you around with different forms of paid entertainment, but once you've experienced the bread-and-butter attractions, there isn't much more to keep you around for an extended period of time without spending more money on activities.
BC offers several ticket options when visiting their premises. Before taxes and fees, they offer a 1-Event General for $20, a 2-Event General for $35, and a 3-Event General for $35. For those who prefer to avoid waiting in line, they offer a 'Quick Pass' ticket option to dramatically reduce wait times. The Quick Pass options are priced at $30 for 1-Event, $50 for 2-Events, and $60 for 3-Events.
If you are a true haunt enthusiast and plan to visit their sister haunt 'Abandoned Haunted House Complex,' they offer a Quick Pass bundle for 3 attractions at each location for $90 before tax/fees. It is important to note that you MUST redeem this ticket option first at Abandoned Haunt House Complex, located in Mt. Pleasant, WI. On top of these options, they even have a 'Spend The Night Package' for those looking to make it a multi-day trip. The base price is $235 at a Comfort Suite Hotel, suitable for two people including two Quick Pass Tickets to all open haunted experiences, a night's stay, a large pizza, drinks, a shuttle to BC, and more. If the Green Bay Packers play at home the following day, the price for this package increases.
Be aware that only three of the 10 operating nights this year offer free parking, while other operating nights are $5 for parking. The dates for free parking are October 6th, November 3rd, and November 4th. Paid parking is required on October 7th, 13th, 14th, 20th, 21st, 27th, and 28th. With parking, you have a specified time and date window for your arrival. However, if you are running late on your scheduled night, no need to inform them; just show up as they will still allow your entry. There is a section to be dropped off at if you are using a ride-share app or if a friend drops you off at the horrors in store if they are too scared to stay.
If you are looking for a more intense experience, be sure to visit at the end of the season during one of the blackout nights. This event is available on November 3rd and 4th. During this special event, you will have the opportunity to experience both indoor haunts while navigating in the dark. You will be provided with an LED candle while you brave forward, farther and farther into the darkness.
If you haven't visited this haunt before, you should definitely add it to your list. BC offers a wide range of experiences, all conveniently located in one stop, catering to various Halloween preferences.
---
View Full Score Sheet
---
Pics We Took From Our Visit:
---
---
Have you visited this attraction?
Join ourspookyadventures!
We visit Halloween haunted attractions year-round! Follow us for haunted house walkthrough videos, behind the scenes footage, and more!