Review of Carnegies Millions at Escape Room Pittsburgh Homestead Escape Room
Review of Carnegies Millions at Escape Room Pittsburgh Homestead Escape Room
Review of Carnegies Millions at Escape Room Pittsburgh Homestead Escape Room
Carnegies Millions at Escape Room Pittsburgh Homestead
Carnegies Millions at Escape Room Pittsburgh Homestead is a Escape Room located in , .
145 E 8th Avenue, Homestead, PA 15120View All Details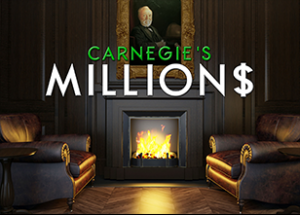 Team Houdini reviewed this Escape Room on August 5, 2018.
Final Score:

9.62
Summary:
This weekend Team Houdini concluded our journey with Escape Room Pittsburgh. It was a great adventure getting to experience all five rooms offered at Escape Room Pittsburgh's two locations. (All of which can be found here.) The finale brought us back to their Homestead location to face their two most advanced rooms The Subway and Carnegies Millions (which was our 2nd experience, and the focus of this review). We heard a lot of good things about this room from other escape rooms we have dealt with. Would it live up to its reputation?
Escape Room Pittsburgh offers 1st generation escape rooms (basic locks and puzzles) in Greenfield and 2nd gen escape rooms (advanced puzzles involving computers and advanced technology) in Homestead.
I had the opportunity to speak with the owner and what really makes Escape Room Pittsburgh unique is that they create all their themes, puzzles, electronics and computer programs, themselves. Everything is unique to Escape Room Pittsburgh. I also spoke with a team member, Blaze, that they have been able to make adjustments to their rooms to accommodate people with disabilities, which is very impressive.
---
Atmosphere & Customer Service:

9.86
Escape room Pittsburgh was easy to find using Google maps and GPS. However, when you arrive at the building there is a small sidewalk sign, and a sign on the corner that could possibly be missed. When you book online, they inform you to park at the Aldis across the street which is convenient. You do not have to park on the street and parking is free.
Once you enter the lobby, you can feel that the building has some history. The lobby is spacious and the front desk has tablets for you to sign waivers on. There were steps to enter the lobby, but there was no wheelchair accessible entry from the front (from what we could see); however, they claim to be ADA accessible on their website, so there may be a ramp at an alternate entrance. The lobby was very clean, as were the restrooms. The lobby had chairs, a couch and café tables with stools.
We were met almost immediately upon entry with a very enthusiastic team member. Since we were early, he directed us to have a seat or embark in some mini puzzles that they had available to help get our brains warmed up.
---
Immersion:

9.37
Carnegie's Millions is set in Andrew Carnegie's study in the 1920's with a unique set piece that was already in the building. Before entering the room Eric went over the rules and provided some comedic side notes of things he has seen people do that we should not do. We then watched a video explaining the theme, history and story of the room. The story explains that Andrew Carnegie hid a gem containing untold powers from the illuminati and you must find it before they do. As with the other escape rooms here, we were provided with a walkie talkie to receive hints and ask for clues. If we were stuck on a puzzle for too long, we would receive a clue to help solve the puzzle. As we were in the 1920's the walkie talkie seemed a good tool for communication.
Once we entered the room, the door closed we found ourselves in a classic themed study. Surrounded by pictures, dark tall wood walls, book shelves, and a fireplace, it felt that we had entered a completely new reality, reminiscent of Clue. Soft, classical music played in the background, as did some old-time jazz music as the story progressed. Lighting effects were minimal, but fit the theme.
Once again Escape Room Pittsburgh's [Homestead] rooms excel at theatric design. The sets were highly detailed; not just a few decorations to fit the theme, but full-on Hollywood sets. The details definitely make the difference between an average room and an exceptional room.
---
Gameplay:

9.34
We ran into one puzzle we had seen before at another location, other than that the rest were quite unique. Impressive, considering that, with five rooms, they were still providing fresh puzzles. The puzzles fit the theme of an old study nicely. There was a good diversity of puzzles throughout. A few red herrings are scattered throughout, but attention to detail is key. Communicating with your team is as important as ever. Letting your team know what you find and see, and doing so appropriately, can be the key to escaping or not. The surprise set piece was one of the most unique sets around, as this theme was built around it. The puzzles were a mix of non-linear and linear puzzles. You could work on multiple puzzles at one time, however they did have to be completed in a certain order to advance to the end.
Eric, our game master, once again did an excellent job of providing us guidance without simplifying the puzzles. Providing a nudge in the right direction or to confirm we were or were not on the right track was helpful.
There were no countdown clocks, but they utilized a system that would announce checkpoints in 15-minute intervals. However, not everyone in our team noticed it. Some people may or may not like this; on one hand, you do not have a countdown clock looming over you, and on the other, some may feel uneasy not knowing the exact time.
---
Entertainment & Value:

9.92
Did Carnegie's Millions live up to the hype? Yes! This one of a kind 2nd-gen room designed around a real life set piece provides an intriguing story, movie quality set design, and stimulating challenges. No matter what your play style is, beginner escape rooms or advanced escape rooms, Escape Room Pittsburgh offers an unforgettable experience in each one that they offer.
The cost is $27 per person, up to 8 people, which is average for escape rooms in the area.
This is definitely a challenge at a success rate of 25%, but a challenge everyone should accept.
---
How Did We Get These Scores