Castle of Chaos Haunted House – Full Review
Castle of Chaos Haunted House is a Haunted Attraction located in Midvale, UT.
7980 S State Street, Midvale, UT 84047View All Details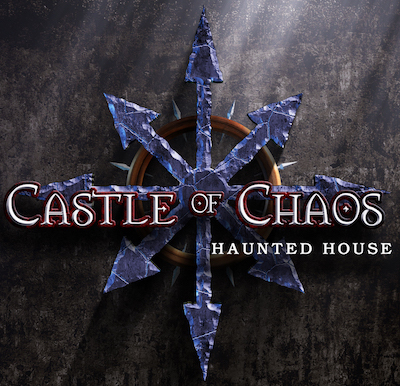 Features:

Free Parking, Food/Concessions, "Extreme" Attraction, You may be touched, You will NOT be touched, Movie Characters, Original Characters, Uncovered Outdoor Waiting Line, All-Indoor Attraction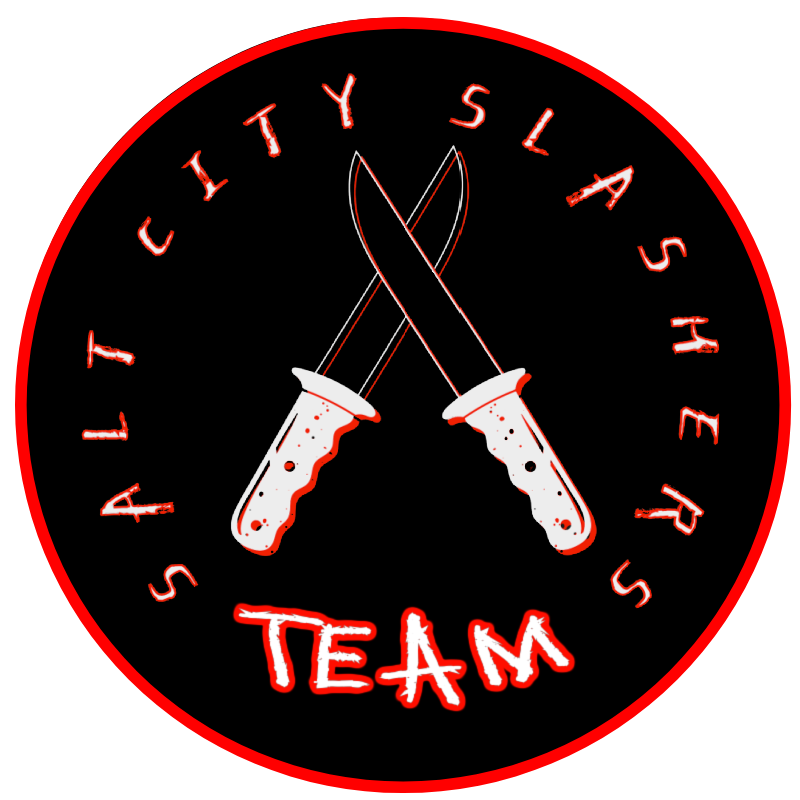 This attraction was reviewed on October 10, 2023 by Team Salt City Slashers.
---
About Our Reviews and Rating System
---
Final Score: 8.84
Final Scores – By Category

Final Scores – By Attraction

Summary:
All we can say is: what a full-on blast! The mystery of Castle of Chaos has brought tears, screams, laughs, and gasps to Midvale, Utah for many years.
Castle of Chaos' pride and joy have always been their actors. Rightfully so, of course. They offer many levels of horror –- from Monsters be Gone for the kiddos to the extreme Krusebel (don't do this one if you value your fingernails and sanity), the variety never ceases to amaze us. Creepy, crawly, ghoulies, and ghastlies …they have it all. Every year's edition has always amazed us, but this year takes the cake, and here's why.
---
Cast Score: 8.4
Cast Scores – By Question

Cast Scores – By Attraction

Cast Review:
They nailed it on the head with variety. With over 10 different themed rooms (but who can really count when you're fighting to survive), the rush is immutably on over-drive. Nothing but highs here, folks.
Executed perfectly, each room had a perfect assignment of scene-appropriate cast members, along with a couple of reoccurring creeps that seemed to crawl out of the walls throughout the entirety of the haunt. Just like in the movies, Ghostface seemed to pop out when you least expected him. Make sure to tell him your favorite scary movie and that the Salt City Slashers say hi when you see him because he *will find you!
They are in your face, they are just out of sight in the shadows, they are behind you, and they will get you. You'll be offered intestines (how appetizing), you'll be sacrificed, you might actually want to kneel and pray when you find the chapel. Just make sure to mind your manners and laugh at the clown's jokes, or else you may meet a gory end on the butcher's block or find out what it means to 'float' down there.
---
Costuming Score: 8.1
Costuming Scores – By Question

Costuming Scores – By Attraction

Costuming Review:
Wow. Just wow.
We can't stress how impressive each room was –- even down to the last stitch on the actor's socks. Where props were lacking, actors blew our minds. Where rooms seemed empty, the level-up on the animatronics slayed it.
Not only were the screams overflowing, but the 'Oohs' and 'Aahs' were plentiful. With the wide variety of looks, from a basic Ghostface mask to the intricate masquerade of blood spatters and guts, I had to keep reminding myself, 'stop staring and lingering, or they're going to get me.'
We found ourselves shouting 'I know you're real!!' to lifeless props. We second-guessed if the wrapped bodies were going to grab us. I can't tell you how many times we tried to spot breathing or maybe even a subtle blink to know which wall to scuttle past against. Not only did we find the perfect Freddy, but every inch of him also felt authentic. If you looked closely enough, you could see the burns inside of the burns and fire in his eyes. Spooky, right?
---
Customer Service Score: 8.95
Customer Service Scores – By Question

Customer Service Scores – By Attraction

Customer Service Review:
Located right off a main road, we were immediately greeted with safety vests and glow wand-equipped personnel guiding us to the next available parking spot. Upon entry, there are friendly faces ready and eager to pull you in.
The hand-made high walls of the brand-new courtyard addition definitely spiked our curiosity while the security staff warned us about what was ahead. After a short wait in line, we were immediately guided to a beautifully staged photo-op area. Friendly staff snapped a shot for us before a short wait at the ticketing booth. And then, blast off.
After being assessed for the number of people in our group, we were led into a very dark foyer-esque area with two talking statue heads reviewing the do's and don'ts of their haunt. The lights dropped, a door was opened, and this is where it got real.
We cautiously crept down a maze of beautifully crafted halls filled with fantastic surprises (we don't want to ruin it for you!). Suddenly, we were outside, and that's when we realized that this wasn't even the beginning. This area was a warmup. My distinct thought process was: 'If THIS is the intro, then we're so screwed.'
---
Immersion Score: 8.2
Immersion Scores – By Question

Immersion Scores – By Attraction

Immersion Review:
The courtyard. This amazing courtyard. I can't stress enough about this brilliance. The streets and the sound of the traffic seemed to disappear behind the tall walls. All we were left with were glimpses of streetlights, the shrieks and shouts of the people ahead of us, and the laughter of the people in line listening in. Within a blink, I was bagged (level 4 out of 5 is intense), and the real terror began.
Being immediately separated from my group (again, level 4 is intense), I descended down and further down into a foggy, dimly lit entrance to an absolutely wild underground labyrinth. This room set the tone for the entire haunt. Spotlights shining through the fog directly at you, whispers in the distance, and only being able to see your hands in front of you will absolutely alert the heebies and jeebies. Hard.
While there is no consistent theme to the entirety of the haunt, each room submerses you in the scene created. While there's a sense of relief by not being forever stuck in the same nightmare, the terror of not knowing what fresh hell you're walking into is greater. Even with being haunted house veterans, this place had my knees wobbly while I peeked around most corners (which I pride myself on being brave enough to not do so) out of pure fright.
---
Special FX Score: 9.15
Special FX Scores – By Question

Special FX Scores – By Attraction

Special FX Review:
You would think that air blasts and shaking boards on the walls would become predictable after so many haunts. You would think that you'd be able to sniff out when the floor could fall out beneath you. You would think that you'd be able to guess what lurks beneath the green laser swamp room or where it might end. In short –- NOPE.
When does the padded suffocation tunnel end? Where the heck is the exit to this seemingly never-ending maze (yes, there is a maze inside an underground maze; is it maze-ception)? With enough room to breathe between scenes and fog, and hallways wide enough to huddle in as a group for safety, we felt that the only thing suffocating was the sheer terror experienced. Execution is crucial in these instances, and all we have to say is, well played, Castle. Well. Played.
---
Scare Factor Score: 8.83
Scare Factor Scores – By Question

Scare Factor Scores – By Attraction

Scare Factor Review:
I think it's safe to say that this place can make even a grown adult tremble. We are proof. We had only become brave enough for level 4 this year, 'X-Scream Hands-on Horror,' and it did not disappoint.
Choked, restrained, moved, and bagged (multiple times) — this level is not for the faint of the heart — even in the lulls and gaps between the people who really, really wanted to eat our brains and drink our blood. I honestly don't think I'll trust turning a corner in a dark hallway for a while.
Making you scream is their passion, and man, you can really tell. Thanks so much, Castle of Chaos, for igniting these long-dormant phobias. We sincerely appreciate every scream.
---
Entertainment & Value Score: 10
E&V Scores – By Question

E&V Scores – By Attraction

E&V Review:
There are 3 different tickets to choose from when attending this haunt. The general admission cost is $25.99, but for only ten bucks more, you can get a VIP pass that skips the general admission line.
But wait, there's more! Within the ticket price is a level system from level 1 to level 4. From Monsters be Gone all the way to X-Scream Hands on Horror, where you can be bagged, restrained, and most definitely separated from your group.
On Saturdays, you can spend $50 to do level 5 (must be 18+), which is only for the most daring customers. It's called Ultimate Hands-on Horror. Whichever pass you pick, be ready for a 30-minute adventure you will not soon forget.
---
View Full Score Sheet
---
Pics We Took From Our Visit:
---
---
Have you visited this attraction?
Join ourspookyadventures!
We visit Halloween haunted attractions year-round! Follow us for haunted house walkthrough videos, behind the scenes footage, and more!