Review of Chamber of Horrors NY Haunted Attraction
Review of Chamber of Horrors NY Haunted Attraction
Review of Chamber of Horrors NY Haunted Attraction
Chamber of Horrors NY
Chamber of Horrors NY is a Haunted Attraction located in Hauppauge, NY.
1745 Expy Drive N, Hauppauge, NY 11788View All Details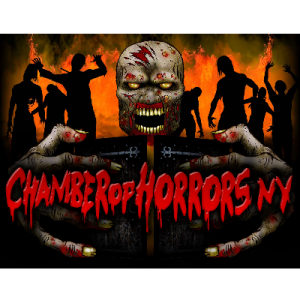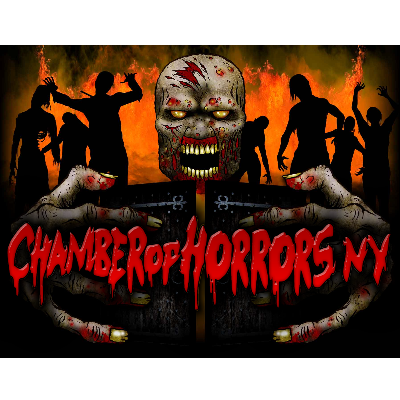 Features:
Free Parking, Gift Shop/Souvenirs, Special Events, Original Characters, Indoor/Outdoor Waiting Line, All-Indoor Attraction
Team Crypt Creepers reviewed this attraction on October 20, 2017.
Final Score:

7.75
Summary:
Get ready to enter a trilogy of terror in this three-part haunt. Split into three separate themes, Chamber of Horrors goes for 3 very different types of things that go bump in the night to scare its guests. Don't be fooled by its party vibe set up by the 2 DJ's and color-changing turntable station, there are creeps inside ready to slice up their new prey and turn you into just another prop. This indoor baseball and activity center transforms into a twisting, twisted path of chaos, where you venture forth into a manor with dark secrets, a darkened maze, and the home of some very ruthless killers. So step up to the plate, because this haunt is gonna send you running home.
---
Cast:

7.5
The cast here is very solemn in their scares, trading out high energy for foreboding scares. The scaractors glare at you as you walk by (usually from behind masks, waiting for their chance to strike. Most of the scares were silent ones from the scaractors, so not much dialogue is used. In its place though is use of surroundings, such as drop portraits or using set layout as a distraction. The scaractors stayed in character until guests left, usually following or at least staring at, guests as they left the room. The twins from The Shining made an appearance, and did an eerily great job.
---
Costuming:

8
Three different themes mean three different types of characters, all with their own unique costuming. The costumes in Maniac Manor were great, all very formal suits and dresses with a form of animal mask. It felt like something straight out of a horror movie, where a small group gets kidnapped and brought to the home of some eclectic rich people who are looking for a new type of prey to hunt. The killers in Slaughter House definitely looked the part, covered in blood and wielding chainsaws. Each theme was distinct, and the costumes made sure you could tell where one ended and the next began.
---
Customer Service:

8
The queue entertainment here is very different than any other we have come across so far on our end. The outdoor queue has a DJ spinning today's latest hits, and inside has a skeleton puppet DJ-ing not only other hits, but interacting with guests. Between random banter and playing "Name That Tune" with guests, he kept things entertaining during the wait. Some local indie horror film trailers also played on a TV screen and a roaming ghoul with a taste for blood would slit his tongue for guests. Parking can be a little troublesome here, since they have a limited parking lot, and the attendant told us there was more parking down the road, and down the road was a highway.
---
Atmosphere:

7.67
Besides the giant monster face, the outside seems more like a party than a haunt. The outside doesn't do much to prepare guests for what is inside. The indoor queue does a slightly better job, with its dim lights and horror trailers, but again the DJ makes it feel a bit more like a party, which is interesting.
---
Special Effects:

7.44
The sound effects matched up with the scenes that they were used in, and sounded good. There were a number of fun effects, ranging from endless hallways/shafts, to a flesh room that looked great. Maniac Manor was very detailed, portraying a sense of richness, while Slaughter House uneased guests as they walked through with its photos of victims lining the walls. The lighting was a bit dim at times, making it difficult to see the scaractors makeup.
---
Theme:

7.62
This haunt is broken into three themes: Maniac Manor, 3 2 1 Blackout!, and Slaughter House. The first stands out above the other two with detailed sets, great costumes, and some fun wall-mounted animatronics. 3 2 1 Blackout! Started as a dark maze and had some optical illusions and movie character appearances, but didn't stand out much. Slaughter House played up the creep factor with its grotesque kills, such as the meat grinder. Each theme was separated and did not blend into the next.
---
Fright Effect:

7.58
Though not the scariest haunt, there is eeriness at Chamber of Horrors. Creatures glare at guests as they walk by, and some fun effects make for some good distractions as scaractors get into positions. For the most part, the scares are unpredictable, except when the scaractor who lurks just in front of you waiting for their time to strike. The ending was creative and the first time we saw anything like it. It was not anything super scary but it was different. I won't ruin what it was here, you'll have to see for yourself.
---
Value:

7.95
The total walkthrough for this haunt was about 20 minutes. Tickets cost $30, or you could get a fastpass for $40 online ($45 at door) which gets you past the line and entrance to its three-minute escape room.
---
Promo Images:
Click to Enlarge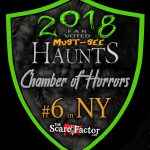 Guest ReviewsGuest Average: 0 out of 10
Sarah – 10/10Challenge Accepted was awesome! Me and my boyfriend were looking for escape rooms in our area, and …show more as poor college students, price was a big factor. Despite being only two small locations in the mall, they have multiple rooms, at 20, 40, and 60 minutes long, with the 20-minute rooms being only $10 each! We've been back multiple times, and loved every one! Staff is very helpful and enthusiastic about their job, and is thrilled to explain all the little secrets after you escape. Will be back every time they make a new room!
Norma – 4/10We visited this attraction on the last night of their 2018 season I believe. We did show up late …show more (about 20 minutes before they closed) and it was dead in the waiting line. Regardless, every group that was in the haunt somehow ended catching up to one another. We walked as slow as we could knowing there wasn't anyone behind us but we still couldn't stay away from the group in front of us. They had one teenage female that was petrified of everything so all the monsters kept taking advantage of it, cornering her every chance they got. They also followed her through multiple scenes that weren't theirs while our group tried to stay behind some and there were no entertainers around because they were all following her. When they would stop and turn around to go back to their base spots (if they even have them there), some of them just walked passed us without any effort towards scaring us. It was a disaster. This chic's name was Lauren and by the time we got to the exit of this thing, we were relieved that we didn't have to hear her name called out over and over and over anymore. She had to of been extremely annoyed by it herself. It took all of the fun out of it. Actors even stopped us in some of the maze portions so the other monsters could entertain their group for quite some time and they would just be staring off into outer space. The only way we knew they could talk is because they said Lauren's name already. Besides that, costuming was mostly store-bought quality. Nothing different to look at here. Scenes were the same. Some looked as if they had been built out there in the woods for years and they've sat through the seasons and no one's ever gone back to touch them up. Parts of the maze where there's a lot of plastic and wood seem to possibly be a danger. We didn't see any actors for quite some time in them bc they were following Lauren and if someone ignited one of these things, I'm afraid it would have taken us a long time to find the exit. Some spaces were very tight for us, if those were to fill with smoke where there are roofs, I don't think that would be good at all. At one point, we didn't know where to go at all so we weaved through these pipe-like things and found a hole and we started walking on this really dark path into the woods. There were props and things out there but 0 lights. Come to find out, it looked like a previously closed portion of the trail because when we got to the end of it, there was no way to get back into the maze. We had to crawl under caution tape to get back in. That right there tells you that no actors were paying any attention to our group. We paid full price for our tickets that night and we honestly should have just passed this place up. We've been here before too and it wasn't that bad. The highlights of the trip were the gentleman that introduced us to the park and gave us the rules before we went in. There was also one clown (Pickles, maybe
?) that actually put effort into scaring us but he was mostly one of the only ones. In one of the mazes there was a chainsaw assailant behind a door and we could hear the saw and see him through the crack of the door but we couldn't get in. When that door finally opened, holy shit! That was the best scare in there for sure! Also, there are places where you will need to duck down, tight corridors as mentioned above, uneven terrain, and a lot of walking (especially if you're bad at mazes) so be prepared for that.
Norma – 6/10Maybe we just went on a bad night but we weren't very impressed with this haunt. We had heard many …show more good things about it and we ended up with a free Saturday night so we gave it a shot. We showed up at probably 9:30 at night. Waited in line maybe 15-20 minutes so that wasn't bad. We really didn't have problems with spacing inside the haunt except for a few times but we were able to slow down and it helped when there wasn't anyone behind us. I will say, there were a lot of unique things in the haunt portion. One interactive set was very different and unnerving. Some of the characters were really into their roles while others were bland. One was sitting on top of a washing machine and he jumped down and we were thinking, "Oh shit" but he didn't do anything, he just jumped at us a little and said, "What?" In the outdoor portion of the haunt it was a bit too dark to see the characters, especially the Creeper. Our favorite part was the alligator! They know how to utilize this now, commonly-seen prop to the fullest for sure! If you are likely to pee your pants, you just might lose it on that one! I would give the house itself a 7 out of 10. Now we were under the impression that the corn field was haunted too. Although it was a good maze, there were three scareactors in it and they were terrible. No lights, sounds, sets, nothing but mud and corn and the dark. At first it was creepy but after we walked and walked and nothing happened, we were aggravated and ready to find our cars. The last actor that we came across could have hidden well since they were in all black but they didn't, they stood in the middle of the trail acting like they couldn't see, whispering to us as we walked asking us if we were customers. Wow. Don't upgrade to the corn if you're expecting a fright in there, it won't happen.