Cheeseman Fright Farm – Full Review
Cheeseman Fright Farm is a Haunted Attraction located in Portersville, PA.
147 Kennedy Rd, Portersville, PA 16051View All Details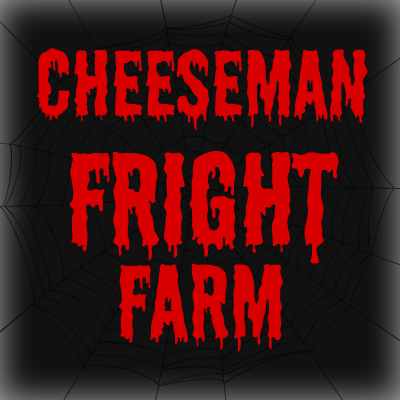 Features:

Free Parking, Restrooms/Porta Potties On-Site, Food/Concessions, Gift Shop/Souvenirs, "Old-School" (Low Tech), Movie Characters, Original Characters, Uncovered Outdoor Waiting Line, Indoor/Outdoor Attraction

This attraction was reviewed on September 27, 2019 by Team Scary Potter and the Hauntwarts Express.
How Do We Get These Scores?

Final Score:

8.3
How Did We Get This Score?

Summary:
You have a giant pumpkin and corn farm, a fleet of hay-lined tractors resting in the barn, and a stable of unemployed, hungry monsters; what do you do? You start a haunted attraction!
At least… I imagine that's how it all went down at an isolated farm in Portersville 20 years ago when Cheeseman's Fright Farm first came into being. (Enjoy your free Denny's Grand Slam, birthday boy)
Yes, back again for their 20th season, the Fright Farm has opened its (barn) doors to the public for another entertaining, moonlit stroll through the cornstalks.
We, Potteriats of a Scary nature, are pleased to announce that this season's version of this haunted attraction is a vast improvement over last season's iteration, so head on down to Portersville, PA for a roll in the hay with a few dozen creepy corn-hustlers…. and stay for the pie.
Always : the pie.
---
Cast: 7.64
How Did We Get This Score?

Excluding brief solicitations from a few determined hangers-on and an overlong rendezvous with a very dedicated chainsaw hooligan, we didn't interact with any cast until the trail portion began. Despite an entertaining monologue from the docking grump, the trail began with some very lackluster boo actors. This front-loaded mediocrity, however, thankfully melted away into a very solid performance by the remainder of the cast.
During weaker seasons, I have lamented about the enthusiasm of Cheeseman's cast, but this year features an overall marked improvement. Truly significant, extended interactions are still sparse, but several of the more talkative Cheesemaniacs did excellent jobs of creatively responding to our prompts. A playful man-child with an ax was the best of these, though a pushy cemetery caretaker, elicited a few genuine laughs through his persistent cannibalistic appeals. Both were able to adapt to our responses quite well.
As usual, our favorite cold-blooded actress was as aloof and charming as ever. Not to hiss and tell, but she was all over me for a few seconds there ' gentlemen, start your jealousy motors.
By a large percentage, the majority of actors that we encountered were of quick-interaction varieties ' startlers, or lurkers ' and there was a pretty uniform zest between their performances (beyond the aformentioned initial disappointment), except for a trio of monsters on the 'back walkway' who strolled past us, largely disinterested. Maybe we were transgressing on an inter-haunt monster date. What do I know?
There was a long disappointing stretch of the hayride during which nothing of note occurred. The situation was made more frustrating by the contour of terrain that we passed through ' our path wound teasingly through row after row of thick cornstalks. Surely something…someone…there, just beyond that creepy… sigh.
Once or twice during the walking path, we would have liked to have seen an additional miscreant or two, but this a much more minor complaint.
Overall, though, the Farm definitely uprooted a quality crop this season.
Also : a special shout-out to the pole sitter. Olympian quadriceps, I'd wager ' excellent dedication!
---
Costuming: 7.26
How Did We Get This Score?

From a critical standpoint, costuming tends to be Cheeseman's weak spot and this year upholds that trend. Many of the boo-scaring monsters retained street clothes, including one individual who appeared to be wearing his normal clothes… and an absurd, fake mustache. This wardrobe decision was either lazy or pure genius.
Admittedly, many of the actors (especially those in the enormous corn maze) portray various relatives of the scarecrow family so it is justifiable for them to be wearing masks and mostly normal clothing, so really only a couple of crouched startle scares stood out as egregiously under-dressed.
Most characterizations were centered around a mask of some kind, but there was a lot of variety presented so as not to seem too repetitive (one season's unfortunate Cult of Black Hoodies comes to mind). A worm-face (that's the best I've got) monster visage and a now-less-vulgar Skeksi mask were two of our favorites.
Little about the makeup or costuming at Cheeseman's is going to blow your mind, but as an adequate and appropriate enhancement to the beasties leaping out of the darkness, it serves its purpose.
---
Customer Service: 9.63
How Did We Get This Score?

Considering the remoteness of the farm (as detailed in Atmosphere), Cheeseman's is not difficult to find. There are multiple parking spotters situated in the parking lot to direct your vehicle to it's temporary home as well.
The giant barn that greets your arrival is well-stocked with souvenirs, sundries, and a vast supply of pumpkins and gourds. On the lower level of the barn (which holds the bathrooms and the main concession area), customers are fair play to the roaming antagonists who will gleefully pursue them throughout the grounds. These transient actors cycle through multiple locations, including the boarding area at the end of the attraction. A second concession building is available a short walk from the main building ' this is a jaunt that one should consider mandatory as it is the sole lair of Cheeseman's delectable pizza creations.
Cheeseman's sheer volume of available options between the duo of available food joints is rarely matched. Likewise, The culinary highlights for us, pizza, cider, and pumpkin pie, represent some of the strongest fare the haunt world has to offer, and has become a much-anticipated tradition.
Parents, don't like haunted attractions but little Billy and Susie refuse to make their beds until they get to visit a haunted spookhouse this season? Drag those brats down to the farm, push them in line, and relax with some delicious din, while they are gleefully pursued by masked assailants. Your stomach will be satisfied, your children traumatized, and the chores will get done. Everybody wins at Cheeseman's!
Jenn and all the other staff we spoke to and interacted with were graciously kind and very helpful. That, too, seems to be a Cheeseman tradition.
---
Atmosphere: 9.45
How Did We Get This Score?

I'm going to interpose my annually-regurgitated praise herein, but I'd like to add in a few additional details for the sake of clarity ' and because our Atmosphere purview has shifted a bit over the years.
Also, as usual, can someone please change the channel on the radio?
'The drive out to the farm is legitimately scarier than 47% of the haunted attractions I've been to. Small, windy, country roads in the middle of an October night have haunting power all alone. Five minutes through this foreboding hillside, you reach the attraction. There may be other homesteads around, but you would never know it.
The main barn-hub is October-perfect, a beacon of Halloween glory. An idealized emblem of the best parts of fall, she welcomes you to her brightly-lit, pumpkin plastered main floor. This is one protected sanctuary against the surrounding darkness. Here, you are safe. Descend below, however…
When you begin the attraction, you start on a pretty unassuming hayride, but as you are towed away, slowly, from the bright pomp of the main hub area, the creepiness begins to settle in. By the time the scaring starts, you have ridden maybe a quarter-mile and watched the friendly, welcoming barn disappear behind you. Cue fear.
Maybe you've been on scary hayrides in the woods before. I'll grant you that. However, remember, you're assuredly working your way further from the barn now ' quite certainly in the middle of nowhere as we finish our hayride and then' out you go. 'Wait, what?' Yes, far removed from any semblance of humanity, you get deposited from your cart and the main section of the haunt begins. It is an absolutely FANTASTIC environment; it really needs to be experienced to fully appreciate. No cars driving by, no 'bright lights/big city (heck, not even a small city)' ' it's just you versus an army of monsters that have been waiting all night to have their turn at you.
Atmosphere? Check.'
---
Special Effects:

8.18
How Did We Get This Score?

Despite being billed as a hayride and trail, the latter's extensive corn maze is the real star here, with this season's version probably representing its best incarnation. Instead of one long meandering maze of maize, it's broken up into segments that are connected by varying interior distractions. Because these interior portions were usually very dark, the alternating sensory shifts between dimness and the strobe-y fog of the corn maze kept us completely off-kilter throughout the entire trail. Likewise, keeping each hazy quadrant of maze somewhat brief kept the effect from becoming boring or allowing we customers to adapt to it. The entire experience was made better for it.
Speaking of these interior portions, they weren't simply trivial detours. Several of our favorites from last season returned including the rumbling walkway and a narrow, black-as-pitch hay bale corridor that proved as disorienting as the exterior fog.
Our favorite interior diversion, though, came near the end, with the already ample maze fog being intensified to white-out volume. Only the faint diffusion of an overhead party-orb's colorful tendrils invaded the rooms pallid uniformity. It was a snowstorm inside a discotheque and we loved it.
Important side-barre : for any customers afore-unaware of proper haunt etiquette, flashing lights inside a spookhouse DEMAND a dance-off. This is colloquial law; violate it at your own peril –roller skates and headbands optional but encouraged.
Set design was somewhat minimal overall beyond the expected corn rows, but this type of attraction doesn't require much scenic supplementation to be effective. Still, the vine room was a fun creation and we really loved the spectral silhouettes that flanked us as we walked along the wooden pathway.
There were also not a broad range of sounds being implemented that we noticed, but at no point did their absence register. What little was employed worked well.
---
Theme:

N/A
How Did We Get This Score?

There is hay.
There is also riding.
Thus : HAYRIDE!!!
Just kidding, CFF doesn't need any stinkin' theme.
---
Scare Factor:

8.13
How Did We Get This Score?

During the hayride, the best scares were provided by two cleverly-placed, LARGE fright-contributors. When those two orange flames first ignite, I still get goosebumps ' still a classic.
As soon as the trail began, however, the Burden of Terror (that's a legal term) fell squarely onto human shoulders.
Most of the character-fueled frights came in the form of quick startles, with an actor hidden in the environment, awaiting customer-prey to drift into his sphere of scare-fluence to spring his snarling trap. Again, as I mentioned in Cast, these began with lackluster disappointment but transitioned into an array of well-placed, impassioned scares.
Though there still weren't a LOT of extended-scares or monster interactions, there were noticeably more this season. Babyman, I'm looking at you.
Speaking of which, that particular child-bro was involved in a well-executed distraction scare, one of several that caught us very off-guard. Rumble Room Romeo's quick emergence (while we were preoccupied with navigating his lair's unstable canvas) was very effective. An otherwise unassuming (if uneven) hallway at the end was the only distraction that a familiar fiend-face needed to politely encourage one of our group to develop heart palpitations.
Obviously, the ambient eeriness generated by the maze-haze and the different iterations of visual impairment contributed to the general sense of unease that made the other scares possible. This, again, was largely thanks to the excellent set design of the assorted areas. In the corn maze, specifically, several human-like props were carefully tucked into between the stalks to confuse our scare expectations.
By their nature, these elements affected our entire group, though the actors skulking within them did a good job of distributing their startles as well.
---
Entertainment & Value:

8.61
How Did We Get This Score?

This year marked a well-appreciated return to form for the Fright Farm. After an admittedly-rough experience last year, this season's iteration is a strong rebound with some excellent trail construction and revitalized actor base providing a good variety of hearty frights. Cheeseman's will never be an over-the-top scare-haven, but that isn't their intention. Their family-friendly (not too TOO family-friendly) vibe has established them as one of the best options for the whole household in the area.
With several good, persistent roaming line-scarers that can emerge from (or chase one into) nearly anywhere on the property, potential victims can never free truly safe, even when succumbing to the siren seductions of the delicious food options. And make sure to lock that bathroom stall! Just kidding…ish.
There is also an unhaunted haybale maze (free with admission) – go wild, kids!
A trip through the hayride and trail will cost you $20 (which is a decrease of five dollars for last year ' hooray deflation!), while a Fright Pass (fast pass) weighs in at an impressive $50. That may actually be the largest regular-to-fast margin I've ever seen; they REALLY want you to play fair and wait in line. Kudos.
Our journey totaled 29 minutes, so the MPD is 1.45, which is a healthy value.
It fills my little reviewer heart with gladness to say that we greatly enjoyed our visit this year. Cheeseman's Fright Farm is a great attraction, operated by amazing people, and we can enthusiastically and honestly recommend that you pay them a visit this season.
' as long as you remember to lock the bathroom stall, man.
Just kidding.
But not.
---
How Did We Get These Scores

---
Guest ReviewsGuest Average: 9 out of 10
Sierra – 10/10 – October 2, 2021Great place! Favorite one I've been to so far!
Tom Greene – 9/10 – October 6, 2018I thought it was better then last year. We went early last year and seemed like everything wasn't up …show more and running well yet. So this year there was more haunters and it was just terrific. We had fun and look forward to next year. That was a good one where you begin in the maze 1 the skeleton was set up in a perfect position and got us good along with the zombie inside the canister/storage which was new this year and the rest of it was great.
Jess – 8/10 – October 15, 2018I havent been here in a few years but tonight I returned and the hayride is a complete dud with two …show more scenes one way to long chainsaw stop and the other you exit the wagon, but the walkthrough is def well worth it and the clowns are also a dud. The employees seem to not understand manners at this place and the clowns without masks on had attitudes. The ones with masks on were creepy they just need to interact more then just stand there. I would def recommend this place for the walkthrough alone because they had tons of masks and many actors!! not cause of the hayride or the clowns or the employees that are rude. We had a decent time!