Circle of Screams – Full Review
Circle of Screams is a Haunted Attraction located in Dickson City, PA.
1911 Scranton Carbondale Hwy, Dickson City, PA 18519View All Details

Features:

Free Parking, Restrooms/Porta Potties On-Site, Food/Concessions, Special Events, "Old-School" (Low Tech), You may be touched, Movie Characters, Original Characters, Uncovered Outdoor Waiting Line, Covered Outdoor Waiting Line, All-Outdoor Attraction

Team Hallowoosh reviewed this attraction on September 30, 2017.
Final Score:

7.51
Summary:
Operated by a high-quality, drive-in movie theater and located pretty much directly behind one of their giant movie screens, The Circle of Screams is brought back to life for their sixth season. How many places get to say they are both a state-of-the-art movie theater and haunted attraction and you can enjoy both of them on the same night?
We found this place entertaining on many different levels. They offer a lengthy hayride up the mountainside, fire dancers and, new for 2017, the Delfino Manor haunted house where they CAN touch you. The owner tells us he is already working on expanding the trail for next season deeper into the woods and it looks like there is nothing but bigger and better going into the future!
---
Cast:

7.83
The first character we encountered was a goblin entertaining the crowd that was waiting for the next wagon ride. He did a pretty good job keeping us on our toes while we anxiously anticipated the tractor to pull around the corner. In a comical way, he let us all know the rules before entering the attractions.
Most scenes on the wagon ride had one actor portraying a famous horror movie character. The girl from The Ring movies comes lurking out of a well, The Creeper from Jeepers Creepers is slicing up body parts and Freddy and Jason were killing teenagers the only way they know how. Actually, the Jason scene was made extra special because of the teenage girl actress portraying the 'catch me outside how bout dat' girl. The Jason actor literally lifted her up by the neck and tossed her a good six feet onto the ground.
Half way through the ride, we were able to get off the wagon and enjoy Cirque de Peur: a five minute long fire dance and juggling show by a few talented clowns. Just as we were applauding the show a slew of other clowns come running out of hiding and attacked the whole group. Quickly we had to get back on the wagon and continue the journey.
I particularly liked the scene with dolls and stuffed animals coming to life. All of the dolls and teddy bears moved a bit like I would expect playful toys would move. Head bobbing left and right and trying to figure out how to move their limbs and also somehow in a bit of pain. The main doll ended up on the wagon and let out a giant scream that seemed to command all the other toys and dolls back to their original resting place.
The actors inside the Delfino Manor were some of the most physical and animated I have ever had the pleasure of seeing. Our favorite was a girl actor playing a dirty baby in a diaper and trying to smear her feces all over us. It is a rare thing for me to see actors do anything that is truly gross. I hardly ever expect to see anything like that at any attraction and more so from an actress.
Throughout the Manor, actors were getting dragged and pushed all over the place and we could only think about how physically demanding this job must be. Every one of the cast we saw put in a great effort to make us feel like something might happen to us.
---
Costuming:

7.38
There was a wide variety of types when it came to costumes and makeup, but everyone was dressed to the full representation of their characters. A good example was their redneck scene on the wagon ride. They had three characters in that scene each with a completely different level of make-up. One hardly had any at all while another looked to have just enough blood all over his face and another had professional prosthetics to make it look like there was a giant hole in his head where high right eyeball should be. This didn't seem to have any negative effect on the guests as they were all cowering away from anyone trying to get close to them. A great use of props at the end of the hayride when they gathered the whole group together to take a photo and instead had a little clown try to attack us with a little chainsaw. It was nothing but cute for a few seconds and then the big hillbilly character attacked everyone with a bigger louder chainsaw and chased us all down the mountain. I can't forget the baby girl in her diaper and hands covered in human fecal matter. The manor had a few doctors and nurses for a few scenes but also had a strong clown presence at the end. This called for a variety of different circus attire and it was nice knowing that they didn't want the costumes to be repetitive.
---
Customer Service:

7.88
The Circle drive in theater has a very big and bright illuminated sign out on the street, so it is pretty easy to find. There is someone posted at the gate that can help you with where to go. They do play movies during the attraction and there are customers who are watching the films while we are parking. I found it a little embarrassing that I had to drive into the drive directly towards the center of the drive in with my headlights on, disturbing all the people that paid to watch a movie in peace, let alone have a big tractor and wagon come rolling by all of them. It wasn't a very busy night since most people were off watching football… but still, there were a few people just trying to watch a movie. It did feel like a bit of a bonus that we could watch the movie while we waited for the wagon.
All of the food a drinks a typical drive in theater has are all provided right there. One thing I really appreciated was being able to sit down on a hay bale with my back resting on the outer beams of the wagon. Don't get me started on how uncomfortable a lot of these hayrides can be. The wagon even had a very safe and secure step down ramp that all of the cast and wagon operator could easily access.
I do have to say that the wait we endured for the Manor was excessive. They only let groups of four or five in at a time, which I can appreciate, but we waited a good fifteen minutes in between groups. I like knowing that I won't bump into the group in front of or behind me and I definitely like not hearing what is happening in the next room before I get to it, but this honestly felt like they were waiting for groups to completely finish the entire attraction before letting anyone else in. I remember riding into the woods on the wagon and seeing people lined up at the Manor attraction. Forty minutes later, we arrive at the waiting line for the Manor and some of the same people were still in the waiting line. It's not uncommon for people to wait for a long period of time at a haunted attraction, but not on a slow night like this. In my opinion, all haunts call for small groups of people to walk through, so I can appreciate the effort to keep the groups small.
---
Atmosphere:

6.83
As a reviewer, I'm never only thinking about what I enjoy because I constantly look around to see how other people are reacting. A thing that kills the atmosphere a little is the fact that I feel we disturbed a lot of the people watching the movies. Although it is pretty nice that we get to watch even a little bit of a new feature film. Just wanted to point out that, on this particular night, the double feature was the Lego Ninja movie followed by IT and I'm still laughing.
A great thing about Circle of Screams is that it's actually on a mountain range, so the wagon does go up and down a mountain side. The feeling of going deeper and deeper up the hills somehow feels more unsettling than just going straight into a forest. The waiting line for the manor overlooks the parking lot that is obviously depleted of greenery and also exposed to the night lights of Scranton, Pennsylvania. If nothing else, the view is spectacular. I can't be sure but it did feel like the mountain played a roll in muting the sounds while we waited in line. We could only faintly hear the scenes from the wagon ride up in the woods and we could barely make out what was happening inside the Manor, even though we were standing right next to it. Since the groups were only coming out of the woods every fifteen minutes or so, after a while, it did feel like something strange and bad might actually happen to us. Once we were in though, it was loud dialogue and banging and screaming. It was hard to understand how we couldn't hear all of this while we waited.
---
Special Effects:

7.41
Circle of Screams doesn't seem to rely too much on effects, as the actors do try hard to put on a great performance. A few effects caught my eye though. The scene with The Ring girl had the famous video playing in the background. The fire dancers choreographed their routine to 'Du Hast' from Rammstein. Freddy Krueger kills his sleeping victim by sucking him into his bed just like Johnny Depp's character. The first room inside the manor has a pentagram glowing on the wall as we all join in a demonic seance. The poop on the diaper girl's fingers got close enough to me that I could tell it was just chocolate pudding and maybe some rice krispies, but the effect grossed me out entirely.
My favorite effect was watching a psycho stab a doctor behind a medical examination table and, with every stab, a spurt of blood came rushing to me face. I would have to say the most important effect was during our seance when we were all shouting 'Awaken this House!' and all of the walls started to rattle before a demon arrived and killed the girl who gathered us.
---
Theme:

7.04
It looks as though the Circle of Screams enjoys using famous horror movie characters since the venue itself is a movie theater. The customers really do enjoy seeing their favorites as well. The very first scene we got on the wagon ride was the Circle of Screams' old showman character warning us not to go deeper into the woods. Some people on the wagon didn't bother to listen to anything he was trying to say and began arguing with each other over whether the character was Gandalf from Lord of the Rings or The Wizard of OZ. Wasn't very pleasurable for me or any of the other passengers, but I think it's safe to say sometimes people just want to associate characters with ones they already know. The Manor itself did not have any movie references that I could detect. The room where we summoned a demon felt like we were also opening a portal to Hell. The story goes that one of the first families to live in the area settled in this house and they were rumored to do some terrible things. Over the years, they all moved on and the house was abandoned. Now it looks as though someone was trying to bring back the evil spirits of the house. Once the demon takes over the first room, we are hit with a bunch of creatures and monsters and, most importantly, evil doctors doing all kinds of experiments.
---
Fright Effect:

7.33
The Circle of Screams wagon ride is a very different show compared to their Manor walk through. The actors on the wagon are able to get on-board and get inches away from your face, there is nowhere for you to go and the characters are completely different every time the wagon stops. So, just when we thought we were tough enough to handle a Freddy Kruger attack, we have to see if we are brave enough to face Jason Voorhees.
In Delfino Manor, the clown that introduced us in warned us that we cannot touch the actors, but they can and probably will touch us. This was news to me and kind of surprising since most places require we fill out some sort of waiver before entering a place that allows their actors to touch their guests. It was hardly any touching at all for me in the Manor, but they did take another girl in our group and pinned her up against the wall while they stabbed an actor right next to her. Watching some of these actors get dragged and thrown around made me feel like something bad was about to happen to me. But, the quietness of it all while we waited was the creepiest part of the night. Looking down into the parking lot and seeing all the people watching the movie and knowing that, if anything were to happen to me, nobody would be paying any attention since they'd be watching the film. Other elements were at play to make the place feel like it was more scary than the what the wagon ride and Manor showed us, and those were frightening enough as it is.
---
Value:

8.4
Ticket prices are $15 for the hayride and $15 for the Manor. Looks like you could even purchase the tickets and watch the drive in movies as well. You choose when to get in line for the ride, but if you wanted to watch the first movie and then get on the ride or finish the whole attraction and watch the later movie then it is allowed. Both the ride and the house will take close to an hour; this is not including wait time, which could be hours. A whole hour of haunt entertainment for $30 give us a MPD score of 2.0. Plus, you have the option of watching a great new movie from the comfort of your own car. All in all, The Circle of Screams can be a great night out.
---
Promo Images:
Click to Enlarge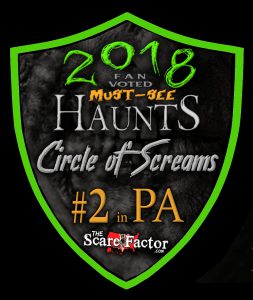 ---
Have you visited this attraction?
Join ourspookyadventures!
We visit Halloween haunted attractions year-round! Follow us for haunted house walkthrough videos, behind the scenes footage, and more!