Cougar Creeks House of Horrors – Full Review
Cougar Creeks House of Horrors is a Haunted Attraction located in Surrey, BC.
12530 72nd Avenue, Surrey, BC V3W 2M6View All Details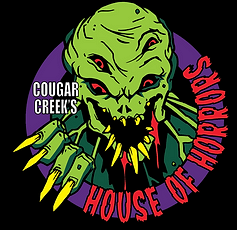 Features:

Free Parking, Restrooms/Porta Potties On-Site, Food/Concessions, Gift Shop/Souvenirs, Optional Games/Midway, You will NOT be touched, Original Characters, Indoor Waiting Line, All-Indoor Attraction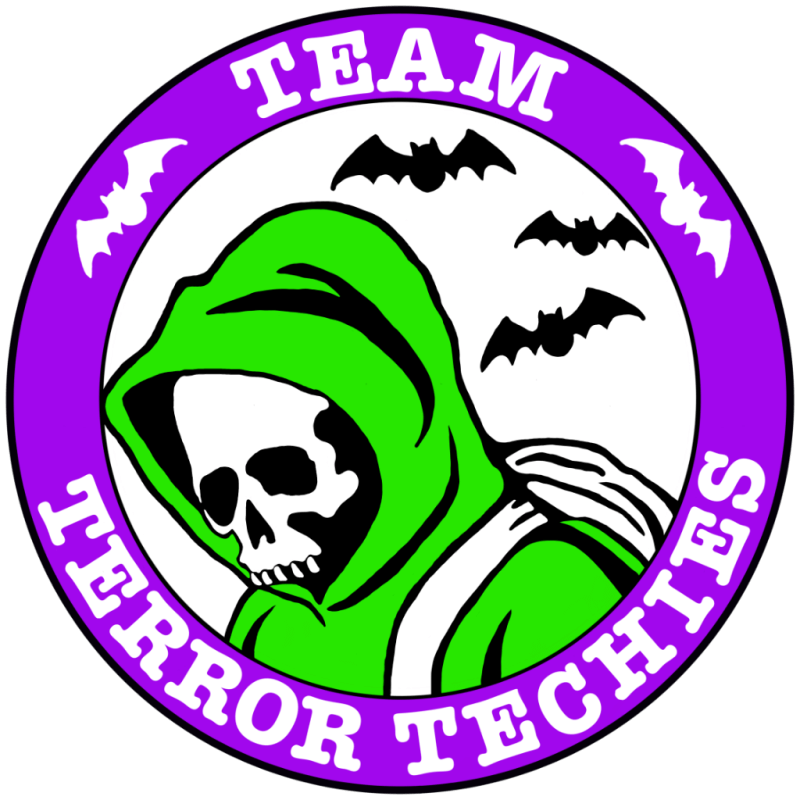 This attraction was reviewed on September 30, 2022 by Team Terror Techies.
---
About Our Reviews and Rating System
---
Final Score: 7.14
Final Scores – By Category

Final Scores – By Attraction

Summary:
Team Terror Techies took a trip up to British Columbia on the first weekend of October. We were excited to be visiting our Canadian neighbors and experiencing one of their haunted attractions for the first time. We were not disappointed. Cougar Creek's House of Horrors is a three-in-one haunted attraction in Surrey, a short jaunt from Vancouver.
Cougar Creek's House of Horrors has three separate themes for this year's attraction: Echoes of Abbath; Zycho Zerkus; and New Year's Evil. Echoes of Abbath is a journey into the bowels of the underworld to fight the undead army of the Dark One. New this year, the Zycho Zerkus has a carnival-like terror within bright and colorful black lit scenes. New Year's Evil is an ill-fated NYE party where guests in a desolate hotel room rung in 1971. When the ball started to drop, so did the bodies of the guests slain by a serial killer.
We were impressed by the details within the queue line and the short performances that the line actors put on while we waited. Within the haunt, we had a fun time and enjoyed what House of Horrors had to offer on its opening night. Continue reading as we detail our visit to Cougar's Creek House of Horrors.
---
Cast Score: 6.45
Cast Scores – By Question

Cast Scores – By Attraction

Cast Review:
We first entered the Echoes of Abbath and ran into a diverse array of characters from military personnel, scientists, and cultists. (Oh my!) While we were going through the military research facility, bodies of the fallen were strewn across the scene. One of the bodies was upside down with its legs vertical up against the fence and its shoulders resting on the ground. As we dismissed this body as a prop, the legs flopped down off the fence to the floor and came to life. It was a unique mannequin scare we hadn't seen before and we enjoyed it. Unfortunately, several actors would attempt to stalk our group but would immediately give up if the person at the back turned around. We would have liked to see the actors attempt to interact more with our group.
Zycho Zerkus was mostly void of actors. The actors we did encounter just lurked behind us for a little bit before leaving us to trudge through the rest of the section alone. We kept looking for more actors to come to scare us but were left to walk the lengthy attraction mostly alone.
The actors in New Year's Evil were high energy and coming at us from all directions. It felt full and their timing and variety were fantastic. The actors that stood out were the group in the "trip room." It was uncomfortable to move through their random jerking movements while they held knives in their hands. We left the haunt pleased at how much the actors had changed in this final section.
---
Costuming Score: 7.23
Costuming Scores – By Question

Costuming Scores – By Attraction

Costuming Review:
We encountered four different line entertainers before entering the haunt. There was a lot of attention given to the details of each of their costumes and masks. Two of the actors, a zombie, Carl, and the sad clown wore silicone masks. Death was wearing a foam latex prosthetic half-skull mask. The masks on all three enhanced the characters. The costume details, like the tattered and dusty tweed jacket on the zombie, felt natural to the characters that wore them.
The costumes throughout all three sections of the haunt were appropriate to their respective themes. A standout in the Echoes of Abbath was an elaborate spider queen whose costume was connected to the scene. As she followed us, the entire scene moved with her. One of our teammates particularly enjoys it when a character's costume is physically tied to the scene. Another costume standout were the characters in New Year's Evil. It was as if the actors stepped right out of the 1970s.
---
Customer Service Score: 9.75
Customer Service Scores – By Question

Customer Service Scores – By Attraction

Customer Service Review:
The website of Cougar Creek's House of Horrors is well laid out, and it was easy to find the information we needed to plan our visit. We made sure to order our tickets online since this haunt has timed ticketing. Our GPS led us to the property and the bright signage assured us that we found the House of Horrors.
There were two attendants in the parking lot. One guided us in from the street and made sure we had purchased tickets online (since they didn't have any available on-site the night we visited). The other attendant directed us to an available parking space. The process for redeeming our tickets was smooth and painless. The line managers were quite personable and chatty, sharing their love of watching people get scared on the security cameras with us.
---
Immersion Score: 7.6
Immersion Scores – By Question

Immersion Scores – By Attraction

Immersion Review:
There were a lot of facades leading up to the queue line that was made to look like a city alley, flooded with neon lights. We found a lot of places for photo ops. We were dropped back into this alley after we exited the attraction. This alley created a Halloween oasis in the middle of Surrey.
We were introduced to four characters before we entered the haunted house. The voiceless zombie, Carl, was the most interactive, often bombing every photo that we took and challenging us to compete in a dance-off. The line actors switched between wandering the line, scaring patrons, and getting up on stage to perform some sketches for the crowd. Death often went to the stage to address everyone waiting in line – foreshadowing what we were going to experience behind the doors of the haunt.
They had a "chicken counter" that kept track of the number of people that left via emergency exits. The chicken counter went off as we waited in line and all the staff and line actors would react to the fanfare that the counter made. There was a short chicken montage that would play on the screen next to the counter as well as music that played.
The flow within the haunt was average in the transition areas between the themes. We were still within the haunt but it kept feeling like we were revisiting the Echoes of Abbath. The transition scenes were well designed but it was a bit distracting while moving from one theme to the next.
---
Special FX Score: 7.37
Special FX Scores – By Question

Special FX Scores – By Attraction

Special FX Review:
The set design was quite impressive. Within Echoes of Abbath, we were snaked through a research facility to overgrown vegetation down to a cave-like underworld. The lighting and sound all complemented these scenes – adding to the atmosphere.
In New Year's Evil, we were surprised to find that there were no blank walls while we explored the remote hotel. There were small Easter eggs littered throughout the scene that genuinely felt as if we were transported to 1970. There were posters of 1970 pop icons, calendars, and newspaper articles right behind the front desk. We were able to peek into the lobby, which was cluttered with late 1960s colors: olive green, orange, and goldenrod. As we visited each room, different songs from the era played overhead. We were able to identify Jefferson Airplane's White Rabbit, Rolling Stones' Paint It Black, and The Talking Heads' Psycho Killer. Each room was a vignette dedicated to different serial killers of the decade. There were references to The Manson Family, Zodiac Killer, John Wayne Gacy, Jim Jones, and the Son of Sam.
---
Scare Factor Score: 6.12
Scare Factor Scores – By Question

Scare Factor Scores – By Attraction

Scare Factor Review:
Now, we get to the big question: Was it scary? Generally, the scares were directed at every person in our group, instead of focusing on the scaredy cat on our team.
Echoes of Abbath had a decent variety of scares, though their ability to scare us varied. Our jumpiest teammate constantly was flinching from the pop-out scares. The rest of our team was startled by some well-timed animatronics and mannequin scares but the scares were somewhat predictable. Zycho Zerkus consisted of a few lurkers at the very start and left us wanting more. The setup was great, but there was very little action from actors or animatronics. New Year's Evil was again the standout in this category – hitting us with different scares that came from every conceivable angle. Having New Year's Evil at the end made for a strong ending and gave a lasting impression of our experience at the House of Horrors.
---
Entertainment & Value Score: 7.08
E&V Scores – By Question

E&V Scores – By Attraction

E&V Review:
Our team took 21 minutes to journey through Cougar's Creek House of Horrors. This is one of the longer attractions we've been to in the Pacific Northwest.
Their pricing is structured to be variable depending on which day you attend. When we went on their opening night, tickets were $29.99 CAD plus GST and tax, which translates to roughly $25.49 USD. This comes out to be 0.78 minutes per dollar, a decent amount under the national average of 1 minute per dollar. The entertainment options outside the haunt were very enjoyable between the gift shop, music, photo ops, and food truck. There was even a mini arcade at the end of the haunt that was a happy surprise to our group.
---
View Full Score Sheet
---
Pics We Took From Our Visit:
---
---
Guest ReviewsGuest Average: 9.5 out of 10
Charles Bancroft – 9.5/10 – October 25, 2023Went in mid October 2023 and it's just so much fun. Canadians don't do Halloween the same way …show more Americans do but we still love that season and this is an "American" style haunted house. Lots of actors and animatronics etc. Our group had a really great time. These dudes obviously put alot of time and care and effort into this event. We go ever7 year!
Join ourspookyadventures!
We visit Halloween haunted attractions year-round! Follow us for haunted house walkthrough videos, behind the scenes footage, and more!