Crawford School of Terror – Full Review
Crawford School of Terror is a Haunted Attraction located in Connellsville, PA.
125 N 7th Street, Connellsville, PA 15425View All Details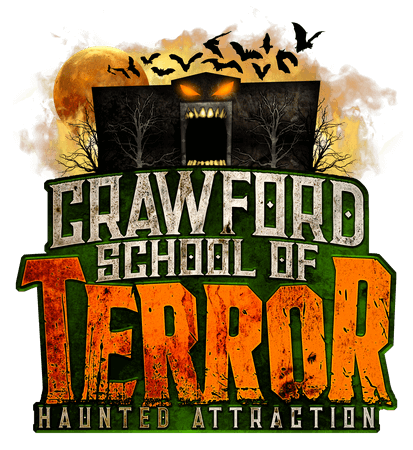 Features:

Free Parking, Restrooms/Porta Potties On-Site, Food/Concessions, "Old-School" (Low Tech), You will NOT be touched, Original Characters, Uncovered Outdoor Waiting Line, All-Indoor Attraction

Team Scary Potter and the Hauntwarts Express reviewed this attraction on September 23, 2017.
Final Score:

7.71
Summary:
Scarier than Common Core and twice as unnerving as cafeteria mystery meat, Crawford's Haunted Schoolhouse is back for its Sophomore semester as Connellsville's go-to destination for haunted learning. Everyone's apprehensive to become an upper classman, but the attentive faculty of this wonderful institute will offer each and every student a level of hands-on assistance never seen in lesser academies. So come on out to the Schoolhouse this Halloween season for a tour through halls that are literally screaming with anticipation of your arrival.
---
Cast:

8.4
The most effective aspect of School of Terror is inarguably its actors. Twenty-two volunteers made up the cast when we visited and they did a good job maintaining the believability of their characters. For such an overall-young compliment of performers, they easily dwarfed our expectations, with the fairer gender posting a substantial number of truly creepy interactions ' including one or two haunters edging toward single digit ages.
Our host was Mr. Thompson, a jovial-enough fellow with a severe case of the giggly-gigglies, but we certainly preferred his company to the overbearing principal that we encountered midway through the attraction. His violent episode, as directed toward an innocent student, was the most chilling interaction of the night.
Overall, we noted an impressive amount of enthusiasm displayed by ALL the actors, as well as many attempts to interact with us in meaningful ways. We would have liked to have had more actors involved in the scenes, as we encountered a few stretches of dead spaces. When an attraction is actor-focused, without any inhuman scares or overly-dramatic set design, dead spaces feel a lot more pronounced. Still, most of the attraction had just enough ne'er-do-wells lurking about to keep things exciting.
---
Costuming:

7.8
On the whole, the costuming at the School was pretty simple, which often made sense, considering half of the actors were portraying students stranded in the wrong place at the wrong time. Of the monstrosities, though, there were a few too many 'mask-and-done' outfits, and a couple of boo-scarers that didn't seem to be wearing any altered garments of any kind (excluding perhaps a bit of make-up ' it was difficult to tell). This didn't distract too terribly, though, because again, even amongst the fouler members of the faculty, the antagonists were largely human(ish).
One creature did stand out, though : depending on which member of our team you ask, he is either 'The Wall Monster' (because he was hiding behind a wall) or 'Scarecrow Gandalf.' Lurking in a dark corner of one of those schools seemingly-endless hallways, his full-body creep suit was both effective and frightening ' particularly when matched with the unique vocal production he generated.
---
Customer Service:

8.5
We had an easy enough time finding the haunt :
'Is that it?'
'It's a SCHOOL…'
'Oh, right.'
` There could have been a better illuminated light, I suppose, but, again, no major issues. A small parking lot was directly across the street. Locating the alternate parking areas may be a bit complicated on busier nights if a parking spotter is not available, though. Several staff members standing outside the attraction directed us into the basement (sure, I always follow strangers into scary basements), and into the line therein.
Speaking of the staff, every staff member we encountered was helpful and friendly.
One roving line-scarer kept us on our toes as we ascended into the haunt-proper, sneaking up behind us as we rounded a bend. There wasn't any additional line entertainment, though, there wasn't any line either. It seems illogical to employ the former without the latter. Still, this single extra-haunt monster was quite effective as far as we could tell.
---
Atmosphere:

7.3
The darkened facade of an old, forgotten schoolhouse signals 'prepare to be scared' about as well as any that I can think of. The attraction is located in what appeared to be a less-frequented part of town, so civilization didn't impose to any noticeable degree. The pallor of the basement may have been a bit too bright and inviting, but the rundown stage, stairs, and even basketball hope hinted at more maligned undertones. Some creepy music would have likely enhanced the waiting area's atmosphere, but the natural ambiance of the location did a sufficient job of stimulating anticipation and anxiety.
---
Special Effects:

7.44
As stated above, SoT's actor's shoulder most of the entertainment burden, so set design and effects are kept to a moderate countenance throughout the attraction. For the most part, this is fine, providing the actors with just enough visual accompaniment to hide, execute their scares, and shuffle the hauntees along. However, segments of the haunt that were largely bereft of actors felt a little too lifeless and dull ' the somewhat mundane thematic location of the attraction (a school) combined with these portions of skimpier set design just didn't quite grab one's attention. They took us out of the experience, briefly. Fortunately, there weren't an overwhelming number of these occurrences and a sudden jolt of adrenaline from a whooping fiend immediately drug us back into the haunt-realm.
The School featured a pair of well-designed bathroom sequences, but the best-designed locations were easily the swamp and cemetery portions ' the former's hazy green mist was executed satisfyingly well, while the cemetery had just enough attention to detail to truly feel like we had stepped out of the building and into a resting place for the dead.
We appreciated that they were able to incorporate a lot of ordinary objects into the haunt in unique ways, especially the 'noodle hallway', which we enjoyed. However, in a lot of rooms, we noticed that a really well-designed set piece ' like a 3-head demon beast astride the ceiling, for instance ' would feel a bit underwhelming due to a lack of 'fleshing out' of the rest of the environment. It seemed like these 'eye catchers' would have been even more impressive as part of a 'busier' set design. The use of common objects did cut both ways, also, as their use sometimes felt like a substitute for more effective alternatives. The spider hallway stood out as being particularly rough, and there were probably one too many same-looking hanging skeletons.
Sound effects and music were used sparsely, but did an effective job. Nothing stood out as being out of place, and there was just enough aural engagement to enhance the attraction.
SoT was light on visual effects, again to focus on actor-interactions, but we really enjoyed a pair of especially creepy, jittering animatronic figures. It's difficult to describe them, but they certainly made an impression ' like humanized cabbages with full-body restless leg syndrome.
They also had the loudest 'Popper' in the history of mankind. I have no idea how they got that thing to generate such volume, but it felt like sitting next to a speaker at a rock concert where the instruments are replaced with corn kernel-filled microwaves.
---
Theme:

8.6
There is a pretty substantial backstory on the SoT's website that is worth a read. Basically, we're in the 'ghost of a schoolgirl' realm here, and there are several nods to the Margaret, the spirit in question, throughout the attraction. This was nice to hear, as haunts often design elaborate plot set-ups and then develop attractions that don't seem to actually incorporate that plot at all. We were really looking forward to our eventual meeting with Margaret at the climax of the attraction ' perhaps some near-cataclysmic showdown where she finally attains her revenge and destroys the sadistic faculty members for good.
Unfortunately, that didn't happen; in fact, we never even got to meet the ghost-of-the-hour. While that was a disappointment, we did appreciate that there was enough of a build up to keep us interested in the plot.
While nearly all of the attraction seemed to logically fit into the thematic motif of a school filled with deranged teachers and staff, it was a bit odd to suddenly be transported 'outside' through a swamp and cemetery suddenly. We recognize the required suspension of disbelief, but it was a bit too abrupt to not go unnoticed.
Still, a school-themed attraction taking place in a…school is about as appropriate an environment as could possibly be attained.
---
Fright Effect:

7.5
As I have been returning to throughout this review, the SoT is driven by the performance of its actors, and that shows up most prominently in the scaring. The haunters are most successful when working in conjunction with loud, physical props or when engaged in prolonged dialogue. A higher-than-average percentage of scarers at the School came equipped with something to slam against the wall or ground ' Crawfordians know the value of a well-crafted tool. This added jolt of pairing a roar with a startling thud generated the best startles by far. Two scenes ' one involving the principal, and the other a cafeteria worker ' were also quite effective. .The demonstration of remorseless cruelty with the implication of 'you're next' really illustrated the malicious nature of the warped faculty quite well.
Other 'boo' scares that we encountered varied in their effectiveness. The School was hampered by a reliance on sliding panel scares, which just weren't executed very well. In one room, two of these occur within a few seconds of each other along the same wall. When the second frame dropped, we could actually see the first scarer just standing in the hallway behind the second scarer, relaxing after his attempt.
There were some decent startles, certainly ' the 'Scarecrow Gandalf' monster's caustic howl from the shadows was very surprising – but overall, that just isn't SoT's strong suit. Eerie forebodings, in-your-face interactions and thumping tools were a lot better executed.
Scares were pretty well distributed amongst our entire group, but, their probably could have been a wider variety of frightening interactions.
---
Value:

6.12
Our trip through the School lasted approximately 12 minutes; the ticket price is $15 dollars, though a 2 dollar-off ticket is available at various local venues to deflate the entrance fee a bit (check the Crawford Schoolhouse facebook for locations). I'll admit that this represents both the shortest attraction we've reviewed, and the worst ratio of minutes of entertainment vs cost (0.8). In the 10 dollar range, I would enthusiastically endorse a visit, but at the full $15, let me recommend getting your hands on one of those 2 dollar off coupons first.
The Crawford School of Terror is an attraction still in its infancy, working through some growing pains, and trying to really determine what kind of attraction it wants to be going forward. This year's iteration shows great promise for the future, and even as it stands now was a truly enjoyable, if brief foray into a haunted realm featuring some really talented volunteer performers. We had a great time visiting and look forward to see what Crawford will grow into. Their ownership has a true passion for haunting and a lot of great creative know-how. The School of Terror is pretty good this year and worth a visit, and will hopefully become even better in the future!
---
Promo Images:
Click to Enlarge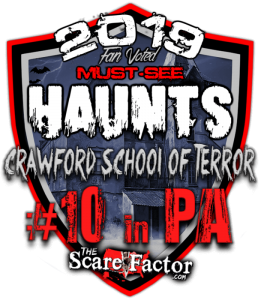 ---
Have you visited this attraction?
---
Past Awards
---
2022 Awards
Scariest Cast (Given by: Team Houdini)
Highest Rated Costuming - TIE - with Hundred Acres Manor (Given by: Team Houdini)
Highest Rated Immersion (Given by: Team Houdini)
Highest Rated Scare Factor (Given by: Team Houdini)
Nurse Enid Bittner - Amy Johnson (Given by: Team Houdini)
Prom Queen - Max Grimm (Given by: Team Houdini)
---
2020 Awards
"Most gravity-defying scene" - Margaret's Room (Given by: Team Houdini)
Scariest Actress - Swamp Girl (Given by: Team Houdini)
Scariest Haunt (Given by: Team Houdini)
---
Join ourspookyadventures!
We visit Halloween haunted attractions year-round! Follow us for haunted house walkthrough videos, behind the scenes footage, and more!