Crawford School of Terror – Full Review
Crawford School of Terror is a Haunted Attraction located in Connellsville, PA.
125 N 7th Street, Connellsville, PA 15425View All Details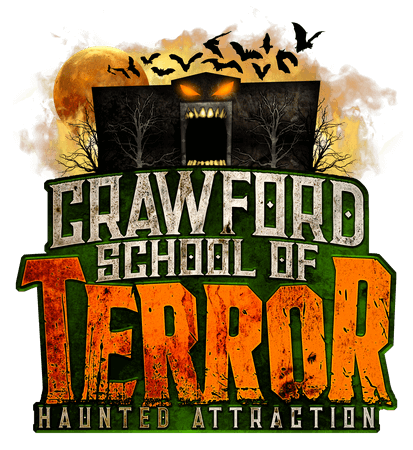 Features:

Free Parking, Restrooms/Porta Potties On-Site, Food/Concessions, "Old-School" (Low Tech), You will NOT be touched, Original Characters, Uncovered Outdoor Waiting Line, All-Indoor Attraction

Most Recent Video from The Scare Factor:
(Scroll for Scores and Written Review)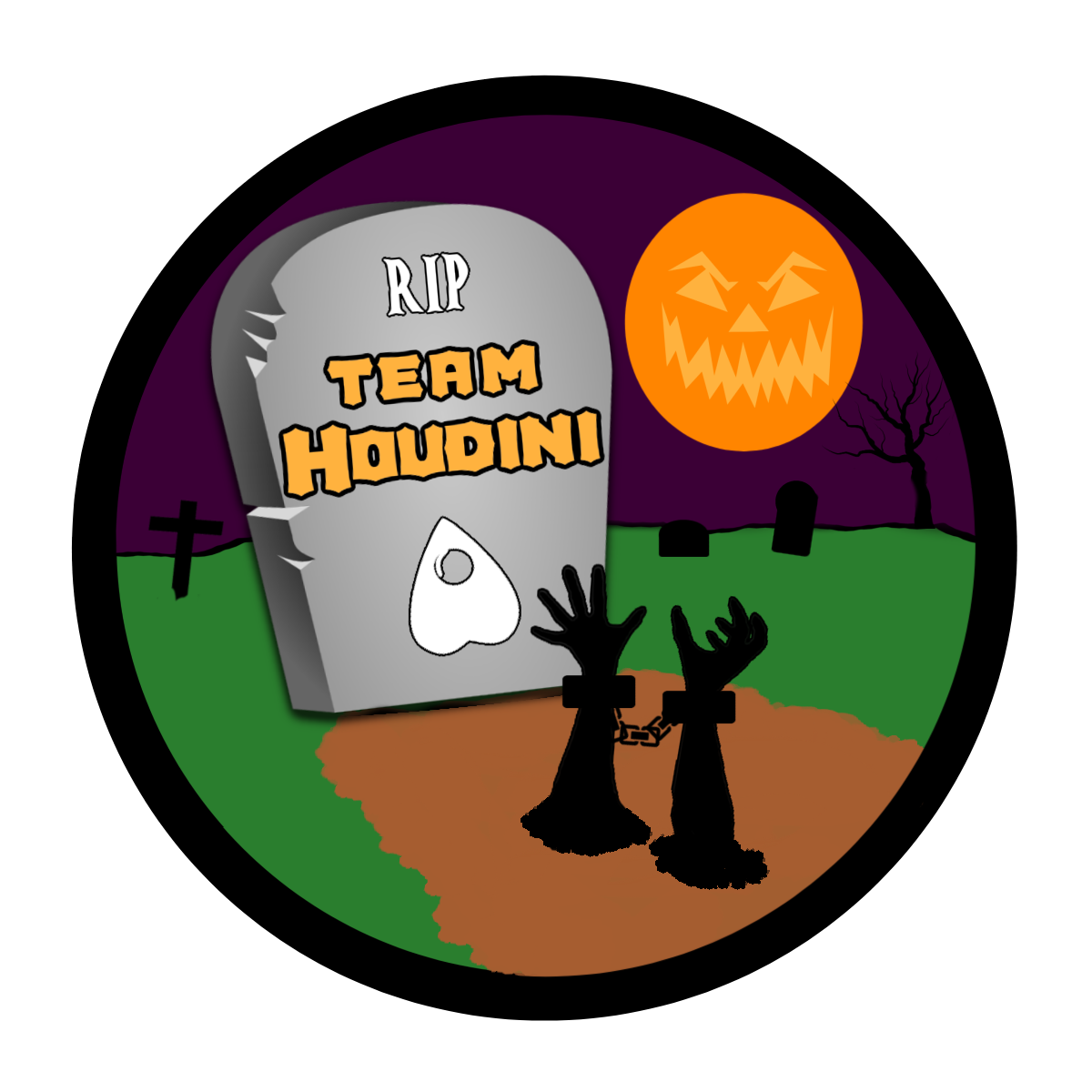 This attraction was reviewed on September 29, 2023 by Team Houdini.
---
About Our Reviews and Rating System
---
Final Score: 8.96
Final Scores – By Category

Final Scores – By Attraction

Summary:
The ominous bell tolls once more. School is back in session. It's time to dust off those books, sharpen those pencils, and prepare for a lesson in fear because Crawford School of Terror is back.
The horrendous halls and claustrophobic classrooms are filled with mystery, murder, and Margaret. Beware of the teacher's ghoulish looks, and whatever you do, stay away from the 'mystery meat' – it will surely churn your appetite. Will you make it out? Or will school prove to be a drag? Maybe you'll receive detention for eternity?
---
Cast Score: 9.11
Cast Scores – By Question

Cast Scores – By Attraction

Cast Review:
Crawford boasted a cast of 30 faculty and student performers, roughly translating to an actor and a half every minute, leaving very few areas underpopulated, and the occasional stretches of eerie silence provided brief respites before the next onslaught of scares.
The actors truly excelled with their inventive dialogue. Among the fresh additions was a stern, no-nonsense principal, donned in full costume and sporting zombified makeup. Her delivery of the haunt's rules was unwavering and strict, demanding us to repeat "yes" as an affirmation of our understanding.
We encountered a remarkable actress who displayed great improv. As we drew near, she demanded our elusive hall pass with an air of authority that sent shivers down our spines. Her relentless scolding for our supposed lack of this essential document filled the air. In a cheeky move, I reached into my pocket and produced my ticket, offering it as an alternative. Without a moment's pause, she seized it, meticulously examined the details, and, with an eerie nod, granted us passage to the horrors ahead. Her commitment to the role was nothing short of impressive, adding a thrilling layer of suspense to our haunted adventure.
As we made our way through the haunt, faculty members scolded us for our apparent tardiness, their voices echoing with haunting authority. A cafeteria worker boldly offered us a "baked heart," while a custodian sternly advised us to wipe our feet as we passed by. In some chilling instances, we could both see and hear lost souls, their desperate pleas for freedom tugging at our very souls.
Additional interactivity ensued as a nurse kindly extended Tylenol as a remedy used on one of her unfortunate patients, and a tormented scientist lamented a failed experiment and insisted that we line up as the next subjects for testing. There was also a drama student that went ballistic with violent movements and flips on stage. Among the eerie ensemble, a prom queen lurked in the locker area, persistently pestering us about casting our votes in her favor. Some faculty and students exuded an intimidating physical presence, doggedly following us from one area to another. A few even dared to get up close, locking eyes with us and emitting eerie grunts that sent shivers down our spines. In the daycare, the lost souls of children begged for us to play with them as they showed us their favorite toys.
Descending into the basement, we stumbled upon the eerie domain of the "Fallen." These were the more volatile souls, lurking in the swampland, ever on the prowl for unsuspecting prey. Our encounter with them was nothing short of nightmarish, filled with blood-curdling screams, primal grunts, and menacing, erratic movements that emanated from these malevolent maniacs.
Crawford School of Terror may have seen lower attendance this season, but the cast of characters—faculty and students alike—more than compensated with their inventive and unnerving performances, creating an immersive and unforgettable haunted experience.
---
Costuming Score: 9
Costuming Scores – By Question

Costuming Scores – By Attraction

Costuming Review:
Crawford School of Terror brilliantly integrated thematic costumes into the haunted experience. The faculty members, from teachers to the librarian, donned traditional attire, complete with glasses, adding an authentic touch to their characters. The nurse sported the quintessential school nurse outfit, while the science teacher donned a lab coat, reinforcing the eerie schoolhouse ambiance.
As for the students, their outfits transported us back in time, evoking the fashion of bygone decades. These costume choices seamlessly complemented the various scenes they inhabited within the haunt.
The makeup and masks were executed with great attention to detail. Most of the makeup transformed both students and faculty into ghastly apparitions. Many wore eerie white and black face paint, with some even sporting makeup resembling stitches, enhancing their spooky appearance. The masks were equally memorable; particularly striking were the deer masks worn by actors in the basement, complete with imposing antlers.
The lineup of roaming actors added an extra layer of insanity to the haunt. One standout was a relentless Rat character, exuding boundless energy as it chased visitors, making the scares appear effortless. A Raggedy Anne doll was another eerie encounter, repeatedly calling out for "Momma." Lastly, a tooth fairy character with her mouth held open by a dental cheek retractor, teeth protruding around her mouth, and macabre dental-themed accents on her dress, left a grotesque visual imprint on our minds.
---
Customer Service Score: 10
Customer Service Scores – By Question

Customer Service Scores – By Attraction

Customer Service Review:
Located in Connellsville, PA, Crawford School of Terror is a haunt that even seasoned visitors can find without a hitch, thanks to the trusty guidance of Google Maps. Parking, a welcome freebie, is conveniently situated just across the street from this eerie institution.
The entry process is as simple as ABC. After disembarking from your vehicle, you'll find the ticket booth to your left, ready to facilitate your admission. Do note that cash is the currency of choice for on-site ticket purchases, but you can also secure your tickets in advance through their online platform. With tickets in hand, you can then proceed to the school's ominous front entrance.
In terms of safety, we observed nothing amiss for a haunt experience. The steps were well-lit, ensuring safe navigation, though, naturally, some dark areas add to the atmosphere. The staff and security personnel were as amiable and helpful as ever, guiding us with professionalism.
For those who prefer to do their homework before visiting, Crawford School of Terror's website is a user-friendly treasure trove of information. In keeping with our 3-click rule, all essential details can be found in three clicks or less from the home page. The homepage links to major attractions, including the haunt itself, ax throwing, escape rooms, and even a coffee shop (for those brave enough to visit during daylight hours). There's also a classic menu dropdown in the top right corner, offering identical information along with a handy FAQ page. Clicking on each attraction opens up another menu that provides access to tickets, FAQs, the lore, and a Facebook link.
Navigating your way to Crawford School of Terror is a breeze, with ample parking and a straightforward entry process. Safety precautions are in place, and the haunt's user-friendly website ensures you're well-prepared for a spine-tingling visit.
---
Immersion Score: 8.75
Immersion Scores – By Question

Immersion Scores – By Attraction

Immersion Review:
The sight of the old school building alone is a striking experience, as it stands as a testament to the past, an abandoned schoolhouse that has seen its fair share of history. This year, we couldn't help but notice that a few enhancements from last season were no longer there, although icing on the cake, they enhanced the overall experience. Notably, the two colossal skeletons, the pumpkin tree, and the fog, were all missing this season. The coffee shop was moved to the side. However, the ice cream stand took its place, which pulled us slightly out of the immersive atmosphere, but this is a common occurrence at haunts. However, since we were all fat guys, we enjoyed the tasty treats, so we were very torn.
A visit to the haunt's website offers a deeper dive into the tale of Margaret, the primary spirit haunting these schoolhouse halls. It's a captivating narrative of love, loss, and murder that adds an intriguing layer to the haunt's lore.
What sets Crawford apart is its authenticity. Once a real school, every corner oozes with genuine atmosphere, never feeling like mere set pieces. The classrooms bear the unmistakable mark of authenticity, each one distinct from the others, mirroring the variety of classes and rooms one would find in a genuine school: classrooms, science labs, woodshops, hallways, locker rooms, cafeterias, band rooms, art classes, theater rooms, principal's offices, bathrooms, nurse's offices—they're all meticulously recreated here. Meanwhile, the nursery adds a touch of whimsy with its diverse areas, including a doll zone, a ball pit, and a pitch-black section, leaving us crying like babies. Finally, in the "Dead End" section, we journeyed through backwoods, swamps, cemeteries, and catacombs, all inhabited by menacing cannibals.
Crawford School of Terror's eerie exterior, immersive ambiance, and authentic settings make it a standout haunt that blurs the line of reality, delivering a spine-tingling experience.
---
Special FX Score: 8.6
Special FX Scores – By Question

Special FX Scores – By Attraction

Special FX Review:
As we delved deeper into the heart of this haunted spectacle, an intense soundtrack surrounded us, casting an ominous veil over the entire experience. The anguished cries of tormented souls reverberated through the haunted school, their wails echoing like a haunting refrain. With every step further into the darkness, the auditory assault intensified, saturating the air with foreboding sounds, particularly within the confounding labyrinth that tested our nerves.
Amidst the cacophony of terror, an unexpected auditory anomaly emerged on the nursery floor. Faintly, a vintage tune from the 1950s or 1960s reached our ears. Its initially cheerful melody underwent a sinister metamorphosis, distorted by eerie grunts and unsettling static, veiling it in an unsettling shroud. Occasionally, a disconcerting, deep voice would pierce through the discord, sending shivers down our spines.
The scene designs, meticulously crafted to prey on your deepest school-related fears, left an indelible mark. Classrooms stood as decrepit relics, adorned with dusty, forgotten books and aged desks, painting a vivid picture of neglect and decay. The kitchen area plunged us into a grotesque nightmare, where sinks brimmed with severed limbs and entrails, and the buffet line showcased a bloody feast of organs and dismembered body parts. The science lab featured an array of mysterious potions, while the nurse's office harbored ominous gurneys waiting for unsuspecting victims. In stark contrast, the nursery shelves overflowed with vintage toys against the sinister backdrop.
Upon venturing into the basement, an illusionary mastery awaited as we approached what seemed like an outdoor cabin. The log wood structure framed the cabin, accompanied by old, weathered bicycles and strategically placed small trees at the front. Even upon crossing the threshold, the wooden beams one would expect in a cabin remained visible, enhancing the illusion. In the graveyard section, tombstones and crypts adorned the eerie landscape, while cunning lighting and decor conspired to make us momentarily forget we were indoors, heightening the immersive experience.
The haunted attraction skillfully employed a plethora of animatronics and props to shock and awe. Towering animatronic monstrosities emerged from the shadows with startling suddenness. A strategic fog use plunged us further into a disorienting abyss.
The special effects exhibited remarkable ingenuity and played an instrumental role in weaving the haunt's overarching narrative. Your eyes bore witness to a gruesome spectacle, with images of severed limbs, entrails, and blood that might have you avert your gaze if you're faint of heart. The haunting sounds of suffering souls resonated in our ears, while the lingering musty scent clung to our senses even beyond the haunt's exit.
---
Scare Factor Score: 9
Scare Factor Scores – By Question

Scare Factor Scores – By Attraction

Scare Factor Review:
Crawford School of Terror left us with more heart-stopping moments than many other haunted attractions, and the reasons behind this eerie phenomenon remain a mystery. Is it the spooky ambiance of the old, haunted schoolhouse? The meticulous layout and arrangement of the sets? Perhaps the impeccable timing of the actors skillfully caught us off guard. Or could it be the deeply ingrained childhood memories and fears we carry from our schooldays? Well, that last part might be a topic for our therapist to delve into.
Fear surrounded us, coming from all directions—front, behind, the sides, above, and below—delivering moments that left our group startled and caught off guard repeatedly. The scares were crafted with precision, emphasizing startle scares, brilliant banter, creepy conversations, manic movements, and grim glares.
The finale, in particular, was a delightful surprise, adding another layer of unexpected fright to our experience.
---
Entertainment & Value Score: 8.5
E&V Scores – By Question

E&V Scores – By Attraction

E&V Review:
General admission at Crawford School of Terror comes in at $25 which is quite in line with the regional haunt pricing this season. As we ventured through the school's eerie corridors, we dedicated approximately 20 minutes to our journey of terror. Doing the math, that's about 0.8 minutes per dollar, which falls short of the average 1.2-minute benchmark in the area. However, in this case, we firmly believe that quality outweighs quantity, and the heart-pounding show we experienced makes the ticket price entirely worthwhile.
Speaking of general admission, it includes a fantastic photo opportunity and some fascinating line actors who made our visit thoroughly entertaining.
But wait, there's more lurking toward the rear of the haunt! While not included in the ticket price, there are additional games to partake in and a variety of concessions for your post-scare cravings. Our group couldn't resist indulging in some delectable sweet caffeinated beverages and cookies before bidding farewell to the haunted halls. And who knows, on our next visit, we'll scream for ice cream!
While the minutes per dollar may appear less favorable on paper, Crawford School of Terror delivers a quality haunted experience that makes every cent of your admission fee well-spent. Don't forget to explore the added attractions and treats to make your visit even more memorable!
As the final bell rings at Crawford School of Terror, it's clear that this haunted experience deserves an A+ for its bone-chilling lessons in fear. The cast of characters, both faculty and students, delivered inventive and unnerving performances that left us immersed in the nightmarish world of this eerie institution. From the tyrannical teachers to the soulless students and the boogeymen in the basement, every corner of the haunt oozed authenticity and genuine atmosphere. The special effects, including hair-raising soundscapes and meticulously detailed scene designs, played into our deepest school fears. As for the scares, they came at us from all directions, leaving us startled and caught off guard repeatedly.
So, if you're ready to embrace the dark side of education, make sure to attend Crawford School of Terror for an immersive and unforgettable haunted adventure that will have you screaming for more!
---
View Full Score Sheet
---
Pics We Took From Our Visit:
---
Promo Images:
Click to Enlarge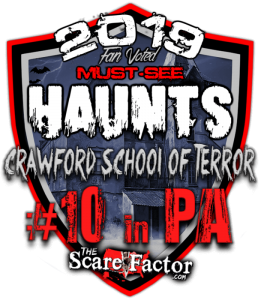 ---
Join ourspookyadventures!
We visit Halloween haunted attractions year-round! Follow us for haunted house walkthrough videos, behind the scenes footage, and more!