Disturbia Haunted Attraction – Full Review
Disturbia Haunted Attraction is a Haunted Attraction located in Downers Grove, IL.
1213 Butterfield Road, Ste D, Downers Grove, IL 60515View All Details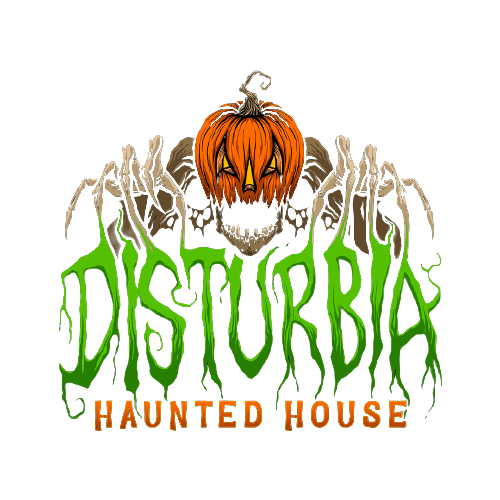 Features:

Free Parking, Restrooms/Porta Potties On-Site, Food/Concessions, Gift Shop/Souvenirs, Special Events, "Hi-Tech" Attraction, You will NOT be touched, Original Characters, Covered Outdoor Waiting Line, All-Indoor Attraction

Most Recent Video from The Scare Factor:
(Scroll for Scores and Written Review)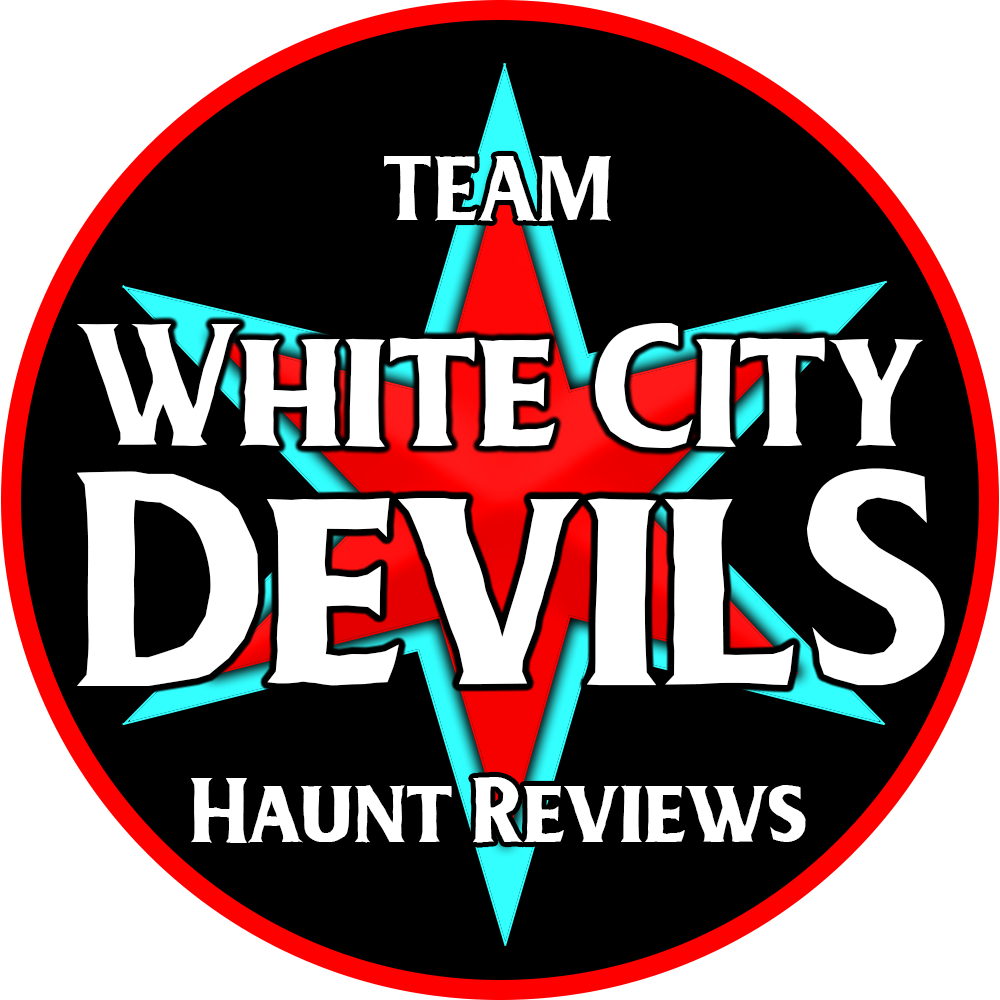 This attraction was reviewed on October 6, 2023 by Team White City Devils.
---
About Our Reviews and Rating System
---
Final Score: 9.09
Final Scores – By Category

Final Scores – By Attraction

Summary:
At the next stop for the evening, we head over to Downers Grove, Illinois, to visit Disturbia Haunted House. This is the sister haunt to Basement of the Dead, and boy, does it live up to the same hype! This haunt is known for its plethora of actors, unbelievable makeup, hair-raising animatronics, and a party atmosphere that makes you forget about the horrors that await inside.
---
Cast Score: 9.03
Cast Scores – By Question

Cast Scores – By Attraction

Cast Review:
There is never a shortage of actors here. We always love to see the same familiar characters and some new ones as well. It did not matter which section you were in; there were enough actors to keep the scenes alive.
How actors interacted with us depended on their respective roles. There was a wide variety of camouflaged creepers and high-intensity actors. One actor that has become a staple is Mr. Crow. While he is normally out in the queue line, he will sometimes creep in and pose as a scarecrow, waiting for the perfect time to frighten. His costume is dark and blends with the foliage in the forest/ house scene. A high-intensity actor is the one in the sewer scene. Using all the open space efficiently, they run from side to side of the room, which creates a tense moment as they get close to your face. Right after was a colorful clown who swung his oversized mallet while laughing maniacally.
Doc is a towering menace. Walking around on stilts, he is not shy to work the crowds in tight spaces and still manages to come up with a scare to unsuspecting guests. How one creeps while wearing stilts, I'll never know. Butcher Baby is another staple of the Disturbia family. It is great seeing the reactions she gets, as they are usually reactions of terror. The knife trick she does always takes guests by surprise as it is unexpected, adding to the effectiveness of keeping the crowd entertained.
In the doll room, there are different shapes, sizes, and types of dolls in there. There was a particular actor who looked identical to the dolls who used that opportunity to pose lifelessly until allowed to show they were alive. For people with a fear of dolls, this room is a nightmare.
A new addition is the nurse in the reception room. Some countries have been known to have AI to replace front desks, and we were wondering if this was the case here. She was standing there with a disturbing smile, swaying robotically, and blinking similarly to a doll. After a few seconds, she greeted us with a disturbing laugh and asked for our names to check us in for our appointment. After confirming, we were given the okay to continue. Just the interaction itself was bizarre and a great example of how sometimes less is more. This had to be one of the better interactions so far this season!
Overall, we can see the actors having a blast interacting with customers and using their rooms to give as many scares as possible.
---
Costuming Score: 9.1
Costuming Scores – By Question

Costuming Scores – By Attraction

Costuming Review:
Disturbia's makeup and costuming departments are known to produce high-quality work. Airbrush is professionally applied to give a realistic look, and masks are used to add on to the costumes. Using special effects contact lenses helps complete the looks and makes everything realistic.
Outside in the queue line, we met a new character that looked like half shark and half pumpkin. The mask was a pumpkin with its mouth wide open and displaying various sets of sharp teeth. Pumpkin pulp with seeds sloughs down the front of the actor, which looks realistic. Mr. Crow's costume is what you would expect a rotting scarecrow to look like; his clothing looks dirty, with visible stitches on his mask. His piercing green eyes are the only color you see in the dark. That might be why he insisted I make sure to put on a flash when I asked for a selfie.
Inside, we met the nurse, who surprisingly had a clean nurse costume compared to all the other actors. Rightfully so, this costume fit the aesthetic of the clean waiting room we had found ourselves in. On the opposite side of this, we ran into a furry creature leading up to a house. This was a full-on fur outfit that blended well into the dark, which we almost missed as we were walking by. I honestly wish I knew what animal it was because it was so fluffy, I could die!
Shoutout to Doc for showing me he kept the cat paw I gave him in a past off-season event!
---
Customer Service Score: 9.5
Customer Service Scores – By Question

Customer Service Scores – By Attraction

Customer Service Review:
If you are a returning customer like we are during the off-season, you will not need the GPS. This year, there is a visible truck with the logo right at the entrance of the strip mall. While the haunt is located at the end of the strip mall, free well-lit parking is plentiful before reaching your destination. The box office is located before entering your designated ticket line. If you have any questions, there are staff members with the logo visibly printed on their jackets, shirts, and fleece sweaters. Tickets can be purchased both online and at the box office. We do recommend signing up for their newsletter to get exclusive offers and updates.
One thing to mention is that Disturbia loves its customers. Outside, there is always a party, with merch being thrown out by the queue line actors. There is a photo op stand with a camera for a free picture with your group, and if you are lucky enough, some actors might get in on the fun! We witnessed a group in the line behind us with a smaller child the parents know best in this situation. It was quite chilly that night, and the staff moved this group up front to prevent the child from standing in the blistering cold. No one seemed to mind, and we commend the staff for making this call.
While a haunted house is known to be dark, naturally, there are a few things to look out for. There are marked exit signs in case of emergency and some floor markings as well. With a variety of inclines and declines, they are safe enough to keep balance.
---
Immersion Score: 9.13
Immersion Scores – By Question

Immersion Scores – By Attraction

Immersion Review:
As mentioned before, the atmosphere is a straight-up party that can be heard even while parking. Getting to the line, you are greeted by some of the most enthusiastic actors possible. The actors love performing, dancing, and sliding between the crowds. The music is well-rounded and liked by both the younger and older crowd.
Inside the haunt, each scene has its respective scenes that are completely immersive. The scenes do not have a flow of a storyline, but the indoor scenes were placed properly after entering the house. The line flow was also efficient in keeping the group ahead of us far enough, so we did not see the actors and animatronics reset.
After exiting, there are indoor restrooms that are horror-themed decorated. There is also a trailer with merchandise and snacks. I highly recommend hot chocolate during colder days.
---
Special FX Score: 9.03
Special FX Scores – By Question

Special FX Scores – By Attraction

Special FX Review:
Disturbia is known for its over-the-top quality animatronics and sets. Every year, we get to see new additions and improvements to the originally placed scenes.
Most of the haunt is loud because of all the different special effects sounds and music. This also helps with disorientation and creating unexpected scares. Some animatronics have sounds that coordinate with the movements, such as the oversized pumpkin in the jack-o-lantern room. The distorted laughs match the multiple moving mouths accurately.
The use of oversized props is quite common here as well. In the forest scene, there is a hand made from branches attached to a tree that moves towards you as you approach the forest trail to block you. There is also a new adorable creature just hanging around, a big possum, which I assume is how big the country ones get. Another notable oversized prop is the doll in the doll room, which reaches up to the ceiling! All these gigantic props are eerie and effectively create a sense of uneasiness.
The newly renovated room we got to experience was the hospital room. The entrance room is an all-white reception room that was clean, quiet, and well-kept… so far. The hospital scene room, on the other hand, was jaw-droppingly amazing. Red is the color scheme that suits the ominous and disturbing scene. The path guides you halfway on the outside and then cuts through the middle. This allows you to look at the bodies propped up at different angles and see everything up close. Due to the various medical equipment, it is safe to assume there was experimentation being done.
The use of visual effects is efficiently used in the sewer room. While the path is wrapped on the outside of the room, the middle is used to simulate biohazardous swamp water using fog and green lasers.
Overall, the use of all special effects effectively creates some of the immersive scenes we have seen. We look forward every year to seeing what brings us.
---
Scare Factor Score: 8.99
Scare Factor Scores – By Question

Scare Factor Scores – By Attraction

Scare Factor Review:
Disturbia is well known for its scares with the help of actors and the use of props and special effects. We cannot get enough of everyone who does an excellent job keeping the scares going.
A lot of the actors used their costumes to camouflage themselves to their surroundings. One person in particular that was efficient on that was Mr. Crow. He perched himself on a stand and posed as a scarecrow, waiting for the perfect moment to move and show himself. We also did not realize he was following us around and kept showing up from unexpected angles.
The doll room is easily one of the scariest rooms in there. The actors in doll costumes blend in, pretending to be motionless, popping out to the unexpected people with a natural fear of dolls. Exiting the room does not necessarily mean you are safe. A window peeks into the previous doll room, and they use that opportunity to give you a farewell scare, which is spine-chilling!
The finale had us going. Spoiler: With the obvious smell of gas, we could tell a chainsaw was coming up. Sure enough, one person tucked away in the corner revs the chainsaw that pushes you out to the exit. Right as soon as we exit, an unexpected person starts revving another chainsaw to keep us running out.
---
Entertainment & Value Score: 9.04
E&V Scores – By Question

E&V Scores – By Attraction

E&V Review:
Our walkthrough time was just at the 19-minute mark. Ticket prices do vary depending on the date. Still, Friday and Saturday costs for GA are $29.99 online, giving our Minute Per Dollar value a .63. Part of the entertainment included in the ticket price is the party happening out in the queue line.
As mentioned before, we recommend signing up for their text message/ email updates to get reduced rates or bundle offers with Basement of the Dead. You also get updates on off-season events, which are about as entertaining with less of a wait time. We cannot wait to see what the next years bring!
---
View Full Score Sheet
---
---
Guest ReviewsGuest Average: 9.25 out of 10
Arthur – 10/10 – October 16, 2021It was a very scary sight and worth every dollar great atmosphere gotta come again
Keith Bucholz – 8.5/10 – October 21, 2021My friend and I have an annual haunt every year. We have been to most in the chicagoland area. I …show more would put this at the top. Great effects, good actors and good scare factor. This company also runs the basement in Aurora, and it too is a great attraction. Only comment it could be bigger and they should add more as time allows. I think it's only their second year for this haunt, but I will be back!
Join ourspookyadventures!
We visit Halloween haunted attractions year-round! Follow us for haunted house walkthrough videos, behind the scenes footage, and more!