Dominion of Terror – Full Review
Dominion of Terror is a Haunted Attraction located in Sheboygan, WI.
2024 N 15th Street, Sheboygan, WI 53081View All Details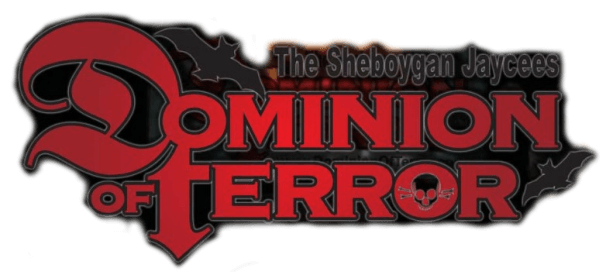 Features:

Free Parking, Restrooms/Porta Potties On-Site, Food/Concessions, Gift Shop/Souvenirs, Special Events, "Old-School" (Low Tech), You will NOT be touched, Original Characters, Indoor/Outdoor Waiting Line, Indoor/Outdoor Attraction, Family Friendly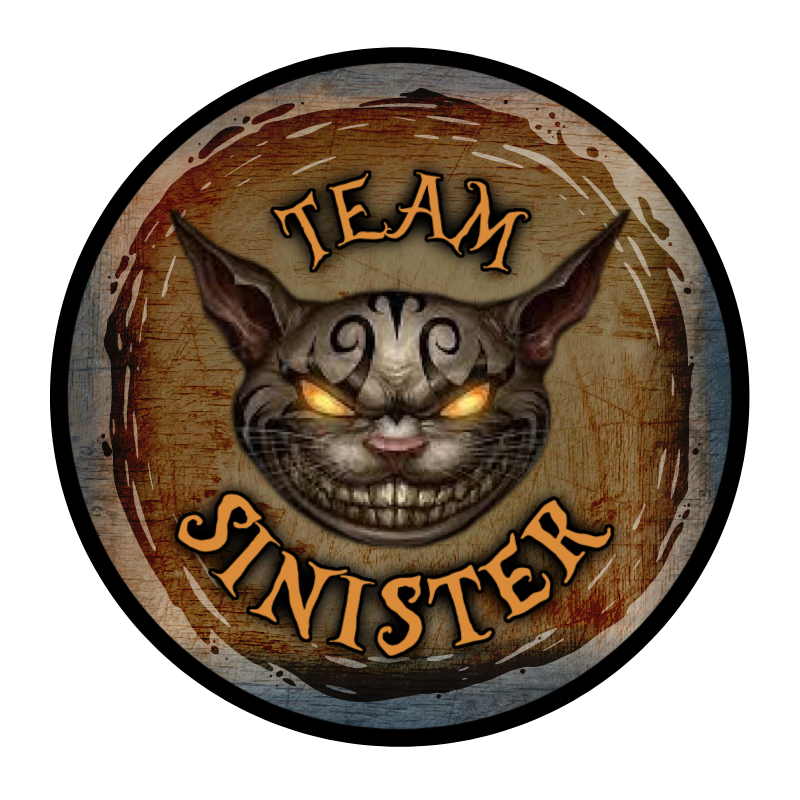 This attraction was reviewed on October 14, 2022 by Team Sinister.
---
About Our Reviews and Rating System
---
Final Score: 8.05
Final Scores – By Category

Final Scores – By Attraction

Summary:
Located in Sheboygan, Wisconsin, The Dominion of Terror has been scaring people around town now for 48 years in one location or another! This 45-minute jaunt is full of Jaycee volunteers from as far away as Lacrosse and Wyoming.
With a line out the door, it has indoor/outdoor waiting, bathroom facilities, concessions, and an area inside to purchase haunt swag. With a throwback weekend, $10 tickets, a kid's matinee, and even a separate escape room attraction, it offers many opportunities to get your horror fix.
Also, according to the Haunt chairman, this 2-level haunt fully changes the upstairs portion of the attraction every year! Do you have what it takes to delve into this nightmare?
---
Cast Score: 7.99
Cast Scores – By Question

Cast Scores – By Attraction

Cast Review:
The cast of Dominion of Terror had an amazingly varied number of characters that covered the majority of the haunt very well. The only room for improvement I noticed would be to possibly utilize the scene actors to follow customers into the dark maze areas to create more of a sense of covered areas. This would help to keep the terror going without giving the victims time to rest.
As for dialogue and interaction, a few of the standout performances were the hilarious family with the nurse handing out shots, the uncle who had lost his mind and thought everyone he met was a relative to clean his bedpan, and the prisoners who were thoroughly upset we were infringing on their territory and really let us know it! With these and other great cast members, we also heard a few "get outs" and "how are you doing?" that could be a good training opportunity for the less experienced actors to create more intense and horror-filled dialogue.
---
Costuming Score: 8.07
Costuming Scores – By Question

Costuming Scores – By Attraction

Costuming Review:
The costuming in DOT consisted of a nice mixture of makeup and masks, which was really determined by the scene or role the actor played. The clowns were done up with great makeup which matched their circus-like creepy attire. The queue actors, on the other hand, had masks that fully fit their personas, be it an angry biker dude with a black frontal facemask or an escaped patient with a straight jacket and a full head covering mask.
All the costumes in this attraction also fit very well with the scenes the actors were noticed in. The magician in the floating woman scene with all the fancy magician garb right down to the top hat really impressed me with its detail. The sailor in the starting dock scene really gave off an aura of a sea ghoul with both his own horrifying visage and thoroughly roughed-up-looking dock clothes that finished off his weathered look.
---
Customer Service Score: 8.95
Customer Service Scores – By Question

Customer Service Scores – By Attraction

Customer Service Review:
Finding this place was extremely easy using any phone map app. I arrived a bit early to scout things out, so I was able to procure very close street parking. There was also a parking lot just down the block that provided close parking as well. Straight up the sidewalk was the haunt looming as an old factory building with a large sign stating it was the Dominion of Terror and its sponsors. There is also a lighted sign on the building top denoting the attraction's name.
I walked up to the concession stand and let the folks there know who I was, and they contacted Berta, who said to go to the side actor's door, and she would meet me there. Berta let me know she was the chair for the Jaycees house, and we proceeded to do a very nice small interview. After our great talk, she procured me a fast pass ticket and I was escorted to the fast pass line where I joined another group in the haunt. After I completed the haunt, she and a few other volunteers were there to ask me if I had a good time, and we talked a bit about various haunted attractions until I left the site.
Overall, I would say the whole area was pretty good in the safety department except for a few things that could easily be fixed in the dark maze areas. The biggest of which was a concern over numerous small step downs and step ups in those dark areas that were not marked and were definitely trip hazards. Easy fixes could be glow tape or just somehow filling these areas in to alleviate the issue. The other thing was some of the walls in the dark areas were unfinished and could cause customers to walk into the wall studs in these same dark areas. Just finishing the walls with plywood or press wood and painting would fix this problem also.
They also have a good social medial presence on both Facebook and a very informative website. All information on dates, times, special events, and ticket prices were easily findable via scrolling on the front webpage. The website also included a monster gallery of past and present creeps and links to Don't be a Monster campaign and other haunts.
---
Immersion Score: 7.75
Immersion Scores – By Question

Immersion Scores – By Attraction

Immersion Review:
But what through my tiny ears do I hear? … the roar of a chainsaw; its music to my ears! Along with this, a black-masked biker with a huge metal pipe, don't get too close or you might get a swipe. Both of these interacted with the wait line as I approached the drearily-lit old factory building. The lighted sign atop the building proclaimed this to be the Dominion of Terror.
As we began our quest into the haunt, the first area you see is a dock area with a creepy ghoul-like sailor who instructs you to get into the awaiting boat tied to the dock. Once seated, it proceeds to explain the haunt rules and what horrible things may happen to you if you do not obey them. When completed, you are ushered on into the rest of your haunt journey with many scenes of terror, mysterious mazes, and terrorizing characters.
Upon exited the building, after being kicked out by the prisoners for invading their turf, an outside maze is next to tackle with another one of those wonderful chainsaws stalking you as you go. This crazy one will even chase you all the way back past the ticket line!
---
Special FX Score: 8.07
Special FX Scores – By Question

Special FX Scores – By Attraction

Special FX Review:
As for audio effects, most of the haunt was covered rather well with either creepy chanting in the church-type area or other more pertinent music, such as in the Magician's area. There were also more silent areas, but it worked well for the effect.
The scenes themselves were all very impressive and detailed. One of the most impressive scenes was the cemetery with very realistic stones and gates that led into an evil church complete with stained glass windows. Also impressive were all the props and manikin placements which were easy to fool the eye into thinking they were real and then the actor would get quite the terrifying scare in.
---
Scare Factor Score: 7.79
Scare Factor Scores – By Question

Scare Factor Scores – By Attraction

Scare Factor Review:
A lot of the scares worked on the jump scare effect, but others were just plain creepy and maniacal. The doll room area where the live actor kept fooling everyone into taking the wrong way in the maze that led back to the doll room was one of the more fun rooms that played with people's minds.
As stated before, the setups such as the church were great in creating that unease in our group. With all that, I think the work of the prisoners really getting in my face created more unease than other areas; great acting again. Scares were also distributed well within the group as seen in the one maze with the spider monster from above who would get down in front of you and leave again, only to appear and haunt someone else in the maze.
The ending worked pretty well with the maze and separating groups and having the chainsaw guy stalking groups through the maze. Just when they cleared the maze and thought they were done with him, then here he comes, chainsaw roaring and running after the fleeing group!
---
Entertainment & Value Score: 8.05
E&V Scores – By Question

E&V Scores – By Attraction

E&V Review:
Besides the main attraction, there was also a concession stand and a haunt apparel store within the building but nothing extra for the $15 general admission and the $23 Fast Pass.
The full-time to go through was about 45 minutes with a 3.0 MPD (minutes per dollar) value. This is not bad at all and is one of the highest MPDs on the website. They also offered a separate 45-minute escape room for $10, which I did not get a chance to try but maybe next time!
Overall, this was a solid haunt with good scenes and actors for a great cause. I hope they continue onto year 49!!
---
View Full Score Sheet
---
Pics We Took From Our Visit:
---
---
Have you visited this attraction?
---
Past Awards
---
2022 Awards
Ending Chainsaw Guy (Given by: Team Sinister)
---
---
Past Awards
---
2022 Awards
Ending Chainsaw Guy (Given by: Team Sinister)
---