Dungeon of Doom Haunted House – Full Review
Dungeon of Doom Haunted House is a Haunted Attraction located in Zion, IL.
600 29th Street, Zion, IL 60099View All Details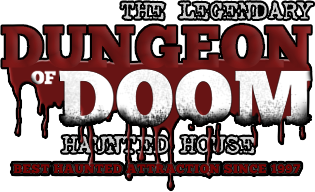 Features:

"Hi-Tech" Attraction, "Extreme" Attraction, You may be touched, Original Characters, All-Indoor Attraction

reviewed this attraction on September 22, 2017.
Final Score:

9.83
Summary:
North of Chicago is a haunted house so immense that we have a feeling it could be one for the record books for longest single attraction! But the Legendary Dungeon of Doom in Zion, IL is not only enormous, it is also quite possibly the best haunted attraction that this review team has had the privilege of attending! For the past 21 years, DoD has been terrifying haunt goers in droves with its masterfully executed scares, stunning eye candy, and a marathon tour time. Do you have the stamina and nerve to make it through?
It should be mentioned that, on the night we attended, it was "press night," which was an invite-only event. The crowd on hand was rather small and our group of two was able to go through the entire haunt alone without running into other groups. Keep in mind that you may have a different experience on busier nights when groups sizes are typically larger.
---
Cast:

9.9
DoD has a cast of 150 paid actors and had 127 working the night of our visit, which is quite a large cast, to say the least. But when you consider DoD is a single attraction haunt, well I'm not sure what the record cast size is for a single attraction, but DoD must be right up there. We were honestly taken aback by the level of quality of the acting, especially when considering it was opening night! We would say they were up there with the best we've ever come across in our haunt travels that span the East Coast and Midwest. The usual 'hiccups' were entirely absent and the entirety of the cast was at least good and often times quite excellent.
The queue line actors (numbering approximately 10-12) were, as a whole, quite excellent. They interacted well with the customers waiting in line; making jokes, giving good scares, and posing for photo ops. We especially enjoyed the clown toting a handgun, the hilarious drag queen, a steampunk-inspired character who was wearing a bizarre tank on his back and a weird breathing apparatus on his face, and the clown riding the tiny tricycle.
Inside the actual haunt, the actors were more serious and intense, as if they were truly out for blood! We were a little concerned that the energy level would be lacking a bit because of the record high temperatures we were experiencing the night of our visit. It was actually really damn hot inside and in some scenes swelteringly so. While the heat may have played a part in making us feel exhausted by the time we were done, it didn't seem to phase the cast in the least. The energy level was high throughout and at times really high octane! This menacing cast of character's attacked from every direction, including above us and beneath us, they literally were coming from everywhere! There were a good number of characters who interacted with us, directly involving our group into the scene. Several cast members used improv effectively, often times with either hilarious or terrifying result which made it a lot of fun for our group. We did not come across anyone who broke character or who used inferior dialogue. Much of the dialogue used was quite effective and unique, with the entire cast speaking their lines as if they were in peak season. The DoD actors truly deserved a standing ovation for their performances during the night of our visit. With all the odds stacked against them, the heat and it being early on opening night, this 'Killer Crew' as they are known; came, conquered, and blew this review team away!
---
Costuming:

9.8
We would be hard-pressed to choose which characters' costuming we liked the best, considering that there were 127 of them to choose from! If there were two things that all the costumes had in common it would be their originality and authentic looks. We saw so many things that we had never seen the likes of ever before and to put it simply, everything we saw looked very REAL. Even the clowns, which are arguably the most common characters you will see in a haunt, were highly original. It was apparent to us that the costuming department had a lot of creative ideas which they were able to execute beautifully because of their high level of talent. The use of prosthetics and colored contacts were seen on a large number of the cast. Both the makeup and masks really stood out to us and we would consider them both to be 'next level' quality. We especially loved all of the different demon-like creatures and the characters who wore gas masks.
---
Customer Service:

9.5
DoD is located in an enormous old factory warehouse. You cannot rely solely on GPS to find DoD. In fact, we can speak from experience because we got turned around a bit until we followed the numerous small signs posted on the street corners that showed us the correct way. Just follow the signs once your GPS gets you that far and you should have no real trouble finding it. It's a fairly short walk from the parking to the entrance which has a really cool sign with red lighting that reads 'DoD.' Free ample parking, public restrooms, and a gift shop with concessions and are all available on-site. The queue line and ticket booth are both located inside which is great during cold or rainy nights. The queue line entertainment was some of the best we have ever seen, with upwards of ten actors interacting well with the crowd. It was very entertaining, to say the least and made the time pass quickly while waiting for our turn.
Would found the staff to be very knowledgeable about their attraction. They were happy to answer our questions and seemed generally interested in hearing our opinions about our experience.They provided a lot of insight into the history and inner workings of DoD.
---
Atmosphere:

9.83
While DoD is located in the midst of Northern Chicago's urban sprawl, it still manages to have a somewhat isolated feel given its proximity to the Illinois State Park which surrounds the property on three sides with trees and open land. If you should arrive before opening time as we did, you could be in for a special treat. Red lights illuminate the outside of the building which gives the entrance a cool, blood red glow. The indoor queue line is also beautifully lit with blue, purple, and red lighting. Right around opening time, we witnessed a horde of cast members descend upon the crowd all at once, interacting with a full vengeance with those lucky patrons who arrived early. They even carried off one of the younger patrons in the crowd, disappearing with him into the building! Keep in mind that you can only experience this 'actor foray' if you arrive early before opening time, we feel it's well worth it.
---
Special Effects:

9.91
We began the actual haunt portion of our visit with several other groups. Group by group we entered a huge circular metal cage known as The Gateway. We don't want to give away what happened next, but let's just say you may end up getting 'dizzy with fright!' It was a highly original intro that got us super amped up for our journey that lay ahead, not to mention a great sign of what was to come regarding the quality and originality of the special effects! You will witness an enormous amount of what we feel are some of the most original and impressive effects that this review team has ever witnessed. We want to be careful to not give anything away, so we will try to paint in broad strokes with our descriptions. We can say with the utmost certainty that you will encounter; highly detailed sets, creative visual illusions, impressive animatronic beasts, horrific environmental barrages, and magnificent sound effects. Indeed these hellish soundscapes were very impressive not to mention completely 'bad ass.' The original soundtrack, in particular, was outstanding, with its effective use of high and low sounds. We could actually feel the lows pounding through our body and the highs got our hearts racing. Very effective use of scents was also utilized in several areas. One impressive effect was when, at times, the floor seemed to actually move in waves. We were informed that all of their effects are hand-built in-house, everything you see, hear, and feel was actually created on-site. The owner designs/builds the majority of these horrific creations himself so he can customize everything to fit his ghastly artistic vision. Because the building in which the DoD is located is owned rather than rented, they have an advantage of having a permanent build, where they can focus all of their efforts into improving and adding on rather than tearing down and setting up. Being that the owner has been in the haunt industry for 31 years, the sheer number of effects and eye candy is quite staggering. We feel that you could make many trips through and you still couldn't possibly see all there is to see. This makes DoD an excellent choice for multiple visits, in fact, they do offer a season pass ticket option that allows the ticket holder to attend every night they are open. This is a great idea for haunt enthusiasts who are able to attend several times in a season.
---
Theme:

N/A
DoD doesn't follow one specific theme. Instead, there are multiple themes throughout which provide a plethora of nightmares for its unassuming victims.
---
Fright Effect:

9.9
We admit that we are very difficult to scare. So much so that we sometimes like to bring along friends who don't tour a lot of haunts so we can gauge how scary the attraction would be to a more typical customer. However, we often aren't able to do that, especially when we travel long distances like we did for DoD. Well, we soon learned that bringing a friend along this particular night was not going to be needed as we got to experience a masterfully executed barrage of every type of scare imaginable. It was obvious to us that a lot of thought went into the layout and design of DoD. We noticed that the scenes got more and more claustrophobia-inducing as we went deeper into our journey. The soundtrack itself got our hearts racing with its high volume and an absolutely menacing sound…we could actually feel the lows of the soundtrack in our bodies! The actors were absolutely ferocious, as mentioned earlier. They attacked us from every direction including above and below us. They utilized excellent hiding spots, executed flawless timing and used distraction-type scares that were about as well as any we have experienced before. The pop scares were especially effective with each actor producing multiple scares for our group. It didn't seem to matter if you were in the front or back of your group as the actors targeted each member of our group equally. For a 'no-touch' haunt, the cast is about as intense as we have ever experienced, even when compared to 'full contact' attractions. There were also many outstanding environmental scares. Inside the walls of DoD, everything's your enemy; the props, the walls, the ceiling, the floor…nothing is safe here. There were a few stand-out visual illusions that were coupled with environmental encroachment, which left us thinking, 'will we actually make it through?' Probably our most fear-inducing moment came from the 'Buried Alive' scene at around the halfway point of our journey. We do not what to give away what happens, but let us warn you that is is NOT for those who are claustrophobic. This was not our first time experiencing this type of scene, Erebus in MI does something similar, but DoD has a much different approach in their execution and the end result is pretty damn intense, even for these seasoned haunters. One review member admitted that he was kinda 'freaking out' during this scene and I had to actually talk him through it so that he didn't completely lose it! Keep in mind the member I'm referring to is a very experienced haunter and can handle just about anything, so this was definitely a first.
---
Value:

10
While the cost of general admission was $25 on the night we attended, it can be as high as $35 later during peak season (10 /29 & 10/21 in 2017 ). VIP Fast Pass prices start at $45 earlier in the season and increase to $55 as Halloween draws near. A VIP Fast Pass is highly recommended if you should choose to wait to attend until the busier weekends later in the season. A season pass is $79 which allows you to visit every single night DoD is open. Our tour time was a staggering 70 minutes and that's not including an 8-minute wait for a little that took place over halfway through the haunt. While we have been to several haunts in the past that had tour times of upwards of an hour, they have always been multi-attraction haunts…DoD is one single attraction! Our tour time divided by the $25 admission price gives us a minute per dollar score of 2.8, which is nearly double the industry average of 1.5! This review team has honestly never experienced a better value! $25 for 70 minutes of pure, world class haunt entertainment deserves a perfect 10 in our book!
---
Promo Images:
Click to Enlarge
---
Guest ReviewsGuest Average: 9.75 out of 10
Mike Sernel – 10/10 – October 26, 2023I go to 3-4 Haunted Houses every year and check out DoD every other year. DoD never disappoints …show more with its jump scares, animatronics, actors, technology advances, and just cool factor with all their different scenes. Getting Buried Alive (which is optional) is an amazing experience that gets your heart going every time.
It is shocking that the haunt takes you 50+ minutes after you start your journey, as it seems to go by pretty fast as there is something for everyone and it never feels boring. If you buy your ticket in August, you can get a special 50% off coupon which makes it seem like you are stealing your ticket.
Best haunted house in the midwest for sure.
Dawson Hansen – 10/10 – September 20, 2019This haunted house blows my mind every year! I love it so much! Will come back every year!
Dawson J Hansen – 10/10 – October 20, 2018Best Haunted House in the state of IL by far! I go every year and it just gets better and better all …show more the time! Well worth the money also!
---
Past Awards
---
2017 Awards
Scariest Haunt in Illinois (Given by: )
Highest Overall Score (Given by: )
---