Review of Dungeon of Horrors WV Haunted Attraction
Review of Dungeon of Horrors WV Haunted Attraction
Review of Dungeon of Horrors WV Haunted Attraction
Dungeon of Horrors WV – Full Review
Dungeon of Horrors WV is a Haunted Attraction located in Moundsville, WV.
818 Jefferson Ave, Moundsville, WV 26041View All Details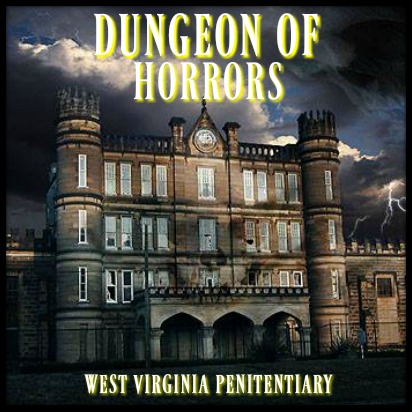 Features:
Free Parking, Restrooms/Porta Potties On-Site, Food/Concessions, Gift Shop/Souvenirs, Optional Games/Midway, "Old-School" (Low Tech), You will NOT be touched, Original Characters, Uncovered Outdoor Waiting Line
Team Scary Potter and the Hauntwarts Express reviewed this attraction on October 23, 2016.
Final Score:

9
Summary:
Friends, I can, likely for the first time in your life, assure you that you WANT to go to prison. Dungeon of Horrors is a haunted attraction located at West Virginia Penitentiary in Moundsville, West Virginia, and is as great of a destination to spend a little time behind bars as you will find. Back for its 14th year of Halloween hauntings, they are better than ever. Also featuring an escape room, zombie paintball and a ghost tour, there is plenty to love here. So come on out to Moundsville, WV this Halloween season, where you are guaranteed to carry out the sentence, "I loved it!"
---
Cast:

9.27
The 60-70 cast members of the Dungeon were relentless, particularly those stationed toward the beginning and ending of the attraction. It seemed that pseudo-prison guards involved in the opening experience really embraced their roles enthusiastically. Though, at a few moments, individual actors may have tiptoed within spitting distance of the line separating good fun from needless sadism, that distinction was never crossed and the shared tenacity of all involved simplify amplified the realism of the experience. The green(? – it was hard to see in the dark)-haired security guard who berated us during our temporary incarceration was definitely the stand-out amongst this lot.
Within the more "traditional" segments of the Dungeon of Horrors, the intensity did not wane significantly from the early output. We didn't note many lackluster performances, and appreciated the variety of characterizations from playful to brooding to humorous. The "lab coat spazz girl" (for lack of a better identifier), the hide and seek girls, and the apparent proprietor of "Locked Inn" were among the exemplary performances and a good representation of the actor versatility on display overall.
Perhaps our favorite performance, though, was from the very first actor that we encountered. More on Mr. Blob in Special Effects below.
---
Costuming:

7.95
Many of the actors were, appropriately, outfitted in standard prison guard attire. Of the more fantastical creations that we encountered further into the attraction, though, we found the overall quality of makeup work to be moderately effective. Most denizens of the dungeon were inmates, guards or zombies, so there wasn't as broad a spectrum of costume work as we have seen in other attractions, nor were heavy amounts of makeup required to portray realistic characters. Still, what we saw was appropriate, though not outstanding, and fit the environment. Again, the burn-victim from "Locked Inn" was the most noteworthy example.
---
Customer Service:

9.52
Finding the location was, unsurprisingly, as simple as driving toward the giant, foreboding prison on the horizon. The prison is a BIG place, and though there didn't seem to be any signs specifically directing parking traffic, following the general flow of cars was easy enough.
The Dungeon utilizes a timed ticketing structure. Tickets are purchased for a specific time slot, either online or at the ticket booth. The former option is highly recommended as tickets DO sell out (only about 50 tickets are sold for each time frame), and arriving on an especially busy night to realize that the entire evening's performance is sold out would be an unfortunate occurrence.
In the primary hub area, as customers wait for their haunted appointment, a concession stand and merchandise booth are available. As I am a notorious hot chocolate addict, I am happy to report that their brew is especially delicious, and was well-complemented by the generous serving of nachos that I dutifully engorged (for the good of the realm).
A short video, projected onto the wall of the prison, loops repeatedly, detailing the rules of the attraction in a unique fashion.
Also available from this hub area is their escape room – a 5-minute, hillbilly-themed, search for a hidden jug of moonshine. Recovery amounts to a stay of execution for an innocent man. The experience was brief but fair, and a lot of fun: clues were sensible, and not illogically cryptic or impossibly-concealed. We felt that the room was designed to provide us with just enough time to solve the puzzle. Also, Pappy, the actor who engaged with us during our search, was excellent. The prison hosts a longer, year-round escape room that, based upon our participation, is likely to be a wonderful experience as well.
Additionally, between groups, Pappy, and some of the other staff, exchanged quips and exposition in the hub as a combination of line entertainment for the main haunt and promotion for the escape room.
After completing the Dungeon, guests are provided the opportunity to engage in zombie paintball as well, for an additional charge. Beyond the usual reanimated, stalking prey, 4 different inert targets can be shot, with a range of rewarding outcomes. The furthest away produced the greatest spectacle. Each member of our extended group who deadeyed this difficult assignment whooped in triumph while witnessing the "explosive" result. I admit, though, that I may have felt a slightly greater sense of satisfaction upon shooting one particular zombie in the head. The actor immediately collapsed and subtly twitched in response. Sadistic? Perhaps; but, then, I'm a haunted attraction reviewer after all – we're all a little sadistic.
---
Atmosphere:

9.69
It's not uncommon for haunted attractions to present claims of "actual" hauntings, but not many have as much substantiated evidence as the Moundsville Prison. On this matter, I shall claim neutrality, but for those interested in visiting an attraction with a "truly" paranormal background, you can't do much better than Dungeon of Horrors.
Beyond that, though, the environment is certainly conducive to proper hauntings of a more corporeal variety. The prison is imposing to even the stoutest of attractioneers, massive and foreboding, even before the accoutrements of Halloween hauntings. The lights and music utilized for the exterior of the attraction act as minor refinements to an already-established atmospheric juggernaut.
The final send-off before the attraction truly begins, though, is easily the most unique and entertaining aspect of the attraction… more on that in Special Effects, though. Suffice to say, it does an excellent job of preparing prison "guests" for the forthcoming experience.
---
Special Effects:

8.04
Having alluded to him twice throughout this review already, I suppose I should address Mr. Blob foremost. We've been line-entertained by a broad assortment of characters and effects in our days, and we've been read rules to plenty of attractions, but the Dungeon's amalgamation of the two was beyond anything we had experienced on either front. Part actor/part effect, Mr. Blob provides a specialized, customer-involved performance that really stood out as our favorite interaction of the night. As is often the case, too many details would spoil the fun for future prisoners, but the Moundsville Prison staff get a huge cap-tip for this creative "manimatronic."
Set design was minimal in many places, which was often sufficient, given the existing nature of the building. The graveyard scene was the best example of eye-candy, though, among the areas that were done-up, with a brief cave area coming in just behind it. Several mazes, occurring in varying degrees of illumination, as well as a variety of individual scenes, often prison-themed (obviously), made up the majority of the attraction. Again, though, the real star of the haunt is the prison itself – the set designs were largely window dressing to amplify the effects of rows of cold, lonely cells and prison grounds.
Lighting effects, animatronics, etc were used sparingly, but to decent effect; several clever, homemade effects scored successful startles, as further illustrated below.
---
Theme:

N/A
N/A – Dungeon of Horrors covers a wide swath of themes, environments, and types of scares.
---
Fright Effect:

9.36
The Dungeon was most effective at psychological scares – the "in theme" portions of the attraction were especially vivid and visceral and offered extended moments of panicked anxiety. The Dungeon doesn't hold back – make no mistake; at times, Dungeon of Horrors is a very intense experience – raw but entertaining. Most of the best actor-generated frights were cultivated through these prolonged interactions.
Serving as a transition between the more "realistic" first portion of the attraction and the more traditional segments of the back half was a very interesting ride that claustrophobes will certainly not appreciate. The rest of you, however, will love this unique method of transportation.
There were very few quick scares by actors – nearly every character that we encountered was involved in an extended, interactive scene/fright of some sort.
Therefore, the best "boo" scares were created by clever, homemade set pieces – an earthquake hall, a VERY effective cell drop, and several creative zombie rooms. The best scare came as the crescendo to the attraction, though – an animatronic that wasn't exactly what it seemed.
DofH definitely supplied an even slathering of frights to our entire group. We were all equally involved in the early bits of the experience, and there were plenty of actors to "embrace" the entire procession as we continued through. Dungeon of Horror provided full-group scares better than most other attractions.
---
Value:

9.19
Our tour through Dungeon of Horrors lasted a stout 45 minutes; ticket fees range between 20 and 28 dollars depending on which day you are visiting, with additional costs for zombie paintball and the escape room.
As I've stated above, the true star here is the prison itself. No amount of high-tech wizardry and painstaking set design can ever emulate the feeling of creeping dread that comes with a tour down dark prison halls. That fact that the owners have also managed to superimpose a competent, entertaining attraction atop that framework is admirable and places Moundsville as one of the best of its guide.
We had a great time during our visit, and can absolutely recommend the full experience (haunt plus escape room and zombie paintball) to anyone wishing for an entertaining haunted excursion.
---
Promo Images:
Click to Enlarge
---
Guest ReviewsGuest Average: 9.75 out of 10
Mike Adams – 10/10 – October 22, 2016I have been to several Haunted Attractions and this is by far the best in the Ohio Valley. …show more Constantly improving.
DC Books – 9.5/10 – October 6, 2018Amazing haunt. One of the best we've been. Custom sets, and a themed plot that follows you all the …show more way through a real prison. More focus on creepy storytelling than screamy jump scares, but there's a bit of that too. Totally worth the trip, and the highlight of this year's Season of the Witch road trip. Also very reasonably priced for such a detailed haunt.