Edge of Insanity Haunted Attraction – Full Review
Edge of Insanity Haunted Attraction is a Haunted Attraction located in Kokomo, IN.
5635 North 00 EW, Kokomo, IN 46901View All Details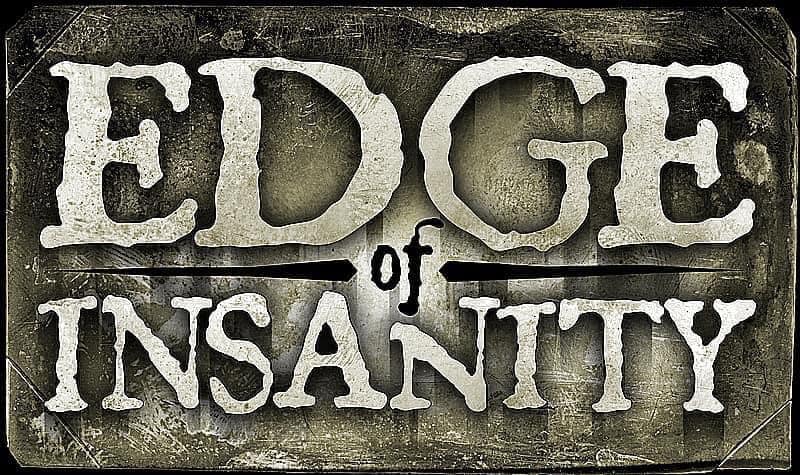 Features:

Free Parking, Restrooms/Porta Potties On-Site, Food/Concessions, Gift Shop/Souvenirs, "Old-School" (Low Tech), You will NOT be touched, Original Characters, Covered Outdoor Waiting Line, Indoor/Outdoor Attraction

How Do We Get These Scores?

Final Score:

8.59
How Did We Get This Score?

Summary:
Edge of Insanity sits on the outskirts of Kokomo, Indiana on an unassuming residential street. Walt and Tammy Ingham have operated their home haunt for charity for the past 11 years. When we say 'home haunt' we mean that three elaborate out-buildings sit permanently on their property and when we say 'charity,' we mean that each dollar they make is distributed to people in need locally as well as all over the country. They support charities such as Pals for Paws, Cops for Kids and Don't Be A Monster as well as the Tom Ingham Scholarship Fund, which was established in memory of Walt's late brother.
Their incredible cast of volunteers have donated hundreds of hours to improving and rearranging the haunt over the off-season and their pride for their haunt home is evident in each and every scene.
---
Cast: 8.9
How Did We Get This Score?

The cast is made up entirely of volunteers, many of whom have been coming back season after season. Their combination of teamwork and individual attention to their own characters make for an absolutely relentless haunted house experience in both of their attractions.
The patients of Weitle's Asylum overwhelm you with their raw, intense energy as Nurse Alice guides you through the wards while also frantically searching for Patient 25 at the commands of the Doctor, who we certainly wouldn't want to mess with. This year, the Asylum introduced us to quite a few brand new characters, including a monkey who may or may not actually exist and Patient 25 himself, who most definitely is real.
Once Alice boots you outside to go look for Patient 25 in the asylum graveyard, you fall prey to the denizens of Hell's Half-Acre, a group of quick-witted, talkative hillbillies who despite their small numbers, manage to pop out of every dark corner you can possibly imagine. The long walk among the open pigpens allows the actors to scare, hide, and scare again many times. These folks are masters of distraction and will charm you into a false sense of security over and over again to give their cousins time to get you from every weird angle there is.
---
Costuming: 8.65
How Did We Get This Score?

Both haunts are canonically set in 1909, which is evident in their costuming choices. Tammy Ingham is fully dedicated to detail and realism in the costuming department, which nicely approximates grungy Edwardian fashion without weighing their actors down with coattails and cage bustles.
Two hobo clowns roamed the queue line outside as entertainment for patrons and patients alike. As for the hillbillies, they were dressed in worn and stained work wear, probably actual sweat and dirt, and some'unusual accessory choices which added extra personality to their quirky characters, as well as allowing patrons to distinguish who was who in the dim lighting.
---
Customer Service: 8.5
How Did We Get This Score?

Edge of Insanity is very careful to follow every safety standard in the book, and hires an off-duty cop to keep things running smoothly. None of the set pieces seem flimsy or thrown together, there are plenty of Illuminated exits, and the stairs are well indicated with rope lights and glow paint.
GPS takes you straight to the Asylum's front door, however, it sits behind a fence on a divided highway, so it can be a bit difficult to spot at first. A few patients, clowns and hillbillies mill about the queue line and driveway of the haunt, sometimes chasing exiting patrons all the way down to the parking area, which is super amusing for those who get to watch. There is a food truck on site, and we highly recommend the BBQ nachos.
---
Atmosphere: 8.5
How Did We Get This Score?

There were quite a few new additions to the outside of the haunt this year, including a larger graveyard display (separate from the one inside the haunt), several lighted signs and a bevy of rotating queue line actors to keep the entertainment fresh.
While it is quite apparent this haunt is located in the backyard of a suburban home, Edge of Insanity does make a strong effort to conceal this fact and furnishes the waiting area with a spooky Halloween aesthetic.
---
Special Effects:

8.85
How Did We Get This Score?

Edge of Insanity doesn't make use of many sound effects within the haunt, but instead rely on their insane cast of inmates to act as their soundtrack. There is a sound activated light within the haunt which is visible to most of the scenes within Weitle's Asylum. As long as the light is on, they know they're making enough noise. This is a rather ingenious concept in our opinion, as it gives their actors a continuous challenge throughout the night to stay on top of their game. Various small props within the haunt do make noise, but the majority of their soundtrack in the Asylum is naturally sourced. Speaking of their props, Edge of Insanity makes many of their props in house, and their shock therapy scene includes a huge, one-of-a-kind prop which is based on a real life piece of Victorian quack medical equipment. You'll know it when you see it, and you definitely should!
Hell's Half-Acre is differently themed but is still connected to the overarching theme of the entire haunt. They aren't much for pre-recorded sound effects either, though. The eerie, quiet rustling of leaves were about all we had to keep us company in the dark. The trail was scattered with pine wood shavings, which silenced our footsteps as well as the footsteps of all the actors lurking in the dark. Aside from the family pet in the hillbilly shack and the show's grand finale, everything you hear in Hell's Half-Acre is organic, non GMO, gluten free, all natural noise.
---
Theme:

9
How Did We Get This Score?

Under the name Edge of Insanity, there are two themed areas which are loosely tied together by location and time period. Weitle's Asylum is a mental hospital in disarray, inhabited by lunatics who are patients and staff alike. Upon entering the front door, we meet Alice, the head nurse at the Asylum, who is preparing to take guests on a tour of the facility when the doctor bursts in, furiously looking for Patient 25. The responsibility falls on Alice to find the missing patient, and uses her tour as an opportunity to hunt him down. Patient 25 is nowhere to be found inside the asylum, so Alice boots her tour group out the back door and sends them into the dark to look around for the doctor's missing subject. Indeed, we did find him lurking just outside the door this year, as opposed to previous years where we were sent on a wild goose chase for a patient that did not exist in actuality.
As we made our way further into the woods, we wander through the grounds of the Asylum's graveyard, which leads us to a shack in the middle of a clearing. Emerging from the tall grass and corners of the building were a large family of rowdy hillbillies who are squatting on the back of the Asylum's property. They have been squatting so long, they've had time to develop a small farm with a number of pig sties which patrons must navigate like a maze as your new hillbilly besties tease and antagonize you all the while. As you leave the shack, you circle back towards the graveyard on the front of the property, and the hillbillies offer you a shortcut through the mausoleum, which comes alive with the ghostly rattling of bones.
---
Scare Factor:

8.18
How Did We Get This Score?

The volunteers at Edge of Insanity are masters of distraction and maintaining a high level of energy through the entire performance. They are not concerned about age, size or apparent gender. They are going to try and get you regardless of whether or not you look like a target. If their scare doesn't work, they still don't give up and will instead try to entertain you. Even out in Hell's Half Acre where there are far fewer places to hide, one person will entertain you with jokes as another surprises you from the other side. I don't think it can be overstated that these folks are relentless in their pursuit to scare and entertain their audience.
---
Entertainment & Value:

8.33
How Did We Get This Score?

It took us about 20 minutes to walk through the whole haunt. They have raised their ticket price to $12 each, but the value for your money is still 1.67 minutes per dollar which is well above average.
If you choose to skip the line, Edge of Insanity has introduced a fast pass option for this year for $20. They also added several actors to their cast, which helped take care of some of the 'dead spots' we encountered on our previous tour. Together between the set improvements and the addition of several new characters, they have done an excellent job at keeping the experience fresh for the 2018 season.
---
How Did We Get These Scores