Review of Eerie Acres Farm Haunted Attraction
Review of Eerie Acres Farm Haunted Attraction
Review of Eerie Acres Farm Haunted Attraction
Eerie Acres Farm
Eerie Acres Farm is a Haunted Attraction located in Butler, PA.
386 Eagle Mill Road, Butler, PA 16001View All Details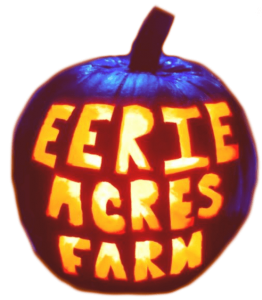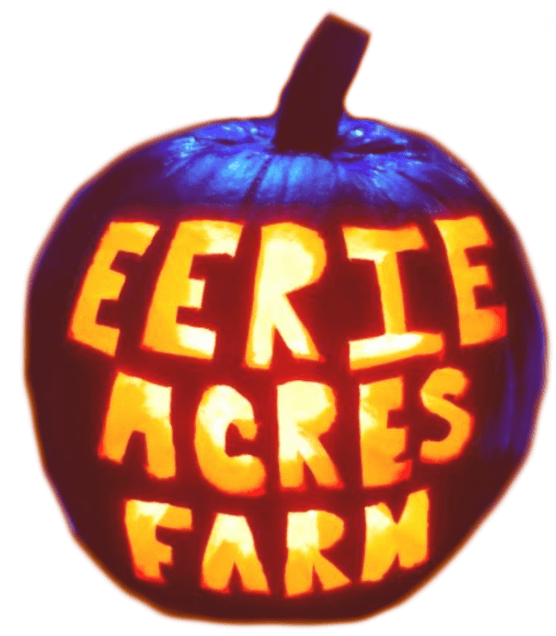 Features:
Free Parking, Restrooms/Porta Potties On-Site, Food/Concessions, "Old-School" (Low Tech), You will NOT be touched, Original Characters, Uncovered Outdoor Waiting Line, Indoor/Outdoor Attraction
Team Houdini reviewed this Haunted Attraction on October 23, 2021.
How Do We Get These Scores?

Final Score:

7.83
How Did We Get This Score?

Summary:
Eerie Acres started with humble beginnings as a yard haunt and Halloween party almost 20 years ago. Since the owners enjoyed it so much, they decided to share their creations with the world. Now in their fifth year, with improvements being made each year, they can present both the indoor and outdoor area of the haunt. This is unlike last year's strictly outdoor haunt, which provided a longer and more diverse haunt. Eerie Acres delivers a melting pot of scares for guests. You will never know what will happen next in this cornucopia of fright.
---
Cast:

8.05
How Did We Get This Score?

Although Eerie Acres had a total of 44 characters, there were a few areas we felt could have used an actor. It wasn't extraordinarily prevalent, but at one point, we did mention to one another that we hadn't seen anyone in a bit. As this is an actor-driven haunt with minimal props and animatronics, it stood out more than usual. This may have been intended to build suspense as we quickly forgot about the previous lack thereof once we made it to a character.
The characters inside primarily relied on jump scares, screams, obstructing, and standing inanimately. However, there were some stand-out performances. During the redneck scene, the actors showed us their pet possum, Gerald. The clowns were fun and exciting, with one swinging on ropes while the others interacted with the audience. CiCi even made a callback to last year's review. In a creepy voice, the second clown told us we "could be a new sideshow: dumb and dumber." She must have read our reviews!
The dentist was disturbing with a twitchy demeanor. In a cackled voice, he asked if he "could have my teeth." Another putrid character was the plumber who made me gag as he ate what appeared to be feces off of a plunger. The outdoors had some incredible interactive moments too. Although Dreamboat the Clown did not say much, we could hear his unsettling laugh or nervous whine throughout the corn as he ran, and I mean ran* through the corn area, not only appearing once but several times as we made our way around the trail. The pirate had some dialogue about spirits (namely rum) with a dead pirate trapped in a chest. A preacher named John with a British/English accent introduced us to some spirits (ghosts) that had been trapped there for hundreds of years, as well as praying for us in old Latin. As we continued along, one of the spirits from the Brianna tombstone pleaded with us to stay with her. We also ran into a coven of witches or wannabe witches. Three young girls and an older witch were playing ring around the Rosie; they requested we dance with them. It felt like a scene from The Crucible.
The actors played their parts well, whether for scares, entertainment, or comedic, like the character in the maze choking his chicken.
---
Costuming:

7.74
How Did We Get This Score?

Costuming is adequate in some areas and good in others. There were a decent amount of street clothes or dark clothing, mainly on the jump scare actors, which is relatively standard. A little more detail wouldn't be declined, though. The other characters had well-put-together ensembles. The hillbillies had on the emblematic overalls and flannel shirts, the clowns had on good costumes that looked above store-bought, the pirates had fitting slops, Abigale, Mary, Betty, and Mercy (anyone get it?) had on black hooded cloaks. The plumber, well, I didn't notice his clothes. Still, he was covered in sh!t and toilet paper.
The characters had on a mix of masks and makeup. For example, the monsters in the theater scene wore masks to blend in with the dummies, and the butcher had on a pig mask. We liked the pyramid head mask in the torture room, and the dentist had a nasty-looking skin-like mask covering his face, and the chicken-choker had on a pumpkin mask.
Makeup consisted of the usual black and white makeup for ghostly effect, clown makeup, and bloody makeup. All were fitting and looked good.
---
Customer Service:

8.55
How Did We Get This Score?

Eerie Acres was easy to find using GPS. There is a small sign out front as you turn into the driveway, which looks like a residential driveway, mainly because it is. The haunt is located in the owner's back yard; I wish I had a backyard like that. The staff was helpful and friendly, from the parking attendants to the ticket booths to the concession stands and management.
The only safety issue we encountered was mud that made the walk slippery and sticky like quicksand. At the time of our visit, we had experienced a good amount of rain, so it's not surprising, but it was notable as I almost fell a few times. However, it looked like some areas had hay thrown down. I think some additional hay would have helped out.
Eerie Acres has a website with plenty of info, and they are on social media. Regarding Covid, they are following local guidelines.
---
Atmosphere:

7.27
How Did We Get This Score?

Eerie Acres is a haunt with a party atmosphere. During our visit, they had a live DJ playing what the kids today refer to as "oldies," a mix of '80s, '90s, and today. We didn't feel the tunes were necessarily haunt-themed, but they were no different than most other haunts that we attend. However, we did hear Monster Mash, though! There was a large bonfire to warm yourself by as it was a tad chillier than it has been on this night. The outside of the haunt looks pretty plain with its large wooden structure. However, a few line actors were roaming around to help prepare guests for the inside of the haunt.
---
Special Effects:

7.32
How Did We Get This Score?

Eerie Acres offers a mix of haunt scenes inside and out, hillbilly houses, sweaty swamps, thrilling theater, a realistic red room, carnivorous carnival, a demented dentist office, a ghostly graveyard, a peculiar pirate ship, and more. Eerie Acres does an excellent job of creating exciting scenes on a smaller budget.
The sound was used differently in each area to provide intensity or add complexity to the sets. For example, in the nuclear fallout area, a warning horn was blaring, banjo music played in the Hillbilly area, ambient sounds played in the swamp, and clown music played in the carnival. However, we did not notice a sound except for the Hillbilly playing Cotton Eyed Joe in the outdoor area.
Some scenes that stood out were the cemetery with large pillars and tombstones giving a realistic feel and blue lights setting a somber mood. The theater room had a movie playing on a projection screen with seats full of dummies that you had to weave through, leaving us unsure of who may be real and who might not. The red room felt grimy, weapons hung on the walls, cages contained victims, and a dull red light poured over the set. The hillbilly façade looked realistic, like an authentic shack. Little touches like smoke coming out of the pirate ship's cannons added nice detail, as did the occult paraphernal at the witch's scene.
Some areas could have used a little more polish, but the owner plans to work on that next season. However, we still found it to be an immersive experience.
---
Theme:

N/A
How Did We Get This Score?

Eerie Acres does not have a set theme. Instead, they have a mixed bag of horror fuel. Each scene is exclusive, with no continuity to other scenes or the location.
---
Scare Factor:

7.92
How Did We Get This Score?

Eerie Acres does a good job of bringing the frights, relying more on their actors than props and sets. Most are jump scares, utilizing loud noises like in the fallout area, actors popping out of unexpectant places like in the blacklight splatter paint room, and sudden movements from lifeless looking beings as they did in the theater area. Good interaction and setup from the clowns led me to an unexpected scare from another clown hiding in an unforeseen spot.
I also had another surprise as we went through the hillbilly area. We passed a fence with holes in it, so I decided to stick my hand through the fence hole, acting like a dumba$$. One of the hillbillies jumped in front of my hand and screamed through the fence, giving me a good jump.
Not all scares were direct. Dreamboat's maniacal laugh and stalking sent chills down our spine, the plumber provided a gross-out scare with his sh!t face, and John in the cemetery provided an overall uneasy feel!
Overall the scares provided had good variety, were well executed, and provided some great amusement.
---
Entertainment & Value:

7.99
How Did We Get This Score?

Eerie Acres is Open in October Fridays and Saturdays from 7-11. General admission is $20, and VIP is $30. It took us approximately 25 minutes to traverse the grounds, which puts it at 1.25 minutes per dollar, just under our 1.32 MPD average this season (based on 18 haunts within 1.5 hours). There is also a community bonfire and DJ included with the price. Concessions and private bonfires are separate fees.
Eerie Acres shows improvement each great season; growth and creativity are important for haunts. We look forward to seeing what they do next year and some additional deranged details to the haunt experience. Great performances, solid scares, and comical breaks give Eerie Acres a scary and pleasurable romp.
---
How Did We Get These Scores

Photos from Review Trip:
Click to Enlarge
Guest ReviewsGuest Average: 10 out of 10
Taylor – 10/10 – October 14, 2017This haunted house has a ton of scenes that you don't see at most haunted houses anymore. Great …show more quality and plenty of scares. Recommend to all!