Eloise Asylum – Full Review
Eloise Asylum is a Haunted Attraction located in Westland, MI.
30712 Michigan Avenue, Westland, MI 48186View All Details

Features:

You may be touched

Most Recent Video from The Scare Factor:
(Scroll for Scores and Written Review)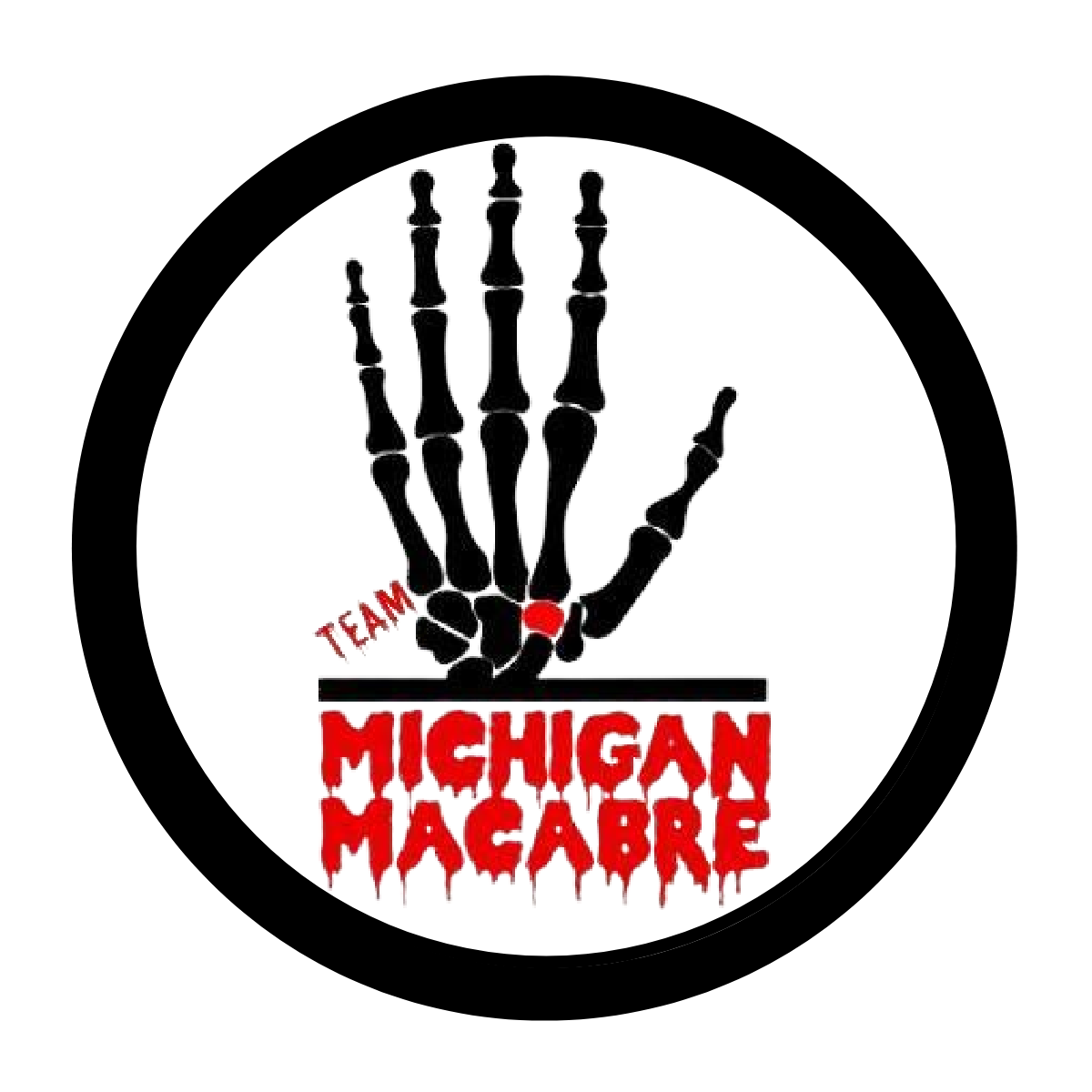 This attraction was reviewed on October 27, 2023 by Team Michigan Macabre.
---
About Our Reviews and Rating System
---
Final Score: 8.32
Final Scores – By Category

Final Scores – By Attraction

Summary:
Eloise Haunted Asylum in Westland, Michigan, is in its third year welcoming those who are brave enough to enter. Visitors can journey into the depths of terror where the ghosts of the past still roam. This attraction takes advantage of the asylum's eerie history and the abandoned buildings to create a spine-chilling experience for thrill-seekers during the Halloween season. The combination of the asylum's real historical background and the spooky ambiance makes Eloise Asylum a unique and immersive haunt that attracts those seeking a thrilling and paranormal experience. For one price, you can experience two separate attractions, providing a full understanding of what goes on behind those walls. This is where fear meets the supernatural, and the boundary between the living and the braindead blurs into an unforgettable experience.
---
Cast Score: 6.88
Cast Scores – By Question

Cast Scores – By Attraction

Cast Review:
The number of actors within Eloise Asylum were surprisingly low. The Asylum had probably two or three times more actors than The Basement in total the night we visited, but we still anticipated more due to the amount of space we covered. There were long breaks of no interaction from any live person, many of the dead were seen along the way though! There was plenty for us to look at as we maneuvered through those walls, but we would have enjoyed more interaction from live personnel.
Those we did see were entirely convincing in their roles, and there were no character flaws observed. Most only uttered an "Aahh!", or "I'll get you" type of cliche scream. The actors are probably comfortable with a large amount of bodies streaming through each night with no ability to control the flow of the fans, so, understandably they were short with their interactions.
Some enjoyable folks within The Asylum were medical personnel wanting to administer our vaccines for us, very kind, but totally unprofessional while they had dead bodies right next to them. What happened to respectable bedside manners? Geesh!
Additionally, those who did not say much, if anything at all, were cast well as they stood eerily in a padded room, or laid quietly on a bed as you crept by.
Within The Basement, we were greeted by a tweaked out gentleman wondering why it took us so long to visit. He had a lot of gadgets to show us, but we had to keep moving, so sorry we missed your life's work!
A woman in a locker room type area recollected a memory she had of us which for some reason we do not remember. Her erratic behavior and questionable storylines leaves us to believe she perhaps was one of the unfortunate souls who were tested on while squirreled away in The Basement.
The characters were all appropriate for their scenes whether in the Asylum or The Basement. A majority of the Asylum actors were of the insane variety. Accompanying them were also the doctors and caretakers who were not of the empathetic type, they seemed to also be bitten by the insane bug as well.
The Basement consisted primarily of doctors, lab workers, and hazmat suit wearing staff.
---
Costuming Score: 9.18
Costuming Scores – By Question

Costuming Scores – By Attraction

Costuming Review:
Those actors we were able to see closely, were pretty decked out in their accompanying garb. The dead appeared dead, and the deranged appeared, well, …deranged. The makeup and contact lenses, while not overly unique, contributed to the atmosphere. We did not see many masks, if any, and all makeup seemed professionally done without question.
The insane inmates were dressed in a manner that conveyed a sense of eerie authenticity, staying true to the theme.
Those within the Basement also had a disheveled appearance, which added a sense of consistency to the experience. A few donned dark clothing in order to pop out at us from their hiding spots.
---
Customer Service Score: 9.15
Customer Service Scores – By Question

Customer Service Scores – By Attraction

Customer Service Review:
Eloise Asylum offers an impressive and easily identifiable presence, making it a breeze to locate. The spacious parking area was well-organized, with clear entry and exit points. Attendants were on hand to guide vehicles efficiently, ensuring a smooth flow of traffic. The well-lit parking lot provided a secure environment with no safety concerns. A repetitive loudspeaker announcement delivered essential instructions before entering the haunt.
The security process, involving metal detectors and wands, was well-organized, with lines clearly marked to streamline the entry procedure. All attractions and the ticket booth were easily identifiable. The staff members we encountered were not only friendly but also genuinely interested in our experience and available to address any inquiries. Security personnel maintained a visible presence throughout the premises, adding to the overall sense of safety.
It's worth noting that ticket purchases for the haunted attractions are primarily conducted through the Eloise website, though additional event details are somewhat limited on the site.
---
Immersion Score: 8.63
Immersion Scores – By Question

Immersion Scores – By Attraction

Immersion Review:
The pre-haunt atmosphere was a spectacle to enjoy! The building itself is awe-inspiring, but in addition to that there were lasers and mood lighting, with music and performers on a main stage. There were at least six food/drink trucks carnival-style. Actors roamed the grounds looking for victims, and also found those within the queue lines. There were plenty of photo ops including epic scenes being overrun by pumpkins and the like.
The theme was never really elaborated on by anyone when we were there. It is probably assumed everyone knows that the storyline of a defunct insane asylum's theme is that of an insane asylum. We did have to ask about the second attraction to find out the name is The Basement. The connection between the two haunts is a little less obvious. We are guessing that The Basement is where they tested on the residents within the Asylum and allowed that process to go haywire. How this bleeds into the realm of aliens and the monstrosities observed in The Basement is something of a supernatural nature.
Within both haunts, the immersive quality of the sets and rooms transported you to an entirely encompassing experience. There was nothing out of place nor was there any lag time between the rooms you ventured through.
The only issue we encountered were the dreaded conga lines inside. We consistently had the group behind us creep up and the group in front of us stop us in our tracks. Having to try to balance the two for most of The Asylum and The Basement was upsetting. This takes away from the experience we could have had, and leaves us disgruntled. The entrance and exit for each haunt all occur within the midway of events going on in the night. There is plenty of room to gather, gander, and take in the sights and sounds that are Eloise Asylum.
---
Special FX Score: 9.46
Special FX Scores – By Question

Special FX Scores – By Attraction

Special FX Review:
The special effects of Eloise Asylum and The Basement are comparable to a horror movie set or an amusement park! The ceiling to floor sets are truly some of the greatest we have seen. The detail and professional grace of the scenes especially in The Basement were amazing. The use of lighting, and projection truly puts on a show. We would love to walk through again just to capture all of the sights once again. We felt like we did not have enough time to appreciate everything in the moment.
The amount of animatronics was overwhelming to say the least. Everything from water vomiting to egg sack squirming animatronics were observed in Eloise. We were most impressed by the presence of some alien-related monsters we met.
The constant assault on our ears from the sounds within Eloise was intense. The decibels inside those walls are enough to cause any observer walking through to come out as insane as the residents! From loud alien frenzy noises, sirens, laughter, music, and a constant ringing in our ears we took it like champs!
Placement of the props, animatronics and sets were on point. No discussion on that. Eloise's highest point is definitely the theatrics and special effects. One must see it to appreciate it.
---
Scare Factor Score: 7.52
Scare Factor Scores – By Question

Scare Factor Scores – By Attraction

Scare Factor Review:
The scare factor at Eloise Asylum was undeniably effective, with most of the actors successfully sending shivers down our spines. Their sparing use heightened the element of surprise, ensuring that every encounter with a live actor induced a genuine scare. From sudden pop scares to clever distractions and actors concealed in the shadows, they managed to elicit startled screams. Subtle touches, like a gentle flick of your hair, a light graze of your Achilles, or a whisper in your ear, further intensified these hair-raising moments.
However, as we progressed through the attraction, a growing awareness that many elements were props or part of the staged experience somewhat diminished the fear factor. Nonetheless, the unsettling ambiance persisted, fueled by loud, disorienting sounds, entire walls enveloped in eerie television screens, and menacing file cabinets that added another-world quality around every corner.
The occasional overlap of visitor groups sometimes meant that animatronics and actors were already engaged when we approached, again, an unfortunate experience which resulted in a less than scary time. The utilization of collapsing walkways was one such surprise that added an extra layer of unpredictability to our visit.
---
Entertainment & Value Score: 8.83
E&V Scores – By Question

E&V Scores – By Attraction

E&V Review:
Our journey through The Asylum lasted for a mere 13 minutes, and The Basement offered a similarly brief 12-minute experience. Although we wished for a more extended stay within those haunting walls, (triple the time would have been nice to observe everything!) the crowds of people inside left us with little choice but to move along swiftly.
What truly enhances the value of the Eloise experience is the array of added entertainment it offers. The inclusion of midway events, a captivating theatrical freak show, live music, and refreshments transforms the evening into a comprehensive series of events, making it more than just a fleeting activity. For those seeking an extra thrill, there's also the option to participate in an escape room for an additional cost.
The combined admission price for both The Asylum and The Basement stands at $45, with the potential for discounts, as seen on their website. The VIP option, priced at $65, also displayed opportunities for savings. Considering the entertainment package and the enjoyable Halloween atmosphere, an evening at Eloise certainly appears to be a well-spent and reasonably priced venture for a spooky night out.
---
View Full Score Sheet
---
Pics We Took From Our Visit:
---
---
Have you visited this attraction?
Join ourspookyadventures!
We visit Halloween haunted attractions year-round! Follow us for haunted house walkthrough videos, behind the scenes footage, and more!