Review of Erebus Haunted Attraction
Review of Erebus Haunted Attraction
Review of Erebus Haunted Attraction
Erebus
Erebus is a Haunted Attraction located in Pontiac, MI.
18 South Perry Street, Pontiac, MI 48342View All Details


Features:
Paid Parking, Food/Concessions, Gift Shop/Souvenirs, "Hi-Tech" Attraction, You may be touched, Original Characters, Indoor/Outdoor Waiting Line, All-Indoor Attraction
Team Scary Potter and the Hauntwarts Express reviewed this attraction on October 15, 2016.
Final Score:

9.35
Summary:
It's been scaring up support for over three decades, but Pontiac, Michigan's best haunted attraction, Erebus, is showing no signs of slowing down. Praised for it's unique props, set design, and over-the-top thrills, Erebus has truly established itself as one of the must-visit haunted attractions in the country. This Halloween season, any hauntoisseur seeking out the biggest and the best that this industry has to offer, mark Pontiac onto your map and make your way out to Erebus immediately.
---
Cast:

9.08
On a given night, Erebus fills its twisted halls with at least 100 evil caretakers – a word that I use for a very specific reason. Especially in the early sections of the attraction, it's true: there are a good deal of startle-actors and a few interactive actors. These devilish denizens portrayed their particular characterizations well, though we didn't spend much time with most of them. The doll room dame, and a few zombies were particularly noteworthy.
BUT, the actors are not the star of the show here; they're not intended to be. They serve their purpose, yes, distracting and startling, but they mainly exist to enhance the omnipresent malevolence of the attraction itself (see Fright Effect and Special Effects). In this, they are quite effective – as hors d'oeuvres to the environmental chaos and monstrous interlopers.
---
Costuming:

8.48
We found customing, on the whole, to be adequate. Individual outfitting did vary a great bit from actor to actor, though. Many of the "I'm just a prop..wait, no I'm not; BOO" characters were done up quite extensively – a monstress parading as a stone slab in one hallway being the best of the lot. But, we saw a few lackluster costume decisions that detracted from the immersion level of the attraction. Admittedly, I'm not sure if this is oversensitivity or not, so my decision here is certainly up to interpretation, but I was really bothered by a zombie wearing glasses. Had he not been quite so prominent in the scene or had given a better performance, the faux pas may have eluded me entirely. There were a few other, more-minor "offenses."
Overall, though, the vast majority of the cast was properly adorned – believable and visually creepy.
---
Customer Service:

9.39
If you can follow a spotlight (or several of them, actually), you can find Erebus. If you are somehow able to miss the gigantic, eerie building at their projection point, perhaps consider a stronger visual correction prescription.
Unfortunately, given its location, Erebus does not have access to its own parking. There is a lot directly across the street that can be accessed by patrons, though, for a fairly-substantial $5.
There are several ballpark-style vendors of light-up gadgetry perusing the queue line, peddling their luminescent wares. We have actually purchased several pairs of light-up gloves here, as they are fairly inexpensive and really cool. After completing a walkthrough of the attraction, there is a souvenir shop and a food booth. You can also have your picture taken and purchase a collectible Erebus photograph.
The staff that we encountered were friendly and helpful, particularly haunt owner, Ed, who was kind enough to give us some of his time to provide details and background for the attraction. A swell gentleman, that one.
One important note: we all hate haunt-choking: inevitably, within minutes of entering an attraction, because each group is moving at a completely different pace, one set of patrons will run into another. Yes, we all hate it – it can cheapen the experience when the group in front of you is getting the scares, but the actors don't have enough time to reset for your group. Fortunately, there are multiple "checkpoints" throughout Erebus, at which monster-staff hold up progression and reestablish proper gaps between groups. This is a MUCH appreciated design decision.
---
Atmosphere:

9.4
City haunts can be a tough creature to properly cultivate, as urban sprawl is not the most conducive environment for haunted attractions. Indeed, the initial line for Erebus feels like the entrance to some exclusive club with a bouncer poised at-the-ready to admit or eject potential party-goers. Even the loud music emanating from the attraction-proper seems to authenticate this interpretation.
Fortunately, circumstances alter dramatically when you enter the Erebus building. The queue line has been wonderfully transformed into a futuristic tableau, like the inside of an enormous, high-tech space shuttle. It is easy to quickly forget that you are in downtown Pontiac and not aboard an intergalactic space station. This new addition to the waiting line is a much-appreciated atmospheric boost. By the time we reached the ticket-taker, the effect had overtaken us.
The set design of Erebus's waiting line is better than the "guts" of some actual attractions.
---
Special Effects:

9.97
Erebus' bread and butter, without a doubt, are their effects. They create the attraction's physical environments and they provide the majority of the scares, so Erebus' potency is, then, completely dependent on realistic and well-constructed special effects. Verdict? Mission accomplished.
Most notable about the design structure of most of Erebus is that most of the pieces you see in use – either as eye candy or functional mechanization, are homemade and relatively simplistic. Erebus feels like the dream haunted attraction of every 12 year old, aspiring haunt-gineer… stringing pieces of fishing line in his parents' basement to creep out his brother. Much of their effects are unmistakably low-tech at heart, but so clever and unique as to be MORE effective than their convention-bought cousins. Don't get me wrong, Erebus's special effects are professional-level and visually-striking, but they are fabricated through more natural techniques than you'd normally see at a haunt of this magnitude. It gives the set designers a lot more control over how particular effects interact with their environments and customers. The result is a 30-minute thrill ride, during which you, the protagonist, is beset by every type of environmental calamity imaginable. (see Fright Effect below) The degree of success that Erebus is able to achieve would likely be impossible with by-the-numbers, factory-made, animatronic contraptions.
The ambient sound effects used in the attraction work to enhance the persistent dread introduced by the interactive set design and the lighting subtly nudges your frayed nerves over the edge.
The single greatest environmental design is certainly the swamp. This effect blends together the details illustrated above perfectly: a simplistic design broadcast through the lens of clever craftsmanship into a truly effective result.
---
Theme:

8.94
Erebus has a very thin theme involving a scientist sending patrons through time. It can be a bit difficult to catch if you reach the introductory room late into the video clip. Sporadically throughout the attraction, you enter a teleporter of sorts and can see a large clock-device that indicates you have shifted through time again. Honestly, the theme is largely vague, but does serve as a basic justification for the different realms you experience. We didn't see anything stray too far beyond the limits of this concept.
---
Fright Effect:

9.81
Erebus's actors were pretty good; often preferring to "hidden in plain sight" as fictitious elements of the scenery, they administered a solid number of animated startles. A few "boo"-scares were weak, either due to uninspired performances or poor actor placement, but most actor-based interactions were effective.
The majority of frights, by far, though, came from environmental scares or human-directed faux-animatronics. Of the latter, there was an incredible variety available – all manner of beast, realistic or fantastical, pursued us throughout our ill-fated jaunt through history. From all directions they came – pawing, growling, leaping toward us. We found ourselves gleefully trapped in over-sized mandibles on multiple occasions.
Most memorable of all, though, were the environmental barrages. Of any haunt we have visited, no other has had the quantity, originality, or effectiveness of Erebus. While individual details would spoil the fun for any potential Erebusers, allow me to paint a few broad strokes. Everything is your enemy; everything. Walls will assault you, windows assail you; even the ceiling above is an unexpected violator. Trust NOTHING.
One certain stand-out is their vortex tunnel. Yes, if you have tiptoed around the haunted block, vortices are not an unfamiliar challenge. However, the designers at Erebus have spiced their iteration up with an added element of balance-distortion that will completely disintegrate your equilibrium.
A second stand-out, an incredible visual illusion, mixed with an environmental encroachment, will leave you pondering, should you make it through safely, "just how far down is down?"
Perhaps the most unique scare-attempt of recent memory, though, challenges claustrophobics in a truly sadistic fashion. Erebus is worth a visit to experience this "ballsy" effect alone.
---
Value:

9.7
It took us approximately 30 minutes to fully experience Erebus; ticket pricing is varied and depends on the date of your visit. A general admission ticket ranges from 23 to 28 dollars, though a VIP pass will always cost $50. There is also a free t-shirt giveaway to the first 200 people in line (and paying full price) each night or for the first hour.
Erebus is a unique experience. We visit a lot of haunted house and are incredibly excited if we see one or two new effects or concepts at an attraction. At Erebus, perhaps 70% of the effects are completely unique to their haunt. I'd say that absolutely tickled us pink; but, given the season, let's stick with orange and black.
There are a few attractions out there that really do earn the moniker "nothing else like it." Erebus is one of these and they definitely deserve all the praise and accolades they've received over the years. For anyone who loves haunted attractions, Erebus must, without question, be on your haunted bucket list – a creative, original attraction to which we give our highest recommendation.
---
Promo Images:
Click to Enlarge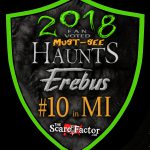 Guest ReviewsGuest Average: 0 out of 10
Sarah – 10/10Challenge Accepted was awesome! Me and my boyfriend were looking for escape rooms in our area, and …show more as poor college students, price was a big factor. Despite being only two small locations in the mall, they have multiple rooms, at 20, 40, and 60 minutes long, with the 20-minute rooms being only $10 each! We've been back multiple times, and loved every one! Staff is very helpful and enthusiastic about their job, and is thrilled to explain all the little secrets after you escape. Will be back every time they make a new room!
Norma – 4/10We visited this attraction on the last night of their 2018 season I believe. We did show up late …show more (about 20 minutes before they closed) and it was dead in the waiting line. Regardless, every group that was in the haunt somehow ended catching up to one another. We walked as slow as we could knowing there wasn't anyone behind us but we still couldn't stay away from the group in front of us. They had one teenage female that was petrified of everything so all the monsters kept taking advantage of it, cornering her every chance they got. They also followed her through multiple scenes that weren't theirs while our group tried to stay behind some and there were no entertainers around because they were all following her. When they would stop and turn around to go back to their base spots (if they even have them there), some of them just walked passed us without any effort towards scaring us. It was a disaster. This chic's name was Lauren and by the time we got to the exit of this thing, we were relieved that we didn't have to hear her name called out over and over and over anymore. She had to of been extremely annoyed by it herself. It took all of the fun out of it. Actors even stopped us in some of the maze portions so the other monsters could entertain their group for quite some time and they would just be staring off into outer space. The only way we knew they could talk is because they said Lauren's name already. Besides that, costuming was mostly store-bought quality. Nothing different to look at here. Scenes were the same. Some looked as if they had been built out there in the woods for years and they've sat through the seasons and no one's ever gone back to touch them up. Parts of the maze where there's a lot of plastic and wood seem to possibly be a danger. We didn't see any actors for quite some time in them bc they were following Lauren and if someone ignited one of these things, I'm afraid it would have taken us a long time to find the exit. Some spaces were very tight for us, if those were to fill with smoke where there are roofs, I don't think that would be good at all. At one point, we didn't know where to go at all so we weaved through these pipe-like things and found a hole and we started walking on this really dark path into the woods. There were props and things out there but 0 lights. Come to find out, it looked like a previously closed portion of the trail because when we got to the end of it, there was no way to get back into the maze. We had to crawl under caution tape to get back in. That right there tells you that no actors were paying any attention to our group. We paid full price for our tickets that night and we honestly should have just passed this place up. We've been here before too and it wasn't that bad. The highlights of the trip were the gentleman that introduced us to the park and gave us the rules before we went in. There was also one clown (Pickles, maybe
?) that actually put effort into scaring us but he was mostly one of the only ones. In one of the mazes there was a chainsaw assailant behind a door and we could hear the saw and see him through the crack of the door but we couldn't get in. When that door finally opened, holy shit! That was the best scare in there for sure! Also, there are places where you will need to duck down, tight corridors as mentioned above, uneven terrain, and a lot of walking (especially if you're bad at mazes) so be prepared for that.
Norma – 6/10Maybe we just went on a bad night but we weren't very impressed with this haunt. We had heard many …show more good things about it and we ended up with a free Saturday night so we gave it a shot. We showed up at probably 9:30 at night. Waited in line maybe 15-20 minutes so that wasn't bad. We really didn't have problems with spacing inside the haunt except for a few times but we were able to slow down and it helped when there wasn't anyone behind us. I will say, there were a lot of unique things in the haunt portion. One interactive set was very different and unnerving. Some of the characters were really into their roles while others were bland. One was sitting on top of a washing machine and he jumped down and we were thinking, "Oh shit" but he didn't do anything, he just jumped at us a little and said, "What?" In the outdoor portion of the haunt it was a bit too dark to see the characters, especially the Creeper. Our favorite part was the alligator! They know how to utilize this now, commonly-seen prop to the fullest for sure! If you are likely to pee your pants, you just might lose it on that one! I would give the house itself a 7 out of 10. Now we were under the impression that the corn field was haunted too. Although it was a good maze, there were three scareactors in it and they were terrible. No lights, sounds, sets, nothing but mud and corn and the dark. At first it was creepy but after we walked and walked and nothing happened, we were aggravated and ready to find our cars. The last actor that we came across could have hidden well since they were in all black but they didn't, they stood in the middle of the trail acting like they couldn't see, whispering to us as we walked asking us if we were customers. Wow. Don't upgrade to the corn if you're expecting a fright in there, it won't happen.