Evidence of Evil Haunted Attraction – Full Review
Evidence of Evil Haunted Attraction is a Haunted Attraction located in Middlefield, CT.
105 South Street, Middlefield, CT 06455View All Details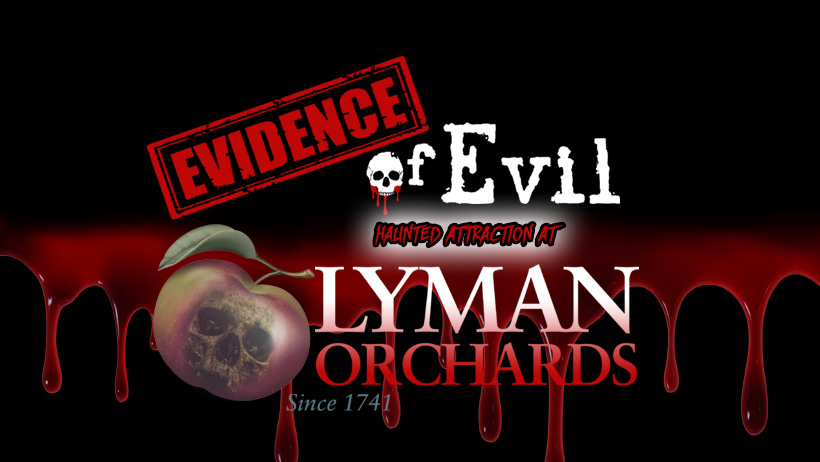 Features:

Free Parking, Restrooms/Porta Potties On-Site, You will NOT be touched, Original Characters, Uncovered Outdoor Waiting Line, All-Outdoor Attraction

This attraction was reviewed on September 29, 2018 by Team Old Crow Hollow.
How Do We Get These Scores?

Final Score:

9.05
How Did We Get This Score?

Summary:
Upon a preponderance of Evidence, the verdict is in and Evidence of Evil is an uniquely-unnerving experience. Using a strong passionate cast, detailed scenes and theming and their trademark method of extending the size of their attraction, as well as getting you to the front door, they unleash a one-of-a-kind theatrical style of horror.
---
Cast: 9.58
How Did We Get This Score?

The cast is small with only 12 devious souls who want nothing more than to mess with your head and just torment you. They are passionate and it's hard to tell if they are really into character or just showed up this way. Strangely enough, I almost felt like they held back a bit, and I almost wished they had gone even harder. The theming alone has made some guests uncomfortable so they are still finding the lines of where they can go and where they can push it. But this group feels it, loves what they do and I say push it as far as you can. It's what makes Evidence of Evil different and special. If folks are not down for hardcore devilish stuff then this may not be your haunt, but you would be cheating yourself to miss the performances and uniqueness of this group. You'll make it out alive most likely, but just leave your offended feelings at home.
---
Costuming: 9.4
How Did We Get This Score?

The costumes felt real… maybe too real? Think Satanic feel and your right there. They really set the scene as there are not a lot of props and details inside but the cast brings the rooms to life, so to speak, and the costumes and masks let you know what kind of people you are dealing with. They are all unique and higher quality, more like everyday clothes for these dark folks rather than costumes they put on for the show. They look lived-in and died-in. The makeup is on par; it did not stand out, but there are a few excellent masks that are extremely effective, especially the goat and the pig heads. The black goat looked less like a mask and more like someone took some taxidermy off the wall, gutted it and stuffed it on someone's head. I didn't ask questions, and I didn't want to give them ideas, although maybe I just did. If a guest goes in the future and gets put into a goat head, you have my apologies, and I also really think they should do that.
---
Customer Service: 9.25
How Did We Get This Score?

Evidence of Evil has the advantage of being small enough that they only deal with one group of customers at a time so that they are able to give really good attention to each group. The owners themselves with talk with you before and after as much as possible, and allowed us to watch other groups on their way to the front door of the haunt. They are actually very careful with you as far as safety goes, but don't tell them I said that. It's a professionally-run show; everything runs well and it's fairly easy to find the place off the main road. Just make sure you park out front by the main entrance. You'll see the lantern fires burning out on the patio area in front with check in right inside the door, as well as actual bathrooms that are very convenient before they come to take you away.
---
Atmosphere: 7.6
How Did We Get This Score?

Crystal Bee's is an amusement center with an arcade and bowling alley, but also a bar, a restaurant and, on the night we went, a live band playing. It's an eclectic place. You may not make it far inside the building though, as you are greeted by one of the owners at the front door and put in the 'on deck' spot to wait for the previous group to complete the experience. Once they are ready for you, a couple of serious-looking hooded individuals arrive to take you to the Haunt itself. You are led away single-file and gripping onto the person in front of you. All the while, strange latin and other languages are being spoken; something is coming up close and talking in your ear, but you can't see them. There's all sorts of other noises and yelling until you make your way to the front door of the haunt. Then, there are more instructions before you are led inside.
The only problem here, and it's a double edged sword for them, is the atmosphere is hard to be creepy when it's located at a loud and noisy amusement center. The lack of overhead and paved location is a plus for them as it allows for such a low ticket price, which is a win for the customers, but still eliminates any chance of being an authentically-scary place. The experience is scary, just not the location. If this was out in some remote wooded area, the atmosphere would be increased tenfold, but the price would also have to go up.
---
Special Effects:

9
How Did We Get This Score?

The haunt is designed for only one group of guests at a time so the cast can have their way with them from beginning to end. In fact, the best scene has the whole cast in a room with you at the same time, which is awesome, but made me wish more of the scenes were like this one – super interactive, intense and intimidating.
There are some cool effects here both inside and out – mostly lighting, but it sets the scene and lends some aura to the rooms. The obligatory lazer swamp fog is especially creepy here – higher than usual to make you wonder what is below that fog. It also makes the room believable as a creepy mystical section of the place. I'm sure there are some official regulatory issues with it, but some fire effects would have been awesome here, and really fitting for this theme.
---
Theme:

9.05
How Did We Get This Score?

Speaking of theme, well, it's certainly consistent and on point. These guys know this environment and Satanic elements are throughout the house, giving an 'Exorcist comes to life' feel to the place. It's dark; it's ritualistic in the way of movies like 'The VVitch' where you walk out unsure of what you just experienced. Basically, they nailed the theme.
---
Scare Factor:

9.05
How Did We Get This Score?

I pity and envy the guests who will brave this later in the season as these demons sink more and more into their roles and ramp the unsettling scares up. I know they are already tweaking and tightening the screws on the whole production to inflict as much as possible onto their willing victims. It's not that they get physical here, because they really don't in relation to other places. What they really want is your mind and emotions. It's hard because I'm sure most of the folks who visit here will not be prepared for or expecting this unusual style of haunt, as it's not just a bunch of hallways with jumpscares, but more theatrical, interactive and heavy on devilish theming if you will.
I would say the first part, their signature part can be particularly scary for most folks, especially if you don't know it's coming or what's going on. They do have some jump scares thrown in, but it's not necessary as their interactive parts are what is going to make or break this type of haunt. It's scary in more of a psychological way – again, more like 'The Exorcist' in that it freaks you out and disturbs you mentally.
I'm conflicted by Evidence of Evil with it's unpleasant, intense and dark tone, like I've gone into the wrong place and really shouldn't be there and, at the same time, wanting more of it… even more intense and interactive and unique. God help us when the day comes when Evidence gets to the point where they will break you inside their walls, 'cause I know it's coming, and I feel like I want to be there for that and I don't no why.
---
Entertainment & Value:

9.08
How Did We Get This Score?

With your $20 ticket price, you also get a $10 arcade card to use inside, either while you are waiting your turn or after your experience. The actual Evidence of Evil Haunt part, which took us about 30 minutes to get through, is just half of the ticket price.
It's theatrical on the inside and in the way they get you from inside the building to the haunt. For the ticket price it's still a good deal, and you get more value inside Crystal Bee's with all they've got going on afterwards.
It's an unusual, maybe unique setup, but Evidence of Evil is a unique haunt and I look forward to seeing it grow into the beast it's meant to become.
---
How Did We Get These Scores

Promo Images:
Click to Enlarge
---
Guest ReviewsGuest Average: 6 out of 10
Rachel – 10/10 – October 13, 2018I took the Apple. I peed my pants. 10/10 would go again!
Frankie S. – 10/10 – October 12, 2018So much fun
Rose – 8/10 – October 10, 2021First time trying Evidence of Evil and loved it! The actors were down to earth and all around cool …show more people.The waiting line was great with scarers keeping us entertained. The trail wasn't like any other I've been to.The interacting was my favorite part about the attraction. The only thing that was disappointing was it should have been longer since it was so enjoyable! Will go again!