Review of Exit 13 Haunted House Friday the 13th Haunted Attraction
Review of Exit 13 Haunted House Friday the 13th Haunted Attraction
Review of Exit 13 Haunted House Friday the 13th Haunted Attraction
Exit 13 Haunted House Friday the 13th
Exit 13 Haunted House Friday the 13th is a Haunted Attraction located in , .
6069 N Saginaw Road, Mount Morris, MI 48458View All Details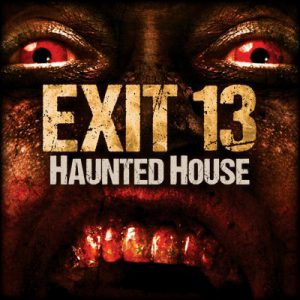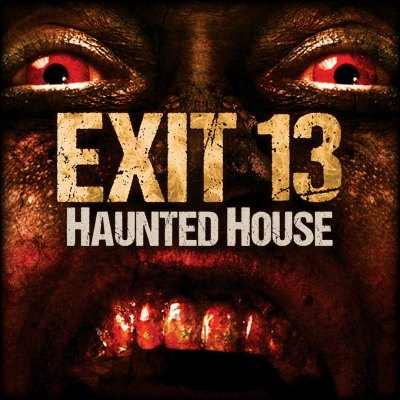 Features:
Free Parking, Food/Concessions, Gift Shop/Souvenirs, Special Events, "Hi-Tech" Attraction, You may be touched, Indoor Waiting Line
Team Body Bag reviewed this attraction on January 13, 2017.
Final Score:

9.45
Summary:
When we heard that one of our favorite haunted attractions in MI was putting on a one-night-only special event called "Friday the 13th Massacre,' we marked our calendar and counted the days with eager anticipation. Exit 13 Haunted House in Mt. Morris, MI has been one of the State's more intense haunts for the last several years, as well as one of the scariest. This was a "full contact," very intense and highly-interactive experience unlike anything we have ever experienced in our many years of touring haunted attractions. At this event, you should be aware and ready to be isolated from the rest of your group for the majority of the tour, as everyone was pretty much on their own after the first 5-10 minutes during our visit. We were grabbed, tied up, manhandled, fed something disgusting, hooded, locked in rooms and terrorized around every corner by the relentless cast! We came out of the exit exhausted, soaked in theatrical blood and smelling like something dead and rotten. The event was so well done, that it was hard to believe this was a first-time event. Exit 13 should be applauded for putting on such a creative, one-of-a-kind event. You can bet we'll be keeping our eyes peeled to their website and Facebook in hopes they will do something like this again in the future.
*Special note – This was a special event that did not take place during the normal 'haunt season.' If you don't like being touched or haunts that offer more of an 'extreme' environment, attending a special event similar to this may not be for you. Their normal show during haunt season is much different than the experience portrayed in this review.
---
Cast:

9.8
We have always considered Exit 13 to have an excellent cast of engaging characters. However, they REALLY outdid themselves for this event. We found the majority of the actors to be quite intense, both verbally and physically. The cast contained a large assortment of memorable characters; some of the most believable were the three chainsaw-wielding clowns, an actor in a realistic boar mask who was soaked in blood and the spider woman and her captive. The greatest performance of the night, however, would have to go to the actor who resembled Freddy Krueger near the beginning of our tour. He was by far the most intense and believable of all the characters we came across. The majority of the actors worked with their surroundings and props very well, which definitely helped in making their characters more believable. Many of our encounters were highly interactive and lasted several minutes. The actors delivered engaging dialogue, used their props creatively and improvised beautifully to each individual situation. Needless to say, the cast won us over and earned the second highest score of our tour.
---
Costuming:

9.8
One of the owners (Rebecca) is also the head makeup artist and costume designer. Her talent was apparent by the detail and originality of the characters that we came in contact with. Professional makeup effects, colored-contacts and prosthetics were utilized on the majority of the characters. We also saw a few highly-detailed masks that were of professional quality. The majority of the costumes seemed to have similar nasty, bloody, grungy, creepy details that gave their characters a really evil and terrifying look. Some of the most creative and elaborate characters included a creature that closely resembled the Demon from the movie Insidious, an ancient, mummified Egyptian Prince and an evil, club-wielding Santa with claws (we'll spare you the 'Santa Claws' puns). The costuming at Exit 13 is. in a word, 'outstanding.'
---
Customer Service:

9
Exit 13 is quite easy to find, as it is literally less than a block off highway 475. If you happen to have trouble finding them, just look to the sky and follow their spotlight. There is a large, illuminated sign out front letting you know you've found the right place. Free on-site parking is available in a large, paved parking lot directly in front of the attraction. We found the staff to be kind and quite helpful. There is a stand selling beverages at the beginning of the queue line and a gift shop at the end selling everything from t-shirts to bloody finger key chains. The only gripe we had was that we had timed tickets that were supposed to keep the wait down to 30 minutes or less. We ended up waiting for an hour and 20 minutes before we were allowed to enter the actual attraction. However, considering that this was a first time event, some 'kinks' are to be expected.
---
Atmosphere:

8.7
Exit 13 is housed in what looks to be a large, grungy, 1970's warehouse. You pass through a classic haunted house facade on the side of the building to get to the ticket booth. While the exterior of the attraction isn't anything special, things improved dramatically once we got inside. The indoor queue line has several flat-screen monitors showing some highly-creative and utterly creepy Exit 13 promo videos. Dramatic blood-red lighting helped to create a truly sinister atmosphere. There was metal music blaring through the sound system and, while we enjoyed listening to some of the tunes, we'd like to note that the volume was so loud that it was nearly impossible to have a conversation with the person standing next to you. Fortunately, there were frequent breaks from the music and you could then hear the loud, horrific soundscapes echoing from within, which really got us excited to enter. While in line, we were made to sign waivers and had restraints zip tied to each arm! This definitely got us pumped-up (not to mention just a little freaked-out) and it really added to the overall atmosphere.
---
Special Effects:

9.6
One of Exit 13's greatest strengths is their attention to detail in their scenes. We were definitely impressed with the amount of eye-candy we saw throughout our visit. Some of the most memorable rooms included a filthy living room with a TV playing some kind of bizarre show, a forest, an actual house set, a slaughterhouse, a corn field, a spider's lair and a really unique room that had water coolers for walls that shook violently and closed in on us as we passed through. There were some impressive animatronic creations, but the one that really stood out was the actor-controlled, giant, phantom-like skeleton who grabbed ahold of us twice each before we could escape. Throughout most of the attraction, we heard excellent sound effects, effective real sounds and a gripping soundtrack. We thought the lighting was just about perfect throughout, which really enhanced the overall vibe. Lastly, there was lots and lots of blood. There was literally blood everywhere! We saw it in abundance on the actors, the walls, the floor and, by the end of the tour, on every single customer as well!
---
Theme:

N/A
Exit 13 doesn't follow a specific theme. Each scene is unique, making every room its own nightmare that you must pass through to get out alive.
---
Fright Effect:

9.9
Within the first few minutes of our tour, it became apparent that this was going to be one utterly terrifying experience. Our senses were assaulted in each and every scene. The members of our group were separated early on and we were made to go through the majority of the haunt alone! It's our understanding that this happened to each and every group who came through that night. One of the most unique aspects of the tour was its unpredictability. You never knew what would happen next because the cast was pretty much given free rein to do what they wanted (though never in any sort of dangerous or inappropriate way). We were tied up, held prisoner, fed something disgusting, picked up and manhandled relentlessly. One member of our group was tied up on three separate occasions. During those times, he had a knife held to his throat, a burlap bag put over his head, was tickled relentlessly, covered in theatrical blood and had ice cold water poured down his shirt. I was tied up twice, had a pig's foot rubbed all over my face and put down my shirt, fed something disgusting and attacked by chainsaw-wielding clowns while having a burlap bag over my head as well. At several times, we had theatrical (or what we assume was theatrical) blood rubbed all over our face and clothes. The blood was actually warm and smelled as if it REALLY came from a rotten corpse! There were a few well-timed jump scares and a couple of beautifully-executed distractions, but most of the terror came from extended interactions with the cast. Our level of fear was unlike anything we have experienced in recent memory and we consider ourselves very difficult to scare. We do not recommend this event to anyone who can't handle something on a more 'extreme' level. On many occasions, we witnessed less-seasoned group members crying, begging for mercy and screaming their heads off. I encountered one young woman at the end of a crawl-through tunnel who was all alone and appeared to actually be trembling in fear. She said she was, "literally too scared to move." Indeed, the 'fright effect' here was off-the-charts awesome and earned the highest score for this review.
---
Value:

9.4
Tickets for Exit 13's 'Friday the 13th Massacre' event were priced at $35 and only available online. Because group members are separated early on, and because everyone seemed to have his/her own unique experience, tour times varied greatly from person to person. While I completed the experience in 35 minutes, the other member of my group took 45 minutes to complete for an average of 40 minutes between the two of us. That comes out to a "minute per dollar" score of 1.14. We felt that it was an excellent value when considering the quality and uniqueness of the entertainment. We really had such a great time at the "Friday the 13th Massacre" event and sure hope the owners plan to do something similar in the future!
---
Have you visited this attraction?