Exit 13 Haunted House – Full Review
Exit 13 Haunted House is a Haunted Attraction located in Mount Morris, MI.
6069 N Saginaw Road, Mount Morris, MI 48458View All Details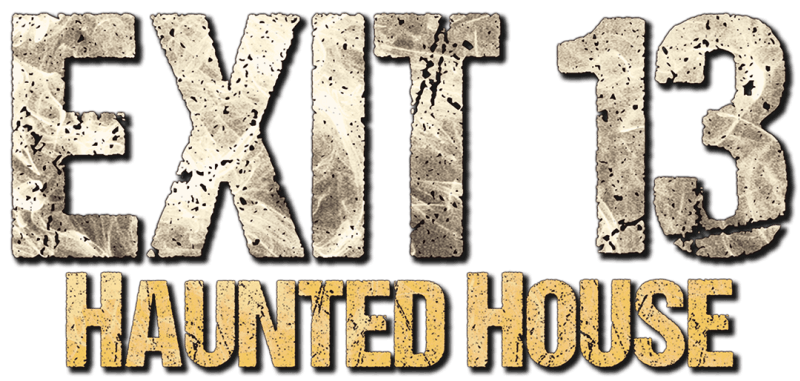 Features:

Free Parking, Restrooms/Porta Potties On-Site, Handicap Accessible, Food/Concessions, Gift Shop/Souvenirs, "Old-School" (Low Tech), "Hi-Tech" Attraction, You may be touched, Original Characters, Covered Outdoor Waiting Line, Indoor/Outdoor Waiting Line, All-Indoor Attraction

reviewed this attraction on September 16, 2017.
Final Score:

9.14
Summary:
Exit 13 has been terrifying Michiganders for 14 years running and is now considered by many to be one of the premier haunted attractions in the State. For the last 5 years, the current owners have poured their heart and soul into a haunt that has now become well known for its highly impressive sets, as well as their original cast of physically interactive characters. The actors can/will touch you here (unless you ask for 'monster repellent' at the ticket booth) and believe us when we say that 'they know how to take you out of your comfort zone!'. One thing that we love about Exit 13 and what we feel sets it apart from some of the other attractions in the area, is that they change 70% to 80% of the haunt each season. We could hardly believe our eyes with all the new scenes and additions that were done this year! They also increased the tour time by nearly 10 minutes over last season which is quite an accomplishment indeed. Come see for yourself why Exit 13 made the fan-voted 'Top 31 Must See Haunts of 2017' list and was voted 'Best Haunted House' in Genesee County several years running.
---
Cast:

8.64
For starters, it must be mentioned that Exit 13 was a little short staffed on the night we visited, which is something that is quite common with opening weekends. However, the cast did a very good job at covering all the scenes and made it seem as if there were more actors than there actually were.
If we were to use 3 words to describe the acting they would be; interactive, energetic, and intense. We heard some very creative dialogue and several characters used improv well when we interacted with them. A pair of hillbillies gave us a nice performance with their combination of funny and creepy antics. A group of 3 clowns was particularly menacing and intense. They had us running for our lives as they chased us relentlessly while we tried to find a way to escape!
As great as the clowns were, our group all agreed, that the performance of the night would have to go 'Annabelle', the creepy, authentic looking life-sized vintage porcelain doll. She really brought her character to life by being both verbally and physically interactive with our group. She used the most creative dialogue of all the characters we encountered, which made for several great interactive moments. But you may want to think twice before choosing to interact with Annabelle. Seriously, be careful of what you say to her, she just might snatch up one or two members of your group and carry them off to the deepest darkest parts of the haunt… don't say we didn't warn you!
A small portion of the cast seemed a little 'green' and did not give convincing performances. There was one scene, in particular, that was rather awkward and confusing to us where a woman on a bridge would not let us pass until we heard the entirety of her long-winded speech. Unfortunately, she spoke so softly that we couldn't even understand what was being said and we were actually a little relieved when she finally let us pass.
As mentioned earlier the actors can touch you here, however, we felt like the majority of the cast didn't utilize this element fully on this particular visit. They just weren't nearly as physical or intense as we have experienced in the past. But again this was the opening weekend so some bumps in the road are to be expected. We have a good feeling the cast will only improve as the season goes on, as we had, in fact, scored the cast a 9.8 on our previous visit.
---
Costuming:

9.55
A significant part of what makes Exit 13 so convincing are their costumes and makeup. You will not see Halloween store costumes or street clothes here. We found the majority of the costumes to be quite original, creative and well-designed.
Realistic, highly-detailed makeup effects and costumes are all the norms here. Each character's appearance seemed to be well thought out. The execution of those ideas were brought to life beautifully by the talented makeup and costume artists.
---
Customer Service:

9.67
We found Exit 13 to be a breeze to find. It is about a block off of highway 475 and it's nearly impossible to forget the exit number…that's right, it's Exit 13! There was an illuminated sign out front and a spotlight shining in the night sky letting us know we made it to the right place. Free on-site parking is available in a large, paved parking lot directly in front of the attraction. There is a gift shop that sells all sorts of horror and Halloween related merchandise. There is also a stand that sells very good hotdogs, drinks, and snacks. The staff was quite helpful and were willing to answer our questions.
---
Atmosphere:

8.33
Exit 13 is housed in a kinda dingy, nondescript warehouse. We passed through a classic haunted house facade to get to the ticket booth. We bypassed the normal line during our visit and were taken straight to the entrance door, so we didn't get a chance to see the queue line during our visit. What we can remember specifically from previous visits was a long hallway with red lighting, a film projection on the wall playing really cool, bizarre and creepy promo videos and loud horrific soundscapes coming from within the haunt.
---
Special Effects:

9.69
During our tour, we found ourselves constantly awed by the impeccably crafted scene designs. This is the type of haunt where you sometimes find yourself walking much slower than you normally would so you can take in all the marvelous eye candy. The level of detail at Exit 13 is some of the best we've seen in the State of Michigan. In numerous rooms, every nook and cranny was filled with unique props and decorations, like the Victorian-era room that was filled with a countless array of interesting period objects. We really loved the doll room in particular which had, what had to be, literally hundreds of creepy dolls of every kind imaginable! We came across some really cool animatronics as well, like the huge goat skeleton creature that literally grabbed us as we tried to pass by it.
Nearly as impressive as the scenes themselves were the sound effects. Our favorite sound effect was the loud, very menacing soundtrack that could be heard during a significant portion of the haunt. We found it to be both creative and original sounding, not to mention creepy as hell. The rest of the sounds we heard seemed both appropriate for their scenes and quite realistic, which all really helped to fully bring the scenes together as a whole. We don't want to give away too much of what you will encounter during your journey, but we can say with the utmost confidence, that we bet you will thoroughly enjoy what you see, hear and maybe even feel during your tour.
---
Theme:

N/A
Exit 13 doesn't follow a specific theme. Each scene is quite unique, making the different rooms their own separate nightmare!
---
Fright Effect:

8.5
Exit 13 used a wide variety of scare tactics during our visit. There were some very effective environmental scares, including a brutal assault of air cannons and sudden loud noises. We also encountered a memorable scare that involved a large animatronic creature that we are sure will 'grab you' by surprise. But the majority of the frights came from the actors themselves including some great 'pop' scares, distractions, intentional confusion, menacing stares and what we would call prolonged 'creep-frights' in which the actor would follow us to the next scene. We were made to crawl, run and find our way out of rooms. Also, one member of our group was separated from the rest of us until we found them several rooms later.
The fact that the actors are allowed to touch you really adds to the fright factor. At one point, TWO members of our group were literally picked up and carried away to a different scene… talk about taking things to the next level! As mentioned earlier we did feel that the actors were not quite as intense or physical as they were in the past visits, but that may have been due to it being opening weekend.
---
Value:

9.6
The price of general admission is $20 and $30 for a VIP fast pass. There is also a "timed ticket" option for $25 that allows you to choose a time slot in half hour increments. This is a great alternative to the more expensive VIP ticket because while you don't skip the line entriely, you will be assured to enter the haunt sometime within the 30 time slot you chose. We highly recommend the timed ticket or fast pass option on busy nights when the wait can be several hours long.
From start to finish, it took our review group a total of 25 minutes to escape, for a MPD (minutes per dollar) score of 1.25. We feel this is a great value when considering the quality of the entertainment. As we mentioned earlier, Exit 13 has changed about 70-80% of the attraction from last season, added several new scenes and extended the tour time by nearly 10 minutes. So for those who have visited recently, you'll definitely want to visit again this season because there are so many new sights to see and new characters to terrify you! If you've never had the pleasure of visiting this wonderful attraction before, then you should do yourself and your friends a favor and get to Mt. Morris before the end of October!
---
Promo Images:
Click to Enlarge
---
Guest ReviewsGuest Average: 10 out of 10
joseph orourke – 10/10 – July 29, 2019it is very fun and scary
Rachel – 10/10 – October 12, 2018Exit 13 is by far the best haunted attraction experience I've ever been to! They update and remodel …show more every year! And the attention to detail is insane!!
Eric – 10/10 – October 1, 2018Going through this haunt was the scariest thing I have ever done the cast and crew are amazing they …show more owe a new pair of pants cause I shit my self a little lol worth it!!!!
---
Past Awards
---
2019 Awards
Most Intense Characters (Given by: Team Michigan Macabre)
Scariest Haunt in Michigan (Given by: Team Michigan Macabre)
Scariest Haunt (Given by: Team Michigan Macabre)
---