Face Your Fears Hotel of Terror – Full Review
Face Your Fears Hotel of Terror is a Haunted Attraction located in Springfield, OH.
1291 Cold Springs Road, Springfield, OH 45502View All Details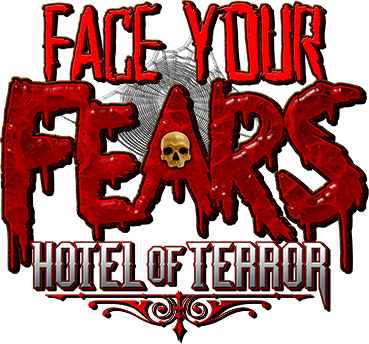 Features:

Free Parking, Restrooms/Porta Potties On-Site, Food/Concessions, Gift Shop/Souvenirs, "Extreme" Attraction, You may be touched, You will NOT be touched, Original Characters, Uncovered Outdoor Waiting Line, Indoor/Outdoor Attraction, Family Friendly

Team Mysterious Misery reviewed this attraction on October 13, 2017.
Final Score:

8.13
Summary:
Freddy and his crew are back at it again this year. They are educating you on the story of the siblings of Walter and Margaret Edwards and their macabre hotel. They help the story come to life by managing all the areas that make a good haunt. They do this with a small but effective grim set of creatures who want to help you become a permanent resident and not just a guest. To some it may be a short haunt to go through especially if you are running in panic but it provides you with 1.06 minutes of hauntingly entertainment for every dollar you spend and we think that is a good value for this haunt. Remember this haunt has an outside queue line and mother nature likes to be tricky. The haunt itself has bridges, elevators and stairs, oh my! For us, this haunt is a hidden gem hiding within Dayton, Ohio. So round up your friends and see if you can make it out or if you permanently check into room 666.
---
Cast:

7.98
Freddy has an unsightly group of actors that does remarkably well. They do so well that when we heard there were only 30 of them we were shocked. They are always around looking for the next scare that it seemed you never got a break from them. They were very interactive which we liked but be aware they like to sniff and pet new victims which can cause the hairs on the back of your neck to stand up. They do very well at keeping you engaged and using dialogue to interact with you rather than a simple blood curling scream. They play their roles to help the story come to life… or death… which ever way you make it out.
---
Costuming:

7.95
Chrissy and Aaron are two extremely talented makeup artists that Face Your Fears has the honor of employing. Every soul or beast that we came across that utilized makeup was creatively done. They do make use of masks but they do it exceptionally well. They fit the cast members so well that in some places with lighting it is hard to tell they are even wearing a mask. The costuming here plays a role in bringing the overall haunt to life. Each costume is unique and cohesive with the scene to help portray the story.
---
Customer Service:

8.1
Face Your Fears Hotel Of Terror is generally easy to locate. There is a sign out front with a bus that has been taken over by zombies. However if you pass the sign you have went too far. You need to turn onto the gravel road right before the sign.
The queue line is outside and while you wait there is a fire pit, movies running, and the tormented souls that have tried to escape roaming around to keep you company. With the queue line being outside, be prepared for inclement weather. The hotel has many sets of stairs to take you to the many levels of torture. This haunt is not handicap accessible due to the stairs. If you encounter a problem the cast is always within sight so that they can assist you.
---
Atmosphere:

8.5
Before you even step out of your car you can hear the deafening thunder and it makes you second guess was it supposed to be raining. As you approach the front of the hotel you will be captivated by the detailed light placement and the creatures on the building. The huge sycamore trees have spread their limbs casting an eerie shadow on everything. You will continue to hear the voluminous thunder. As you approach the entrance you will be greeted by more insane creatures and music that will let the panic set in. The outside helps set the scene of what you may witness on the inside.
---
Special Effects:

8.41
Face Your Fears Hotel Of Terror does considerably well in the area of special effects. You will find many creative special effects along with other ones you may have not encountered yet at other haunts. They also fully take advantage of sound and lighting, which plays out in their favor. You will notice lighting and sound effects from the moment you get out of your car and all the way through. They use both sound and lighting to their advantage and enhance scenes to their maximum potential of creepiness.
We could go on for days pointing out the ones we liked but we will only mention a few. The bridge in the swamp area and the elevator were both effective. Some of the smaller ones we enjoyed is the radio playing the golden oldies and the books that move on and off the shelf. Try not to run in panic too fast or you may miss some of the impressive special effects, big and small.
---
Theme:

8.23
Face Your Fears Hotel of Terror is a haunt that utilizes a theme. It does a kick ass job at executing the theme throughout so that you can tell what the story is. You will see haunted hotels in various places but this one goes into great details in keeping the story alive. This building has been around since the 1940's. If you go onto their website at: www.faceyourfearshaunt.com, it will tell you the story of Walter and Margaret Edwards and how they became the owners of a twisted hotel, where you can check in but you might not check out.
---
Fright Effect:

8.01
Face Your Fears Hotel of Terror has an amazing story that helps bring out the biologically twisted beast hiding within. They utilize space so well that their is a scare hiding in multiple places in each area that you will come across. Whether your phobia is bridges, elevator or tormented creatures, they will have a moment for each member of your group. The one thing we noticed is that they like to get close and smell you and even touch your hair. It is kinda morbid having a disembodied figure in your personal space and you can hear the breathing while they pet you. Chad McDonald Junior who is 10 told us that it was super creepy and there is no candy in the hotel, just creatures.
---
Value:

7.88
It took our group 16 minutes to escapes the hotel. However, this is a self- guided tour so depending on how scared your group is, your time may be different. Even though the walk through time is short the entertainment provided is worth the $15 price. They do an amazing job at utilizing all the space in their haunt giving you edge to edge creepiness.
---
Promo Images:
Click to Enlarge
---
Guest ReviewsGuest Average: 7.73 out of 10
JT – 10/10 – October 1, 2022If you want the full experience you have to get the touch pass, I was probably separated from my …show more group a total of 10/15 min at the end, and it definitely was worth an extra 2$ if you want a more extreme scare. The actors were not only great, but they're also comical and just a good time. Highly Recommend Face Your Fears.
Lindsay Suver – 10/10 – October 16, 2021The staff was very scary and friendly good for yoUnger kids I took my 6 year old boy and he didn't …show more cry he did very well the staff/actors was very kind to us after spooking us they gave my son fist pumps and high fives
Taran – 10/10 – October 19, 2019I loved this place! Everything is definitely worth it. I think my favorite part was this bridge …show more scene. You come into a door where this very beautiful but creepy girl scared me to death right before we could even walk in! Then this mossy monster greeting us with chains wrapping on the boat scaring us even more and the girl kept following us. Very god acting. Also loved the wolf. Has to be the coolest part of the whole house.
---
Past Awards
---
2022 Awards
Highest Rated Haunt in OH (Given by: The Scare Factor)
Scariest Haunt in OH (Given by: The Scare Factor)
Voodoo Priestess (Given by: Team Enchanted Seance)
Double-Headed Butcher (Given by: Team Enchanted Seance)
---
2020 Awards
Best Assault on the Senses (Given by: Team Mysterious Misery)
Best Expansion (Given by: Team Mysterious Misery)
---
2018 Awards
Scariest Haunt in Ohio (Given by: Team Mysterious Misery)
---