Review of Factory of Terror OH Haunted Attraction
Review of Factory of Terror OH Haunted Attraction
Review of Factory of Terror OH Haunted Attraction
Factory of Terror OH – Full Review
Factory of Terror OH is a Haunted Attraction located in Canton, OH.
4125 Mahoning Road NE, Canton, OH 44705View All Details

Features:
Paid Parking, Restrooms/Porta Potties On-Site, Food/Concessions, Gift Shop/Souvenirs, Optional Games/Midway, Special Events, "Hi-Tech" Attraction, You may be touched, Original Characters, Indoor Waiting Line, Uncovered Outdoor Waiting Line, All-Indoor Attraction
Most Recent Video from The Scare Factor:
(Scroll for Scores and Written Review)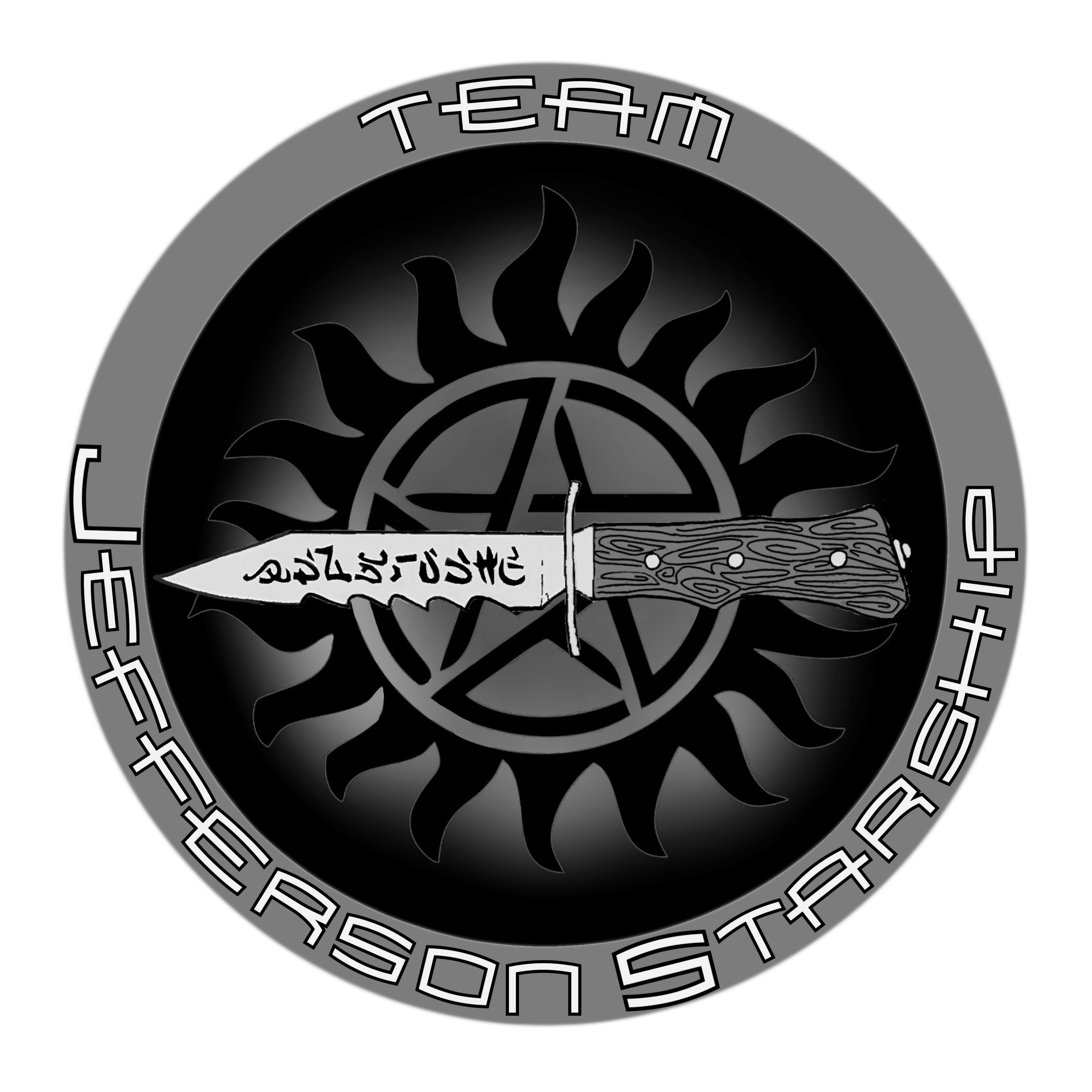 This attraction was reviewed on October 29, 2022 by Team Jefferson Starship.
TL;DR – From the Author
---
Manufacturing Nightmares
---
About Our Reviews and Rating System
---
Final Score: 9
Final Scores – By Category

Final Scores – By Attraction

Summary:
Some things can be described, and some must just be experienced firsthand to really get the scope of them. Walking into the Factory of Terror is one of those things. The Factory's entrance is bold and brash, ominous lights and rock music roaring throughout, which is the vibe from the start to the finish.
Factory is unapologetically in-your-face authentic horror. Monsters here are a little more intense, sound effects seem to echo louder, darkness descends faster than you can prepare for it, and everything just seems to come on a little bigger and better. The Factory is capable of creating worlds that fully suck you in, but it's also uniquely placed to utilize its surroundings to create a literal factory of terror.
---
Cast Score: 8.66
Cast Scores – By Question

Cast Scores – By Attraction

Cast Review:
There was no shortage of monsters that went above and beyond to scare our party. From the moment we entered, stalkers slid around behind us for a good scare. By the time we had reached the third room, the front member of the party had shrieked five times. Monsters managed to find us in the cage maze without us seeing them coming, they popped out of the pure darkness in the maze in Lafayette, and they crawled from the walls in Massacre on Mahoning. The waiting desk clerk in 1300 Lost Souls let loose a torrent of insanity that enraptured us. A morgue attendant swooped out from nowhere shocking all of us with his flashy moves. The most persistent stalker award goes to the clown with the baseball bat and the rubber chicken. Honk honk haunted us all the way home.
---
Costuming Score: 8.47
Costuming Scores – By Question

Costuming Scores – By Attraction

Costuming Review:
Costuming at the Factory of Terror was on point the night we went through. From the bright blood-smeared smocks of the lunatics in 1300 Lost Souls to the workers in Industrial Nightmare, there was a wide variety of horrifying monsters dressed to blend with their scenery or to organically fit into it. We wandered through a kitchen in Massacre on Mahoning and saw a cook that was wearing an outstanding outfit. The new scenes at the end of The Abyss were full of colorful and jaunty characters. Overall, detail is considered when it comes to the wide variety of monsters' adornments.
---
Customer Service Score: 9.81
Customer Service Scores – By Question

Customer Service Scores – By Attraction

Customer Service Review:
This year the Factory of Terror has earned an outstanding score in the customer service department. First, they have added the rarest of features in haunted houses: a real bathroom. That's right, there is a bathroom conveniently located by the Forsaken Bar on Bourbon. Toilets, stalls, the whole thing. On top of this amazing addition, there is the Factory of Terror standard high level of courtesy and helpfulness from the staff, and a clear concern for the safety of their guests. We saw them help a little boy out of the house when he was unable to go on with an amazing amount of empathy. This year there is the addition of several new bars that increase their overall concessions offerings and gives you a place to stop and rehydrate if you've screamed yourself raw.
---
Immersion Score: 9.14
Immersion Scores – By Question

Immersion Scores – By Attraction

Immersion Review:
The Factory's entrance is a yawning thing, consisting of a room stretched out and filled with queue lines, sucking you in and keeping you there until you are spit from the final exit. The Factory of Terror team has worked hard to create transitions between houses that feel natural and right so that you are fully immersed within the places they create.
With the new bars, there is some sound bleed of music into the haunts, but it doesn't overshadow the work done through the crunching and groaning sound effects laced through the houses. There are smells that move you from the inside of an old factory to an earthy cemetery, and through dark swamps and wet sewers. There are worlds created within the Factory that transport you to a place where nightmares come to life.
---
Special FX Score: 8.93
Special FX Scores – By Question

Special FX Scores – By Attraction

Special FX Review:
The Factory of Terror has an ace up their sleeve in the form of their head engineer and his team of builders. They make sure every house has personal touches found only at the Factory. Pervasive scents lace through scenes and sparks fly from panels while industrial machines clank and slam. Needless to say, there are also cutting-edge animatronics and light shows utilized throughout the house that add to the overall experience.
The cemetery scene is a work of art, in our team's opinions, and it's gotten some new touches this year that are really special. Also, look out for new high-tech and unsettling displays in the queue areas of Massacre on Mahoning and The Abyss. One of the other things that our team adores about the Factory is the attention to detail, from the floor to ceiling layered with blood, dirt, and fear to create a realistic scene. This is a signature of theirs that moves through all their houses.
---
Scare Score: 8.91
Scare Factor Scores – By Question

Scare Factor Scores – By Attraction

Scare Factor Review:
There is no arguing that the Factory of Terror is a serious haunt for serious scares. Monsters work hard to ensure you never have time to get comfortable walking through their territory. Giant puppets, drop panels, and distractions to enable major jumps scares are all on display here. The Factory specializes in nightmares and even if we hadn't been surrounded by screaming customers, we still would've recognized their skill at scaring from how many times our own team members jumped. The team here are hardcore haunters that love the scare and work crazy hard to get it.
---
Entertainment & Value Score: 9.35
E&V Scores – By Question

E&V Scores – By Attraction

E&V Review:
The Factory of Terror has a number of admission options, including the brand-new Zombie Bar Crawl. Sundays are $25, $30 on off-peak nights, and $35 on peak nights. VIP Fastpass admission is $42 and we highly recommend it because the Factory of Terror is having record breaking years and that means long lines and waits.
If you want the atmosphere of a haunted house, but not the actual haunted house, the Zombie Pub Crawl gives you backstage routes to move through all five of the horror-themed bars. This option is 21+ only and costs $15. Parking is $5 or $10 for premium, and there is a lot of space to park in.
It took about 45 minutes to go through all the haunts, and for the price and the quality, it is well worth it. There is a final ticket option, the Season Pass Holder for $150, which gives you unlimited fast passes to both the Factory of Terror and Akron Haunted Schoolhouse and Laboratory as well as discounts on guests you bring and merchandise you buy. Our local team member is on her third year buying this option.
---
View Full Score Sheet
---
Pics We Took From Our Visit:
---
Promo Images:
Click to Enlarge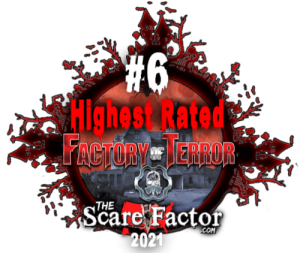 ---
Guest ReviewsGuest Average: 8.17 out of 10
GuitarDude – 10/10 – October 12, 2018This haunt took us well over an hour to complete. The scenery is fantastic and the acting was on …show more point. They have a lot of triggered scares and animation, which I love, but that's not to say they lack in number of actors. We all loved it and will definitely be back.
Christopher Wood – 9/10 – October 13, 2018Pretty awesome!!!! The scare actors and actresses knows their scenes very well!!!! I will come back …show more next season on a weekend when I am not acting at Fear Fair!!! Thanks for the scares!!!!!
DC Books – 5.5/10 – October 7, 2018Several generic haunts strung together. Nice props, but mostly just a long screamer without a …show more theme. A fun night out and some good cardio.
---
Past Awards
---
2022 Awards
Best Example of Bringing the Outside Inside (Given by: Team Jefferson Starship)
Toe Jamm - Jen Rhoades (Given by: Team Jefferson Starship)
---
2020 Awards
#3. Highest Rated Haunt in 2020 (Given by: Team Jefferson Starship)
---
2019 Awards
Creepiest Scene - The Graveyard (Given by: Team Jefferson Starship)
Most Hi-Tech Haunt (Given by: Team Jefferson Starship)
Best Hiding Spots (Given by: Team Jefferson Starship)
Most Decorated House Queue (Given by: Team Jefferson Starship)
Most Challenging Maze (Given by: Team Jefferson Starship)
Best Scenic Design (Given by: Team Jefferson Starship)
Most Unique Characters (Given by: Team Jefferson Starship)
---
---
Past Awards
---
2022 Awards
Best Example of Bringing the Outside Inside (Given by: Team Jefferson Starship)
Toe Jamm - Jen Rhoades (Given by: Team Jefferson Starship)
---
2020 Awards
#3. Highest Rated Haunt in 2020 (Given by: Team Jefferson Starship)
---
2019 Awards
Creepiest Scene - The Graveyard (Given by: Team Jefferson Starship)
Most Hi-Tech Haunt (Given by: Team Jefferson Starship)
Best Hiding Spots (Given by: Team Jefferson Starship)
Most Decorated House Queue (Given by: Team Jefferson Starship)
Most Challenging Maze (Given by: Team Jefferson Starship)
Best Scenic Design (Given by: Team Jefferson Starship)
Most Unique Characters (Given by: Team Jefferson Starship)
---