Fear Farm – Full Review
Fear Farm is a Haunted Attraction located in GLENDALE, AZ.
6801 N 99TH AVE, GLENDALE, AZ 85307View All Details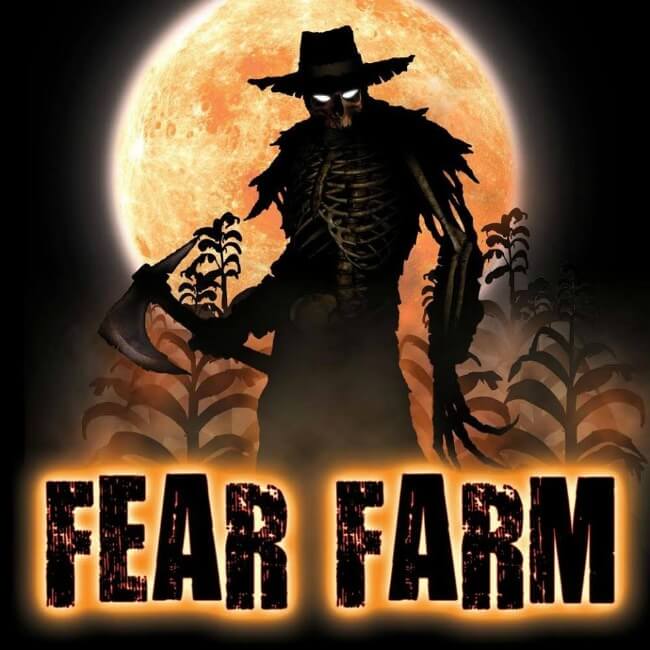 Features:

Free Parking, Restrooms/Porta Potties On-Site, Food/Concessions, Gift Shop/Souvenirs, Optional Games/Midway, You will NOT be touched, Uncovered Outdoor Waiting Line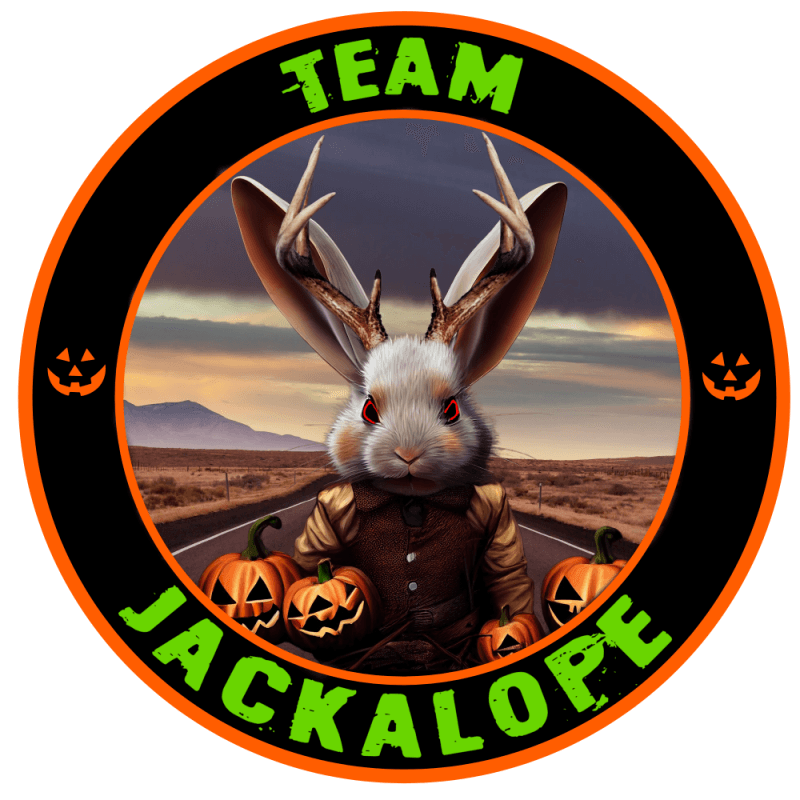 This attraction was reviewed on October 15, 2023 by Team Jackalope.
---
About Our Reviews and Rating System
---
Final Score: 7.49
Final Scores – By Category

Final Scores – By Attraction

Summary:
For those of us who love Halloween, the season can feel like a giant festival to be shared and enjoyed by like-minded individuals for maximum enjoyment. Fear Farms embraces this trend, creating what seems like a giant fair or carnival in a large field in Glendale, Arizona. Four haunts are included in your ticket price, with a haunted corn maze, carnival rides, and some fair food stands costing extra. This genial atmosphere creates an environment of fun and shared experiences. Music plays overhead, giant statues dominate the center, and everything is lit up like a party.
These haunts are not the perfect experience, but they are a tremendous amount of fun. It's obvious that a lot of thought and care went into everything, and that carries throughout the entire experience. It is perhaps a bit on the expensive side for the length of time you spend in the attractions, but you and your family won't regret making a night of this haunt.
---
Cast Score: 7.36
Cast Scores – By Question

Cast Scores – By Attraction

Cast Review:
Right off the bat, I need to say there weren't nearly enough cast members to fill out this big of an event. I did go on a Sunday night, so that might explain some of the shortage, but the ticket prices weren't discounted, and the place was still busy. Each of the four areas felt strangely empty in places, with the most egregious being their Sinister Circus. One large area boasted a freak show and had several well-lit cages for the various monstrosities kept within. The only problem was there was no one in any of the cages, and I walked through the whole area without being accosted once.
What cast was there seemed to almost be trying to make up for their small numbers through sheer force of will. Every single spook or ghoul I encountered was enthusiastic and clearly having a great time. Some were friendly in a violent, unhinged manner, others stalked quietly, and some simply snarled or wept as I walked by. They were all extremely convincing in their roles, throwing themselves into it with gusto. They bantered cheerfully (or viciously, in some cases), encouraging guests to get into the spirit of things. One was even nice enough to not skin me because I complimented her dress. The cast always makes or breaks a haunt, and this cast is top-notch. I just really wish there were more of them.
---
Costuming Score: 8.2
Costuming Scores – By Question

Costuming Scores – By Attraction

Costuming Review:
Whoever is doing the costuming for Fear Farm knows their business. Almost everyone was in theme, from the radioactive burns and scars in Nuketown to the fine scales starting to grow on the faces and arms of the Cthulu worshippers in Deadman's Worth. Most of the makeup and prosthetic work enhanced the scene and made for an impactful visual. There were several great masks and interesting characters, my personal favorite being a not-so-friendly rabbit in the slaughterhouse. Most clothing looked appropriately dingy and worn, and it didn't feel as much like a costume as just what that character would be wearing.
There were a few flaws in the costuming, keeping it from being truly great. While the masks and prosthetics were excellent, I could see skin in the eyeholes of the masks. Blackening that up with makeup before the mask is put on would help prevent that. I was also threatened with a chainsaw by a man with no makeup on and no costume. It took me right out of that particular scene and was, unfortunately, the last impression I had of that particular area.
---
Customer Service Score: 8.53
Customer Service Scores – By Question

Customer Service Scores – By Attraction

Customer Service Review:
Customer service was a bit of a mixed bag here. Their website has a great deal of information and is easy to navigate, and I had absolutely no problems finding the place. GPS takes you right there, and the road is set up to effectively funnel a large amount of traffic into their parking lot. Tickets were easy to find and buy and were sent to your email upon purchase. Unfortunately, some of the information on their website does not match the haunts. The four haunts listed on their page are different from the four haunts I found while I was there. A monster that was highlighted was nowhere to be found. It was a bit confusing when I first arrived because the names didn't match up.
However, the most dissatisfying part of customer service was that they sold tickets for time slots that were too late in the night. When you purchase tickets, you purchase them for a particular time slot. Getting ones without a timeslot costs extra. I bought one for 9:30 but arrived at 9:15. The latest ticket time slot they sell is at 9:45. Before I was halfway through with the haunts, they announced that the park would be closing in half an hour and everyone should finish up. I did nothing except walk right up to the haunts, hit the fast pass line (so I didn't wait in line), and then go through the haunts. There was no delaying, no hesitating, and nothing to waste time. There was no time to enjoy the rest of the park with that announcement, and if I hadn't been able to walk right into each haunt, there was no way I could see everything I'd paid to see. This is a problem; if you're going to close at 10:00, then don't sell tickets up to 9:45.
---
Immersion Score: 7.73
Immersion Scores – By Question

Immersion Scores – By Attraction

Immersion Review:
The immersion at Fear Farm was overall pretty good. Pre-haunt areas have a Halloween festival kind of atmosphere, my favorite kind of midway. It really gets you in the mood to have fun within the haunts, and when you exit any haunt, you're right back at the spooky party. The slaughterhouse and the spooky carnival themes weren't especially original, but they were well-decorated and still a lot of fun. Making an area Lovecraft-themed with a cult that's worshipping Cthulu isn't something you see very often, and I don't know that I've ever gone through a nuclear fallout-themed haunt before. The creativity on display went a long way toward deepening immersion and letting me suspend my disbelief.
Unfortunately, the dreaded Haunted House Conga Line made an appearance here. There is no attempt to keep guests spaced out, and staff members manning the line sent people in with no delay. It led to a few moments of people being bunched up behind me while I was unable to move forward because there was a crowd in front of me. This kind of thing absolutely kills immersion, and a little bit of effort into spreading out the guests would go a long way, when possible.
---
Special FX Score: 7.31
Special FX Scores – By Question

Special FX Scores – By Attraction

Special FX Review:
Special effects at most of the haunts were altogether very good. The props were well-executed and realistic enough to be fun, and the sound design worked well. Some areas had fantastic lighting effects, like a cool blue ripple light making a patch of dirt in the middle of Arizona look like the desert.
The Sinister Carnival did drag the overall rating down a few notches, with painted plywood and a fairly empty haunt weakening the experience. It's a shame because the Carnival actually had the best executed animatronic set piece I saw while I was there, a group of clowns breaking through the walls to try and get at guests.
---
Scare Factor Score: 7.14
Scare Factor Scores – By Question

Scare Factor Scores – By Attraction

Scare Factor Review:
Overall, I found this haunt to be more fun than outright scary, and there were a lot of opportunities to scare guests. After seeing dozens of different haunts, I've learned to spot them, and they were in abundance. There just weren't enough cast members throughout to take good advantage of those spots. They did their best to keep the scares varied and target guests at different points rather than always right up front. Too many stretches where nothing happened broke the tension pretty effectively, though, and dropped the overall scariness of the haunt.
A few of the attractions did have great finales. I especially liked being forced to worship Cthulu in order to leave the wharf, but I'd put this haunt overall on the fun side of scary during my visit.
---
Entertainment & Value Score: 7
E&V Scores – By Question

E&V Scores – By Attraction

E&V Review:
Overall, this haunt has a decent amount of value for what you pay. It is perhaps a touch on the expensive side, with a general admission price of $34.99 and 19.4 minutes spent walking through the four main haunts, giving it a minutes per dollar score of .55. I had fun for my money, though, and I was happy to be there. It's going to be a haunt I return to next year, either to review or to just enjoy, though I'll definitely try and go earlier in the night.
There are a good amount of extras you can add to your ticket, too. You can pay $10 for access to their carnival rides, which is great if you enjoy that sort of thing. $10 will also get you into their corn maze. Cornfields in the dark are always creepy, and they're especially fun, with costumed monsters wandering around to stalk you as you seek to find your way out. I thought it was $10 well spent, and I think most people would agree. You can spend as much time as you want there before finding the exit, which wasn't too difficult but did require a bit of checking.
This is a solid haunt to go to if you have the money and want a fun way to spend your evening. It's not the greatest value, but you won't regret the money spent here. Just be sure to go at the right time.
---
View Full Score Sheet
---
Pics We Took From Our Visit:
---
---
Have you visited this attraction?
Join ourspookyadventures!
We visit Halloween haunted attractions year-round! Follow us for haunted house walkthrough videos, behind the scenes footage, and more!