Fear Reach Scream Park – Full Review
Fear Reach Scream Park is a Haunted Attraction located in Tavares, FL.
1255 S Dora Blvd, Tavares, FL 32778View All Details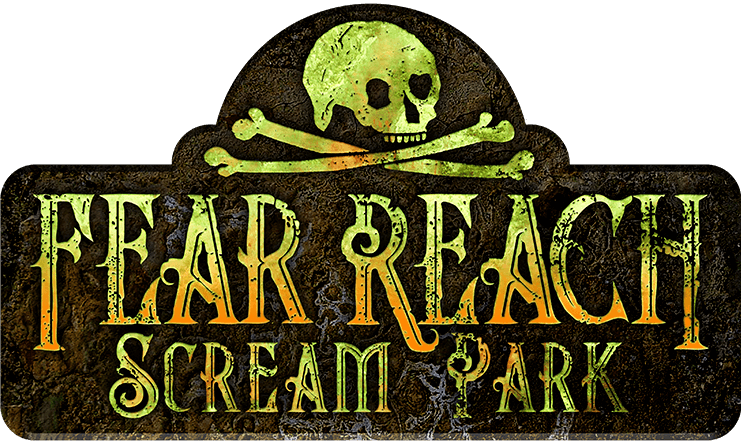 Features:

Free Parking, Restrooms/Porta Potties On-Site, Handicap Accessible, Food/Concessions, Gift Shop/Souvenirs, Optional Games/Midway, Original Characters, Uncovered Outdoor Waiting Line, Indoor/Outdoor Attraction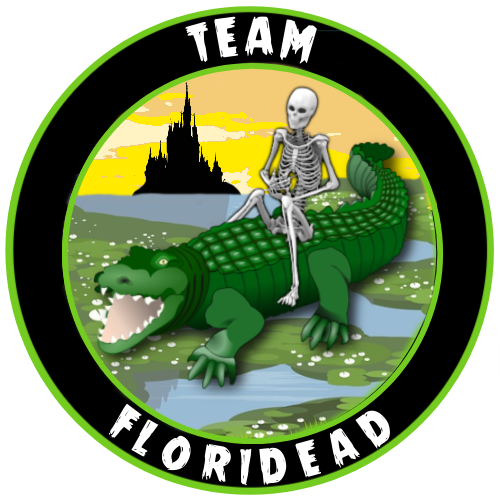 This attraction was reviewed on October 7, 2023 by Team Floridead.
---
About Our Reviews and Rating System
---
Final Score: 8.73
Final Scores – By Category

Final Scores – By Attraction

Summary:
Brand new to Central Florida in 2023 is Fear Reach Scream Park, located in Tavares, Florida, at Far Reach Ranch. This haunt offers three haunted attractions (Chainsaw Chase, Bloodline Barn, and Grimoire Manor), a themed bar (Pitchfork Parlor and Bar), Dr. Deviant's Game Emporium, a Halloween Band, and a full midway area, all included with your ticket. It's a 50-60 minute drive from Orlando to get to, but it's well worth your time.
Between the three haunted attractions and all the midway had to offer (including some very delicious cocktails), we easily spent two hours taking in the Scream Park. And make no mistake: While it may be Fear Reach's first year of operation, it already feels like a well-oiled machine, and the scare actors, staff, and haunted attractions deliver on a high level. We left the event excited to see what's to come in future years.
---
Cast Score: 8.47
Cast Scores – By Question

Cast Scores – By Attraction

Cast Review:
We can't talk about the cast at Fear Reach Scream Park without starting with the cast in Chainsaw Chase. Even before stepping foot inside the attraction, the performers would peek their heads out of the darkness behind and above the walls and stand ominously at the exit while the house attendant explained the rules at the entrance. They made it a point to provide scares at every opportunity, and, when the actors quickly discovered who was most scared in our group, they went as far as tag-teaming that team member during our journey through the maze.
Although Grimore Manor featured a wide range of characters, there were some moments of dead space where it felt like someone was missing. However, we have to give a shoutout to the actress on the stairs and the actors who provided an excellent double scare in the final room of the house.
Blood Line Barn boasted a diverse cast who were very interactive with our group. Each character contributed to a cohesive narrative as we progressed through the house, with interactions ranging from desperate cries of "Help me!" and "Don't leave me!" to one cast member pulling a team member to the front, whispering, "Come here, little girl. Are you enjoying yourself? Let's have some more fun," and encouraging us to follow along.
---
Costuming Score: 7.88
Costuming Scores – By Question

Costuming Scores – By Attraction

Costuming Review:
Chainsaw Chase went from being dimly lit to having effective strobe lights, which made it a little more difficult to see some of the finer costume details. From the darkness, much of the design seemed to be the same for each actor in the maze, but the costumes and masks created the perfect image of someone who could not wait to shred us to bits with a chainsaw.
Starting with the introduction of the Plague Doctor in the pre-show room, the costumes in Blood Line Barn effectively established each character from victim to mad doctor. Few characters had masks, but each was different; The Plage Doctor mask, the character whose mask featured a creepy grimace that seemed to go from ear to ear, and the final creature that was part of a horrifying experiment. Other costume styles included the mad doctor in a blood-splattered, white lab coat in a wig that bore a striking resemblance to Doc Brown's iconic hairstyle from "Back to the Future."
In Grimoire Manor, costumes and makeup were used to transform actors into older women, and, most unsettling of all, one actor dressed to resemble the dolls that surrounded her in her room. Overall, we were very impressed with the attention to detail and consistency of the costumes in alignment with the themes for each of the three attractions.
---
Customer Service Score: 9.8
Customer Service Scores – By Question

Customer Service Scores – By Attraction

Customer Service Review:
The customer service experience at Fear Reach Scream Park was absolutely top-notch. From the moment we arrived, it was clear that the staff went above and beyond to ensure a memorable visit. The house attendants were not only welcoming but also incredibly informative, friendly, and engaging while delivering the rules for each haunted attraction and setting the stage for the thrilling experiences ahead.
The website offered clear and concise directions on how to reach the park, which made our journey there hassle-free. As we pulled into the driveway for Fear Reach Scream Park, the creative signage added an extra layer of anticipation and excitement. If you're traveling with others in the car, make sure someone has their camera ready! A small, minor suggestion for improvement would be to include detailed descriptions of the haunted houses on their website for future years, providing potential visitors with a sneak peek into the backstories of each spine-chilling attraction that awaits them.
---
Immersion Score: 8.82
Immersion Scores – By Question

Immersion Scores – By Attraction

Immersion Review:
The immersion at Fear Reach Scream Park begins the moment you arrive when you're greeted by several ominous and foreboding signs as you make your way down a winding road. Talk about building suspense before you even park! Once you enter the event, you're greeted with an open midway that connects all the houses, which are all clearly marked and easy to get to.
We found the most immersive attraction to be Blood Line Barn. This house starts off strong with a pre-show room and features a consistent storyline and a great variety of scares. Grimoire Manor boasts an impressive set design (with one of the most beautiful facades we've seen in the 2023 haunt season) and utilizes props and special effects to provide scares. Finally, Chainsaw Chase will leave you immersed in the scariest way possible! You'll definitely need your running shoes for this one, and it's guaranteed to make you sweat! After (barely) escaping the chainsaw maniacs, you'll find yourself needing a break!
The midway provides a variety of options to keep everyone entertained. From a themed bar with live music, axe throwing, carnival-style games, and various food and beverage options. It's the perfect opportunity to relax and recharge before your next scare.
Fun fact: All of the proceeds from the games at Dr. Deviant's Game Emporium are part of a nonprofit fundraiser for Dona Vista Arts to support all expressions of Art and exploration. So, you can throw axes and win fun prizes, all while supporting an excellent cause!
Pro-tip: Try the Budge's Brew (orange vanilla creamsicle) or Poison Apple specialty cocktail at Pitchfork Parlor and Bar. You can get them with or without alcohol, and both come with a dry ice cube to give the libration a spooky twist.
---
Special FX Score: 8.53
Special FX Scores – By Question

Special FX Scores – By Attraction

Special FX Review:
The special effects across the three houses varied in their impact. Sometimes, simplicity proved to be more effective, with the best example being Chainsaw Chase. With its minimal approach — featuring low ambient music, fabric dividers delineating spaces, strobe lighting, and, of course, chainsaws — it created an atmosphere that was undeniably fear-inducing.
Alternatively, Grimore Manor and Blood Line Barn leaned more heavily on a diverse range of special effects. Grimore Manor offered a variety of unique special effects ranging from a giant skull puppet, a bridge that shifted as you walked over it, well-timed water effects in the kitchen scene, and a scare actor wielding a taser stick (who continued to taunt us well past their initial scare). The special effects in Blood Line Barn played a pivotal role in detailing the house's backstory. Upon entering, a startling auditory jump scare and a voiceover from above set the stage for the unfolding story, which continued throughout the house with background noise and sudden, jarring sound effects, such as car horns.
Additionally, the strategic use of fabric dividers, strobe lighting, and an animatronic figure shrouded beneath a blood-soaked sheet added to the immersive experience. Overall, we were impressed by the range of special effects presented throughout each attraction and look forward to even more additions in 2024.
---
Scare Factor Score: 8.66
Scare Factor Scores – By Question

Scare Factor Scores – By Attraction

Scare Factor Review:
The haunted houses at Fear Reach Scream Park pack the thrills, chills, and a whole lot of chainsaws. Chainsaw Chase was hands down the scariest attraction of the evening. It's a simple premise: Enter a winding maze filled with strobe lights, heart-pounding music, multiple directional paths… and chainsaw-wielding maniacs. These actors were on their A-Game, constantly teaming up on our group and refusing to let us move past them at several points. And the word "Chase" is in the attraction title for a reason. We were able to experience this attraction twice and, during both walk (scratch that, run) throughs, the chainsaw henchmen were chasing us from every corner and doing their best to separate us in what felt like a neverending maze. In 2024, we'd love to see Chainsaw Chase add additional props or scenic design to the maze. It would make what already is the scariest attraction at Fear Reach Scream Park potentially one of the scariest attractions in Central Florida.
A lot of the scare factor in Grimoire Manor came from the special effects, which were used at perfect times to heighten the scare from the scare actors. Blood Line Barn's tight coordinators, low-hanging props, and thick fog added a level of disorientation and unease that made it scary to simply walk forward at times. Actors were able to seamlessly blend into corners, use drop panels, or pop out of props that you'd assume would have no openings. We know the scare factor across all three attractions will only continue to grow with each weekend and future operating seasons at the event.
---
Entertainment & Value Score: 9.17
E&V Scores – By Question

E&V Scores – By Attraction

E&V Review:
With ticket prices starting at just $20 per person for General Admission and $30 for General Admission with Speed Pass, Fear Reach Scream Park offers incredible value for the thrills it provides. As it gets closer to Halloween, ticket pricing does increase, but even then, the experience is well worth the cost. Fear Reach spaces out each party to ensure you don't catch up to another group so the lines can grow fast. At only a $10 difference in cost, the Speed Pass is our recommendation to make your evening more enjoyable. Note: Tickets must be purchased online before attending Fear Reach Scream Park.
When you calculate the amount of time spent in the haunted houses with the cost of admission, it comes out to .48 minutes of entertainment per dollar spent. Factor in the amount of time we spent at the themed bar and midway, and it was an astounding 4.8 minutes of entertainment per dollar spent. What's more, the park provides free parking, removing a potential price obstacle and making the entire visit an outstanding value for those seeking an affordable haunted attraction without breaking the bank.
Pro tip: You're in the middle of nowhere, so make sure to pack some bug spray or wear long pants and a long sleeve shirt or sweatshirt. Trust us, you'll be glad you did.
---
View Full Score Sheet
---
Pics We Took From Our Visit:
---
---
Have you visited this attraction?
Join ourspookyadventures!
We visit Halloween haunted attractions year-round! Follow us for haunted house walkthrough videos, behind the scenes footage, and more!