Find Your Fright – Full Review
Find Your Fright is a Haunted Attraction located in Loveland, CO.
5971 Sky Pond Drive, Loveland, CO 80538View All Details

Features:

Free Parking, You will NOT be touched, Original Characters, Uncovered Outdoor Waiting Line, All-Indoor Attraction, Family Friendly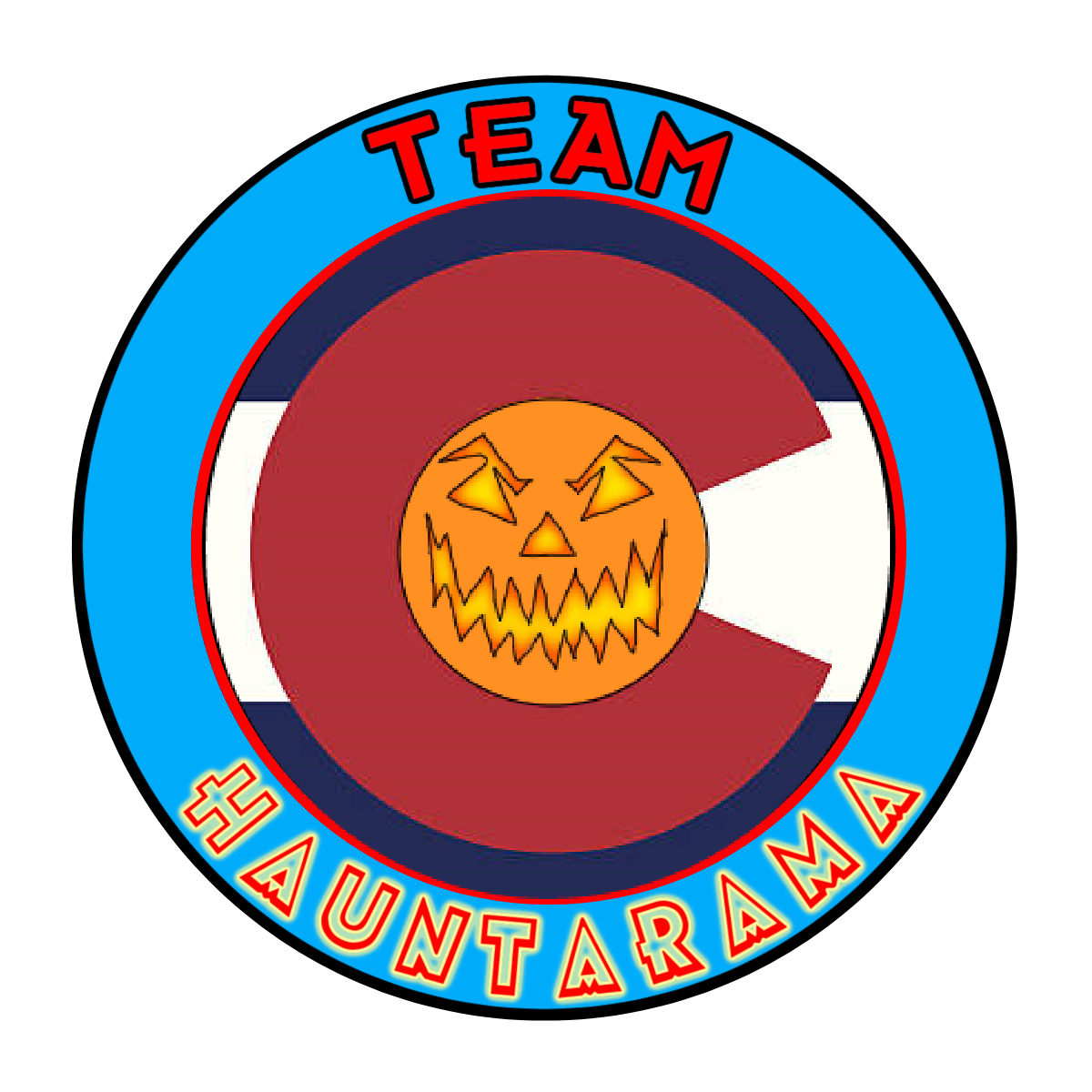 This attraction was reviewed on October 15, 2022 by Team Hauntarama.
---
About Our Reviews and Rating System
---
Final Score: 7.81
Final Scores – By Category

Final Scores – By Attraction

Summary:
Harrington's HAAunted House of Horrors (Find Your Fright for 2023) is a production of the nonprofit Harrington Arts Alliance (hence the "HAA" in the moniker) based in Loveland, CO, that provided a great opportunity for the youngest members of Team Hauntarama to cut their teeth and test their mettle! Although this show targets haunt goers who aren't looking for an intense or gruesome experience, it still takes its haunting mission seriously and uses it to raise funds for its ongoing work.
If you're looking for a great experience in Loveland, Harrington's HAAunted House is the place to be!
---
Cast Score: 7.73
Cast Scores – By Question

Cast Scores – By Attraction

Cast Review:
The cast at Harrington's appeared to consist of many of its pupils, including several who looked like they hadn't yet darkened a high school hallway, though there were more mature cast scattered throughout as well.
The clown who entreated us to enter was especially effective in delivering dark comedy while preparing us for what awaited ahead. The zombies mass-moving as one toward our group did a tremendous job of recreating the feeling of being swarmed, and the team in the laboratory brought life to more than just their roles. The church audience also worked wonderfully as a team to corral us toward our impending trip to the afterlife. The cast was a definite bright spot, which isn't surprising, seeing the association with Harrington's Arts Alliance!
---
Costuming Score: 7.83
Costuming Scores – By Question

Costuming Scores – By Attraction

Costuming Review:
Most of the costuming at Harrington's was well done and fit beautifully into the respective scenes. The costumes themselves were better than anticipated, some of which were more highly detailed than others, but all of which were fun and appropriate. Some of the least seen looks were the most appreciated, such as the dark figure helping guide us through the foggy finale who would dart around in the clouds such that I never caught a good enough look to see much detail at all. Even the werewolf room full of pups worked well!
The queue actors also had good-looking costumes. On the night of our visit, there was a skeleton donning a long wig and floor-length duster accompanied by a neon splattered clown. The skeleton also came along with his custom car that was also adorned with grinning skulls from bumper to bumper! While Harringtons may not have the budget or capacity of some of the powerhouse haunts in Colorado, it does a remarkable job with its costuming, which shows off the many talents necessary to put on such a production!
---
Customer Service Score: 9.53
Customer Service Scores – By Question

Customer Service Scores – By Attraction

Customer Service Review:
Finding Harrington's HAAunted House of Horrors is as easy as putting it into the map app of your choice, as it's located in the Centerra shopping center just off of I-25. That location also ensures that parking is plentiful, and a couple of well-placed signs direct visitors directly to the door, highlighted by a giant green Oogie Boogie man.
Nothing was unsafe in the least, though a variety of special effects do a great job giving a much stronger sense of danger than we anticipated upon arrival, and the website provided all of the pertinent info, as well as a gateway to the rest of Harrington's productions and classes. The staff, of course, was as dedicated as a crew can be when their hearts are truly in it, providing both friendly and helpful service at every interaction.
---
Immersion Score: 7.36
Immersion Scores – By Question

Immersion Scores – By Attraction

Immersion Review:
There wasn't a storyline at Harrington's HAAunted House of Horrors. Rather, it's a smattering of scenes and settings from around the Halloween world, ranging from creepy clowns to a lab to lurching zombies and more.
The atmosphere both inside and outside of the haunt, however, does a great job of preparing guests for what's inside, setting a fun but slightly off mood that lets haunt goers know they'll make it out in one piece, albeit a little hoarse! Guests getting through the real finale find themselves behind the building, which breaks the ambiance and makes it clear that the haunt is over, but still with enough excitement to find their vehicles again at a decent clip.
Although the walk to the front could have a better feel, possibly including a great opportunity to sell merchandise or fundraise while keeping the haunt vibe going a bit longer, it didn't detract from the fun we had inside of the attraction!
---
Special FX Score: 7.53
Special FX Scores – By Question

Special FX Scores – By Attraction

Special FX Review:
We were pleasantly surprised by the variety of special effects provided at Harrington's. Although there weren't many sound effects throughout, they were present when needed, such as in the lab, and the lighting and fog were also paired remarkably well in several spaces.
Harrington's also hits squeamish haunt fans and those with various phobias with spaces designed to provide terror. Unknown damp and furry objects, for example, are a great example of a simple gag working to an amazing effect because its in the right setting. Harrington's even has a few animatronics that were very well times and effectively used on the path.
Overall, the special effects at Harrington's HAAunted House of Horrors were done quite well, and offered a greater variety of experiences than most haunts like it.
---
Scare Factor Score: 7.59
Scare Factor Scores – By Question

Scare Factor Scores – By Attraction

Scare Factor Review:
Harrington's HAAunted House of Horrors doesn't bill itself as the scariest, most intense haunt or anything of the sort. Rather, Harrington's goal is to put on a fun haunt for the community while raising funds and helping their young actors gain experience. With that in mind, Harrington's delivered a lot of fright, particularly for the newest Hauntarama members.
Given the length of the haunt and the variety of settings, the cast was able to get to everyone in our five-person group at different times and in different ways. The pair of ominous girls working in tandem yielded blood-curdling screams from novice and master alike, while other areas were disorienting enough that it brought a sense of disquiet not often felt in haunts of all stripes.
Ultimately, if you're looking for an extreme experience, Harrington's probably isn't the haunt for you, but if you're up for a great time supporting a good cause, Harrington's is worth a visit!
---
Entertainment & Value Score: 7.64
E&V Scores – By Question

E&V Scores – By Attraction

E&V Review:
The outdoor decor and queue actors provide fun to guests in line, including several spots for a quick selfie or group shot with an actor. The bulk of the entertainment at Harrington's is inside, however, with the interior queue line upping the ante.
With ticket prices approaching a minute per dollar, the haunt is also priced appropriately to allow guests to make it a part of a larger evening, easily accomplished in the surrounding Centerra shopping center. Harrington's also offers a more youth-friendly Kids Day on October 30 from 11:00 am to 3:00 pm, for the discounted price of $5. At those prices, and with the seasonal fun found inside, Harrington's HAAunted House of Horrors packs a lot of fun for haunt goers both old and young!
---
View Full Score Sheet
---
Pics We Took From Our Visit:
---
Promo Images:
Click to Enlarge
---
Have you visited this attraction?