Frightworld Americas Screampark – Full Review
Frightworld Americas Screampark is a Haunted Attraction located in Buffalo, NY.
1001 Hetel Ave, Buffalo, NY 14216View All Details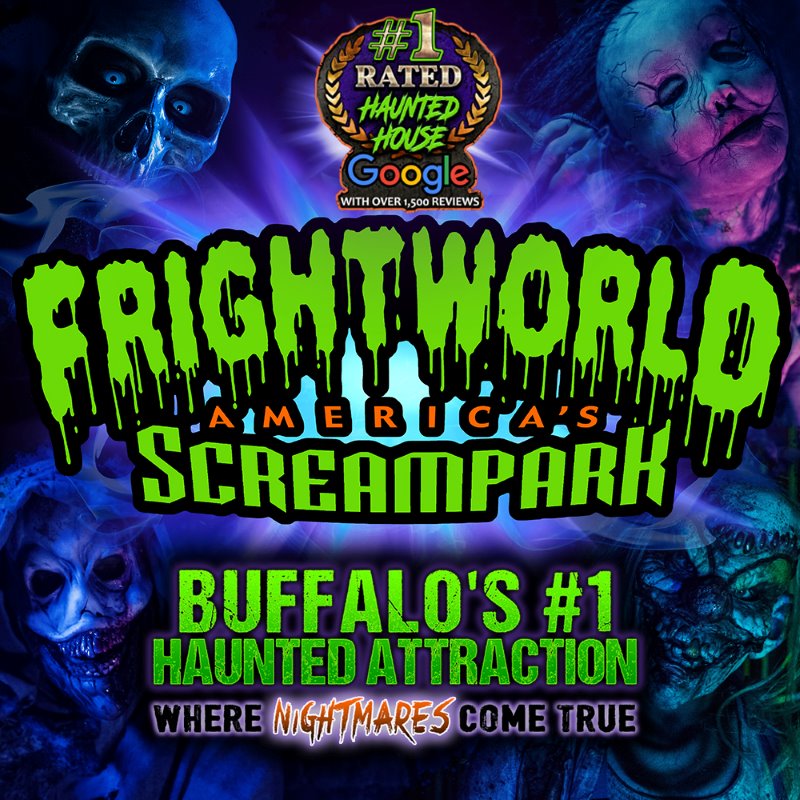 Features:

Free Parking, Restrooms/Porta Potties On-Site, Food/Concessions, Gift Shop/Souvenirs, "Hi-Tech" Attraction, You will NOT be touched, Original Characters, Indoor/Outdoor Waiting Line, All-Indoor Attraction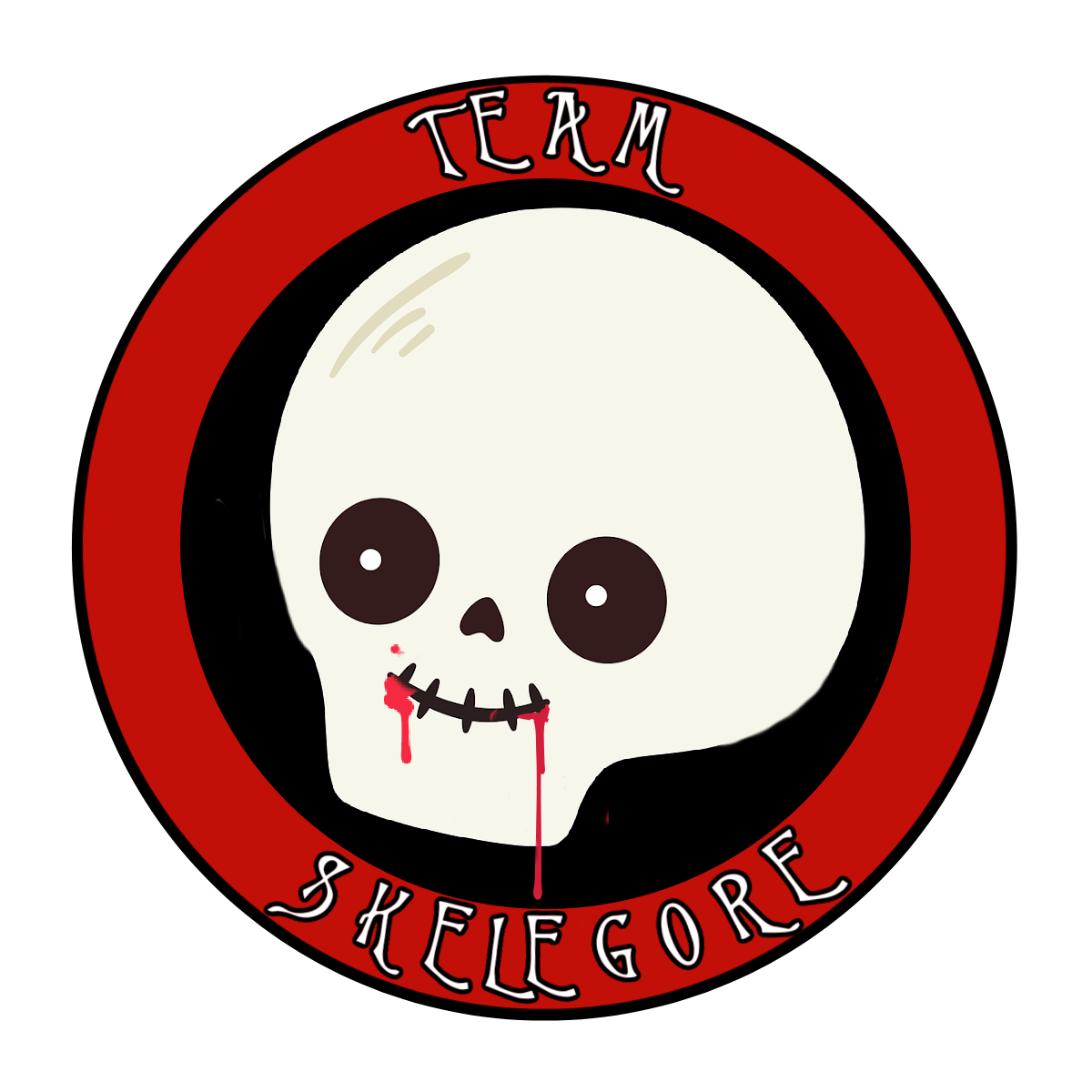 This attraction was reviewed on October 1, 2022 by Team Skelegore.
---
About Our Reviews and Rating System
---
Final Score: 9.15
Final Scores – By Category

Final Scores – By Attraction

Summary:
Frightworld is celebrating their 20th anniversary this year, and boy, oh boy, do they have the skills and talent of a seasoned haunt. Every set, scene, and character is masterfully created with an eye for the smallest details. This is the standard for an award-winning haunt and a model for everyone else. The actors are interactive, the props look real, and true masters of horror set the mood. This is absolutely, without a doubt, a cannot miss haunt. Frightworld offers five attractions this year: Eerie State Asylum, Insanity, Grind House, Nightstalkers Reloaded, and the new attraction for 2022 – Carnival Boneyard.
---
Cast Score: 8.81
Cast Scores – By Question

Cast Scores – By Attraction

Cast Review:
In a multi-attraction show like Frightworld, coming up with enough bodies to put on costumes is a challenge all on its own, but to find enough bodies that are also incredibly talented actors is a herculean task. Clearly, the near-impossible isn't an issue for Frightworld. Boasting five attractions and no less than 15-20 on average in each one, to say there are enough actors is an understatement. Not only are they overflowing with actors, but they are also some of the most vocally and physically interactive performers I've had the pleasure of seeing. They truly embody the characters they're playing. The only downside in the cast section is the Insanity attraction did feel a bit light on characters. They fit in their scenes and were great at what they did, but a few more bodies wouldn't hurt.
On review visits, I will often wear a lapel microphone connected to my phone so I can talk to myself and describe scenes and characters for reference when I come back to write. Yes, I'm aware of how much this makes me look like a crazy person. No, I don't care. While making my way through the Eerie State Asylum attraction, an actor asked me who I was talking to. This stood out because, so far, nobody has ever called me out like that before. So I told them the truth – I'm talking to the voices in my head. Cheers to you, guy or gal, that actually pointed out the insanity that is a solo haunt reviewer wandering around in the dark, talking about things like "this facade looks great, and the lighting really sells it."
I like to pick out actors that went above and beyond or had an especially good line, but that's hard to do here because every actor went above and beyond the standard expectation for haunted house actors. Really, every single actor in the queue areas or the attractions was just so good, and it's really refreshing to see an entire cast that is this talented.
---
Costuming Score: 9.3
Costuming Scores – By Question

Costuming Scores – By Attraction

Costuming Review:
Let's start with the chicken suit. Yes, you read that right – chicken suit. I have no idea how this thing came to be, why it's in a circus-themed attraction, or what role it's supposed to fill. But it's a large chicken suit with an actor inside, and it's the most perfectly weird thing I'll come across all season. It's battered and bloodied and didn't move around all that much or even have big scares. All it did was watch me with its cold, dead, beady eyes just piercing straight into my soul.
Beyond the hypnotic gaze of the chicken man, costuming is yet another thing that Frightworld is absolutely doing correctly. The cast throughout the asylum really nailed the look of crazed patients abandoned in a decaying hospital with no means or interest in escaping. Insanity features goth-raver-punk aesthetics in the costuming choices, showcasing gas masks, Tripp pants, and lots of electroluminescent wire. I could keep going about how great and in-theme all of the costumes are, but I think you get the point – they are all incredible.
The queue actors steal the show with how great their costumes look, though. The pair of axe-wielding characters were an absolute joy to watch as they interacted with patrons and each other. The large clowns are intimidating just by their height alone, but the star of the show is the joker-clown-ringleader character. Does he have a name? You'd think I would have done my homework and found a name for this character, but no, I didn't. This costume is absolutely exquisite. There is not a single cell of bare skin showing, and every last little thing from the top of the head down to the boots is like it was made specifically for this character.
---
Customer Service Score: 9.6
Customer Service Scores – By Question

Customer Service Scores – By Attraction

Customer Service Review:
Frightworld's website and social media presence are shining examples of how to get information out to the public. The website has everything you need to know in two clicks at most, and their social media platforms are up-to-date and active. For example, before announcing the name of the new attraction, Frightworld gave fans a chance to win a package of two VIP "Frightpass" tickets for the opening weekend. Another post showed a picture of a Frightworld billboard at an unspecified location and said they would be in front of that billboard with free tickets for anyone that found them. The dedication and love for their customers are truly top-notch, and one of the various reasons so many people love this haunt.
Although everything you need to know is right on the website, a few items aren't in their usual hiding places. Frightworld is an entirely indoor haunt, which is detailed on the dates and hours page. I would recommend also having this information on the FAQ page and spelling out any ADA limitations. The FAQ does mention parking with "where can I park and how much is it?" The answer provided is "parking is free, and there is plenty of it." Being that Frightworld is located in an old K-Mart, there is a parking lot, but that is mentioned on the location page, and the question isn't directly answered. These things are small, but having a one-stop shop for information is always appreciated.
One thing that puts Frightworld above the competition is the ability to upgrade your ticket after purchase. Patrons who decide the wait time in the GA queue is too long can head to a centrally located kiosk to upgrade their tickets to a VIP Frightpass for an additional fee. Another awesome thing about Frightworld is that VIP tickets at least (I think I saw folks in the GA line with these), come attached to a lanyard and badge holder. While this is a fairly minor thing on its own, it's a really awesome piece of branded merchandise and yet another sign that the incredible staff is trying to give back to the fans in every way possible.
---
Immersion Score: 9.24
Immersion Scores – By Question

Immersion Scores – By Attraction

Immersion Review:
Do I have to say it, or can you guess by now? These scenes are immersive beyond belief. The production quality alone is mind-blowing, but the level of detail that goes into every last little thing is what really does it for me. Storylines aren't necessarily a focus so much as an overall theme within each attraction, which is clear and obvious from the moment you approach each entrance.
While walking through Nightstalkers, I noticed that if you look up, there is a ceiling to the set. It's surprising, but there are so many haunts that either can't do this for various reasons or don't think to do this. It's a level of detail that solidifies the idea that you're trapped in a basement with an absolute metric ton of mannequins all over the place. And the ceiling drives home that even if you thought about climbing the shelves to escape, you're not going anywhere but deeper into the darkness.
Grind House might as well be a shack plucked out of the swamp and dropped into Frightworld. Everything looked so authentic and ramshackled right down to the Christmas decoration storage. I will say, though, that the garage scene was far too clean to belong to a family of killer hillbillies. Killbillies? I like that better; I'm going with it. Regardless, everything from the entrance facade to the finale was so true to life that I honestly forgot I was in New York for a few moments.
I keep gushing about Asylum, but you have to understand just how amazing it is. I had the chance to speak with Katie, the marketing director for Frightworld, and she told me that every piece of medical equipment and furniture inside the asylum came from an old hospital in Buffalo that closed down. This includes the autopsy tables, drawers from the morgue, everything, and the actors apparently think it's the coolest thing to lay down on a table where hundreds of dead bodies once were. This is the pinnacle of set design when creating a realistic and immersive medical horror experience. You cannot get any more real unless you set up inside the hospital itself.
Outside the attractions, the spooky vibe continues with show lights, incredible queue actors, beautifully crafted facades, and selfie stations.
---
Special FX Score: 9.36
Special FX Scores – By Question

Special FX Scores – By Attraction

Special FX Review:
Somebody must have told Frightworld about my severe dislike of mannequins because stepping into Nightstalkers was my own personal Hell. There were mannequins everywhere, and on top of that, there were mannequin animatronics. Animannequins, if you will. And to be fair, I hadn't seen animannequins before, so there is a bit of a novelty factor there. The movement on the animatronics could be a little more smooth and less robot-like, but these seemed like they were off-the-shelf products, so hopefully the manufacturer continues to improve the movement profile.
Outside of the nightmarish soul traps that are mannequins, Nightstalkers had an excellent lighting profile all the way through the attraction. The general idea is that you're in a basement. The stereotypical imagery for "old cluttered basement" involves a single lightbulb affixed to the ceiling with no shade or fixture beyond a pull cord to switch power on and off. Of course, it helps if the light bulb is getting ready to die and flickers constantly. This scene is brought to life inside Nightstalkers, and as the kids would say, "it's such a vibe."
Sound design is really on display within Insanity, as there's loud music playing throughout, and the light and fog combination creates a nightclub sort of environment. Light cans are mounted at eye level, but it works in this particular scenario because nightclubs have visible light rigs all over the place. However, this attraction is light on animatronics, as it focuses on the environment and allows guests to interact with each other as they find their way through the maze.
Claustrophobia tunnels appeared on a few occasions, ranging from being set up very low to the ground to airbags taller than I am. I did try a method suggested by another team where you put your back to the wall and create a ring with your arms in front of you to keep anything off your face while moving through these booger collectors. It didn't work. Just accept that you will get a face full of whatever the last person left behind.
---
Scare Factor Score: 8.53
Scare Factor Scores – By Question

Scare Factor Scores – By Attraction

Scare Factor Review:
Let's tackle the elephant in the room. There is one big, definitive finale out of the five attractions, and it's at the end of Grind House. I don't want to spoil it, but it does involve a chainsaw. Yeah, I know this is cliche, but I get it – chainsaws are loud and aggressive, and they get the job done. It fits with the overall theme, and it works.
Asylum is the next best ending, even though there isn't much of a final scare to cap it all off. The creepy vibe culminates in a morgue scene and a jump scare from a place I didn't think you could hide an actor. This isn't too bad for an ending because it thematically wraps everything up, but I'm a simple man and need more closure than that.
Insanity is on a similar level, with the nightclub vibe going right until the end. Unfortunately, Carnival Boneyard doesn't indicate that it's the final scene; it just kind of ends. Perhaps the dog animatronic at the end would help to solidify the ending, but it seemed to be turned off when I walked by.
That leaves us with Nightstalkers, which has an ending that just fades to black. This is disappointing because it's by far one of the creepiest attractions not only at Frightworld but that I've ever seen.
Finales aside, the actor scares are fantastically good. I was seriously impressed with the first actor in Nightstalkers who made a pig squeal-esque noise, which I've only ever heard come from a distorted sample of a pig actually squealing. The actors inside Asylum are full of chaotic energy and definitely managed to catch me off guard a few times. Regular readers will know this is incredibly hard to do because I'm a grumpy old curmudgeon.
Carnival Boneyard has an opportunity for a huge scare that I'm surprised didn't happen. In one scene, there are six or so huge, and I mean HUGE stuffed bears. For reference, I'm about six feet tall, and these things towered over me. I fully expected an actor to be inside one or an animatronic rig to make one move, but sadly that wasn't the case. Frightworld, you've got my number – let's talk; I know how to make that room absolutely terrifying.
Predictability was interesting. In almost all of the spots where I thought there'd be an actor, there wasn't; in all of the spots where I didn't think you could put an actor, they did. The hidden scares were really well-placed. Bravo.
---
Entertainment & Value Score: 9.75
E&V Scores – By Question

E&V Scores – By Attraction

E&V Review:
So here we are once again – I'm still rambling, and you're still reading. Here's a cookie for sticking with me.
The bottom line is that this show is absolutely, without a doubt, one hundred percent worth the price of admission. For a $40 general admission ticket, you get 32 minutes of highly detailed attractions, award-winning queue actors, indoor restrooms, an indoor concession area, actually pretty decent pizza, and enough scares to keep you up all week. For an additional $15, you can purchase a VIP Frightpass ticket which lets you skip the regular lines and get more back-to-back screaming. The VIP ticket also gets you $3 off any t-shirt or hoodie at the gift shop.
Now, I know what you're thinking. $40 is a bit steep for roughly 30 minutes of haunt. And yes, it is a little pricey. However, like I mentioned above, $40 gets you all sorts of entertainment throughout Frightworld, and the add-ons definitely make it worth the price. It would be really fun to have a mini escape, though.
Frightworld is behind the Escape City attraction in Buffalo, which I had the pleasure of checking out last year with Tyler and Nora of Team Zombillies. It would be almost a no-brainer if it weren't for the fact that space is a bit limited with the current layout. I think with a few adjustments, though, a 5-minute escape could be added, which would only add to the fun of going to Frightworld, America's Screampark.
---
View Full Score Sheet
---
Pics We Took From Our Visit:
---
---
Guest ReviewsGuest Average: 10 out of 10
Jon Miller – 10/10 – October 13, 2018I'm 38 years old and a fan of haunted houses my whole life, been to probably over 75 different …show more events. This event in buffalo is simply the best, it has everything , highly recommend going. Simple the best, produced event I have ever been too.