Frightworld Americas Screampark – Full Review
Frightworld Americas Screampark is a Haunted Attraction located in Buffalo, NY.
1001 Hertel Ave, Buffalo, NY 14216View All Details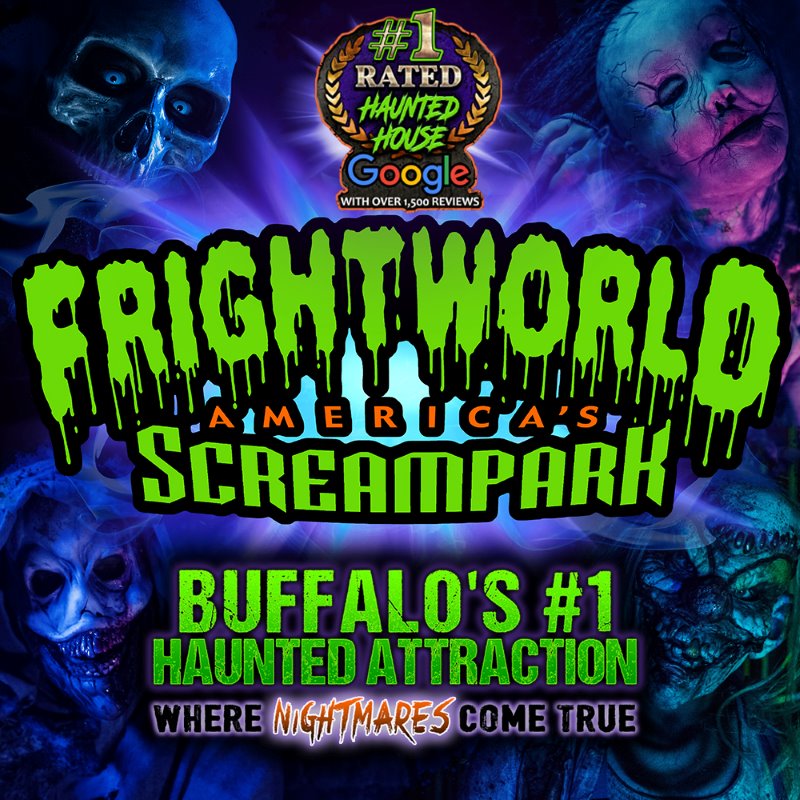 Features:

Free Parking, Restrooms/Porta Potties On-Site, Food/Concessions, Gift Shop/Souvenirs, "Hi-Tech" Attraction, You will NOT be touched, Original Characters, Indoor/Outdoor Waiting Line, All-Indoor Attraction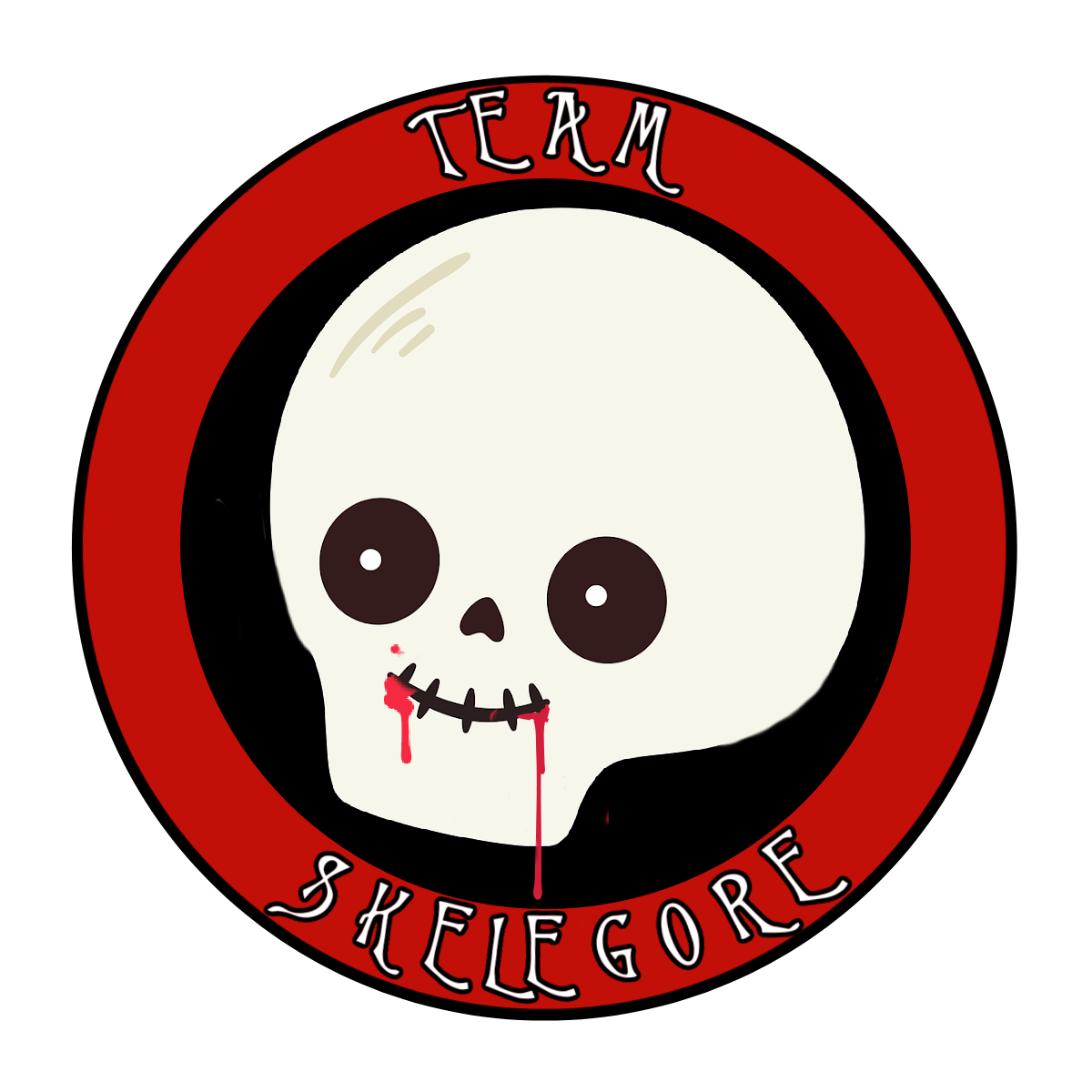 This attraction was reviewed on October 7, 2023 by Team Skelegore.
---
About Our Reviews and Rating System
---
Final Score: 9
Final Scores – By Category

Final Scores – By Attraction

Summary:
Frightworld's back and it's better than ever, scaring people this year; Frightworld's here! If you caught that reference, good for you; here's a cookie. As I just mentioned, Frightworld is back in their 21st season and 3rd year in the current location. Each of their five attractions have been turned up just a little bit more, including a new scene in Nightstalkers. As always, the details are perfectly crafted to provide for maximum thrills.
---
Cast Score: 9.2
Cast Scores – By Question

Cast Scores – By Attraction

Cast Review:
First and foremost, to the actor at the end of Asylum, I hope you found Jeremy, the rubber platypus. You seemed genuinely heartbroken that you couldn't find him.
The entire cast is absolutely the strongest part of Frightworld this year. Both verbal and non-verbal interactions are fantastic. The clown swinging from the set piece at the start of Carnival Boneyard, the monsters holding full conversations in whatever language they were speaking in Nightstalkers, the hillbillies in Grind House, the patients that might actually have to be committed in Asylum, and the creatures lurking through Insanity, every single one of them is giving their role absolutely everything and then some. The number of physical bodies throughout seems really well-balanced, too. While there could be a few more here or there, I don't think it would make that much of a difference.
I really love the subtleties in the roles throughout each attraction, too. Of course, it's going to be a loony bin in Asylum, but they've all embraced a specific flavor of crazy. Like the actor who sat on a countertop with a piece of paper going on about how they need privacy, and you're not allowed to see because it's private. Or the actor in the doll scene in Nightstalkers, whose movements are very close to that of the animatronics in the room, allowing for one of the biggest scares on the property. I should also give kudos to the actor in the spinning tunnel inside of Boneyard. I can barely walk a straight line through those things without feeling like I'm about to lose my lunch, but this actor was doing some twisting moves and a backward crab walk in the tunnel. I don't know how you do it, guy or gal, but you must have an iron stomach.
Queue actors are not without their merit, either. Although Tiny was absent on the night of my visit, the other actors didn't miss a beat. One of them was very proud to show me their detachable eyeball, or the hillbilly slider that I thought was going to run me over as I exited Asylum. Speaking of that sliding actor, I learned that the devices on his hands that make that lovely clacking noise are actually used in longboarding to keep the rider's hands and gloves from being shredded by the pavement, which I thought was a clever repurpose.
---
Costuming Score: 9.07
Costuming Scores – By Question

Costuming Scores – By Attraction

Costuming Review:
As with everything else, the costumes go above and beyond the standard. Queue actors are especially well-costumed, as guests can examine them from every angle, so everything has to be perfect. Even characters that don't leave their respective scenes are incredibly well-detailed. This is especially true in Nightstalkers, which features otherworldly character design, and it's just so nice to see neck cowls on masks tucked into the costume to complete the realistic look rather than just flapping about in the breeze. Having worn a mask with this feature myself, I know how claustrophobic it can be once it's fully on. With that knowledge, I just have to give more credit to the actors trapped inside these masks all night.
Part of my visit was to film aspects of the haunt for YouTube, and one of the things I got to see was the makeup area where Frightworld's highly skilled makeup artists were hard at work making monsters out of people. It's always such a treat to see this transformation and to watch masters at work.
Unfortunately, there was no chicken man to gaze deeply into my soul this year, but there were plenty of other characters eager to fill the role. The undead bride roaming about in the midway certainly tried, with her (his? I'm not here to assume genders) soulless eyes staring into mine. I tried to escape, but like the Mona Lisa, the eyes kept following me.
---
Customer Service Score: 9.9
Customer Service Scores – By Question

Customer Service Scores – By Attraction

Customer Service Review:
Every single year, Frightworld is putting in the work to bring the best people they can for every role on the property, and that's no exception when it comes to customer service. Every non-acting staff member has a smile, and they are happy to help in any way they can. They're also easy to find with clearly marked t-shirts. I don't have much to ramble on about here; Frightworld is just doing customer service correctly, and it's a really nice change from the outside world, which is hit or miss on the subject.
The website is also doing a bang-up job on this end with all the important information in easy-to-find locations, including an FAQ section that addresses the common questions. I did take some points away from the website because the FAQ still needs to be updated to fix the two issues noted last year. Under the question "Where can I park and how much does it cost?" the answer is still "Parking is free, and there is plenty of it." This does answer half of the question, but it does not point out that there is a very large parking lot directly in front of the building. I still maintain that you'd figure that out upon arrival, but it also doesn't take much to add a few words to the website. The other thing that I wasn't able to find is ADA information. The haunts themselves have some narrow passages and tight corners, which may not be wheelchair accessible, but a cane or crutches would be maneuverable throughout all of the attractions.
As far as any other accommodations go, it is always best to contact Frightworld through one of their many channels, including social media or email.
---
Immersion Score: 8.96
Immersion Scores – By Question

Immersion Scores – By Attraction

Immersion Review:
The website provides a short back story for each attraction, and I think this is more to guide the overall theme rather than to tell a comprehensive story. My favorite of these is Eerie State Asylum, which follows the idea that you're entering an old mental institution, and everything about the attraction just works. It helps that many props have come from the former Buffalo State Asylum and Hospital. From the way the lights flicker to the medical equipment strewn about to the anatomical diagrams on the walls, it really feels like an abandoned hospital. The worst (best?) part of it all is that you are most certainly not alone, as the residents are still completely out of their gourds and running amok through the halls.
Insanity, on the other hand, doesn't really have a story or theme to drive the visual choices. There's industrial house music playing, the walls are made of chain link fences, and there is fog everywhere. I think the role that Insanity really plays is that it takes guests from the outside world and transports them into Frightworld, where monsters are very real. This works for the most part, and it's a fun way to "warm up" to the other four attractions.
Carnival Boneyard is a really fun theme in the idea that it's definitely carnival and clown-themed, but it's also the boneyard of old Frightworld attractions. The carnival theme really shines throughout with clowns and circus imagery, all while they protect their prized possessions, which are props from attractions past. I really enjoyed the fun house-esque atmosphere throughout this attraction, and it really kept the feeling of being at a circus gone wrong.
The midway or common area between all of the attractions is is a fun area that stays in theme and provides an atmosphere just creepy enough to keep you on your toes and in the mood to scream some more.
---
Special FX Score: 9.33
Special FX Scores – By Question

Special FX Scores – By Attraction

Special FX Review:
This is a section that definitely gets a lot of love at Frightworld. There are tons of animatronics, light and sound effects, fog, and some of the most beautiful set designs I've ever seen. The attention to detail in each of the sets is really what sets them apart from the rest, and I suspect next year will reveal even more detailed sets than ever before.
Carnival Boneyard features a scene of very large teddy bears, and much to my delight, one of them does move. Although there is not an actor inside ready for a big scare, it's definitely more engaging than a completely static prop. I know there are challenges to putting actors in big suits like that, but the technology is out there to keep them comfortable. Nightstalkers raises the bar on animatronics with the new doll scene. The mechanical dolls move very smoothly, and it really helps to conceal which one is the live actor. Nightstalkers also features some mannequin props that are rigged up to a pneumatic frame, which allows them to move and become a whole new nightmare for me.
Ambient sound is used very well throughout all of the attractions, from the industrial house music pumping throughout to Carnival Boneyard's dystopian organ music that leaves you feeling a little unsettled. The other attractions do have ambient soundtracks, but they are not as prevalent or noticeable as aforementioned. This, I suppose, is the purpose of ambient sound – to fill in the gaps and make the production feel finished overall. Fog and lights are also on point in each of the houses. Insanity does take the fog a bit over the top, but it looks cool anyway. Asylum and Nightstalkers are very dark in many spots, but your eyes will adjust quickly, and it will look great once they do. Besides, dark equals scary, right? The more dark, the more scary, and these are two of the scariest.
---
Scare Factor Score: 8.36
Scare Factor Scores – By Question

Scare Factor Scores – By Attraction

Scare Factor Review:
Without a doubt, Asylum and Nightstalkers are the two heavy hitters when it comes to being scary. I love Asylum for its use of real-life items from the old Buffalo State Hospital, which is now a lovely hotel whose interior is straight out of The Shining. I also really love the creep factor of abandoned hospital-themed attractions because they're shadows of places that really did exist and did some terrifying things to people. The thought of being trapped inside an insane asylum with whatever might be lurking around each corner is downright bone-chilling. While there are some really good jump scares in Asylum, the thing that makes this attraction pop is the culmination of everything being so well-balanced. The acting, the scares, the sets, the lighting, it's all perfectly harmonized to set the tone of horror throughout.
Nightstalkers is focused on classically creepy things, like dark basements, dolls, mannequins, and monsters. The new scene with the gigantic dolls is probably one of the scariest I've come across in a while. No, it's not because the only thing that scares me is mannequins. Well, maybe a little bit. It's because there's a live actor hidden amongst them, and the scare comes out of absolutely nowhere. The dolls are reminiscent of the "red light green light" doll in the show Squid Game, which is creepy enough, but to then breathe life into one of them just for a scare is another level of terrifying. The monsters early on in the attraction have some fantastic scares and speak a language not understood by humans.
Finales are fairly weak across the board, with some variance coming from Asylum and Grind House. Asylum's final scene provides some closure to the story and ends with a pretty good scare, although it could be bigger. Similarly, Grind House has a natural conclusion to the overall theme and has the biggest scare of all the finales, but chainsaws are just as cliché as hillbillies when it comes to haunted house tropes. Insanity and Nightstalkers just sort of end without a final scare, and that's a little disappointing. Boneyard exists somewhere in the middle, and while it does provide a last scare, it could be bigger and more conclusive.
---
Entertainment & Value Score: 8.63
E&V Scores – By Question

E&V Scores – By Attraction

E&V Review:
A general admission ticket for all five attractions will run you $40, and a VIP fast pass option costs $55. If you purchase the GA ticket and decide the lines are too much to bear, there is a kiosk right in the middle of the common area where guests can upgrade their tickets for $15. The kiosk also serves as the customer service hub, so if there are any questions or concerns, this is the place to go to get help. Each house will take about 7-10 minutes to walk through, depending on how quickly you go. I was moving somewhat slowly, and I still only averaged about 7 minutes in each attraction. Given my walkthrough time of about 35 minutes, this brings us to a minutes per dollar calculation of 0.88, which is a little below the average I tend to see in haunts across NY state, but not by much.
For that $40, not only do you get five attractions with some of the best acting this side of the Mississippi, but you get roaming queue actors who are always happy to pose for a photo or show you that really great party trick where one eye comes out. There is also a merchandise booth with new 3D-printed items for sale and the usual assortment of t-shirts, hoodies, keychains, and more.
Lest we forget about the concessions, this is an old K-Mart, so the "food court" has been revived for a really great area to sit down and enjoy some candy or pizza while your heart rate returns to normal. There is also a really fun selfie station where guests can pose with a fortune-telling witch inside a very detailed tent. One thing I would really love to see in this space is a mini escape or other add-on entertainment. There's definitely enough floor space to fit one in, and it would just be a bit of a tight squeeze. Perhaps a VR station could work and fit in a fairly small footprint. Just some ideas, Frightworld.
So, is the juice worth the squeeze? This reviewer says yes. $40 is a small amount to pay to experience one of the best-produced haunts in Buffalo, probably even all of New York state. Even the VIP option is a really great deal if skipping the line is something you value. I've said it before and I'll say it again: Go. See. Frightworld.
---
View Full Score Sheet
---
---
Guest ReviewsGuest Average: 10 out of 10
Tom Cloutier – 10/10 – October 23, 2023Absolutely worth a visit! The actors were great. Clean environment and the houses were very …show more entertaining. One of the best Haunted Houses I've ever been to!!
Jon Miller – 10/10 – October 13, 2018I'm 38 years old and a fan of haunted houses my whole life, been to probably over 75 different …show more events. This event in buffalo is simply the best, it has everything , highly recommend going. Simple the best, produced event I have ever been too.