Grim Trails – Full Review
Grim Trails is a Haunted Attraction located in Louisville, KY.
2600 Freys Hill Rd, Louisville, KY 40241View All Details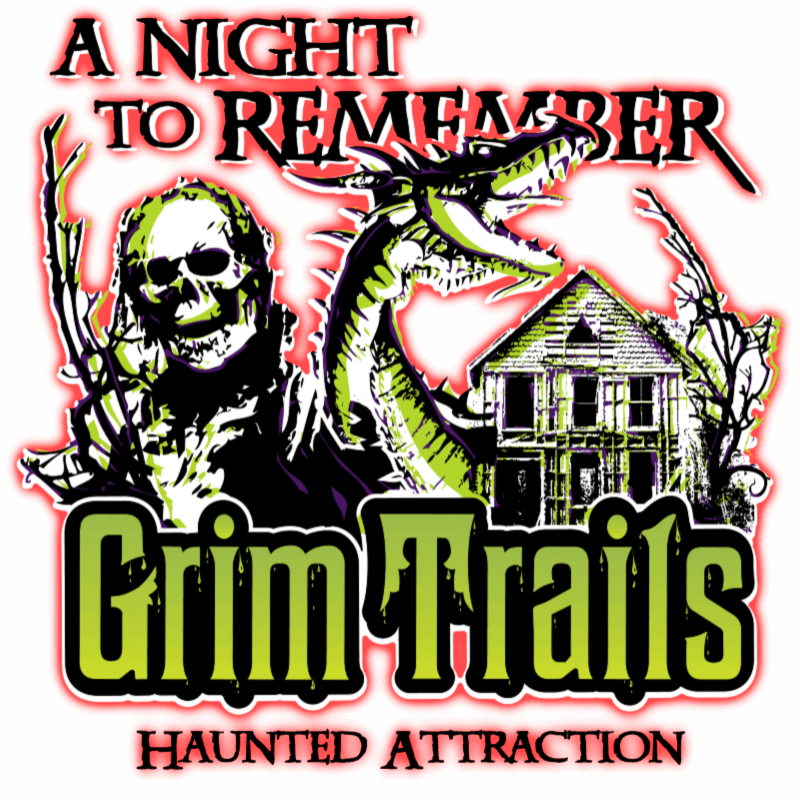 Features:

Free Parking, Restrooms/Porta Potties On-Site, Food/Concessions, Gift Shop/Souvenirs, You will NOT be touched, Uncovered Outdoor Waiting Line, Indoor/Outdoor Attraction

Most Recent Video from The Scare Factor:
(Scroll for Scores and Written Review)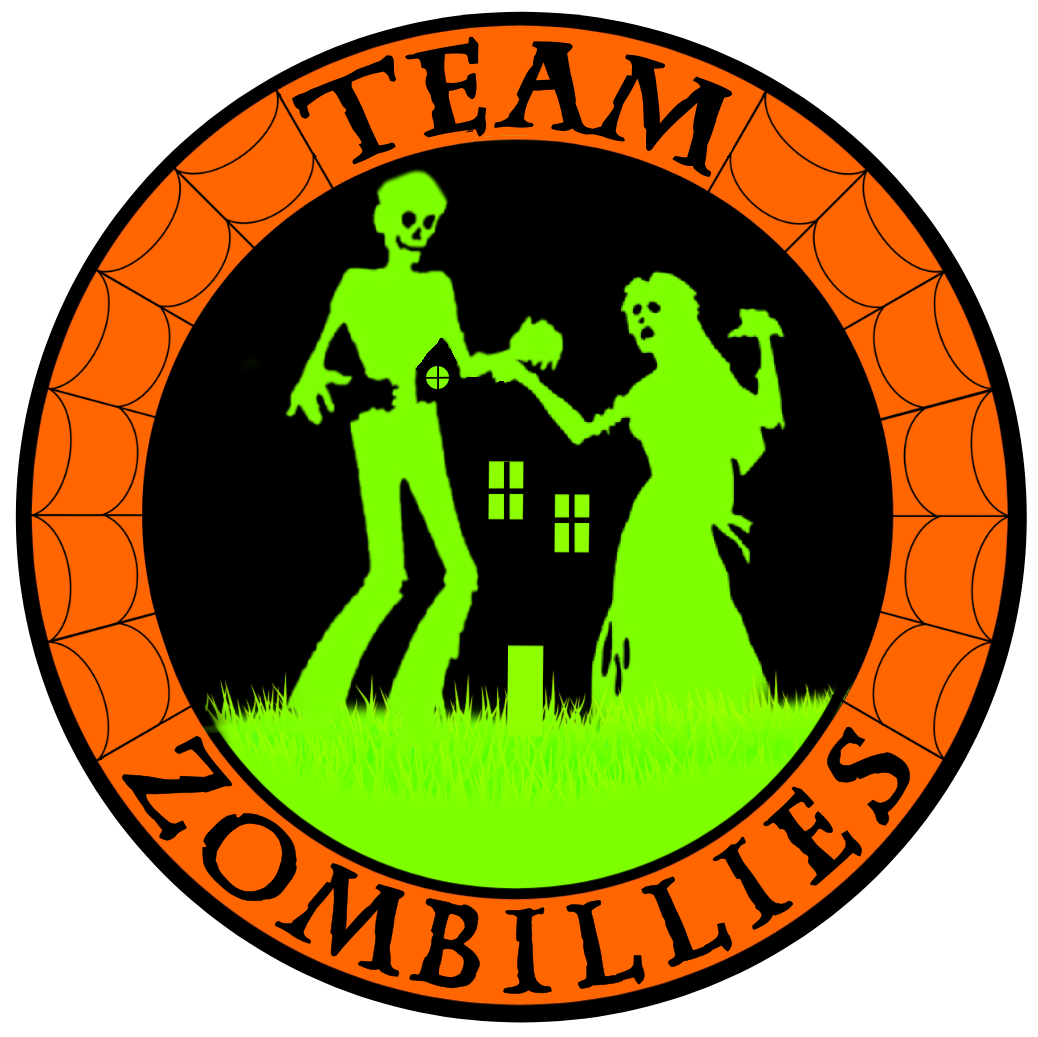 This attraction was reviewed on October 21, 2023 by Team Zombillies.
---
About Our Reviews and Rating System
---
Final Score: 8.94
Final Scores – By Category

Final Scores – By Attraction

Summary:
Have you ever wondered what became of fairy tale characters after their stories ended? Do they exist, or are they just myths? Perhaps they inspired the boogie man that lurked under your bed? What about the witch in Hansel and Gretel? Does she really eat children? Are there really Wendigos?
All these answers and more await in the shadowy depths of Tom Sawyer Park, where Grim Trails Haunted Attraction now resides. It's been several years since our team last reviewed this attraction, and we were eager to test our luck surviving the enigmatic inhabitants of those woods.
Celebrating a decade of providing fears, Grim Trails was ready to dish out some "fear, fantasy, and fun" in this single, heart-pounding, haunting trail.
---
Cast Score: 9.08
Cast Scores – By Question

Cast Scores – By Attraction

Cast Review:
The cast was exceptionally aggressive, invading our personal space often in this no-touch haunt. They all remained in character, fully committed to portraying their roles convincingly. They were spaced throughout the woods well, yet despite being surrounded by the maniacal miscreants at times, there were still more extended periods when we didn't encounter anyone.
The cast interacted actively with our group and their respective scenes. Some leaped, slid, and scaled, while others pounded on the walls around us. This crew's unpredictability added an adventurous twist to our stroll! We didn't notice any overused phrases being used, and their dialogue consisted of reiterations of other characters, blunt and fearful warnings, and yelling fits of rage! In all our time visiting Grim Trails, this is the strongest cast we've seen here to date!
The Vampires hissed and clawed at the walls, and the tortoise and the hair surrounded us. Just when we thought bunnies and turtles weren't on the top of our scary list, they quickly made us change our tune! The rabbit made laps around our group as if they were in a race with us, while the turtle intimidatingly followed. We thought the pig would blow his own house down as he forcefully banged metal against the wall.
Gretel turned out to be as deceiving as they come. Upon asking us to help her bury a body, she quickly turned on us, sending us running to a witch who appeared out of nowhere! Poor Hansel, he's not going to last long with those two. A slithery snake, a boisterous baboon, a wolf, an un-innocent Little Red Riding Hood, and sneaky witches also joined in on the fun, along with many others.
We appreciated Captain Hook's dedication to his role by being fully in character as we approached his scene, declaring his distaste for Peter Pan while sharpening his long blade. Medusa was another standout here; she relentlessly insisted that we gaze into her eyes, and upon not doing so, she upped her persistence!
---
Costuming Score: 9.06
Costuming Scores – By Question

Costuming Scores – By Attraction

Costuming Review:
The costumes along the twisted trail were top-notch, crafted from high-quality materials, distressed, or seemingly homemade. Nothing appeared unaltered or majorly out of place. Both masks and makeup were used, sometimes even within the same scenes.
The masks included some unique and realistic finds, such as silicone turtle and snake masks, a furry rabbit, a wooden face, a giant jack-o-lantern, and an antlered beast. These masks added a realistic dimension to the characters wearing them, though a few could benefit from some blending makeup underneath for a more seamless look.
Many makeup looks were noticeable for an outdoor trail, but some were trickier to see fully. We noticed darkened facial features, glistening makeup, possible charred skin, airbrushed designs, and sinister looks like a black-dressed witch. Colored contacts added an eerie vibe, while crazed hair and several headpieces added to the overall look.
Ichabod Crane wore an appropriate costume, complete with a white- and curly-haired wig. Medusa's head was covered with snakes, and the turtle had a full shell and matching arms. We also noticed several characters with lighted features implemented into their costumes. This certainly caught our attention and is a game-changer! We also saw additional intricate details such as chainmail, claw marks, and a woman holding a lantern.
Some of the most impressive looks were those of the Blue Fairy and Captain Hook. Both of these costumes were amazing! The fairy wore sparkling attire and makeup all the way down to her fingertips. Captain Hook looked amazingly horrific and accurate, with striped buccaneer pants, ruffles, his signature hat, and silver hooked hand. Another memorable look was the Wendigo that ran at us on all fours! There was also a werewolf who had clearly already consumed the grandmother before we arrived.
---
Customer Service Score: 9.64
Customer Service Scores – By Question

Customer Service Scores – By Attraction

Customer Service Review:
Our GPS app took us near the entrance to the park, where a few signs signified we had arrived at the correct place. They have several parking lots in place if needed, but on the night of our visit, paved and free parking was available and in use at the BMX track across the road from the haunt.
Grim Trails is an outdoor walk that winds through trees, buildings, and across bridges and walkways. Wear proper footwear and beware of your footing at all times. There could be uneven ground or tree roots. We saw someone wearing sandals in the waiting line – do not be this person! The haunt's exit routes people through a field, through a fence, and back out into the parking area. We miss their older parking lot that was well-lit with numerous signs, but there's a lot of space where they are now.
A security station is set up before guests are permitted fully onto the property. You must walk through a metal detector for admittance, so leave your knives, other weapons, and even e-cigs (if you have them) in the car, or you'll be disappointed to lose your place in line. Portable restrooms were conveniently located directly after the security check station.
All the staff members we encountered were friendly and happy to answer any questions. The ladies in the gift shop questioned how we liked our adventure, as did she with other guests as they came out.
Before visiting, we scanned their website for information pertaining to our visit. Relevant information was found within several clicks, including an FAQ section.
---
Immersion Score: 8.86
Immersion Scores – By Question

Immersion Scores – By Attraction

Immersion Review:
Grim Trails takes place in a darker part of town, secluded by trees, a barn, and a towering silo. The roaming creatures, signs, and colorful lighting assortments added to the overall spooky vibe. Hard music filled the waiting area.
The various fairytales within the trail were as whimsical as they are in books and movies, with a twisted spin, given that this is, after all, a haunt! The environment was heavily immersive, and being face-to-face with these characters added an overall sense of creepiness to the Halloween fun!
The scenes flowed well from one incredible structure to another, with clear themes that began in each area. Sometimes, small vignettes with signs alluded to what was ahead. Upon exiting each scene, there was plenty of space to encompass oneself into the next anticipated experience fully.
This year, they've added a new character to the mix, Jacob, one of the Grimm brothers themselves. He had one question for our group: Did we fear death? Facing this character took us back to the roots of the haunt's storyline in which they feed off fairytales, folklore, and other myths.
Inside, we found a few things that broke us out of the immersion. Namely, some water bottles and haunt actors' personal items.
Upon exiting the attraction, we found ourselves at the gifts shop where haunt merch was available. A free photo op area was found here, too. From there, a path with overarching trees guided us back to the road to the parking lot.
---
Special FX Score: 8.68
Special FX Scores – By Question

Special FX Scores – By Attraction

Special FX Review:
Colorful hues lined the trail's path, and signs signified what awaited ahead throughout the haunt. Grim Trails is a fairytale-themed haunt, with large structures built throughout that add to the fun and fright of the experience. Realistic animatronics were well-placed and with great timing. The burning witch flew over our heads so fast that we didn't know what happened! Another animation peeled its face off right in front of us.
As we journeyed along the woods, we found some fog, subtle and loud sound effects within the scenes, a waist-high squeeze tunnel, a spongy floor, flying ghouls, and sudden blasts of air. Be aware of Medusa, as she has special effects with which she will insist you participate in the most aggressive of ways!
A green laser vortex led us to the laser swampy area, where we found stalks of natural bamboo! Lighted, swaying wendigos adorned the path. We found two gigantic dragons: one spitting fog at us, and the other thunderously roared! Hades was burning in a red theme of glowing rock walls. The effects we encountered within this outdoor trail were well orchestrated and creative, with grand details at times, whisking us haunt-goers off to its whimsical, yet scary, world of wonder.
Although the entrances and facades to the scenes were detailed well, some could use additional detailing on the inside. We also felt that the area where we encountered the second dragon seemed less detailed than other areas.
---
Scare Factor Score: 8.81
Scare Factor Scores – By Question

Scare Factor Scores – By Attraction

Scare Factor Review:
Grim Trails provided one scare after another, and they were very thorough in scaring everyone in the group! We screamed and jumped on many occasions.
Scares were provided by both cast members and the effects. Animatronics suddenly lit up, screamed, shook, and popped out at us when least expected. The cast eagerly waited for us to approach, ready to startle. We always felt like something or someone was watching us here.
Nightmarish sounds could be heard from the pre-haunt waiting area throughout the entire experience. A rabbit call stood out remarkably, and we could hear it throughout the haunt, along with howls of wolves, screams from the cast, and the trails' prey. We were hissed at aggressively, too! Low singing from a few characters also gave us the chills.
We gained a few followers on our journey as they stealthily sneaked behind us. The trail also contained a grave surprise, a beating metal door scare from above, a pouncing and squealing rabbit, unexpected attacks between structures, a coyote eyeballing us from the woodline, and a slider attack from multiple angles!
Though this is not a touch haunt, the cast was aggressive, as mentioned above, getting extremely close to us at times. We could tell that they dared us to enter their territory, and it was uneasy, to say the least. We had a troll full-on sprint at us, faced with a gigantic gator, and a fantastic scare in the Hansel and Gretel scene that utilized a distraction. There was an unexpected flying surprise within the castle, and if you fear spiders or snakes, brace yourself as they feature both in large form!
The haunt showcased a finale we have never seen anywhere else; the only clue we will give you is that it involves a horse[man] rather than a chainsaw.
---
Entertainment & Value Score: 8.69
E&V Scores – By Question

E&V Scores – By Attraction

E&V Review:
Ticket prices are $25 per person this season for general admission. Our walk through Grim Trails took us 28 minutes, though your time may vary, depending on how much you interact with the scenes or cower in the woods. This brings the MPD (minutes of entertainment received per dollar spent) value to 1.12, which is above the average and rare for the Louisville area! Fast Pass add-ons are available for $10 per ticket for those in a hurry.
As guests waited, hard rock music filled the air, and multiple roaming entertainers provided scares down the line. We've seen some waiting-line entertainment here in the past, so hopefully, they can continue to add this feature on busy nights to help pass that wait. Given the length of the trail and the entertainment we received, this is a great value, and we highly recommend this experience!
When visiting Grim Trails, plan to arrive as early as possible. The haunt tends to get busy quickly the closer it gets to Halloween. Tickets may be purchased online or at the ticket booth, and they have an ATM on-site if you prefer to pay in cash (though they do accept credit or debit cards). On the night we visited, a food truck was stationed near the entrance.
If you are looking for a unique, fun, and entertainingly scary haunt that will not drain your wallet, Grim Trails is the one! The trail of many scenes will keep you immersed in a Halloween fantasy for a lengthy amount of time. You will interact with an outstanding cast, be surprised by hidden scares, and enjoy the artistic sets along the beautifully creepy outdoor trail. Just don't listen to that foolish Peter Pan! Find out what awaits you in the dark at Tom Sawyer Park; you won't regret it!
---
View Full Score Sheet
---
Pics We Took From Our Visit:
---
Promo Images:
Click to Enlarge
---
Guest ReviewsGuest Average: 10 out of 10
Jenna Durbin – 10/10 – October 11, 2019The atmosphere at this haunted house is amazing. You feel like you're not even in Louisville …show more anymore! Sets and costumes were incredible. Highly recommend!!
Darryl Moore – 10/10 – October 27, 2018Scariest haunted house in Louisville! The detail is absolutely incredible. It feels like you've been …show more transported into these different worlds of fairy tales. You will not be disappointed!
Ava Winebrenner – 10/10 – October 12, 2018This Was Very Scary! I never expected them to get so close!
---
Past Awards
---
2020 Awards
Scariest Duo - Goldilocks and The Bear (Given by: Team Zombillies)
Most Unique Costumes (Given by: Team Zombillies)
---
2019 Awards
Scariest Creature - The Bear (Given by: Team Zombillies)
Creepiest Vocals - The Demon (Given by: Team Zombillies)
Most Unique Haunt (Given by: Team Zombillies)
---
2018 Awards
Scariest Creature - "The Bear" (Luke Mays) (Given by: Team Zombillies)
Best Costume - The Rock Wall (Given by: Team Zombillies)
Most Realistic Vampires (Given by: Team Zombillies)
Most Unique Characters (Given by: Team Zombillies)
Actor Shout Out - Bluebeard - John Probus (Given by: Team Zombillies)
Actor Shout Out - Troll - Austin Hirtzel (Given by: Team Zombillies)
---
---
Past Awards
---
2020 Awards
Scariest Duo - Goldilocks and The Bear (Given by: Team Zombillies)
Most Unique Costumes (Given by: Team Zombillies)
---
2019 Awards
Scariest Creature - The Bear (Given by: Team Zombillies)
Creepiest Vocals - The Demon (Given by: Team Zombillies)
Most Unique Haunt (Given by: Team Zombillies)
---
2018 Awards
Scariest Creature - "The Bear" (Luke Mays) (Given by: Team Zombillies)
Best Costume - The Rock Wall (Given by: Team Zombillies)
Most Realistic Vampires (Given by: Team Zombillies)
Most Unique Characters (Given by: Team Zombillies)
Actor Shout Out - Bluebeard - John Probus (Given by: Team Zombillies)
Actor Shout Out - Troll - Austin Hirtzel (Given by: Team Zombillies)
---
Join ourspookyadventures!
We visit Halloween haunted attractions year-round! Follow us for haunted house walkthrough videos, behind the scenes footage, and more!