Hadji Haunted House – Full Review
Hadji Haunted House is a Haunted Attraction located in Pensacola, FL.
800 West 9 Mile Road, Pensacola, FL 32534View All Details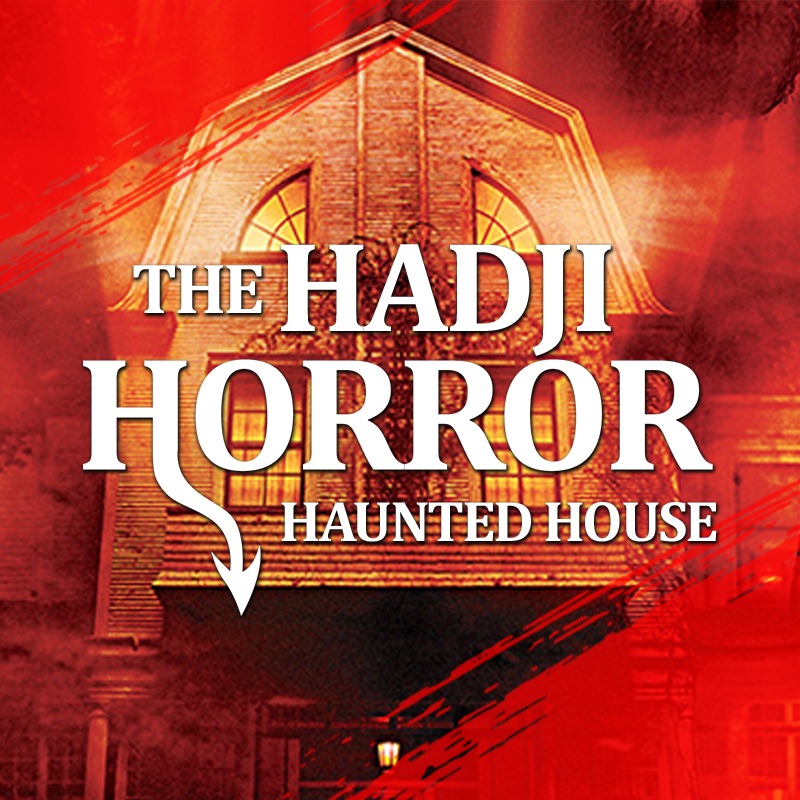 Features:

Free Parking, Restrooms/Porta Potties On-Site, Handicap Accessible, Food/Concessions, Gift Shop/Souvenirs, You will NOT be touched, Movie Characters, Indoor Waiting Line, All-Indoor Attraction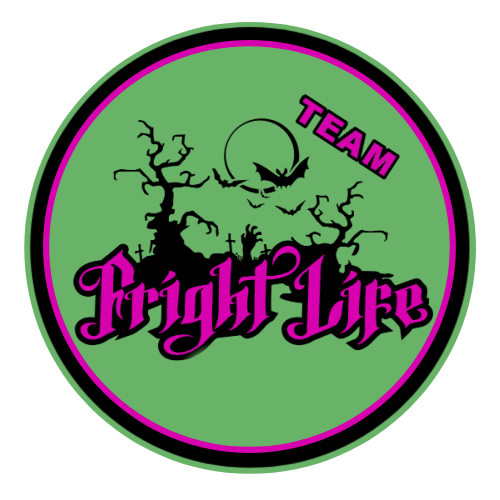 This attraction was reviewed on October 14, 2022 by Team Fright Life.
---
About Our Reviews and Rating System
---
Final Score: 7.46
Final Scores – By Category

Final Scores – By Attraction

Summary:
Welcome to Hadji Haunted House! A non-profit haunt that has been putting the scare in Pensacola for seven years. Occupying the beautiful Shriner's Hadji Temple, those who dare to enter this horror experience are in for a treat! Hadji's haunted attraction takes you on a frightful journey through 40 themed rooms that change yearly. And with the commitment of their volunteer event managers and designers, it grows more extensive and more elaborate every year too. I will be sure to come back next year to see the sinister scares they implement!
Hadji is both beloved and embraced by the local community. It is steadfastly committed to raising money for Shriner's Hospitals for Children and the Pensacola Breast Cancer Association. The net profits are split between the two charities, and to date, they have raised over $200,000. And given their drive to support those with medical needs, they ensure their entire haunt is handicapped-accessible. They are also a "no touch" haunt for the same reason. They told us that their goal, aside from raising money, is to scare to entertain.
---
Cast Score: 7.25
Cast Scores – By Question

Cast Scores – By Attraction

Cast Review:
The local community plays a starring role at Hadji. The volunteer cast ranges from 7 to 70 years old, 60-100 in number, experienced and new actors, and entire families that act in scenes together. I never felt at any time that there was a deficit of actors in any of the rooms. Some of the hallways that connect the rooms and also the queue line could have benefitted from a few additional actors, but overall, there was just the right amount needed to make the scares successful and to have the rooms come to life.
This year, most of the 40 themed scenes at Hadji were based on famous horror films and TV shows. The actors in these scenes were perfectly cast in their roles. They looked and acted appropriately for the character they were re-creating. There were a few very memorable standouts, however. The young girls that played the twins in "The Shining" scene looked the part, but they had their lines and the delivery perfect. Our favorite actors were the mom and son team in the voodoo room. The young man (six years old, I believe) that played the skeleton got me with his startle scare. Mom distracted me as her son "came to life" and ran towards me. He indeed became his character and was beyond creepy.
---
Costuming Score: 7.2
Costuming Scores – By Question

Costuming Scores – By Attraction

Costuming Review:
With 40 themed scenes and multiple actors in each, and a limited budget, there was a big task to conquer for the costume and makeup team. Most of the scenes were re-creations of famous horror films/television, so there was not much in the way of creativity, but the accuracy was on point. There was also a good balance of masks and makeup.
The stand-out costume was the tall, creepy clown working the queue line. The mask was fitted to his face making it difficult to know where the mask started and the actor's face ended. It was real and disturbing.
---
Customer Service Score: 9.13
Customer Service Scores – By Question

Customer Service Scores – By Attraction

Customer Service Review:
Everything you need to know about the haunt and purchasing tickets can be found on their Facebook page and website. Hadji Haunted House was easy to find, approximately two miles from the 10 Freeway in Pensacola. And the beautiful gold Moroccan-style domed building could be seen from the street. Signs placed near the entrance and along the driveways directed our way. The parking lot was large and would have plenty of space for a sold-out night at the haunt.
Once inside, I was greeted by a friendly team of volunteers, and everyone I encountered was eager to help. They also have a table and volunteers next to the ticketing area providing information on the Pensacola Breast Cancer Association, which receives 50% of the net profits. The other half goes to the Shriner hospitals and medical care for needy children and families.
Safety is a number one priority. They want the haunt to be safe and handicapped-accessible. They also must be fire inspected and permitted, and they passed all tests. On a "lights on" walk-through with one of the set designers, he noticed a temporary wall detaching from the ceiling. A call was made on the radio immediately, and it was addressed and repaired within a few minutes.
---
Immersion Score: 7.25
Immersion Scores – By Question

Immersion Scores – By Attraction

Immersion Review:
A small ticket booth sits directly in front of the haunt's giant "Amityville" house façade. Once haunt goers had purchased their tickets, they passed through the door of the façade. Just behind the façade was the start of the queue line. A scene on one side of the queue helps set the tone while waiting for the fear fun to start. A tall, scary ringleader clown was walking through the queue line, scaring folks and posing for pictures while I was there.
Hadji does not have a clear-cut theme but instead has 40 individual scenes. It was so much fun feeling part of so many different movies/tv shows, but that also made it difficult to stay immersed throughout the haunt. The hallways connecting the rooms didn't consistently match up with the scenes, so I would feel drawn into the scene but brought back to reality between the scenes. I loved the variety and seeing my favorite horror movies come to life, but unfortunately, in this case, it meant sacrificing some of the immersion.
---
Special FX Score: 7.23
Special FX Scores – By Question

Special FX Scores – By Attraction

Special FX Review:
The Hadji team clearly loves the horror genre because they did a great job with a non-profit, limited-budget re-creating and re-imagining famous horror scenes. In the "Stranger Things" room, I encountered Vecna hanging from the walls doing his best to get inside my brain. I was worried because I didn't have Kate Bush's song handy. As it turns out, Vecna is a prop that was 100% created by the Hadji set design team. Great job!
In general, special effects were limited, and the team created many of them, but the ones there were, overall, effective. What they lack in budget, they often make up for in creativity. The most memorable scene to me was so low budget but brilliant and had an intense impact. This year, there was a room with probably 50 Jason Voorhees masks hanging from the ceiling. On closer look, when the lights were on, the masks appeared to be hanging from the fishing line. The great part was that with the lights off, it made the masks look like they were floating. I assumed there were probably actors in the room waiting to scare me, but it was so dark that I couldn't tell where they were. The actors kept their faces in line and spaced evenly apart from the hanging masks. The anticipation was palatable.
---
Scare Factor Score: 7.21
Scare Factor Scores – By Question

Scare Factor Scores – By Attraction

Scare Factor Review:
The management team told me that this haunt scares to entertain. They are not trying to be super intense or aggressive like other haunts. They do, however, have a variety of scares that include animatronics, distractions, and startles/jump scares from actors.
Their actors are very good at engaging the haunt-goers as they come through. The teenagers I was grouped with were frightened from the moment we walked into the main attraction. The actors picked up on it and often followed them out of their scene into the next or worked in tandem with other actors to make these young ladies feel trapped and surrounded. I am surprised that the teens had a voice left when they exited the haunt.
---
Entertainment & Value Score: 7.5
E&V Scores – By Question

E&V Scores – By Attraction

E&V Review:
The haunt is the main attraction, but there is also a concession stand and photo area. Both are an additional cost and not included in the ticket price. The photo area has a professional photographer where visitors can pose for pictures that include Hadji logos and artwork. It is a fun souvenir to bring back with you that you don't always get as an option at haunts.
General admission is $25, and they also have discounts for groups of 10 and a VIP pass for $35 that is good for "skip to the front of the line" privileges. Tickets can be purchased online in advance by scanning their QR code or onsite with cash or credit card. It took me 15 minutes to complete the Hadji Haunted House. However, my group was going slower than I think your average group would. I wanted to take in the sets and effects, and the teenagers held themselves back as they approached each room out of fear of the unknown. So, for 15 minutes at $25, that puts the minutes per dollar for Hadji at about half a minute. That is below average, but I am personally okay with that as this was a fun, charity event.
I had a great time at Hadji! I rarely go to a haunt and leave feeling like I am part of so many of my favorite horror movies and television shows all in one night! What makes this haunt even more special is that the profits from this haunt go to two incredible charities. And I know that some of you reading this review may say that many haunts give to charities so why is this haunt more special? The management with this haunt volunteers for these charities year-round. When you go, ask the management team what the charities mean to them and how often they volunteer. I did, and most of them teared up telling their personal stories of the children they met that benefitted from the money they raised. The Hadji Haunted House team took their passion for their charity and their love of haunted attractions and created a match made in spooky heaven!
---
View Full Score Sheet
---
Pics We Took From Our Visit:
---
---
Have you visited this attraction?