Hammer Brothers Haunted Circus – Full Review
Hammer Brothers Haunted Circus is a Haunted Attraction located in Waynesfield, OH.
19407 OH-117, Waynesfield, OH 45896View All Details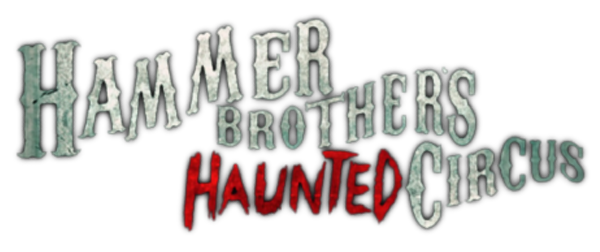 Features:

Free Parking, Restrooms/Porta Potties On-Site, Food/Concessions, Gift Shop/Souvenirs, You may be touched, Original Characters, Covered Outdoor Waiting Line, Indoor/Outdoor Attraction, Family Friendly

Team Mysterious Misery reviewed this attraction on October 8, 2016.
Final Score:

8.84
Summary:
Now in it's second year, it's easy to see why Hammer Brother's Haunted Circus is quickly become a favorite. Matt (the owner) has a great cast and crew that have years of experience. They have an amazing story to tell and they are giving it Hell so that you can see exactly how it's told from their warped brains. There were a few things at this haunt that quickly became memorable experiences for us, so we hope you can make the trip to enjoy it as well.
The Hunt is a unique, first-year experience that's located on the same property. The Hunt will be a favorite for any gamer that's a fan of first-person shooter-style video games. It gets your ass off the couch and out from behind the TV and puts you in a real life scenario (in the safest way possible, of course). You're given a mask and a paintball gun that has been modified just for this attraction. You are then turned loose in a maze with your team and you have to make your way out of the levels while zombies are chasing you on foot. You get to shoot the zombies to save yourself, but they are relentless and out for brains. This is something you have to experience first hand. It's just, simply, not like other zombie paintball attractions.
---
Cast:

9
Hammer Brother's Haunted Circus has been fortunate enough to acquire many of the amazing actors from The Scare Fair. Many of them have between 5-18 years of experience and they are great at what they do. Each one that I came across was horrifying, yet intriguing. To run the many aspects of all the attractions, it takes about 90-115 cast members. In the Freak Show, my shout-out goes to the Jack in the Box and Teri and Gayle. In the corn maze, the slaughterhouse and the barber shop get shout-outs. At one point in the barber shop, I thought I was literally going to get my neck slit. Something about the actors being allowed to touch adds a whole other element.
The Hunt is home to 34 of those actors. They are zombies that are ready to eat your brains every night and they're good at what they do in their areas. I definitely want to give this whole group a shout-out because there is something about letting people shoot you at close range with paintballs that impresses me.
---
Costuming:

8.54
I stood there with my mouth open as I learned that the cast does their own makeup and costuming. They do exceptionally well in this area, as some of them have many years of experience from being employed at Scare Fare. The costuming for each character fit in their scenes really well. The fortune teller in the Freak Show stood out to me, as well as the Ring Master.
The Hunt gets a special mention for lack of protection gear. They want to give you the most realistic experience of a zombie that's really after you, so the actors do not wear any protective gear.
---
Customer Service:

8.94
Matt told us many times that he loves to talk to people and hear what his customers have to say. Many of the ideas and concepts that you will see in all of the attractions came from his conversations with people. Matt has a love for his attractions and you can see it. You will come across many employees who will be eager to help you with any questions or concerns. Speaking of which, safety is a major concern and they handle it well with having safety systems in check, up to code and having continuous communication with each other. Free parking is a bonus and you will also find concessions to get a warm drink and other items. The one cool thing they have is the Scare Fair's fire ring. It is to show love and respect for an amazing haunted attraction that came to an end.
---
Atmosphere:

8.75
Imagine driving down a country road with farms as far as the eye can see. Then there's a huge, red and white circus tent in the middle of a farm field that's lit up with eerie lights. Well, you don't have to imagine it, because it's at Hammer Brother's Haunted Circus. As we pulled up, I remember saying to myself, 'This is creepy good' and it reminded me of a set for a movie scene. As you walk through the eerie lights and get closer to the tents, you can hear the creepy circus music with chilling screams.
Adrenaline will be the thing that courses through your body for The Hunt. You will get loaded with a protective mask and a paintball gun that feels like the real thing. You then go through your training and you line up. When they say 'go,' you will be led on foot into a field filled with zombies that are looking for you (and they will touch). Your breath will speed up and your heart will race.
---
Special Effects:

8.45
The Freak Show utilized things that you would see in a circus to bring out the creepy factor. The perfectly-placed lighting and sound effects are frighteningly-delicious. Am I allowed to say corn is a special effect? The farmers that actually use the land plant a hybrid corn and those stalks are 8- to 10-feet tall, which helps keep you guessing in the corn maze. Fog is another big effect. Matt told us he is a 'fog junkie' and there was no shortage! The fact that it was being used in all the proper places made it even more amazing.
The Hunt has many special effects that are needed to make this the amazing game that it is – from the lighting and sounds to the lakes and lights. We also cannot forget about the guns that had to be modified for use in this game.
---
Theme:

9.45
The story is about the Hammer Brothers and how the farm needed the circus to survive, but the circus fed Alister and Ezekiel the evil-ness that changed everything. This haunt is exceptional at making the story come to life. With all of the right elements, the haunt becomes an amazing story-telling event that shouldn't be missed.
The Hunt is a full-on zombie apocalypse that you get to experience first hand. Zombies come at you and are ready for one-on-one combat with you. You must be ready with your gun to defend yourself.
---
Fright Effect:

8.87
You can tell the haunt has some amazing people working in it that know what they are doing. This is a touch haunt and they WILL touch you. I can say that it just adds a whole other creepiness factor that gave me chills; there's nothing like having scissors held at your throat or being locked in a room with no way out while you wait to become slaughtered. Also, there's always something creepy about an outdoor attraction that feels like it continues to go and all you can hear is the taunting from creatures and the screams of victims as they try to make their way out of a corn maze that is not forgiving.
The Hunt is not as scary as in-your-face nightmares. It does, however, offer you the scariness of a real-life situation where you're trying to survive. Like I said before' the adrenaline kicks in, your breaths get louder and your heart thumps. It is a different level of scary.
---
Value:

8.75
This is the haunt that keeps on giving. Our Team literally spent 2 hours trying to go through everything and, when we thought we were done, guess again! We think this is a good deal for all that this haunt has to offer:
Walk-Through Cornfield w/ Freak Show: $12
Paintball Wagon Trail: $18 (extra paintballs $5/100)
Combo for both: $25 (Save $5, *subject to wagon availability*)
The Hunt is Zombie Paintball on the ground, defending yourself against zombies who are really trying to attack you. If you are a gamer and a fan of first person shooter games here is your chance to live it out in person, the safest way possible:
The Hunt: $30 per person
MUST RESERVE ONLINE, IN ADVANCE
Limited Availability
Only runs from 8-9 PM
If you are looking to do just The Hunt, you can. If you're looking to do just the haunt, you can. If you want to do only the wagon ride, you can. When you combine them all, however, you get an action-packed night!
---
---
Guest ReviewsGuest Average: 7.58 out of 10
Tory Vander Ven – 10/10 – September 30, 2023A perfect kind of scare! Had great actors who all did a great job scaring me, I loved how unique …show more each house was and how they involved me in it! I'll definitely be back!
Jelly may – 9.8/10 – September 17, 2022This is my 3rd year attending this haunt and it is one of my favorites if you are looking for a …show more touch haunt in the Midwest this is the place to go.
The moment you walk from the parking you get immediate interaction and entertainment from the que actors.
Waiting in line is never fun but these guys know how to make it so.
The house is always a very immersive experience and they're is always something to be doing along side the actors that make you feel apart of the show.
The field is a lengthy winding event that has you guessing with almost all of your senses. If you wanted to feel like you're apart of your favorite horror movie. This is where you can live that dream.
Bash-O – 9.5/10 – September 29, 2018Every Haunt has its early in the season hick ups… But The Cast and Crew really Care at this Haunt. …show more They More than made up for any inconveniences that occurred, which by the way, were beyond their Control. LOVE YOUR WAGON RIDE ZOMBIE HUNT !!!
---
Past Awards
---
2020 Awards
The All In Award (Given by: Team Mysterious Misery)
---