Hammer Brothers Haunted Circus – Full Review
Hammer Brothers Haunted Circus is a Haunted Attraction located in Waynesfield, OH.
19407 OH-117, Waynesfield, OH 45896View All Details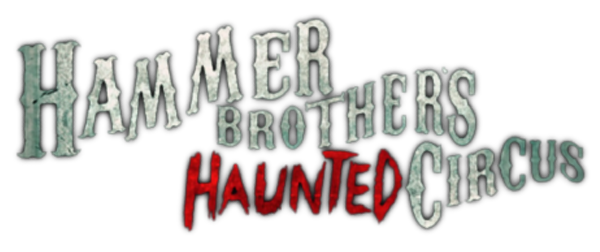 Features:

Free Parking, Restrooms/Porta Potties On-Site, Food/Concessions, Gift Shop/Souvenirs, You may be touched, Original Characters, Covered Outdoor Waiting Line, Indoor/Outdoor Attraction, Family Friendly

Team Mysterious Misery reviewed this attraction on October 21, 2017.
Final Score:

8.45
Summary:
Hammer Brother's Haunted Circus is back for its third horrifying year. This year has brought new changes in all three attractions. The changes have made us thirsty to what is coming next and how it will come full circle. Matt and his team worked effortlessly in listening to their patrons' feedback for making adjustments. This is the location you want to attend if you want to spend hours experiencing fear and entertainment. The masterminds of the Cornfield always keep you guessing and help you come up missing. Yes, they can touch you. The Zombie Wagon ride gives you a rush as you shoot UV paintballs at creatures who want to climb aboard. Then you can't forget about The Hunt. It took on major changes, as well this year. There is the addition of buildings so you can kick in doors and a new airplane wreck. It will get your adrenaline rushing and your heart pumping as you try to save the scientist in your mission. We think it is a great value for the hours you can spend there.
---
Cast:

7.95
Hammer Brother's has a plethora of cast members that work hard each night that they are operational. On the night we attended there were approximately 56 horrid actors in the Cornfield. There were another 23 grotesque zombies hiding out for the paintball wagons. On top of that there were an additional 30 revolting zombies in The Hunt. We can't exclude the other 22 backstage people that make all three attractions operational and run smoothly every operating night. The majority of the cast in the Cornfield are veterans of fright as they have been in the industry for a while. They work hard on their Cornfield and take deep pride in it and that passion shows greatly. Since the majority of the Cornfield cast are veterans, they are great at using interactive dialogue and not giving you the generic scream in your face. One of our favorites was a clown we found on the trail and after a lengthy conversation we both realized we like the color black because it matched our souls. With The Hunt and the Zombie Paintball Wagons you get what you expect. You will witness zombies that are grinning lewdly, moaning, groaning, half dragging, empty staring eyes, drooling, marching, relentless and of course, they attack in packs.
---
Costuming:

8.15
So with a cast that is one hundred or more people every night you are probably thinking they must be in some awful costumes. You would be incorrect my friends. This is where the experience of people who have been in the industry become an added bonus. The cast in the Cornfield works on the details of their costuming including their makeup. They have attended trainings and classes in the past and enjoy the opportunities to use their skills. We did encounter some masks along the way but these are used due to safety for those in the paintball areas and the weather factor due to the attractions being outside. One of our favorites was the mom and dad in the home. They fit their scene so well and I felt like I was in a movie scene of the 1940's. Next up are the zombies. You will come across them in two of the attractions if you decide to add that experience onto your ticket. They are very foul creatures that have a tough task. The zombies do not wear face or body protection from the paintballs because they want to create the most accurate scene of what it would be like to encounter them. However, they do dress in layers to protect the actors. So as basic as their costumes are in some places, they are serving a purpose.
---
Customer Service:

8.85
Hammer Brother's does an impeccable job in this area. Matt works diligently on making sure that his customer's comments and concerns are heard. He makes an effort every night to go out and talk to the patrons and see what they liked and disliked. He urges them to go on the sites and review the attraction. Like he said he is not scared of the negative because that is what helps him change and continue to get better. Matt has haunt fever and it is appreciated as he infects everyone around him with his thoughts and visions of becoming exceptional. The backstage crew that was mentioned in cast plays a vital role in the operational days. They are what keeps things working as smooth as butter. You will be able to interact with these people if you have questions, problems or concerns as they are easy to locate and willing to answer questions. These people make sure they are up to code and have safety plans in case something were to occur. You shouldn't have too much trouble finding it but you may pass it on the first try. Parking is free but remember if it has been rainy it could be messy. The three attractions are not the only thing you will have to entertain you for hours. You will find souvenirs, a concession stand, a warm toasty fire (which pays tribute to Scare Fair), and a lost inhumanly creatures looking for someone to save them. Remember the majority of your time is outside so proper footwear and clothing can help your night be more enjoyable. Hold onto loose and valuable items as it is almost impossible to retrieve things that are lost in such a large and dark area.
---
Atmosphere:

8.6
In Ohio, the fall nights are crisp and the country roads are dark. In the rural areas you will be able to see cornfields as far as the eyes can see, then there sits Hammer Brother's. You will notice it right away by the dimly-lit globe lights that will catch your attention from the road. If you pull in on a weekend night you will be stunned to see all the vehicles in the parking lot. You will then walk across the grassy plain while hearing the screams of the next victims and the roar of the tractor in the background. You will travel under the dim lights, between two corn fields where a gigantic red and white circus tent appears. This is where the uneasy starts to set in but I can assure you, you will make it past this point. When you reach the grassy opening it is like someone opened the gates of all haunt glory. This part reminds me of a circus with all the typical things going on. There will be a ticket booth with the amazing ladies working it to keep things moving so you can get into the line you need. You will smell the aroma of food as you walk past the concession stand. You will feel the heat and hear the crackle of the wood by the fire pit. Pick your line to your attraction(s) and then that is where you will hear the footsteps behind you and the smell of rot as the puff of breath from the beastly creature starts talking to you.
When you are fitted with real gear and given a modified AR (that is so heavy it will make your arms hurt), you know shit just got real! There is nothing like hearing paintballs being shot in the background while you are being briefed. They go through your objectives and what your mission is and that's when the realization sets in. You can hear your heartbeat in your ears when you are given the "go" signal. You will hear the footsteps of your other team members as you essentially become ground troops in a live, zombie infested area.
---
Special Effects:

8.16
Hammer Brother's is proud to be an animatronic free haunt. They pride themselves on making scares as real and authentic as possible. Hammer Brother's employs the use of basic items to create great special effects. One example is the balloons in the cornfield. They were basic but effective. Another item that caught our attention was the haze in the circus tent. It was so thick that you could see the swirls and it visually made you think you were swimming in it. Effective lighting and sounds in all the key places are beneficial to this haunt, so they have learned to execute it well. The special use of blacklights helps bring the scenes and characters to life here.
The Hunt has some changes in this area by adding places where you can kick in the door, a plane wreck and someone you have to save. The modified guns are one-of-a-kind and is one of the reasons The Hunt has become what it is. Lighting and sound play key roles in this area as well to make this as realistic as possible.
---
Theme:

8.7
If you have been here in the past, you will notice this year at the Hammer Brother's the theme has started to evolve. Matt refers to this year as season #1 of many more to come. This year they have started to link The Hunt to the Cornfield. They will continue to work on this but the link is there. This year you get to go to the childhood home of Alistar and Ezekiel. You will meet their parents in a very detailed 1940's theme. You will then travel along their family farm and see the effects of the chemicals. In the cornfield is where you will meet the traveling circus that they decided to help since the chemicals ruined the crops and the bills were mounting. The Brother's committed a horrible crime but were never caught. They can now watch your every move through the crow's eyes. You must brave your way through the circus help that got poisoned and try to find those that can help you before it is too late.
---
Fright Effect:

8.15
Hammer Brother's does a prime job at providing scares. With the amount of acres that they cover, there are plenty of panic stricken opportunities for everyone in your group. There are plenty of places for the morbidly freakish terrors to take you from your group. Yes, I said take you as this is a touch haunt. We lost one member of group during our walk through. You will set off into the cornfield under the black sky outside in fear and trepidation. Nothing like having to get down and crawl your way out or meeting your doom with creatures who tell you the wrong way so they can play with you longer. The zombie wagons bring on anxiety. The fear of not knowing what is next is out there but you must get it before it gets you.
The Hunt is a high octane, adrenaline induced attraction. You will not get the normal scream in your face and costuming scares here. You are placed in a real life situation of survival and we know that can bring out the crazy in normal people.
---
Value:

9.06
Hammer Brother's Haunted Circus has many different options so you can mix and match your night of frightful delight. On the night we attended we spent more than three hours trying to accomplish everything. Our thoughts are that no matter what your budget may be or what kind of night you are looking to enjoy, this haunt is your one stop shop. The walk through Cornfield is $12 for all ages and takes on average 35 minutes to get through. The Cornfield gives you 2.91 minutes for every dollar of your admission price. If you Fast Pass the Cornfield, because the line is long you will pay $20 and this option is for the Cornfield only. You will get 1.75 minutes for every dollar you used to Fast Pass. The Zombie Paintball Wagon is $18 per person and is about a 20-minute ride. This attraction gives you 1.11 minutes for every dollar you pay for this attraction. If you do the combo for both of these the average time to do both is 55 minutes. The combo price is $25, saving you $5.00 if you buy both attractions at once. If you do the combo you get 2.2 minutes for every dollar you spend. The Hunt is a total separate but third attraction. The Hunt costs $30 per person and takes about 20 minutes to get through. This is 1.5 minutes for every dollar you spend at this unique concept of zombie paintball. So as you can see no matter which way you choose to spend your night, you will always receive over a minute for each dollar you pay!
---
---
Guest ReviewsGuest Average: 7.58 out of 10
Tory Vander Ven – 10/10 – September 30, 2023A perfect kind of scare! Had great actors who all did a great job scaring me, I loved how unique …show more each house was and how they involved me in it! I'll definitely be back!
Jelly may – 9.8/10 – September 17, 2022This is my 3rd year attending this haunt and it is one of my favorites if you are looking for a …show more touch haunt in the Midwest this is the place to go.
The moment you walk from the parking you get immediate interaction and entertainment from the que actors.
Waiting in line is never fun but these guys know how to make it so.
The house is always a very immersive experience and they're is always something to be doing along side the actors that make you feel apart of the show.
The field is a lengthy winding event that has you guessing with almost all of your senses. If you wanted to feel like you're apart of your favorite horror movie. This is where you can live that dream.
Bash-O – 9.5/10 – September 29, 2018Every Haunt has its early in the season hick ups… But The Cast and Crew really Care at this Haunt. …show more They More than made up for any inconveniences that occurred, which by the way, were beyond their Control. LOVE YOUR WAGON RIDE ZOMBIE HUNT !!!
---
Past Awards
---
2020 Awards
The All In Award (Given by: Team Mysterious Misery)
---