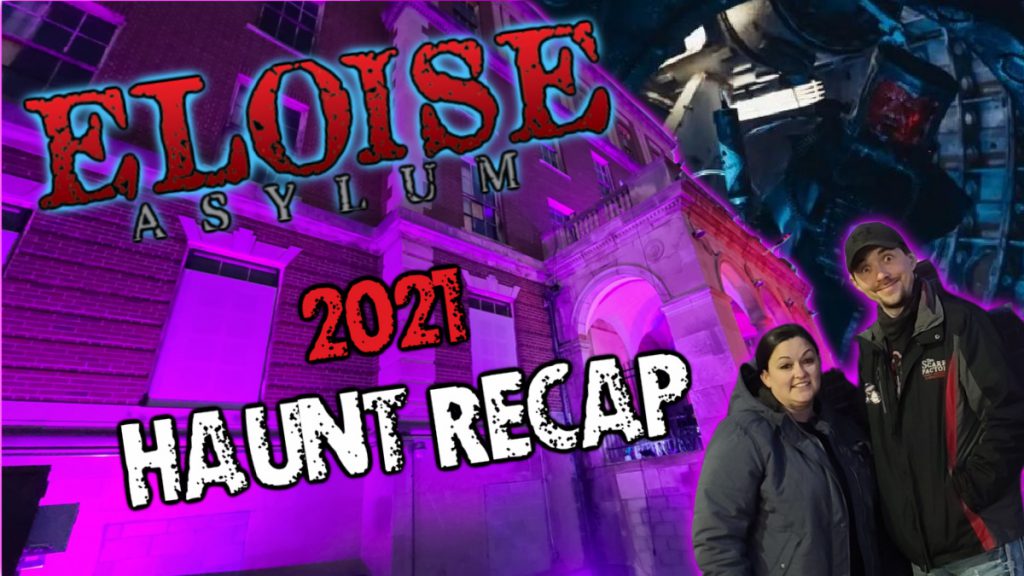 House Raises the Bar for Great Lakes Halloween Attractions
Our team doesn't generally visit many attractions in the state of Michigan. But, when a few avid haunt-visiting folks reached out to us to let us know that Eloise Asylum was an absolute must-see, we had to find out just how good it was for ourselves. Man, are we glad they told us we needed to visit this place! We drove nearly 6 hours to visit this attraction, and we would do it over and over again. Just go watch their trailer from Rogue's Hollow; it's good stuff! In the meantime, here's a quick video of our very own Team Zombillies recapping their trip on November 5th, 2021:
Known as "Michigan's newest, multi-million dollar haunted attraction," Eloise has come out of the haunt gates kicking ass and taking names, literally! All customers begin at the patient intake before being admitted to their main attraction, Eloise Asylum. There's also a second, differently themed experience, Sub Floor 1: "Nankin Project," that's sure to show you sights and scenes you've never seen before!
We aren't sure where this thing came from or who made it, but we fully agree with their website that this attraction is the future of fear. It lives, it breaths, and it even bleeds! Upon exiting, our group of six was stunned by what we had just experienced inside this 30,000 square foot, truly haunted, high-tech horror attraction!
Also, the crazed lunatics and creatures within can touch you!
Overall, Eloise showcased a variety of deranged patients and mutants that inhabited the facility. However, they were short about 40 actors on the night of our visit based on a quick conversation with a staff member.
Lurking, staggering, and slumping through the sanitarium was a blend of doctors, asylum staff, and psychotic patients. None of them were awkwardly standing about or normal walking, adding to their believability. Although they weren't the most lingering bunch, some spouted off interactive and theme-appropriate lines at us. It was clear that the patients enjoyed having visitors, and the staff admitted us and tried to convince us to take the medication.
While admiring the hideous heathens within Nankin, we didn't encounter near as many cast members as we had in the asylum. It could be because they had all been captured and displayed. However, they also blended in well and knew just the right time to strike, of those we did run into.
The costumes at Eloise's attractions appeared to be complete and matched the scenes we found them in. For example, in the asylum, medical attire, patient gowns, and scrubs were on display. We noticed that some of the scrubs had Eloise Asylum on them! Now, how's that for detail? We also saw a patient in his bed wearing a shirt in a way that made it look like they didn't have a hand, which we thought was unique.
The attire was dingy, distressed, and looked appropriately lived-in. We noticed appropriate hats, and some were shaking pill bottles at us. The masks that we saw were worn well, and they were unique. The makeup was very authentic, and mouth coverings matched or were blended in when necessary. Many of the characters seemed to have been awake for long hours on end. They also appeared to have been stuck in the dilapidated asylum for quite some time.
Staff members were friendly and answered any questions we had, especially the lady at the front door with the microphone. We didn't see any loose patients running amuck outside, but the impeeding vision of the structure itself and surrounding abandoned buildings were quite a sight to behold!
The sound in this place pumped through all the halls, rooms, and corridors. It was loud, and we could feel it in our chest at times. We did spot a few prominent black speakers above, but most of the sound realistically flowed from vintage-style speakers hanging on the walls. Scene detail was impeccable, often utilizing the existing structure and rooms to create their authentic-looking scenes. Of the few artificial walls in place, the haunt's staff specifically designed all of them to match their surroundings, which blended seamlessly and allowed us to suspend our disbelief that this was a staged attraction and not the real thing!
Most of Eloise's scares seemed to be designed to provide quick and sudden startles, with a few lasting frights sprinkled in. Some of these frights were given by the actors themselves, while others were brought to fruition by large, well-placed props combined with a great blending of lighting and sound. Sudden air blasts, sparks, giant creatures, shadow figures, startling touches by the actors, and surprising sprays were just a few of the frights that we experienced.
Tickets prices vary throughout the haunt season, so be sure to check their website before visiting. On the night of our visit, we paid $55.00 for VIP plus a service fee online. We also showed up right at opening time and got right in with minimal wait. For their general admission, they offer timed ticketing.
---
View More Details About Eloise Asylum Here.