Media Night Mayhem at All Hallows' Eve Terror Town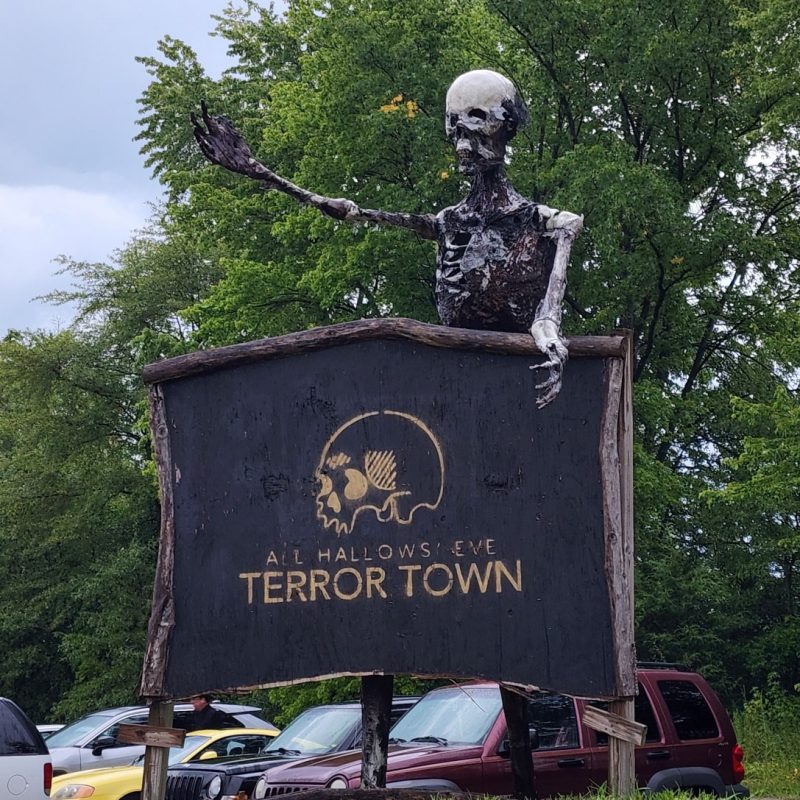 Several teams representing The Scare Factor including Team Teachers of Terror, Team Enchanted Seance, and Team Zombillies along with the Haunted Honeymooners were fortunate enough to be in attendance of Terror Town's Media Night on Saturday, August 20th, 2022. On this night, Terror Town also featured a special guest, Ari Lehman, The First Jason Voorhees of Friday the 13th! With our previous experience with the red bands and the equipment we brought with us, this year, we chose to observe the chaos that is the red band experience with our partners; red band aficionados Nick and Suzze of the Honeymooners. We did what all good friends do; we wished them luck, then pulled out our phones and cameras and recorded everything!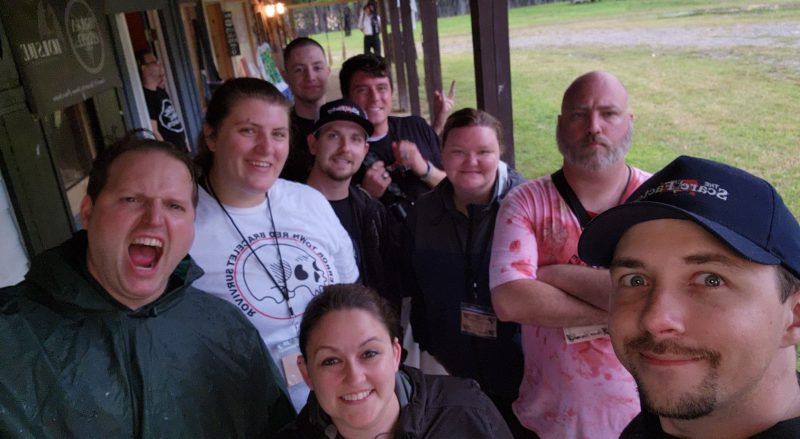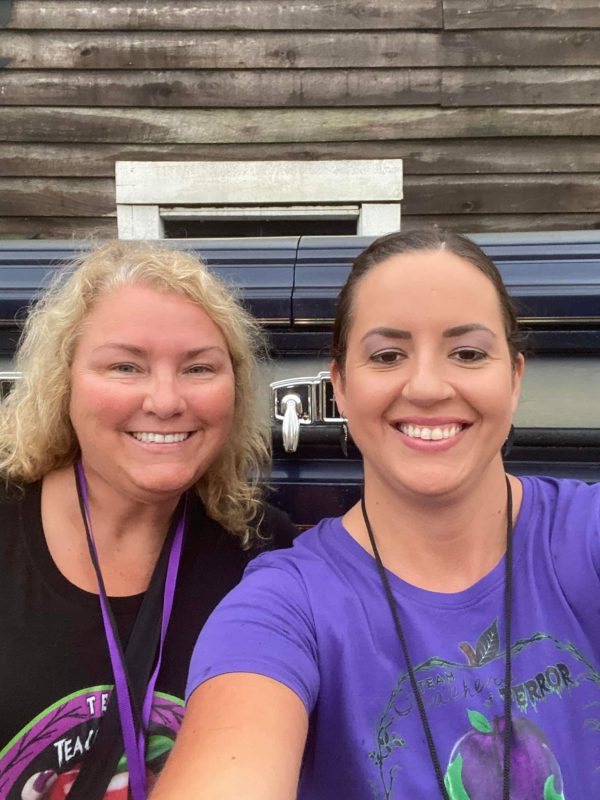 Note: For anyone who doesn't know, Terror Town offers three experiences for customers during their visit. The red band (Ultimate Horror Pass) is the most hands-on experience, including permitting the cast members to touch you and make you messy with whatever they have at their disposal. This could be mud, dirt, fake blood, icy water, flour, and seasoning concoctions. Rumors even swirl about the use of canned cat or dog food. Red band survivors speak of being separated from their group to experience more torment alone. With this experience, we recommend bringing a spare change of clothes! The next experience is the yellow band (Upgraded Horror Pass) that provides all the messes without the touch aspect. Again, a duffle bag of clean clothes stored in the car may be a good idea if you opt for this experience. The final option is general admission (Basic Pass), which keeps customers reasonably safe from mess or touch, barring any cast off from other members in the group getting "challenged." Something to keep in mind: Terror Town is intended for adult audiences. Expect gore, mess, and explicit language and themes throughout, including within the Town of Bravado, the haunt's midway.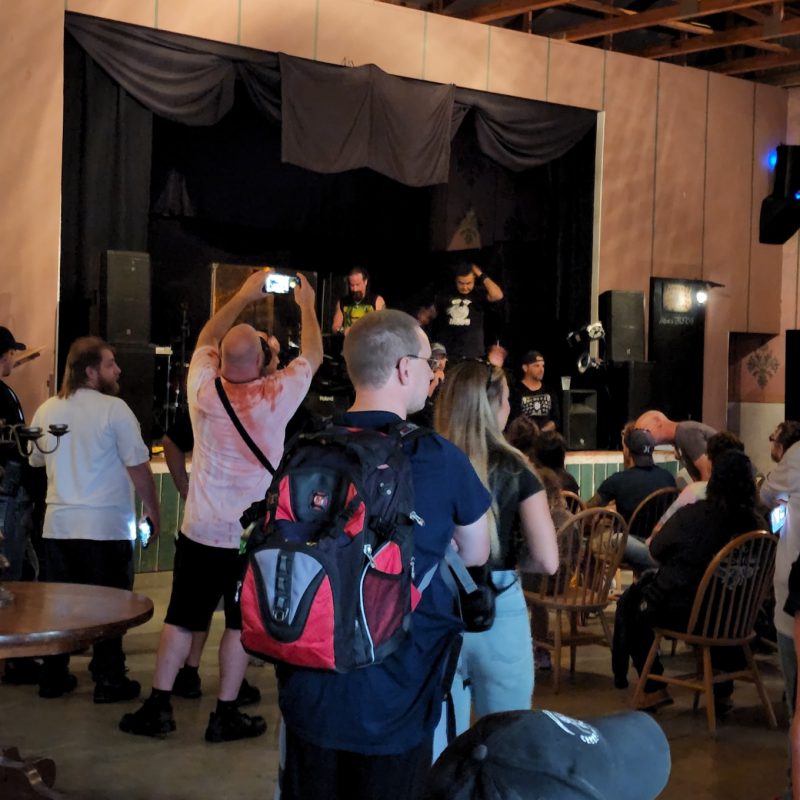 The gate opened at 7 PM, which was much too bright and early to partake in the trail behind the town. Never fear, though, as the interactive town offers multiple shops that sell various wares, food services, and concerts to entertain customers while waiting for the trail. Yes, you read that correctly. Another thing you can expect from this unique attraction, one of our favorite parts, is that you don't stand in line here. Groups are called to the trail when it's their turn via a text messaging system. This allows for all guests to free-roam the town.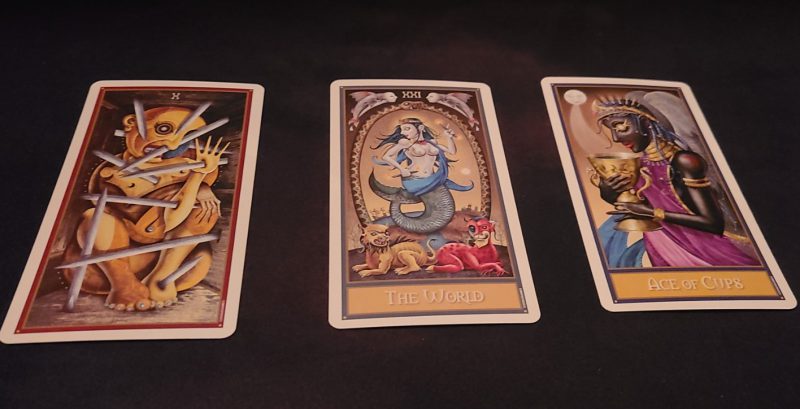 While perusing the gourmet chocolate shop (an absolute must), we spotted a little red wagon with a fortune teller inside, ready to read our tarot card. After asking her our question, we each got a different reading. When she turned the first card for me, I instantly wanted a redo, that card looked like bad news! She continued on, and the reading turned out great, and surprisingly accurate.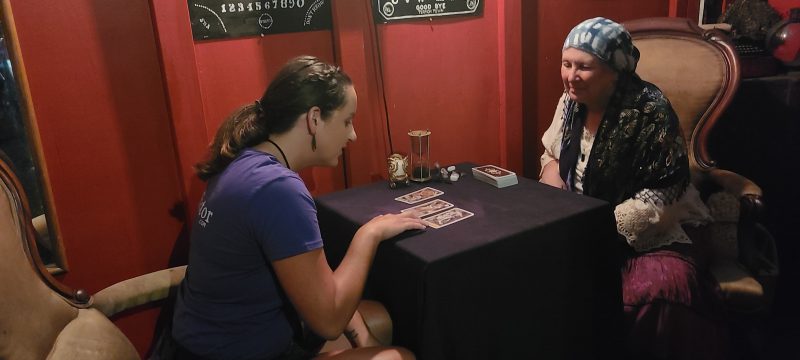 On this particular night, we got to listen to Ari Lehman (the First Jason band) rock out and sign autographs. Later on, Spearpoint took over the concert venue. Not only that, but we were also treated to some Main Street antics of some townsfolk, including bickering between characters. We also were invited to attend an undead funeral and, later, a good old-fashioned witch-hanging! The fake blood flowed like a river here (is it fake?), as different red band victims were given the full treatment of being held in a stockade and at the bottom of a "bloody sluice" to be drenched and then pulverized with dirt. We saw more than one person grabbed, held, and rolled on the ground as if they were the chicken and the dirt ground was the seasoning. Fortunately for them, there was no hot grease nearby that we could spy. In addition, we were caught off-guard more than once by a loud cannon and random gunfire.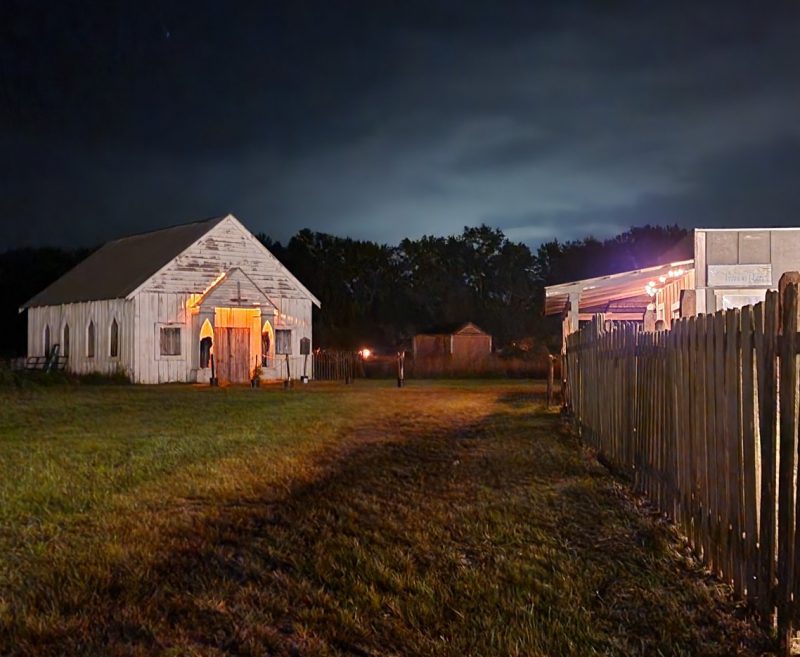 All of this, and we haven't mentioned the trail yet. Before we even got started, Suzze was whisked away. We met up with her inside the first stop on the trail. She looked a little worn out, and wasn't in the mood to talk about it, so we gave her some space. We were met with a clearly deranged "doctor" attempting to make a Frankenstein out of a deceased friend. We provided a public service, and helped a poor unfortunate soul escape the dark prison cell they were being held in, but the good doctor did not agree with our decision and kicked us out. We stumbled along through the dark in a maze, with a toxic waste tunnel and a super-creepy doll room, with strange creatures lurking around. We witnessed some victims being pounced on and destroyed by creatures until we made the next stop at what appeared to be a mining camp of some sort. Here we lost our red band folks to a barred cell and watched them become coated with some sort of seasoning and lots of liquid. The general admission folks were spoken to harshly, so we did the logical thing and left our buddies to get on to the next part of the trail. Sorry guys, thank you for taking one for the team! This proved to be just as threatening as the previous stop, where the red bands were pulled out to get to a shed, and I'm sure they rolled in the mud, based on the "little piggy" comments.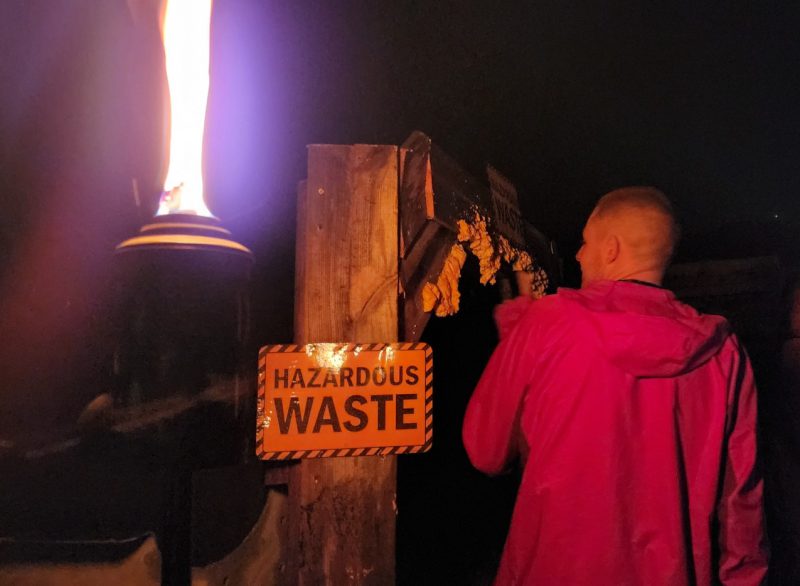 As we continued along the dark trail, we met a witch in her domain and traveled through some sort of crypt with a decaying body. We walked among hanging bodies at the morgue and watched our red bands stick their hands in a gooey, ripe body trying to make sense of human anatomy. (Kidneys are round, intestines are not…) The asylum was home to Mother Superior, who clearly had issues and more than one patient hanging around. Punishments were harsh here, evidenced by an electrocution of a patient. Yes, thank you for that, now we have another undead to avoid! After a walk through the cemetery dodging undead folks, general admission people were released to town to warn the others that the dead were rising! The banded people were directed into the church, where they bore witness to unholy activities and were baptized in blood.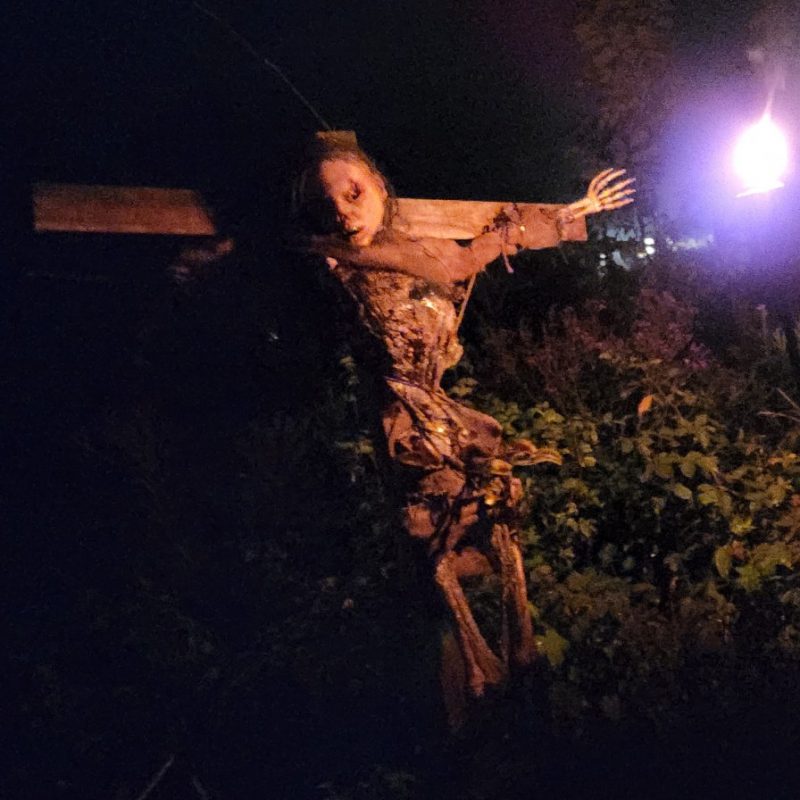 This year is year four for All Hallows' Eve Terror Town. The town of Bravado and the trail are open Sept. 2nd through Nov. 5th. Basic passes will cost $30, while the two separate band experiences will run you $40 each. Don't forget to pack your mosquito spray and spare clothes if you want to challenge yourself!
Seriously, though, check out these chocolates from Chocolate Treasures!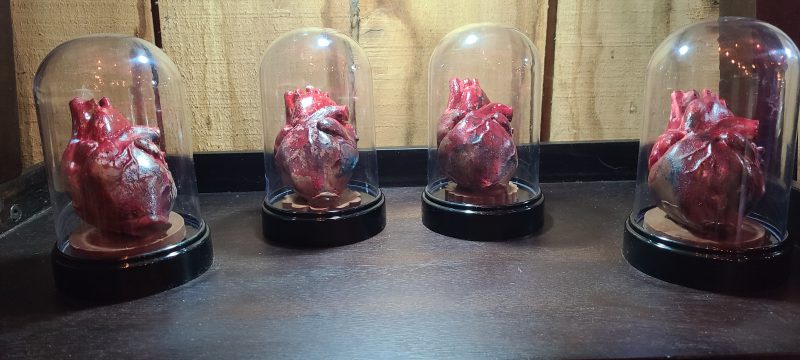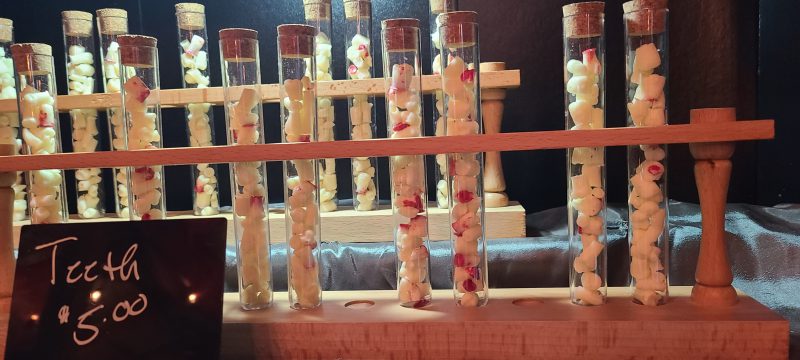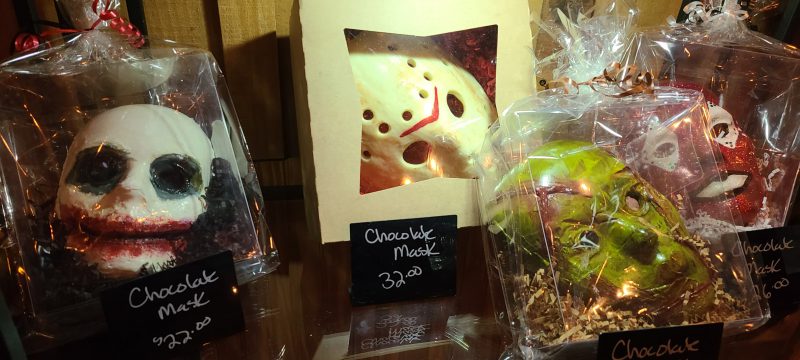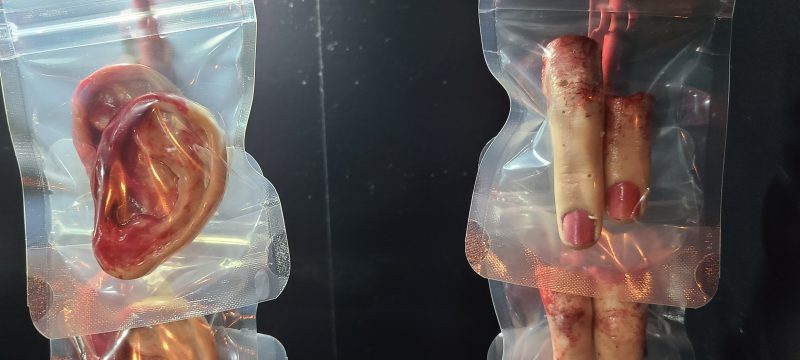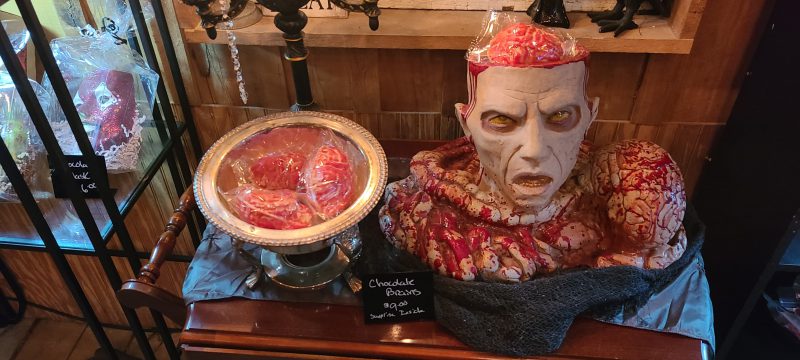 This article was written by: Christy with Team Teachers of Terror.
Photos by: Team Zombillies and Christy.
For more information on All Hallows' Eve Terror Town, please click HERE.
To learn more about the Haunted Honeymooners, please visit their website HERE.