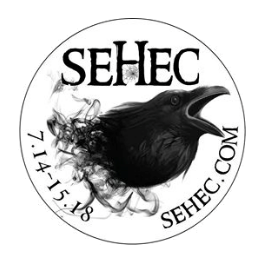 SEHEC 2018: The Southeast Halloween Enthusiast Convention
Dr. Bill Ramsay (more spookily known as "Dr. Terror Eyes") was gracious enough to give us the scoop on the SEHEC: The Southeast Halloween Enthusiast Convention. Here are the details provided from their official press release:
What is it?
The Halloween-loving public is invited to experience the two-day Southeast Halloween Enthusiast Convention – SEHEC – pre-season Halloween event in Ocala, Florida for those of you who just can't wait until October 31st and also those who love the paranormal.
When is it?
The 2018 SEHEC will take place on Saturday and Sunday, July 14th and 15th.
Where is the event taking place?
The 2018 SEHEC will be located at 2300 SW 17th Rd., Ocala, Florida 34471.
Event Details
Halloween lovers of any age are invited to choose from dozens of seminars, participate in hands-on courses to make Halloween props you can take home with you, see how to enhance your costuming with movie Special Effects artists and world-class makeup artists featured on shows like Face Off and Skin Wars, learn how to create a great theme to decorate your home/yard haunt and create set design from the experts from Disney World, Universal Studios and Busch Gardens, get creative food and drink ideas for your next Halloween party, attend paranormal seminars, participate in psychic medium readings and shop for Halloween and paranormal merchandise at this two-day event.
Saturday night will feature an adult costume ball with pro DJ, costume contest, food, beer and wine.
This fundraising event also benefits the Tampa Shriners Hospital for Children.
It's all for fun, socializing and just for Halloween fanatics who can't wait until October 31st!
Further information can be found at http://www.sehec.com/
Follow the SEHEC's Facebook event at: https://www.facebook.com/events/1333742776731864/
---
---
Enjoy this post?
Get more updates like this sent directly to your inbox by signing up for Haunt Advisor, our customizable email update system!