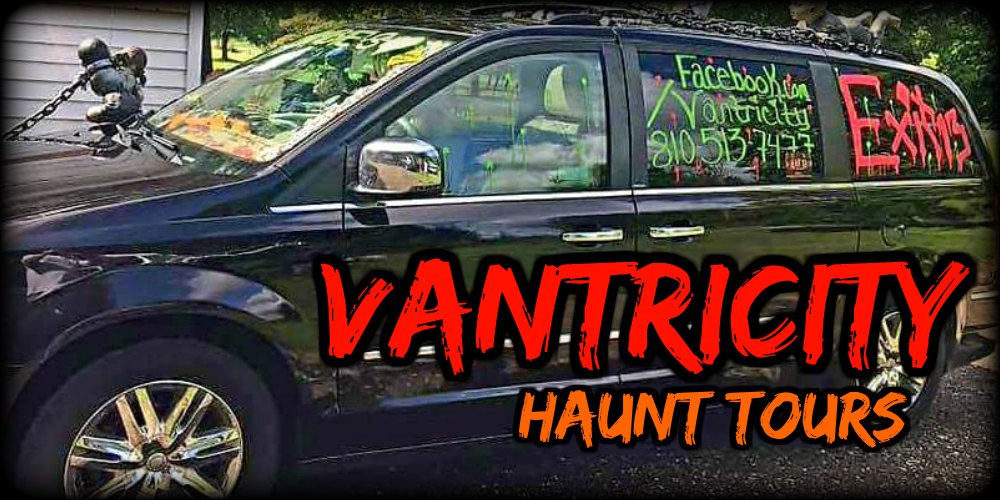 Vantricity Haunt Tours
Clio, Michigan
---
Are you looking to do something really cool and unique this Halloween season? Want to impress your date or friends with a "one of a kind" experience when touring haunted houses? Then look no further, as Vantricity Haunt Tours is the only service in the State where you get to ride around in a "zombie van", driven by a zombie chauffeur, while visiting some of the best haunted attractions in the greater Genesee County.
They offer a VIP tour package that includes Fast Pass admission to Rotten Manor, Exit 13 and Clio Manor for only $149 per person (2 person minimum). There's no waiting in the ticket or general admission lines during these tours, which is great because those lines can be extremely long during busy nights. They also provide continuous shuttle service on Saturday nights between Bridgeport Gore Grounds and Night Stalkers in Saginaw for only $7 per person.
We had the pleasure of touring with Vantricity during our first haunt trip of the season, which included Exit 13 Haunted House, Clio Manor and Wicked Woods of Terror. We were able to set up our own customized trip with the owner Ashley, which is something Vantricity offers if you inquire. We were quite taken back once we got a look at the Zombie Van, all decked out with creepy dolls, skeletons, gore, cobwebs, blood-red lighting and, of course, zombies… one of which was an animatronic creation!. We were really surprised at just how much "head-turning" detail the van had. There was certainly a lot of thought and creativity put into the design. The van itself was not only really cool looking, but very comfortable too with tons of leg room so we could really sprawl out. Our "zombie" chauffeur couldn't have been more cordial and accommodating during the entirety of our tour. She was quite informative about the area and was very helpful when we asked for her recommendation for places to eat. Vantricity provided beverages, snacks and even had an aux. cord set up in the van so we could play our own music with our phones. One of the best features is that you get dropped off at the front entrance to all of the haunts, no parking or walking is involved. We felt like haunted attraction "rocks stars" when pulling up to the front entrances to different haunts in the zombie van, which got a lot of "oohs and ahhs" from the crowd. We had a great time touring with Vantricity and felt like it made our haunting experience really something special.
You can contact Vantricity @ 810-513-7477 or visit their Facebook page here: https://www.facebook.com/Vantricity