Haunted Hills Haunted Attractions – Full Review
Haunted Hills Haunted Attractions is a Haunted Attraction located in Crown Point, IN.
7611 East Lincoln Highway, Crown Point, IN 46307View All Details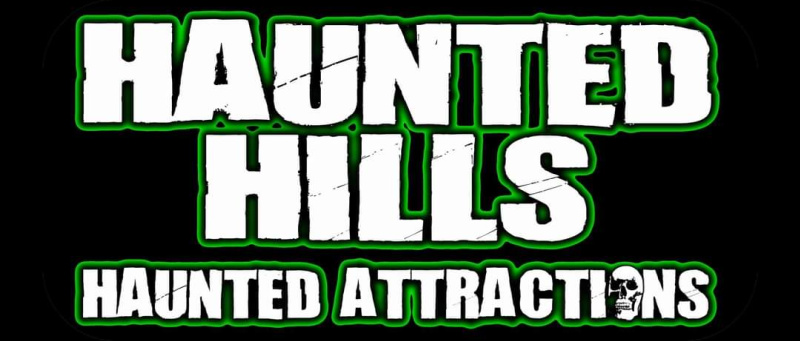 Features:

Paid Parking, Restrooms/Porta Potties On-Site, Food/Concessions, Gift Shop/Souvenirs, Optional Games/Midway, You will NOT be touched, Indoor/Outdoor Attraction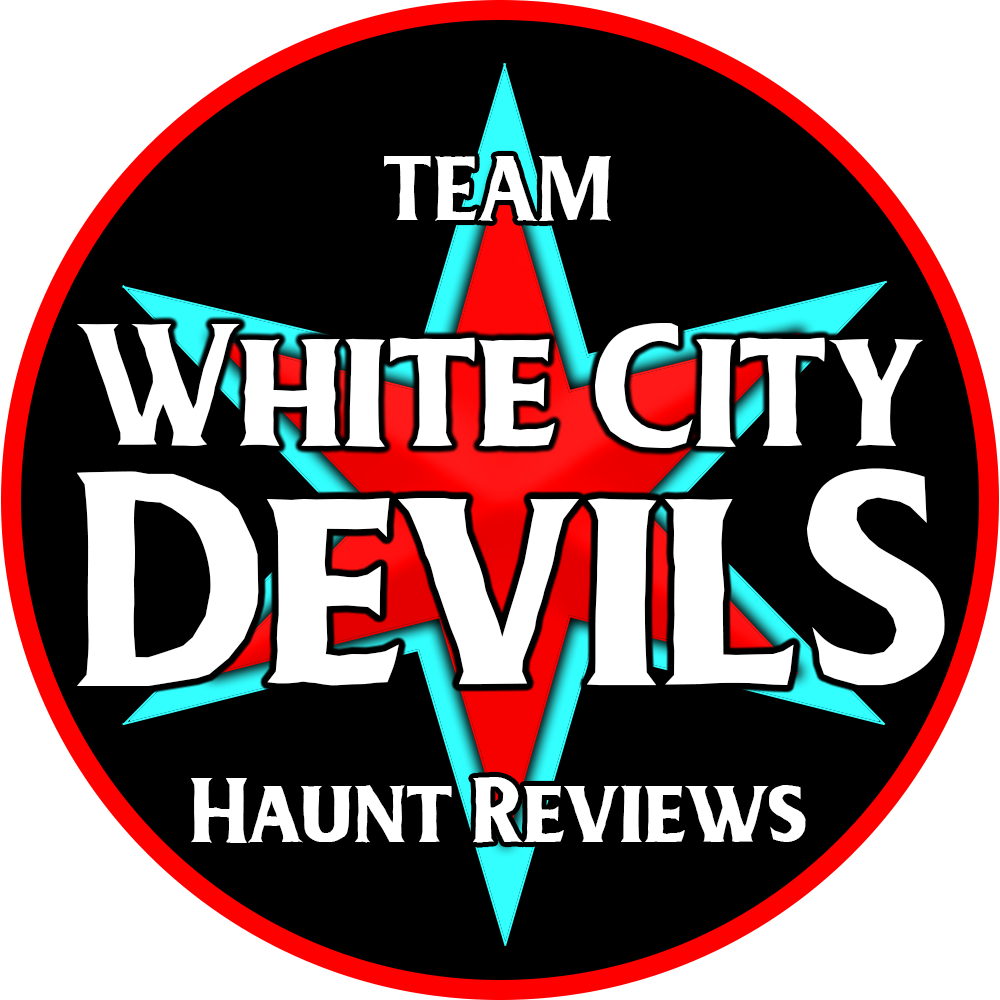 This attraction was reviewed on October 30, 2023 by Team White City Devils.
---
About Our Reviews and Rating System
---
Final Score: 8.98
Final Scores – By Category

Final Scores – By Attraction

Summary:
The evening before Halloween, we took a small trip to Merrillville, Indiana, to visit Haunted Hills Haunted Attractions. Haunted Hills provides guests with a one-stop shop for fun, scares, and entertainment. Having changed locations a few years ago, Haunted Hills found a way to provide the most possible at the new location through a massive midway with tons of games, shops, food, and photo ops.
---
Cast Score: 8.98
Cast Scores – By Question

Cast Scores – By Attraction

Cast Review:
Haunted Hills has always had a great cast that has guests running off the property. There isn't much of a queue to speak of with the way they are set up now, but the roaming actors have a ton of fun causing fear to guests inside the midway. We saw an actor terrorize a guest who was trying to use a porta-john. I guess it was the safest place to be in that situation.
The actors within the attractions also performed well and gave us a great experience. Inside the Sickbilly Sideshow, actors did great at introducing the next room we would see and still perform for us, as well as being a sideshow theme. While walking through, there were actors on the outside who were able to peek inside and scare us multiple times in multiple rooms. The way the attraction is set up is creative, as we can see some of the same actors more than once. For example, the magician we first saw on the stage, and then we wound up seeing again and were told we weren't allowed backstage.
The Haunted Hills Hospital attraction has psychos for actors. Everyone puts on a great show and is driven to scare. There were plenty of great interactions throughout the hospital. One of the actors had a sheet covered with poop and tried to blame it on me, but I swear it was like that when we got there. Another actor did a great job diagnosing us with his professional opinion and said regular therapy would get us nowhere in life. Further down in the electrotherapy room, the actors there all fit a demented profile and must have studied profiles of what old patients must have acted like.
Haunted Hills did a great job of providing scares all around and continued the tradition of having guests running out of the haunt and being chased the entire way.
---
Costuming Score: 8.94
Costuming Scores – By Question

Costuming Scores – By Attraction

Costuming Review:
In both sections, we see that airbrush makeup is the chosen method. The costumes were also fitting to their respective roles, along with those that wore masks. Contact lenses were worn by actors to complete the looks. The actors were all-around creative in their costumes as well as convincing.
The basic actors you see in Sickbilly Sideshow here are carnies and clowns, which makes sense as their eccentric costumes left no doubt that we were in a sadistic and twisted version of a family-friendly circus. Their bright and colorful costumes matched their makeup looks, which was a perfectly executed deceitful tactic. A circus isn't complete without a gorilla! There was an actor with a full-on gorilla suit that popped out a few times, we did not see that coming!
Entering the Haunted Hills Hospital, the actors (or patients) looked dreadful with their highly detailed airbrush makeup and dirty costumes. Some wore hospital clothing to blend in as the staff, and some had regular clothing to resemble patients and victims. The costumes were detailed to show distress and proper for the chilly weather since the majority of the haunt is outdoors. The actor that stood out the most was a victim of an experiment gone wrong. The head was a fish/ alien hybrid that is on a human body. The eyes were huge, like an alien, and had gills on the side. We admit it took a while to get a close look and examine it, but I guess it's because we have never seen something like this before.
While we aren't reviewing The Fear Lab since this is an optional addition to the main attraction, we did get some interactions with the actors in the midway. The actors wore dirty lab coats and were prepped for experimentation. Something we did notice was an actor wearing a WWII European soldier uniform, which makes sense because of the human experimentations that were found to be done during that time. The dirty costumes and makeup did help set the scene.
Overall, the actors did an excellent job getting their costumes and makeup to match their roles in their settings.
---
Customer Service Score: 9.38
Customer Service Scores – By Question

Customer Service Scores – By Attraction

Customer Service Review:
Haunted Hills is located on E Lincoln Highway in Merrillville, Indiana. When heading toward the haunt, it's best to pass by it and head to Deep River Water Park, as this is a paid-for parking lot that is used for Haunted Hills. There is a security check on-site here, and there is a shuttle that rotates to and from the lot and attraction. Tickets are available both online and on-site and are traded for wristbands that hold admit-one tickets according to what plan is purchased.
Haunted Hills has a good social media presence and a full website with all the information needed to be found. The haunt attraction covers all bases in terms of security, as mentioned with the security checkpoint in the parking lot, but they also have plenty of staff on duty as well to provide help with any situations that hopefully never take place.
---
Immersion Score: 8.84
Immersion Scores – By Question

Immersion Scores – By Attraction

Immersion Review:
When we arrive on the grounds, there is a ton to take in. We walk into what looks like a neighborhood carnival with concession stands and shops to where the more haunted attractions lie just beyond. When approaching the midway and spooky photo ops, there is likely to be some interaction from an actor to help your visit become terrifying. The team here built a church as a photo op, and guests can freely walk through and find some hidden gems inside (skeletons, of course). They also have built-in escape rooms to try out as add-ons but blend in with the midway and have their façade. Also within the midway is a movie playing on screen, a wall of jack-o'-lanterns amongst the midway games such as axe throwing and a dart tag game as well.
Another great additional purchase that could be made is a fortune teller that reads your cards. There are plenty of shops as well, such as candles, pins, and gems, and then a few different vendors providing some good eats as well. Inside the gift shop are some great masks, popular horror figures, and dolls. There is also an arcade on sight with some great classic games. Haunted Hills wanted guests to stay all day with all they had to offer, and I believe we were one of the last groups to leave that evening.
When walking up to the Sickbilly Sideshow, there is a stretch of carnival-themed scenes to look at, such as games like ring toss that are active during kid-friendly events. There is a dunk tank, as well as other classics. Posters promoting sideshow acts cover the wall as well and are always great to look at if you enjoy that kind of thing (circus history is wild, so be into it!).
Within the hospital, there is a great section where they go over the rules of the haunt (no touching and all the common rules) that looks like an old, abandoned ward hall. Everything feels dirty and timed and works well to show that the patients inside have overruled and doctors and made this their home. The hospital portion of the haunt takes place inside a barn-like build, and there is some of it showing throughout the attraction (mostly above head level), but being as the attraction has moved from its former home just a few years ago, I know these are all things that will become less noticeable over time.
---
Special FX Score: 8.94
Special FX Scores – By Question

Special FX Scores – By Attraction

Special FX Review:
With the haunt also having a side business known as Haunted Hills Productions, it is no surprise that their props and settings are as detailed and immersive as they are. We see a few unique items that aren't found anywhere else.
Inside Sickbilly Sideshow, the settings throughout are detailed to show a carnival run by demented clowns. While the walls are colorful and inviting, a closer look shows the blood covering the walls and the items inside are either salvaged everyday items versus store-bought props. A few props that can be seen here are called the chompers, which is a ventriloquist doll that is actor-controlled using a long handle with a clamp to control the mouth. They are flexible enough to reach out from the position it is mounted on. Another memorable part is the clown maze. The walls all look alike, so the path out gets very confusing, which makes it extremely easy to lose yourself in. The red and white striped walls getting bloodier the further we get out is a nice touch. What a way to end this attraction by seeing bubbles fill the path, and the only way out is to go through it. Thankfully, it wasn't high up, but we have heard that some days they reach 6 feet high.
The Haunted Hills Hospital consists of diverse types of hospital scenes in one section. We are given the introduction rules in what looks like a holding cell. The walls are very outdated and show a lot of cracks and holes. We noticed a few covered up with pieces of cloth used to look like posters and curtains, which helped us not to accidentally see the upcoming actors popping out to scare. In the laundry room, we see dirty clothing hanging and laundry machines that look quite broken down. If you look closely, there are soiled underwear posted up, I'm hoping they are left behind by customers. The shower scene was a favorite, an actor can be seen holding a hose and ordering us to make sure to scrub well while shooting us with air, completely did not expect that. In the electro-therapy room, the actors are seen holding props with nerve-wracking zappers on them. Toward the end, we stumbled into an experiment room with a fish/ alien hybrid, which was covered with hanging pieces of deformed fins (or alien hands) that fit the scene perfectly. We see the exit, but first, we must escape and run away from the guard dogs, which from the sounds of it, sounded like a few of them.
Overall, we love how detailed everything is and how well everything ties together. We can't wait to see what else they add in the future.
---
Scare Factor Score: 8.92
Scare Factor Scores – By Question

Scare Factor Scores – By Attraction

Scare Factor Review:
Haunted Hills did a good job of providing plenty of scares throughout all the experiences we had. We started with the add-on option for the Fear Lab Experience, which is a blindfold walkthrough where guests are guided through by a tour guide. The Doctor Guiding us presented us with many different experiences that may be uncomfortable for some. We were sprayed and got wet. There is an experience with "maggots" that we found still on ourselves on the car ride home.
Sickbilly Sideshow provided plenty of visual scares throughout with actors and sudden popup scares as well. The actors here were more talkative and would use props to help provide any scares here. There are some great chomper props used here where the prop can extend a bit and resemble a ventriloquist puppet. Inside the Hospital, the scares here are far more actor-driven. Actors get up close to shout random lines or interact with guests. There are a unique few scenes where they go through all the steps of treatment to get better, so we have electrotherapy, hydration therapy, and a few other surprises. Each of these offers actors in predicaments such as shock collars or taser wands they are holding, and they interact very well with their scenes to create tension during the walkthrough. Another great scene to add tension and fright is closer to the end when the outbreak is realized, and we have just a few seconds to escape because an outbreak occurs. The sounds here are disorienting, and being shouted at to move works well with giving us a panicked feeling.
Overall, it was very entertaining, and we could understand why guests were running out at full speed.
---
Entertainment & Value Score: 8.93
E&V Scores – By Question

E&V Scores – By Attraction

E&V Review:
Haunted Hills ran a total of 22 minutes between the two main attractions. With General Admission costing $30, this gave us an MPD value of .73. This is a good price point, considering the midway is big enough to offer many different fun opportunities. This is, of course, the GA price for just Sickbilly Sideshow and Haunted Hills Hospital; however, I would likely suggest adding the Fear lab experience at a minimum. That would cost $35 total and increase our runtime to 28 minutes giving a new MPD of .80. Overall, this is great value as there is so much to do and see here. I am excited to see what the upcoming seasons bring for Haunted Hills, as the team has untouched land on this property and can/will provide even more of a scary experience in the years to come.
---
View Full Score Sheet
---
Promo Images:
Click to Enlarge
---
Have you visited this attraction?
Join ourspookyadventures!
We visit Halloween haunted attractions year-round! Follow us for haunted house walkthrough videos, behind the scenes footage, and more!