Haunted Hollow VA – Full Review
Haunted Hollow VA is a Haunted Attraction located in Warrenton, VA.
8275 Maple Tree Lane, Warrenton, VA 20188View All Details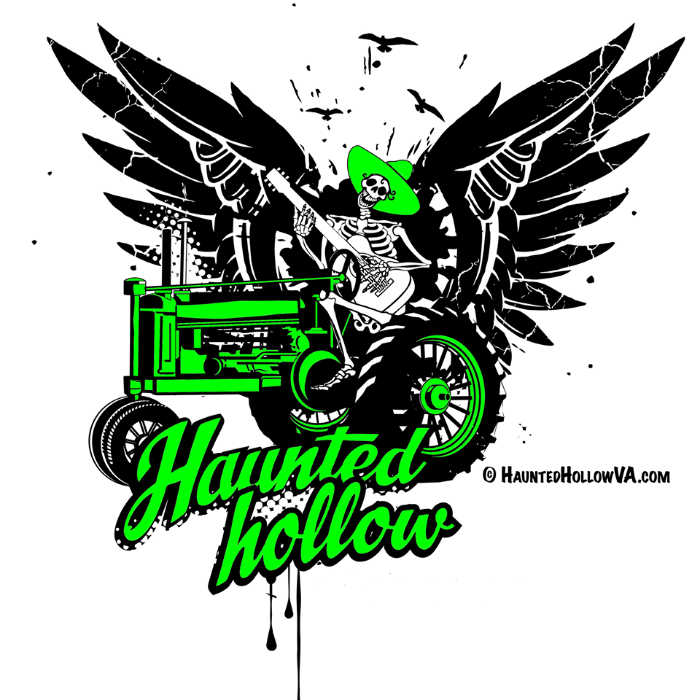 Features:

Free Parking, Handicap Accessible, You will NOT be touched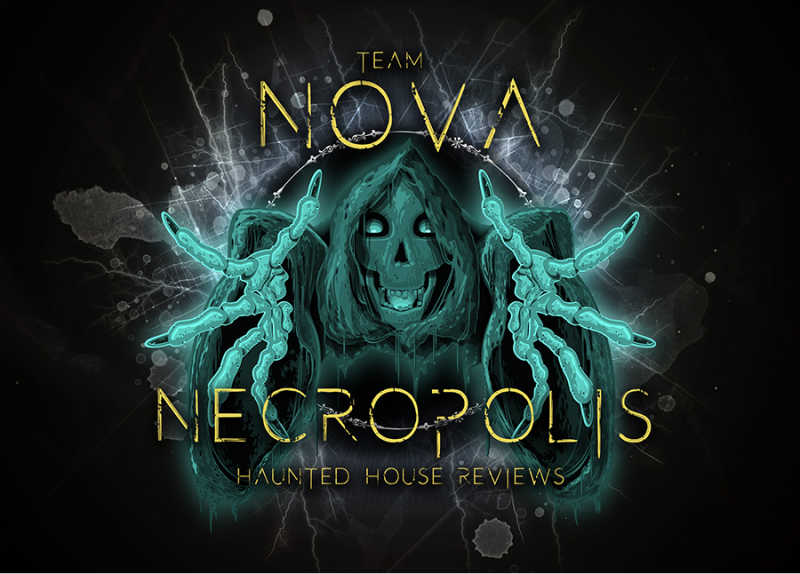 This attraction was reviewed on September 26, 2020 by Team NOVA Necropolis.
How Do We Get These Scores?

Final Score:

7.31
How Did We Get This Score?

Summary:
With all of the stress and chaotic energy that we've been subjected to in 2020, I believe that most of us are ready and welcoming haunt season with open arms. Needless to say, the current state of the world has impacted a lot of our favorite haunts and for the ones that are able to open, it has provided even greater challenges.
And while this year has also caused a lot of our typical plans to change, it has also allowed us the opportunity to seek new things and new haunts that we haven't been able to see in the past.
I was extremely excited to visit our first haunt of the season, Haunted Hollow, which is a beautiful, yet unassuming farm tucked away in Warrenton, Virginia. But, don't let that fool you, this farm is host to all manners of creatures and monsters that lurk behind the hay, watching your every move.
And the farm itself? Well, it has its own secrets that it wants to share as well.
---
Cast: 7.93
How Did We Get This Score?

Let me start this part by saying that we visited Haunted Hollow on their opening night, after about an hour of being open, which is definitely concerning considering all of the new precautions this year and all of the added stress and issues that brings with it. We are delighted to say that any issues or awkwardness that might have been happening behind the scenes was completely lost to us.
Actors are the heartbeat of a haunt and we learned pretty quickly that they had a good foundation in this area. I often find that I'm a target in haunted houses. Why? No idea, maybe it's because I'm always the group's Scream Queen. But it's always great to see actors utilize that and in this instance, they did several times.
There was a particular moment as we made our way through the trail that I was interacting with a character which caused me to say something along the lines of 'I think the best idea is for me to just keep going straight.' Spoiler alert: it was not a good idea. I got one of my favorite scares of the evening at that moment thanks to an awesome tag team by the cast.
Given all of that, however, we did feel that the haunt was lacking a lot of that energy towards the end of the show. Some of this may be attributed to walking through close quarters so it would be hard to properly distance actors but overall it felt like there may have been more staff operating special fx vs interacting with the guests.
Overall, there were a variety of different characters throughout the haunt from creepy demon-like entities in the woods to demented clowns (special shout out to the waving clown, you were so creepy and in character the whole time – it was great), and everything else that goes "bump" in the night.
---
Costuming: 7.5
How Did We Get This Score?

This was a category that was difficult because you're on a dark, abandoned farm at night, so it was hard to get a good eye on what a lot of the actors were wearing.
We were unable to see any ordinary street clothes which is always a plus. Nothing can pull you out of the fantasy quite like seeing a Michael Myers wearing a pair of New Balances. I mean, maybe it provides great arch support while stalking victims but maybe try an insert instead?
But I digress, an interesting part of visiting haunts this season is seeing how they utilize the addition of masks into their costuming. We noticed several characters who wore masks that were done up in a really cool way for the haunt, so that was extremely fun to see.
Overall, we felt that the biggest detriment was the fact that it was hard to see, so you really missed out on a lot of the detailing in the costumes, especially with actors who were placed 'outside.'
Some of the more special moments, however, like with the clown area and the hospital area, really stood out because the lighting really complimented their looks.
---
Customer Service: 8
How Did We Get This Score?

Finding the attraction was fairly easy with a quick plug into the GPS. Warrenton isn't far from us so this was a quick and easy little drive.
It was dark when we arrived, and our headlights flashed onto the white sign at the top of the road that read 'Haunted Hollow' which immediately reminded me of one of my favorite horror movies about a group of people who go into an off-road haunted house operated by a bunch of maniacs. And come to think of it maybe we weren't that far off?
While the sign at the top of the main road was great to let us know we were turning down the right road, we did miss some signage at the top of the property. My GPS told us to turn right, which we knew was incorrect, so we turned left down Maple Tree Lane. Not a huge deal, but we did pause because we wanted to make sure we weren't driving onto the wrong property.
Once we arrived, we were greeted by Sarah, the owner, who was assisting cars with parking and joining their virtual queue and was extremely friendly and helpful in getting us situated.
From a safety perspective, sanitizing stations were placed before going into the haunt and protective barriers were placed at the ticket booth. We did note a potential trip hazard regarding a scare actor's placement beside a 'tipsy' bridge. In fact, I think a group behind us had someone fall because of it, and my partner almost did as well. Most of the trail was dimly lit and marked well so we didn't have any concerns about straying off the path.
The staff was so friendly and helpful, from parking to the ticket booth, and entering into the haunt. We really got the sense that they put a lot of passion and hard work into this place for us all to have a great time.
---
Atmosphere: 6.5
How Did We Get This Score?

This was definitely an aspect of the experience that we felt had the room for a lot of opportunities. Granted, going early in the season doesn't grant you the best 'fall' weather to put you in the mood, and we're sure for health and safety purposes you can't have a lot of things that you would in the past. But we were kind of missing some special moments once past the ticket booth to let us know 'hey you're at a haunted house and we're about to rock your world.'
Upon arrival, you see this huge white barn that they projected music videos onto, which was really cool and unique. We absolutely loved that aspect.
Outside of that, we could have really used a cool display or something extra to really tie us back to the experience of being at an abandoned farm.
---
Special Effects:

7.05
How Did We Get This Score?

We could tell as we went through the haunt that they had a really good balance of special effects scares and actor scares. The air cannons, ankle blasters klackers, horns, all of the above are extremely effective at getting a scare out of me. And yes, they got me good, more than I'd probably like to admit.
I think the lighting was definitely an opportunity in many areas, as we could tell that they had some really cool props like giant spiders and broken down vehicles on the trail, and things displayed on the ground but you really couldn't see them due to it being so dark.
We did appreciate the use of different farming elements on the trail, like huge 'toxic waste' containers, rolls of hay to form paths, and a rather ominous silo-like structure that got another great scare out of us.
---
Theme:

N/A
How Did We Get This Score?

This attraction doesn't follow any particular overarching theme.
---
Scare Factor:

7.35
How Did We Get This Score?

Again, we have to harken back to cast here, as overall they did a great job with interacting and scaring us throughout the haunt. Even though I may be the one who screams the most, they still made sure that my partner had a great experience as well.
I think what we appreciated most about the scares, particularly with the actors, was that they seemed to be very much in sync with one another and worked together as a team to capture our screams. When I would be paying attention to one character, another would come out of nowhere for the real scare. And having worked as a haunt actor in the past, I know that teamwork is really important and sometimes hard to do given the amount of improv that's sometimes involved. But this team had no issues with that and really hit a home run with us several times.
The finale did suffer from the same lack of energy that we mentioned previously, it just felt like it sort of fizzled out towards the end and was punctuated with a single moment before exiting. And while that moment did 'get' us, we still felt there could have been something stronger happening towards the end to really get us running out of there with our tails between our legs.
---
Entertainment & Value:

6.78
How Did We Get This Score?

There wasn't a whole lot of entertainment happening before the trail, but again, this could be contributed to being early in the season and having to follow health and safety guidelines. The virtual queue line keeps you in your car until your ticket is ready so we just played some Halloween music to get us in the mood while we waited.
Haunted Hollow has about a 20 to 30 minute run time, which is great because it's not too long and we were able to get in, get our fright on, and still get home at a decent hour. Parking is free, which is always a plus in our book.
General admission tickets are $20 per person, which is fairly priced given most haunts are well above that range, however, they do have a 4 ticket minimum. So if you're as socially awkward as we are, it may be a good idea to answer the door next time someone unexpectedly knocks on it in case you need to invite them out to a haunt. Just kidding, we'd never answer the door if you're coming over unexpected.
But on a serious note, this would be a great experience for everyone in the Warrenton area, especially families and groups of friends who are looking for something frightful to do on a Friday or Saturday night in October.
Just be sure that when you leave the farm, nothing is following you home…
---
How Did We Get These Scores

Join ourspookyadventures!
We visit Halloween haunted attractions year-round! Follow us for haunted house walkthrough videos, behind the scenes footage, and more!