Haunted Hoorah – Full Review
Haunted Hoorah is a Haunted Attraction located in Marion, OH.
311 Rose Avenue, Marion, OH 43302View All Details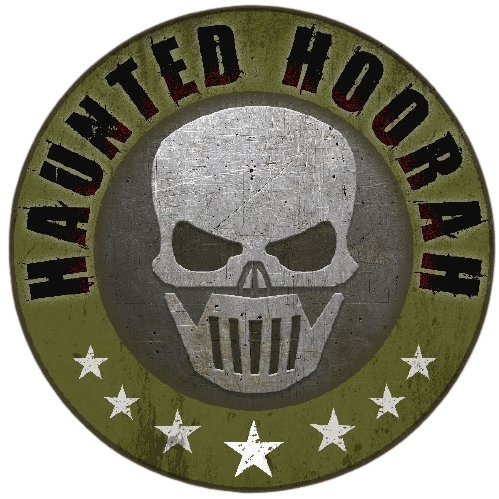 Features:

Free Parking, Restrooms/Porta Potties On-Site, Food/Concessions, Gift Shop/Souvenirs, "Hi-Tech" Attraction, You will NOT be touched, Original Characters, Uncovered Outdoor Waiting Line, Covered Outdoor Waiting Line, Indoor/Outdoor Attraction

reviewed this attraction on September 29, 2017.
Final Score:

8.49
Summary:
The Haunted Hoorah sits in the quiet village of Ashley, Ohio in Delaware County. The haunt itself sits in the middle of a neighborhood and occupies several buildings on the block. Loud radio music and military vehicles greeted us when we arrived. In just four seasons, it has quickly become an area favorite and it isn't difficult to see why. Legions of dedicated actors lurk around the space, scaring and entertaining patrons from the moment they walk onto the property. It is one massive attraction, which offers a complete experience from start to finish, beginning with an aggressive ride in the back of a real military vehicle and ending in a zombie-infested parking lot, with hundreds of shocking scares in between. Given the extreme experience they offer and the complete dedication to their theme, it is no wonder they've gained a reputation as one of the scariest haunts in Central Ohio.
---
Cast:

9.44
In keeping with their theme, most of the cast is dressed in military garb or nurses uniforms. There was an outlaw and one clown roaming the queue line area and while they were certainly entertaining, their placement was a bit confusing. We chose the extreme experience, and our souvenir dog tags let the actors know that we were open season for any games they had planned. To say that this is an interactive haunt may be a bit of an understatement- from the moment a patron enters the attraction, YOU are the star of the show. You are their newest recruit, and they are intent on putting you through the wringer in order to test your worth for the Doctor's latest development- a super soldier serum. The actors are very dedicated to completing this illusion, from barking out orders and demanding your compliance (comply or die, they told us), to limiting your senses and far beyond. Previous victims of the Doctor's experiments shudder and shriek under the watch of medical staff- while these roles were usually given to static props, the folks at Haunted Hoorah have bucked this trend, and to great realistic effect. I believed they were suffering, and I believed I could be next. There was perhaps one actor who put the illusion in danger of reminding us we were in a haunted house while we waited on another military vehicle to bring us from one location to another, but that one particular actor aside, their cast remained fully dedicated to their roles.
---
Costuming:

8.92
The costuming was simple, appropriate and very effective for the theme of the haunt. Soldiers were dressed in military garb, medical personnel in scrubs, and experiments wandered around in surgical gowns. Many of the soldiers wore similar skull face masks that hid most or all of their face, which eliminated the need for makeup in much of the cast. Makeup on patients and medical staff was well thought out, and not amplified for shock value. Realism was key and it was refreshing.
---
Customer Service:

7
We did not see any billboard advertisements on our way to the haunt, and we did make a wrong turn on the way there thanks to very dim lighting around signs with arrows directing patrons to the location. A parking attendant greeted us immediately upon finding the location and ushered us into a spot. Staff in fatigues roam around the entrance, and they do have a plainclothes security person onsite as well available to help patrons. The ticket booth and merch trailer are in a well-lit area on either side of the haunt's entrance. When we arrived, we were offered the standard experience, or the full contact extreme version. Patrons who choose the extreme experience are given waivers to sign and dog tag necklaces to signal to the actors that that person is okay to touch. The queue line entertainers took full advantage of this and even used patrons in line to amuse themselves! Jason was told to bark like a dog and do jumping jacks and I was nearly whisked away by a scary clown! Port-o-potties are available for customer use and the haunt is near a gas station where drinks and snacks are available.
---
Atmosphere:

8
Military vehicles circling the block and barbed wire fencing around the building let us know we were at the right place. The local rock radio station blasted through their sound system outside to help pass the time when the queue line entertainment was elsewhere. The setting for the haunt is inside the Doctor's home, so being in the middle of a neighborhood, while an unusual choice on the surface, made sense for this particular location.
---
Special Effects:

9
Sound effects were few and far between inside the attraction, other than the ones made by props, but on the insides of the military vehicles, eardrum-shattering metal music blasted from speakers under the seats to keep us on edge during the ride. Realism seems to be the universal goal at Haunted Hoorah, so eerie music was ditched in favor of ambient noise. A scene involving soldiers shooting into a zombie quarantine area seemed to be the exception to this, where a soundtrack played in time with the video screen which served as a 'window' in that particular set piece. The whole haunt was meticulously decorated with peeling wallpaper, rotting ceilings and intimidating-looking medical equipment. Save for one undecorated thermostat we spotted on the wall, everything flowed together very well.
---
Theme:

8.6
It is evident the moment you arrive that the haunt has a definite military theme, with particular emphasis given to the idea of top secret human experiments. The backstory available on the haunt's website goes into much deeper and more disturbing detail, but it's not necessary to read it in order to grasp what's going on. World War II imagery is explored, but not strictly adhered to, which made for some confusion as to whether this experience also wants to take us back in time. The commonly seen themes of zombies and medical experiments work well bound together with a military theme and while it may not be uncommon, Haunted Hoorah's theme is executed uncommonly well.
---
Fright Effect:

7.67
While the energy level did vary a bit from scene to scene in the haunt, every room served a purpose in the grand design of the attraction. Rather than use lots of distractions or startle scares, many of the horrors were laid out bare, daring you to get closer to them and often times, there were consequences for those who were brave enough to do so. Creative and interactive dialogue was used throughout, adding excellent depth and realism to the theme.
---
Value:

9.21
It took us 45 minutes to find our way out of this monster attraction! General admission tickets are $20 and the extreme DREAD experience tickets are $35. That works out to 78 cents for every minute of horror for the extreme experience or 44 cents per minute for general admission. Scenes change every year at Haunted Hoorah, so we are very much excited to see what twisted imaginings they have lined up for the future!
---
---
Guest ReviewsGuest Average: 9.64 out of 10
Shannon – 10/10 – October 8, 2022This place was great we absolutely loved it.The night we went there was a full moon it was purfect …show more for the hunt and everyone was scary. I absolutely loved the storyline it was awesome. Who wouldn't want to be a super soldier just awesome.
Jennifer – 10.0/10 – October 7, 2022This place was awesome it was very intense love the storyline everyone was on point. This place …show more probably isn't handicap accessible but it was a great time. If you are about 12 or older this is a great place for you to go! we enjoyed the time we had there and had a great scare. The actress at the beginning were great also all the way through the hunt we had a pleasant experience enjoyed the time we had.
Abby – 10/10 – October 22, 2021Awesome haunt! I love the cohesive storyline that is kept from beginning to end. This haunt is …show more also different as it is military based as they search for people to become super soldiers. The sets are very well done with so much to see and hear. The actors were very engaging, giving the story narrative, maintain the story, and engaging with the audience at every turn. You can tell these actors love what they do and it makes for a great guest experience.
---
Past Awards
---
2022 Awards
Most Immersive Storyline (Given by: Team Teachers of Terror)
Sarge (Given by: Team Teachers of Terror)
---