Haunted Hoorah – Full Review
Haunted Hoorah is a Haunted Attraction located in Marion, OH.
311 Rose Avenue, Marion, OH 43302View All Details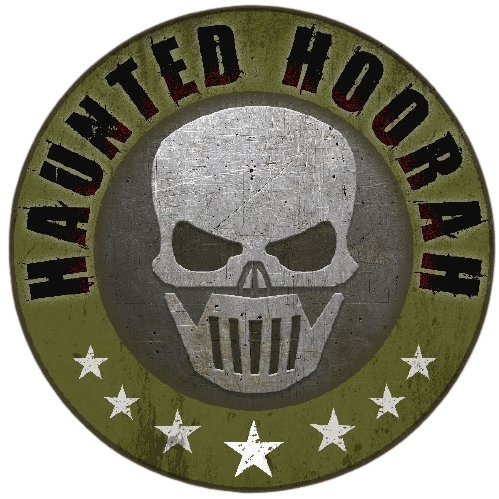 Features:

Free Parking, Restrooms/Porta Potties On-Site, Food/Concessions, Gift Shop/Souvenirs, "Hi-Tech" Attraction, You will NOT be touched, Original Characters, Uncovered Outdoor Waiting Line, Covered Outdoor Waiting Line, Indoor/Outdoor Attraction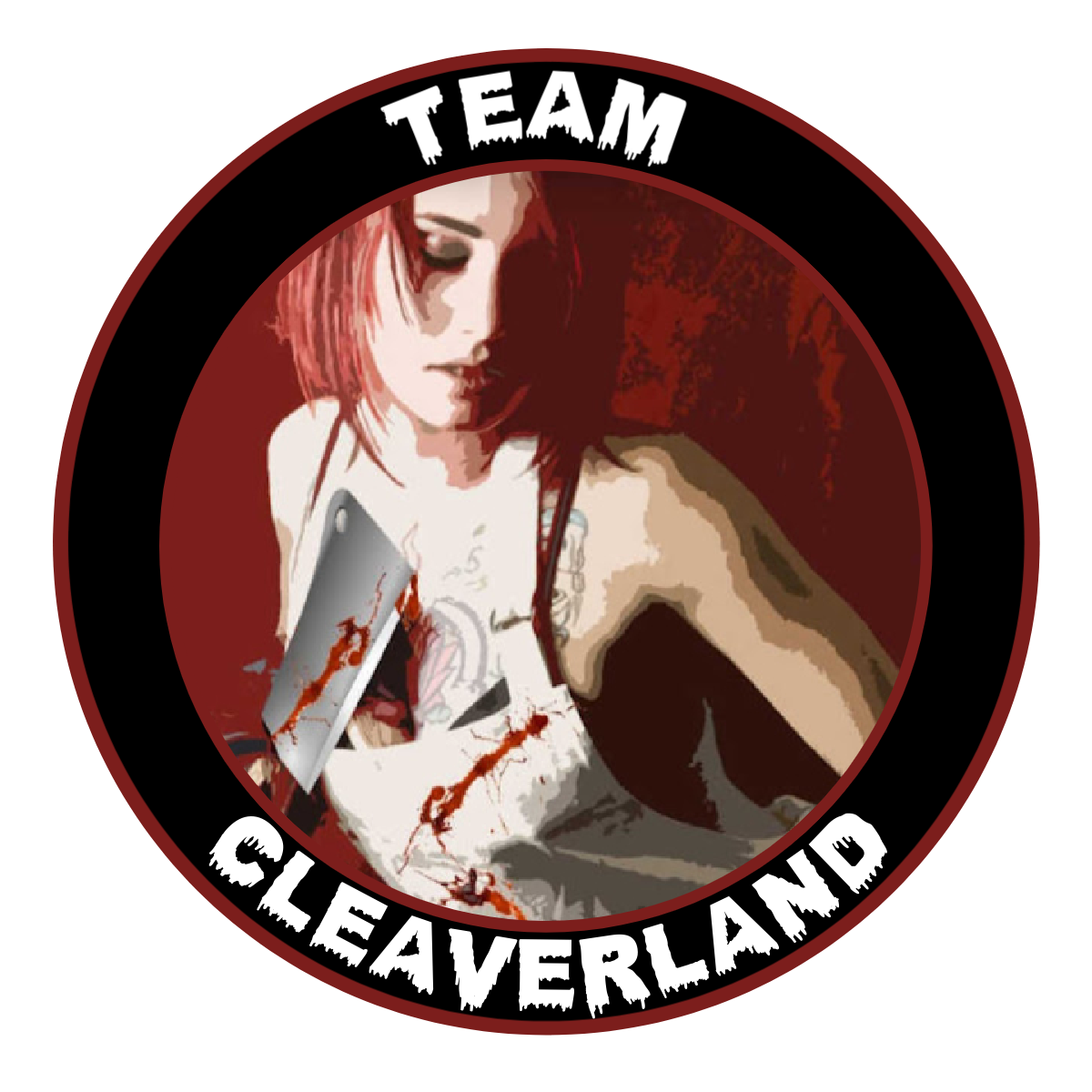 This attraction was reviewed on September 22, 2023 by Team Cleaverland.
---
About Our Reviews and Rating System
---
Final Score: 8.48
Final Scores – By Category

Final Scores – By Attraction

Summary:
On your feet and listen up maggots! In the twisted spirit of government/military experiments on humans like Tuskegee, mustard gas testing, and MK-Ultra, the malevolent and mad doctor of Joint Research Base Hoorah is running a super soldier program.
Evil hackers have tapped into the super soldiers' compliance chips. Instead of immaculate physical and moral specimens like Captain America, now the subjects are turning into something more like the deranged, hungry-for-humans Colonel America from the 'Marvel Zombies' series.
Uncle Sam wants YOU! to volunteer to shoot up the serum and try to set things right within the base under siege. Pockets of friendly resistance can be found inside to help move you along in your seeming suicide mission.
Haunted Hoorah delivered an exciting, hands-on, immersive, uniquely themed experience. Read on, recruit, for your full debriefing.
---
Cast Score: 8.08
Cast Scores – By Question

Cast Scores – By Attraction

Cast Review:
It seems the base looked a bit light on actors in past visits, but this time, the place was packed with more than enough ghouls 'n' grunts. Freaks jumped out at us, and GI Joes and Janes hurried us along at every turn.
The army guys out front did a great job setting up the story, especially the orders-barking drill instructor, Staff Sgt. Doom. We learned that he and several of the other actors here are actually veterans – thanks for your service! And we hope you get some nice R&R after being posted at this hopeless place…
Despite being our allies, most of the 'friendly' soldiers came across as abrupt, abrasive, and seriously stressed out, as one would expect in their situation. Enemy characters acted maliciously or like whack-a-doos (or both). Some seemed conscious of the changes happening to them, like the unfortunate soul who warned us to stay away in case he tried to bite us like he did someone else.
We heard many full-throated screamers, including a straight-jacketed psycho, an unhinged nuclear weapons specialist, and a bunch of atomic blast survivors who were understandably out of their gourds.
We were told to be on the alert for Nurse Gertrude, who had escaped from her containment facility. When we inevitably met up with her, she put on quite a performance and struck fear into everybody in our larger group. Taunting, laughing, threatening, she lived up to her billing as 'the most sadistic and evil person to ever work in the base.'
---
Costuming Score: 8.44
Costuming Scores – By Question

Costuming Scores – By Attraction

Costuming Review:
The costuming looked good. Faces relied mostly on makeup. We did see a few masks, like on a couple of goons in the decontamination area who appropriately wore gas masks.
Costume stars included: 1) Nurse Gertrude. We presume her muzzle-like contraption was similar to Hannibal's, to prevent biteyness; not sure how effective that was, because her mouth was a bloody mess to go along with her crimson-splashed nurse's whites, hook hand straight out of an urban legend, and freaky contact lenses. 2) The Bionic Commando Cyborg Soldier shone with a wired-up arm, half metal face plate, and metallic looking contact lens. 3) The doctor had a blood-soaked operating apron and raked scars on his face. 4) The straightjacket goofball presented with a rather Evil Deadite look, complete with super frizzed-out hair.
Soldiers looked all decked out in combat fatigues, boots, and caps or helmets. Many of the crazies inside came at us with nondescript or unnoticeable clothing and basic makeup jobs, but they came and went so fast in the dark/fog that it was hard to tell and also kind of didn't matter.
---
Customer Service Score: 9.23
Customer Service Scores – By Question

Customer Service Scores – By Attraction

Customer Service Review:
Haunted Hoorah is located in Marion, Ohio, an hour north of Columbus. We encountered zero problems in our GPS-guided travels to the base. Attendants with wands guided us into free parking on grass. The way to the ticket booth and attraction entrance were both obvious, but still clearly marked.
The base threw a few more obstacles at us than we're used to. There was a bumpy truck ride, uneven ground in the outdoor parts (including the parking lot), and more obstacles in the attraction than usual – step-ups and -downs, protuberances and low ceilings, as well as some physical challenges like rope climbing up a ramp, jumping into a shallow pit of gym mats, and a bit of crawling. These last ones, however, have walkarounds. Basically, watch your step like you would anywhere, resist the urge to run, and follow instructions when given, and like us, you should come out fine.
Haunted Hoorah maintains a strong social media presence, with channels on Facebook, TikTok, Instagram, and YouTube. Their website features online ticket ordering, a teaser of the story, some cool and amusing videos, and a link to purchase your photo op picture… like we did!
---
Immersion Score: 9.65
Immersion Scores – By Question

Immersion Scores – By Attraction

Immersion Review:
We were greeted at the driveway entrance by a military vehicle and a smart-aleck soldier who made fun of our reading skills and told us we were in for it. He wasn't wrong.
Everything about the buildup to the attraction contributed to a realistic depiction of a military base: the ticket booth signage in stenciled lettering, barrels, Jeeps and trucks and transports, bivouac shelters and tents, the photo op area where we got to hold a rifle, the queue area partially covered under a hangar-like structure, gunshots heard in the distance, and the blasting metal music (Iron Maiden's 'The Number of the Beast,' AC/DC's 'Hells Bells') created an atmosphere reminiscent of the camps in 'Apocalypse Now.' All this excellent pre-work and detail forcefully fed into the theme.
The drill sergeant and other troops at the beginning razzed their recruits, weaved the reading of the attraction's rules into their performance, and perfectly struck the tone for the story-driven journey to follow. We went through a detector designed to sniff out enemy infiltrators. Those who made the buzzer ding had to do a challenge (singing, calisthenics) to progress. Everything so far had us very mentally and physically involved.
We then boarded a bus to the base. It was a loud, jostling ride that held one big surprise. Some additional training – forming a line, marching, more berating – waited when we got off the bus, but shortly after, we entered the base.
The last recruiter before going into the base proper, gave us flashlights, which made us more active participants. We swung them around for most of the attraction, desperately trying to find the way to the next room and identify concealed enemy assailants.
The Hoorah gave us a very unified presentation of a military base gone wrong, with a similar look and feel throughout the various sections. Shredded strips/curtains set off many of the rooms.
The great detail and often frantic pacing helped immersion greatly, as our focus became forward propulsion rather than thinking about our experience too much. We did question why there would be a squeeze tunnel in a military base, but …maybe part of a training exercise??
We met a merch attendant wearing camo after the ostensible end of the attraction, and the graveyard set following the merch shop kept us in a haunted headspace on the way to the parking area. We hope this long description gives an impression of how deep the immersion efforts went.
We have seen few other attractions go this far, all in, and all out, in support of fanatically sticking to the story, like Hoorah did. It paid huge dividends in keeping us invested and involved from start to finish. It had quite a cinematic feel to it, like we were walking through a combo of the 'Overlord' and 'Day of the Dead' movies …with a splash of 'Aliens'!
---
Special FX Score: 8.86
Special FX Scores – By Question

Special FX Scores – By Attraction

Special FX Review:
We found the sets well done, detailed, and realistic. A dark and foggy aesthetic kept us on our toes, shot through periodically by bright lights and other disorienting lighting effects. Our tiny flashlights barely cut through the shadows to reveal little details in each room: a sign or poster, fuses or wiring, cadavers under covers.
Bombastic music played into the adrenaline rush action. We also heard what sounded like 40s pop music in the elevator, an emergency broadcast and air raid sirens at ground zero of a nuclear conflagration, the clicking of a geiger counter, and gunshots and explosions.
The initial camp setting, the flashing, squonking infiltrator detector, and the unhinged bus ride started things off very nicely. The base entrance, with another huge vehicle, some science equipment, and an enormous facade and entryway, impressed.
We saw everything and more you'd expect in a military installation – the commissary, munitions, a furnace/crematory (featuring a heat source and fog standing in for steam), decontamination chamber, a blood-splattered missile silo control room, nuclear bomb storage bunker, super soldier holding pods (?) that looked like the transporter machine from 'The Fly,' medical quarters, a science lab, fallout shelter, and a hellevator, all followed by a blast zone area with wrecked cars, 'frybaby' (yes, that was, quite disturbingly, exactly what it sounded like), and a fallen single-pilot jet!
We ran across rifles with laser sights covering us at point blank range, a poo-filled smelly toilet, and fully stocked medical areas and a weird science laboratory with a very cool and tall Frankenstein's Monster-like prop. All in all, excellent effects work was the order of the day at Haunted Hoorah.
---
Scare Factor Score: 7.7
Scare Factor Scores – By Question

Scare Factor Scores – By Attraction

Scare Factor Review:
Was it pretty scary? Affirmative!
Lots of hidden scarers who would appear suddenly to scream or run at us (like an axe-wielding guy that came tearing out of the fog) made it hard for us to stay frosty.
The craftily concealed hidey-holes meant creeps could attack us from anywhere, so we had to watch our six… and every other clock direction. In the post-apocalyptic zone, five survivors accosted us and followed from behind for a while.
With all that fire-in-the-hole action, the one unmoving guy in the bathroom who simply stared straight ahead was creepy AF. On the other end of the spectrum, the maniacal straightjacket nutjob capered around the padded room while screaming, laughing, and threatening us. Things got a little panicky when it first looked like there was no way out of there. That situation played out in a couple other rooms, where we had to search for a concealed exit route.
Nurse Gertrude caused a major panic in close quarters, aided by strobe lights and a thunderous soundtrack. We also got startled by gunshots and air cannons, and made to feel uneasy by short separations.
The story and atmosphere fueled the fear fire. The army people constantly talking up the danger set up some delicious anticipation. When one of the recruiters told us we had less than 45 minutes until the base underwent 'sterilization' right before we entered the building, it tipped off a ticking time bomb effect. Anyone who is concerned about religious end times, or simply anxious about the real-life risk of a nuclear holocaust/dirty bomb scenario, is going to have their buttons pushed by the sobering climax.
---
Entertainment & Value Score: 8.4
E&V Scores – By Question

E&V Scores – By Attraction

E&V Review:
It took us 40 minutes to get through basic training, the bus ride, raiding the base, and Mad Max-ing it through the atomic wasteland. Against the $30 general admission, the MPD (minutes of in-attraction entertainment per dollar spent) came out to 1.33. That is a good number; we like to see at least a 1-to-1 ratio. You can also buy a $50 fast pass when the place is mobbed.
We really enjoyed our trip through the base, and spent some time afterward in the merch shop checking out apparel. The fun photo op got us pumped up playing soldier with prop guns (see our photo below). Interactions with the cyborg soldier around the ticketing area, and army staff before getting on the bus, were greatly entertaining.
Our official report conclusion: not enlisting for a tour at the Haunted Hoorah this season would be cause enough to ask you, 'What is your major malfunction?!?'
---
View Full Score Sheet
---
Pics We Took From Our Visit:
---
---
Guest ReviewsGuest Average: 9.64 out of 10
Shannon – 10/10 – October 8, 2022This place was great we absolutely loved it.The night we went there was a full moon it was purfect …show more for the hunt and everyone was scary. I absolutely loved the storyline it was awesome. Who wouldn't want to be a super soldier just awesome.
Jennifer – 10.0/10 – October 7, 2022This place was awesome it was very intense love the storyline everyone was on point. This place …show more probably isn't handicap accessible but it was a great time. If you are about 12 or older this is a great place for you to go! we enjoyed the time we had there and had a great scare. The actress at the beginning were great also all the way through the hunt we had a pleasant experience enjoyed the time we had.
Abby – 10/10 – October 22, 2021Awesome haunt! I love the cohesive storyline that is kept from beginning to end. This haunt is …show more also different as it is military based as they search for people to become super soldiers. The sets are very well done with so much to see and hear. The actors were very engaging, giving the story narrative, maintain the story, and engaging with the audience at every turn. You can tell these actors love what they do and it makes for a great guest experience.
---
Past Awards
---
2022 Awards
Most Immersive Storyline (Given by: Team Teachers of Terror)
Sarge (Given by: Team Teachers of Terror)
---
---
Past Awards
---
2022 Awards
Most Immersive Storyline (Given by: Team Teachers of Terror)
Sarge (Given by: Team Teachers of Terror)
---
Join ourspookyadventures!
We visit Halloween haunted attractions year-round! Follow us for haunted house walkthrough videos, behind the scenes footage, and more!