Review of Haunted Hotel 13th Floor Haunted Attraction
Review of Haunted Hotel 13th Floor Haunted Attraction
Review of Haunted Hotel 13th Floor Haunted Attraction
Haunted Hotel 13th Floor
Haunted Hotel 13th Floor is a Haunted Attraction located in Huntington, IN.
1885 N Jefferson Street, Huntington, IN 46750View All Details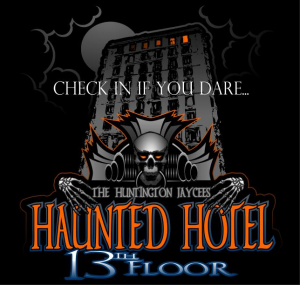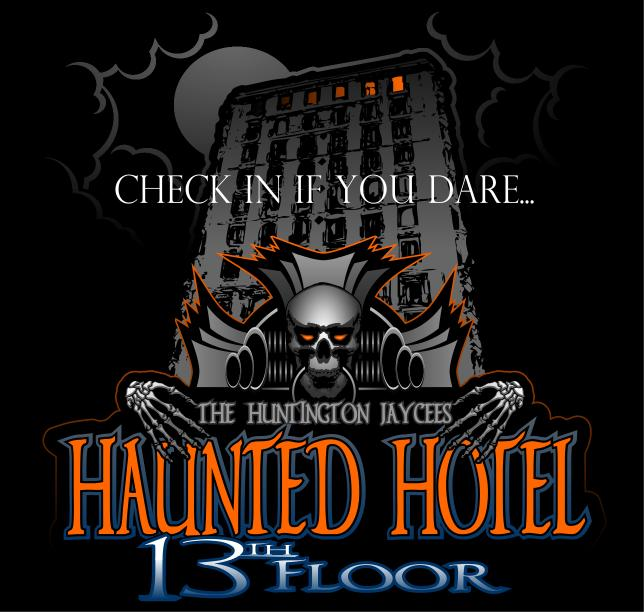 Features:
Free Parking, Food/Concessions, Gift Shop/Souvenirs, Special Events, You will NOT be touched, Original Characters, Covered Outdoor Waiting Line, All-Indoor Attraction
reviewed this attraction on October 27, 2017.
Final Score:

6.75
Summary:
Haunted Hotel 13th Floor in Huntington, Indiana is celebrating its very impressive 50th anniversary season this year. What began as a Jaycee's project has evolved into a beloved local favorite haunted attraction. Using a real hotel in the heart of downtown Huntington as their canvas, 13th Floor has built an immersive and extremely interactive haunt which left us feeling both warmly welcomed and very creeped out.
---
Cast:

8.39
The Haunted Hotel's enormous cast of scare actors greeted us at the entrance of nearly every room inside the attraction. The hotel staff was extraordinarily friendly and we held numerous conversations with the characters inside about their place in the hotel. We were greeted first by a concierge and the proprietor of the hotel, a devilish man named Gabriel, who made us an unbelievable deal on a room for the night. For the price of our immortal souls (sorry Gabe, no returns), we were given full access to all of the onsite amenities, including the ballroom, kitchen and the room of a very special guest- an actual human skeleton. Katie even got a chance to stand inside the original casket while they closed the lid on her. It was a really cool little aspect that not many haunts can claim.
---
Costuming:

7.25
The cast of The Haunted Hotel was well dressed for the most part, and looked as they should, with a few slightly confusing exceptions. One in particular was a gentleman who was wearing black and white striped shirt and hat, covered with a dress jacket. We were not quite sure if he was a bellhop or a burglar. We also someone, who wasn't Freddy Krueger, donning the infamous Freddy glove. There were a couple of really nice makeups, however, a large portion of the cast appeared to pick a single color and cover their face with it. It was a shame, given their interactive and intensity level. They would benefit greatly by bringing on a talented makeup artist. All of the costumes worked well for their respective scenes and we didn't notice a single mask.
---
Customer Service:

6.25
The Haunted Hotel is a relatively safe haunt. There are a couple of tripping hazards though. Jason caught his foot on a stool that was partially in a doorway (may have gotten bumped into that spot throughout the night) and there was a hallway that had plastic bones scattered on the floor. The bones slide across the floor pretty easy if you step on them. Just walk cautiously and you'll be fine. The trickiest part for us, was just finding the place. Being from out of town, we weren't exactly sure what we were looking for. GPS took us right to it, but even as we stood in front of their ticket booth, we weren't entirely sure if we were in the right place until we read the flyer on the ticket booth. The folks in the ticket booth were very friendly, gave us our tickets and pointed us in the right direction. We got lucky enough to not have a wait to enter but, other than the lady at the door telling us the rules, there was no form of entertainment for the queue line area.
---
Atmosphere:

2.33
Prior to entering the Haunted Hotel, there is really nothing to really let you know that you were waiting in line for a haunted attraction. Other than the flashing white lights that spelled out "Hotel" on a side of the building, there wasn't much in the way of signage. This may be due to their downtown location but, the exterior of the hotel (prior to walking through the entry door) doesn't really give you a haunted house vibe and is a stark contrast to what you get to experience inside.
---
Special Effects:

6.38
There isn't a whole lot of sound effects throughout the Haunted Hotel, a lot of it is pretty quiet. Which, works really well in some areas and not too well in others. To be honest though, I am not sure what sound effects would have been appropriate for most of the hotel-themed areas except maybe some kitchen-esque sounds in the dining area, perhaps some muffled shrieks and screams as if heard through the walls of an old hotel, and some harpsichord tunes in the ballroom. There were a few, really cool, special effects. The first, while not a typical special effect, would have to be the actual human skeleton that they had on display along with her original coffin that you were allowed to get into. They also had a really well done elevator effect and a large clown that came through a wall to grab you as you walked past. Some of the rooms at the Haunted Hotel were detailed really well. However, there were several that look rushed and unfinished, and others that were not very well lit, making it very difficult to see much detail at all.
---
Theme:

8.6
The theme at the Haunted Hotel was…you guessed it…a haunted hotel. The fact that the haunt resides in an old downtown hotel definitely helps to sell the theme and it is really interesting to make your way through the various rooms and hallways of the old building. The lobby, dining room, service elevator, ballroom and all of the other rooms worked well within the theme. The inclusion of a clown area threw us off a little and its inclusion seemed forced and quite a diversion of the theme. We would have loved to see the hotel theme carried the entire way through and possibly build upon their storyline by including some past victims as current "residents."
---
Fright Effect:

6.5
All in all, the Haunted Hotel offers up quite a bit of fright. While they relied heavily on startle scares, they did a great job of not directing all their attention to one part of the group and made sure to show everyone some of their special brand of hospitality. The cast was pretty good about using distractions to catch you off guard, coming at you from every direction…even through the walls. The finale was interesting but, not really a "wow."
---
Value:

8.32
The $13 General Admission ticket starts you on your journey through the Haunted Hotel, a journey that took us roughly 20 minutes to make, which puts their Minutes Per Dollar value real close to the 1.50 average at a 1.54. They could add a few more details to some of the scenes, but it is definitely worth a visit and we hope that they enjoy another 50 years to come.
---
Promo Images:
Click to Enlarge
Have you visited this attraction?