Haunted Overload – Full Review
Haunted Overload is a Haunted Attraction located in Lee, NH.
20 Orchard Way, Lee, NH 03861View All Details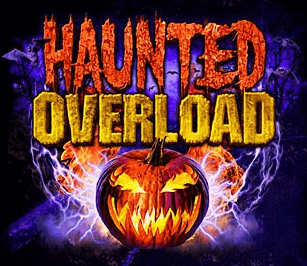 Features:

Free Parking, Food/Concessions, Gift Shop/Souvenirs, You will NOT be touched, Original Characters, Uncovered Outdoor Waiting Line

Team Hallowoosh reviewed this attraction on October 22, 2017.
Final Score:

9.6
Summary:
Here it is folks! The haunt that makes you say 'WOW!' every time you turn around a corner. It's been seven amazing years since Haunted Overload made a home in the woods at Demeritt Hill Farm in Lee, New Hampshire and it just keeps getting better and better every year. Recognized as one of the greatest haunted attractions in the country, I have yet to hear of anyone trying to challenge that statement. Hands down, this place is something everyone should see at least once in their lifetime. A typical bucket list should read something like; See the Grand Canyon, Try Sky Diving, Go Through Haunted Overload. You don't even need a guy who's been to over a hundred and thirty different attractions around the country to tell you this place is nothing short of amazing.
---
Cast:

9.59
The actors at a place like Haunted Overload are commonly overlooked. With all of the giant structures and incredible lighting, most people go through staring straight up into the trees rather than being wary of what's around them. Naturally, when customers leave Haunted Overload, they remember the forty foot clown or the fifty foot pumpkin God much more than the dark figure behind a hay bale who lunged at them.
Surprisingly though, the actors at Haunted Overload are some of the best I've seen anywhere. In fact, the first real haunt experience we had when arriving was a slew of redneck actors opening up the queue line. After going through so many haunted attractions where rednecks are done to death, we assumed these guys wouldn't have much to offer. Turns out they were actually incredibly funny and interactive, even with each other and almost making it seem like a theater show. One of the rednecks in nothing but bib loose bibs caught a visitor and his girlfriend taking photos of him and said, 'Hey, Mr. Freaky! Don't get all excited now, save those photos for later after she goes to bed!' While we were stuck in one of the barns in the waiting line, we bumped into a lady redneck character in desperate search of a new husband. In walks another lady redneck carrying what looked like a skull and saying 'I found him! I found your hubby!' After a bit of confusion as to who's husband's skull it was, they agreed 'We're a small town, we like to share anyway!'
Going through the haunt we were stuck behind a small group of girls who apparently have never been to a haunted house before and I'm a big beefy guy, so most actors don't even think about what part of the group is going to react the best. Probably my favorite actor moment during the night was when these girls came to a dark tunnel where they could see the end of it, but couldn't bring themselves to walk through. Finally, they decided that, one by one, they would run as fast as they could through the dark tunnel screaming as loud as they can 'till they make it to the 'safety' of the other side. One girl runs through, another girl runs through. Third and fourth girl think 'Oh, I guess nothing is in there' and walk through together' big mistake. Halfway through the tunnel, the ever-patient scarecrow lurking in the shadows pops out with a rattler. The two girls fall to the ground screaming in terror and somehow monkey crawled their way out of there.
I want to say in my eight years of haunt traveling, I have seen only one actor actually playing a musical instrument. This year, so far, I can say I've seen three! A girl playing an accordion, a nun playing the Hammond organ and now, thanks to Haunted Overload, I can proudly say I've seen a redneck playing a banjo sittin' on a toilet. Not just plucking the strings either, actually playing a song. The redneck characters at Haunted Overload were already the most incredible I've ever seen and this dude just took them to another level!
Overall I loved every character at Haunted Overload. Everyone was firing on all cylinders and hiding very well when they needed to be. The big thing that makes everyone in the cast so great is that they never make it feel like they would rather be somewhere else. Everyone made it known that they were very comfortable with their areas and they own their areas. One of the directors even tells me that some of the cast hasn't even seen the other side of the haunt yet because they are so busy taking care of their areas and scenes all night. This is dedication and it's one of the great things that make Haunted Overload as special as it is.
---
Costuming:

9.75
When I first heard about Haunted Overload back in 2010, it was in the form of a little blog post. The post was actually focused on the fact that this attraction prides itself in making its own masks, costumes, props, sets, etc.. I couldn't believe that a place this big and this elaborate would also focus a lot of time into their costumes and masks. We can see the customization in their looks every year and it's yet another reason why Haunted Overload is incredible.
Things have expanded rapidly through the seasons since then so this is not to say you will not find any masks made from other companies. Many of the staff helping to guide the waiting line are dressed in the same robe costumes you could find at any Halloween store. Nothing to be ashamed about though, we were actually very glad to see them in any kind of costume. Most of the time we are lucky to find someone enthusiastic at other haunts.
The first costumes we saw was the family of rednecks. The 'Hey, Freaky!' fella was pretty much just a pair of overalls and a broken mouth with some dirt all over him and it worked perfectly. I particularly liked the ladies' costumes in the redneck group. They aren't the white trash, trailer park, or farmer's daughter type rednecks. They are the old, western, prairie home-style, making the dresses much more presentable and not something you can just pick up at any Walmart. Plus they can also double as victorian style too so the actors could technically switch characters anytime in the night if they wanted too.
---
Customer Service:

9.73
Haunted Overload is located at Demeritt Hill Farm in Lee, New Hampshire on route 155. There is hardly anything on this road for about five miles in either direction. It is a very dark road surrounded by tall trees the whole way. I always know where to find the entrance every year because they have a police cruiser stationed right on the other side of the road with their lights on. The sign for Demeritt Hill is lit too, but it's not as obvious.
There were plenty of parking lot attendees helping us find a spot. There are two areas for parking. The main lot looks like it could possibly fit about 200 vehicles and it's the closest lot to the waiting line and the bake shop. The other lot is up the hill in the orchard. We saw plenty of spaces available in the main lot as we pulled in, but we were instructed to go up the hill. It may have been due to us being in a large truck and they reserve the lower lot for smaller vehicles for ease.
We have been lucky every year with tickets. I keep forgetting that Haunted Overload is a timed operation and it is more than highly recommended that you purchase your tickets online. They do have tickets available at the bake shop, but only a limited quantity and they only have a handful of each time slot. Thursdays, Fridays, and Sundays, the line opens up at 7 and everyone with 7pm tickets gets to go in. Saturday's, they start at 6:30. You can purchase your tickets in time groups on every 30 minutes till 9pm. This doesn't mean you will go through the attraction during your time slot, this just means you can get into line at that point. If you have to wait a little while then enjoy some of the homemade apple cider yummies at the bake shop.
There are tons of cool things at Haunted Overload, but one of my favorite things is the fact that you don't have to wait in a line before seeing anything. Most haunted attractions keep you waiting in a line with nothing but a piece of rope and some annoying kids standing between you and the spot you will continue to wait in the next hour. On rare occasions, I find myself in a line that has some kind of display to look at, or a video playing, or a little side show. What Haunted Overload does is something I have never seen anywhere. The waiting line is IN the haunt! We were still in a line but looking at each other like 'did we walk past the ticket takers?' Some of the greatest things you can see at Haunted Overload are before they even scan you in! The gift shop this year is located right before you walk into the official entrance.
---
Atmosphere:

9.4
You ever wonder what it would be like to jump into the Halloween world of Tim Burton's 'Nightmare Before Christmas?' This is as close as you are going to get to something like that. I would be willing to bet that even Mr. Burton himself would say Haunted Overload is better than what he made for the animated movie.
Chances are good you have seen a picture of Haunted Overload once or twice on the internet. Remember that big thing? Yeah, that was probably them. The design and feel of this attraction has gained so much national attention it's scary (pun intended). Big twelve- to fifteen-foot jack-o-lantern scarecrows welcome you into the waiting line. The moon rises in the east directly behind them with fog lingering in the air. Even right there at the very beginning of the line, you will be asking yourself 'is this free?' A tiny bit of a way down the path is another group of jack-o-lantern scarecrows, but set in the distance over a clearing in the field. All we can make out is the eerie silhouette of them and their glowing faces against the moonlight. Then suddenly, a giant burst of blue fog erupts behind one of them and we thought something was going to come to life! When I tell you that this was the weakest point of the attraction, I'm not joking. This attraction starts off stronger than most do in their entire show and it just keeps getting more and more beautiful.
The whole attraction is designed to be a horror photographer's dream. The forest is completely surrounding you at all times and everything you see looks like it was made out of the forest you are standing in.
---
Special Effects:

9.61
I believe it was 2011 when they put in the famous giant reaper skull. It must be about forty feet tall and maybe fifteen to twenty feet wide. To give a little better perspective, my hand isn't even as big as the smallest tooth on this massive structure. Traditionally the wait line is formed to approach the skull and go underneath it. This year, we were guided in from behind the skull and eagerly anticipated looking up when we finally made it to it's chin bone. And we were insanely satisfied when we looked up the second we had a chance and saw a massive behemoth jack-o-lantern king creature staring right down at us. Fifty feet tall with one arm reaching out to eat us and the other one looking like it's about to rip the roof off the house we were about to go into… and that's how it has always been at Haunted Overload. If you come back to see that big thing you saw last year, well guess what? There's something even bigger now.
The entire trail is lit with lights that put even the most impressive Christmas displays to shame. I mean, shame on them anyways, but they can't even attempt what Haunted Overload does. Many areas are dedicated a color. A blue light is given to the dolls, a red light is given to the rednecks, a green light to the voodoo witch, etc. Mix in the imminent presence of fog and the lights bouncing off and illuminating the fog throughout the whole trail is incredible.
Somewhat surprising, Haunted Overload doesn't have any animatronics. Not even a simple drop panel. The size and quality and lighting of all the other amazing things we saw is better than almost any animatronic we have ever seen. They do have a great laser vortex tunnel that is perfectly located inside one of the giant's mouths. Every year, we go to this attraction to see what else they have added and to re-live the spectacles of what we saw in past years.
---
Theme:

9.8
The theme is Halloween – minus the trick or treaters and the candy. This isn't a gorefest at all; there is hardly even any body parts except for the chocolate ones you can buy at the bake shop. You will find witches, pumpkins, zombies, vampires, clowns and all the great haunted house characters, but not one mutilated body. Other than a chainsaw and little pick axe, I can't recall anyone with a weapon. Haunted Overload doesn't believe those things are what makes a haunted attraction worth going to. The theme here is the celebration of what makes Halloween the greatest holiday ever.
---
Fright Effect:

9.52
I would have to say my favorite scare of the night was in the middle of the wait line. One of the line actors was a strange character who had these stilts as hands. He must have been almost fifteen feet away when one of the girls in front of me noticed him and still screamed like crazy. I'm not sure how he did it, but he used the stilts as a means to lunge himself at the girls. Cleared a fifteen foot gap in a matter of one second. I think we saw that happen at least three times and, every time, people were falling backwards.
Although almost all the actors at Haunted Overload were spaced perfectly and did exactly what they needed to do to get a great scare, we felt that the real scare is the constant thought that one of these giant creations might come alive, or fall on us, or the notion that they represent some kind of offering to something much more scary than anything the actors could give us. Much like how you look up at a statue and think about what it represents and how important that is in the very spot you are standing in. These are works of art that take a lot of time and devotion to make and they do represent two things at once.
The first thing they represent is the magic that is Halloween. The spirit of celebrating the out of the ordinary. The relief of embracing certain feelings and emotions that are commonly looked down upon the rest of the year. The bitter sweet reality of the passing of seasons. The second thing they represent is family. People devoted long hours of back breaking work to put up these things and they didn't do it for a paycheck. They did it because they know it's something special that brought them together as a family and can bring others together as a family. I've said it more than once and I won't stop saying it. The best attractions I have ever been to are the ones where I can feel the love and passion for what they do and for each other. More often than not I can feel it in the air better than I can see it or hear it. Haunted Overload is one of very few haunts I have ever been to where I can feel it, see it, hear it and even smell it! (damn good donuts) I can never put it into words what I sense when I go through these amazing haunts, but it's one of the best feelings I've ever experienced.
---
Value:

8.3
Online tickets cost $25, which is blowing my mind considering I'm used to spending at least $30 for places that aren't even close to how awesome Haunted Overload is. If you happen to come by and need a ticket at the door, they have them available for $30. From the 'official' starting point of the attraction, we made it through in about 23 minutes. This isn't including all the amazing things you will see and experience before they even scan your tickets. This gives Haunted Overload a minute per dollar value of .92. Hypothetically speaking, if one were to stroll through the wait line and the haunt without any interruptions, we would definitely be looking at a value over 1.10, meaning for every dollar you spend you are getting a little over a minute of haunt magic. As you can tell, this isn't even the same kind of haunt magic you would be getting in most other places.
To put it more into the right perspective, all of the actors are volunteers. Some of the actors used to be paid actors at other haunts and they decided they would rather get paid nothing and work for a great group of people like the ones at Haunted Overload. You don't see that happening anywhere else. The build crew bought wood at the beginning of this year to let it age naturally for the whole year and in the winter time. Come next spring while the ground is still frozen, they will start building with the aged wood to give it the effect of an old structure. You don't see that happening anywhere. All the money they make is donated to the Cocheco Valley Humane Society to help sick and lost pets. Not an uncommon thing for a haunt to donate to, but a haunt like this? Nope. I don't know of any other haunt that has ever made any of the 'best in the country' lists and donates all of their ticket sale proceeds. A few years ago, Haunted Overload won the 'Great Halloween Fright Fight' on ABC. They were awarded $50,000 as the grand prize. I think it was only a couple hours before the owners posted that all of the $50,000 would be donated to the Humane Society and, on top of all of this, you will not find a shred of bad mouthing any other attraction. The owners are some of the most welcoming individuals I have ever met and they gladly accept anyone with open arms.
I'm not going to say you should go to Haunted Overload because I think you would have a good time. I'm going to say you OWE it to yourself to see this attraction and feel the magic that I've felt every year. I think I'm going to start going twice a year. Make plans to see this incredibly amazing show as soon as possible.
---
Promo Images:
Click to Enlarge
---
Guest ReviewsGuest Average: 9.34 out of 10
Carol Salemi – 10/10 – October 28, 2017This place has to be seen to be believed. Between the giant woodsy sculptured characters and the …show more amazing sets it is a breathtaking site. It has the most beautiful artistic lighting effects I have seen anywhere. The handmade props, wonderful costumes and creative makeup add finishing touches to all the characters that inhabit this scary place. PS- I am one of those actors that has worked for over 20 years at several haunts across the country and give up the paid gigs to volunteer here because it feeds the need to be both scary and artsy while having fun with your fright family.
Spooky Kisses – 9.02/10 – October 15, 2021https://www.youtube.com/watch?v=a9iAoYvuXEQ this is my youtube video part 1 we also have part 2 – I …show more personally thought it was gorgeous and amazing art work w giant structures – I felt like the scare actors became my friends after shooting there 5 times – I fell in love with it and felt like omg! they are going to cast a spell on me and I will start working there like a zombie lol
Jon – 9/10 – October 21, 2022This haunted attraction is great. From the physical setup to the characters, they do a great job. …show more The only draw back, and I mean only, is this haunted venue has a loooooong line to get in. The wait to go thru was an hour and forty minutes. We got there at 850P for our 9pm tickets and did not get into the attraction until 1030P. Yes it was a long wait but was well worth it!