Haunted Overload – Full Review
Haunted Overload is a Haunted Attraction located in Lee, NH.
20 Orchard Way, Lee, NH 03861View All Details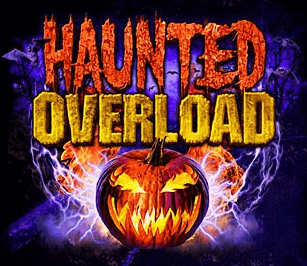 Features:

Free Parking, Food/Concessions, Gift Shop/Souvenirs, You will NOT be touched, Original Characters, Uncovered Outdoor Waiting Line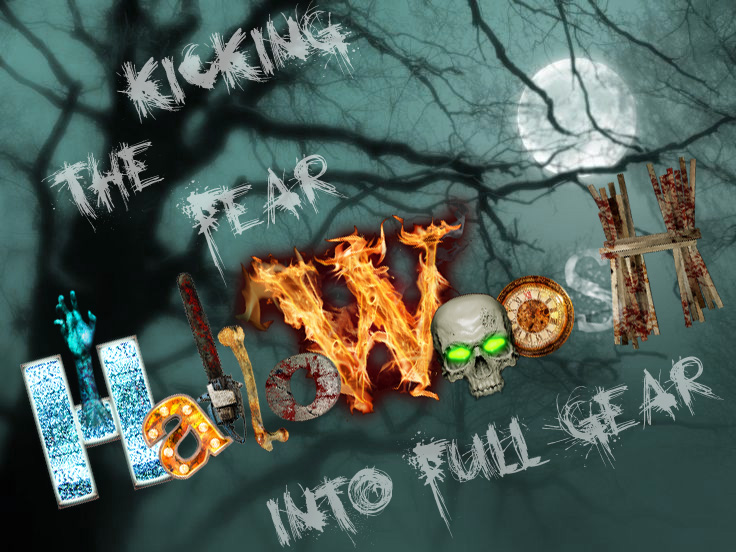 This attraction was reviewed on October 20, 2019 by Team Hallowoosh.
How Do We Get These Scores?

Final Score:

8.45
How Did We Get This Score?

Summary:
The sun was practically still shining by the time we had arrived at DeMeritt Hill Farm in Lee, New Hampshire. It was a perfect fall day in New England and we had the perfect plan to wrap up this amazing autumn weekend. With some newfound appreciation of how to direct and manage a haunt, we decided a trip to the area's most notorious haunted attraction would be the best way to wrap us this amazing weekend, Haunted Overload!
2019 marks the tenth year Haunted Overload has been nestled in the woods of DeMeritt Hill Farm, and their 14th year as a professional attraction. It is hard to believe that such an incredible world was born in the back yard of owner Eric Lowther's Exeter New Hampshire home back in 2001. What started as an elaborate Halloween display has grown into what many people in the industry regard now as one of America's best!
I have been fortunate enough to never miss a single year ever since they moved to this Orchard farm. Watching it grow and change over the years has been one of the coolest parts of my Haunted Attraction escapades. I look forward to many more years of seeing how this world chooses to expand and encapsulate the essence that truly is Halloween!
---
Cast: 7.05
How Did We Get This Score?

Haunted Overload employs a great variety of different characters. They have not always been the same or had the same function from year to year. But, one thing that has been relatively consistent is the fact that each character is unique.
I can remember one of the more respectable attributes about Haunted Overload in the beginning was when they admitted that everything they had was hand made by them. Any mask, costume, or props were all designed for a character and this obviously lent itself to better character development. I remember a howling werewolf lurking in the woods that year, and it really creeped me out. As the years went on, I saw new actors come in. Obviously the attraction became bigger and, therefore, more actors were added. While I can say that there are always a few actors at this haunt that I really enjoy, no matter what year it is, as a whole, the cast plays more into the spectacle of what Haunted Overload is. Once in a while, someone pops out from behind a structure. But, for the most part, they lend themselves to the overall masterpiece of art that makes Haunted Overload so incredible.
When we went through their haunted mansion set, we were delighted to talk with the few actresses inside. With us complimenting almost everything we saw, they had to tell us about the back story of everything we were looking at (More on this in "Theme" below)
Once she finished the story my eyes were wide opened thinking to myself two things; That's an awesome back story and this place just got so much cooler, and wait a minute how the heck was I supposed to pick up on any of that as I came through? When I mentioned how people couldn't possibly read into that stuff when they pass through this haunted mansion she told me what the real deal was. When they tried to tell the story, all it did was back up the guests and made a huge line of people again, they didn't really have a choice but to just let people go through. They even once had a projection of a mother and her baby right over their dead bodies to show they were ghosts in one of the previous years. But they needed the projector for something else.
So we learned that the dedication to the characters are there, they just don't always project what they are about.
Although the majority of the actors were stationed where they stood for the evening, there were a few who made the most out of roaming the whole attraction. We were rather creeped out by one in particular that seemed to be around every corner. A black-cloaked deer skull demon with red glowing eyes. We made our way all through the woods and could see him popping up in random locations… sometimes not in our immediate area, but on the other side of a fence or a box entertaining an early group. Another guy we really liked was acting like just another decoration hanging out on the side of a fence.
Many of the queue line actors move around quite a bit too, naturally. Again though, for the most part, they tend to walk around and stare at the guests and pose for pictures. But, they are a lot of fun to look at. Sometimes, if a guest is not paying attention, the actors will make their way behind them and frighten their whole group. Or, they might lunge at the guests if they are staring too long. But, we did find a few that were made for creating their own dialogue: the witches (who are always fun), the clown on the tricycle as we entered the tent, and I can't ever forget the redneck playing the banjo made out of human remains!
Yes, the majority of the actors at Haunted Overload seem more like they are displaying their own costumes more than trying to scare the guests. But, pay attention, because there are some awesome actors lurking in those woods and you don't want to miss them.
---
Costuming: 8.45
How Did We Get This Score?

If you go onto Haunted Overload's website, you can search through their archive of photos for every year, and you'll see that they have three albums for every season. One of them is focused on the actors. It's fun to see how much they've added to the show since the beginning. As the years go on, you might notice a few masks that might not be custom to this attraction, but they've added quite a bit since the beginning days.
As it is every year, Haunted Overload doesn't mess around with half-assing the look of anything. The costumes are no exception. The wardrobe, in most cases, has to do much of the talking. What comes to mind are a lot of the demon and ghost ladies in the attraction. We recognized a few of them from last year because they made such an impression.
One demon is completely in all white, even her tall horns, except that her eyes look like they have been gouged out. She stays in the black light portions of the haunt and it makes the white of her costume stand out like crazy.
Another girl is dressed in a traditional nun's tunic and cowl when I saw her in the distance. Getting closer and closer to her face I realized her eyes were completely blacked out and she had horns growing out of her head like a ram. She too liked to stay in the appropriate lighting, usually a hard red and yellow. The color fit well with her demon-like character, who had an upside down cross painted on her pale white forehead.
Probably the biggest array of costume and make-up talents can be seen at the 'Sinister Circus! They've got Freaks! They've got Geeks! Enough to make your bladder Leak!' That was beautiful; thank you crazy clown lady on a tiny bicycle!
Anyways, we got a lot more than just some clowns running around in the circus tent. We were introduced to the circus by a strange clown-like girl in a rather old fashioned-style carnival get up. She had a bald head with a giant mount of a head popping straight out the back, and pointy teeth. Head to toe, there wasn't a shred of anything normal on this one.
The same can be said for the freak show actors. They had the snake woman, the bearded lady, a musical hobo clown, and even what I'm pretty sure was a contortionist. Snake woman was probably the most unique, with her complete snake mask that wrapped around her whole head. She even had a bunch of rubber snakes wrapped around her and one nice coral snake she liked to play with.
A genius thing about one of the demons' mask: it was one of those movable jaw masks. Not just the latex that wraps around your chin tightly. This one seemed to have a mouth piece inside of it that maybe the actor could bite on and it would move some gears and springs to open and close to mouth piece of the mask. I could hear the tiny squeaking of those springs moving, but he was doing it in such a way that made him look like a very simple animated prop, and I don't even know why I thought that because there is next to Zero animatronics at Haunted Overload. This guy jumped out at me and freaked me right the hell out! Pretty sure he is the same guy that got me last year with a similar costume, but not the same. Just something about how fast he is and the way he moves. Maybe it's knowing that everyone else will stay put, but this one was different.
---
Customer Service: 8.31
How Did We Get This Score?

The particular stretch of Lee Rd. in Lee, NH where Haunted Overload resides is rather dark and there aren't many street lights. But, we always know we are getting close when we see the police cruiser lights signaling the entrance to the event. The actual attraction itself is in the woods that more or less divide the parking lot and the road. But, it is heavy woods and doesn't let out much light. Even the parking lot isn't illuminated enough to easily be recognized from the road. I wouldn't say you could just drive in the general direction and know where the event is easily without the cruiser's lights. But, just in case they are not on or the cruiser is not there, and there is no one available to guide you into the parking lot, just drive slow and careful and look for the signs.
Haunted Overload says they 'strongly recommend' buying your tickets online because you can technically purchase some tickets at the bakery store on site. I am telling you to buy your tickets online. They have sold out every single night this season and they only have a limited amount of tickets to sell each night. Plus, it costs more to purchase them at the door. Don't be that person who shows up thinking you can do whatever you want. This event is getting to its maximum in ticket sales and there is no telling whether you will be able to go through if you show up without a ticket already purchased.
The staff is always helpful enough, even though they are running all over the place all the time. One thing I've never really understood is the time slot tickets. It has never been like some other places where you purchase your time slot and that means you can show up at that time and go through whenever you want. Absolutely not. It would be better if it worked that way, but I think that is up to the customer. If your time slot says 9pm, then what are you doing showing up at 6:30pm and waiting in line? That is part of the reason why the waiting line ends up being a thousand feet long. Unfortunately, even if you did show up just to wait to get into line for your time slot, there isn't much in the way of making a night out of a visit to Haunted Overload.
DeMeritt Hill Farm has a great bake shop with fresh-picked and -bagged apples and cider and hot beverages. It's a definite must when visiting. There is only so many cider doughnuts I can eat before craving some haunt action. They also have a very small petting zoo with a few ponies if they are feeling friendly enough to greet you. Other than that, there really isn't much else to do there before or after the haunt. But, the haunt itself is a wonderful sight to behold, so it is always on the "must do" list every year.
---
Atmosphere: 8.96
How Did We Get This Score?

The smell of the sweet apples in the orchard and the bakery cooking away a storm in the cider house is always a warm welcome into this amazing display of Halloween madness. Unfortunately, we would have to wait a bit longer before diving into the amazing confectionery masterpieces, due to the store not being open. But, we took our time admiring what there was to admire on the outskirts of the woods where the attraction lays. The ever popular Jack-O-Lantern scare crows hung high over the new waiting area fence and their faces glowed just enough to make an impression.
The absolute best aspect of the waiting line is the fact that is practically IS the haunt! Technically, we did not enter the haunt until after seeing and going through four or five structures, a handful of actors, and a crazy 50 foot tall Jack-O-Lantern king overlooking his crazy jack-o-lantern patch. They scanned the tickets in a little witch hut right outside their skull fortress entrance. So, without paying anything yet, we got a good maybe 500 feet of Haunted Heaven for free! We could take as many pictures as we wanted before we went into the Skull fortress. Sure, it might have taken us over an hour to get there, but at least we got to see something!
We also got started with their brand new 20 foot tall reaper. This section runs right along the tree line before the waiting line trail takes a left turn into the woods. Right before the turn, and on the other side of the path, there is a small patch of land connected to one of the farming fields. They put a few more hanging scare crows on this little patch. I've always really liked it because there is no woods behind those scarecrows. A lot of time, there will still be just enough light in the sky and no light on the scarecrows at all, making a nice silhouette and the breeze blowing the little strands of burlap hanging from the dead wood. It always gets me a little more into the spirit.
---
Special Effects:

9.56
How Did We Get This Score?

Haunted Overload is not known for elaborate mechanical scares. In fact, I can't even remember seeing one animatronic in the entire 10 years I have been visiting (I may have, just can't remember). They did get a laser vortex a long time ago, and it acts like the weird portal you go through to enter the world that is both Haunt and Halloween combined. But, other than that, the magic is in the buildings and sculptures they have made.
If you are a haunt enthusiast, then you have heard of Haunted Overload, and you have seen their amazing work: the tall reaper skull made out of tree trunks, the giant lizard, the crazy haunted mansion, the big circus tent, even the cool death train; it's all been photographed as epic photos for the haunt community. If special effects are supposed to make people say, 'Wow!' when they see them, then this place makes more people say, 'Wow!' to things that aren't and can't be plugged in. But, I can admit the fog and the colored lights help a lot.
---
Theme:

8.83
How Did We Get This Score?

We've stated before that the theme to Haunted Overload feels like it is absolutely the World of Halloween. We say Halloween because it definitely has it's own vibe to it that most haunted attractions don't bother to play around with. A lot of other haunts want to 'scare' you. Haunted Overload want's to 'show' you. Beyond that, if you get scared in the process, then that's perfectly fine with everyone.
Since we arrived very early this year, we were given the opportunity to check out the attraction before the lights were turned on. Quite a few of the actors were already in position, and it was fun to chat for a minute with them. When we went through their haunted mansion set, we were delighted to talk with the few actresses inside. With us complimenting almost everything we saw, they had to tell us about the back story of everything we were looking at. This particular set went up in 2015 and I could have gone another decade or two not knowing there is a whole story to this place.
Probably my favorite characteristic about the place is that it was built around a funky growing tree, but it was made to look like the tree is growing through the house. As I looked up to see where the tree was breaking through the second and third floor I barely paid much attention to the hanging man prop on the second floor right above me. That was when the ghost bride began to tell me he is actually her dead husband, and that the skeleton in the wedding dress rotting away on the couch right next to me is actually her own body. She was in a wedding dress too, but I only ever assumed that she was the ghost of the rotting corpse on the couch. Then, the tarot card reader had to dive into the entire story and make the place so much more extravagant.
There were two sisters, Lilly and Pearl, their old photograph was hanging on the wall with a few other photos. The two owned the mansion and were part of the occult. They hired this tarot card reader, but didn't know that she was 'a fake,' or not as skilled or a real evil witch or something. She summoned a demon (who I think they named 'Supistlavi,' maybe?) who placed a curse on the residents of the manor to go insane. This makes Pearl kill her baby and we see a setup for that right when we enter the manor. Lilly wants to marry her husband even though there is a funeral going on in the next room. When he says no, she dies of a broken heart and he realizes it's his fault and hangs himself. Apparently, his name is Nigel and the whole Mansion is called Abadon Manor. The tarot card reader was cursed to roam the mansion forever, because it's all her fault.
There are sections of the haunt that stick to their own theme like this, such as the circus tent, but these only last for a minute or two each.
The whole back story that we heard put a spin on the theme category for us. We checked the website hoping maybe there was more to the story. We did find that there is a little bit of a back story to Haunted Overload. Something about a strange man coming into a town that is well forgotten now. He cursed the land and brought forth the dark demons to take over. The majority of the cast are 'demon' like or, at the very least, they are like beings that have their own unique history. So, the theme plays out well enough.
---
Scare Factor:

7.55
How Did We Get This Score?

There were a few surprise attacks thrown at us, but not many. We were not expecting many to begin with. Most of the time, we are left awe-struck by the sheer size of these works of art. The scariest thing is the fact that we aren't protecting our exposed necks when we are staring up into the forest's canopy.
However, this year had a few surprises. All-new structures this year really made me take a step back first to see if it was safe, and then to appreciate the art. There was a brand-new church where the Nun stood over a pile of bloody bones inside. Later, we found a downhill trail with wooden planks on either side reaching about fifteen feet high; it felt like a Haunted Overload Canyon or Chasm.
My absolute favorite was the brand-new nursery / doll house! They took out one a few years ago and I really liked that one. Now, they have a brand-new one and it is creepier than anything! First off, the house that this room is in looks like a giant grabbed it by the top and the bottom and snapped it's neck and just left it there like that. Inside, there must be hundreds of dolls either hanging or sitting or standing or whatever, but they we all staring directly at me. It was almost like they haven't seen fresh meat in days and they all came out to take a look as it walked by. There were all kinds of dolls too; not just cheap ones. Some were actual, authentic, respectable, retro dolls, and they were all black light painted! So, if the dolls weren't creepy enough, now the things glow!
---
Entertainment & Value:

9.23
How Did We Get This Score?

Ticket prices are still just $26 dollars online, and $31 if you must purchase a ticket on-site at the bakery shop (if they have any available). It took us still a solid 25 minutes to walk through, which is weird considering they added new structures to the trail, but they must have rerouted some other parts of the trail too. So, the minutes per dollar score remains the same as it did in 2018 at 0.96. A dollar a minute isn't bad at all considering what you are actually getting. You could be stuck in a corn maze for 2 hours for 2 quarters; what would you rather do?
Again, considering the fact that you don't even pay to go through almost one sixth of the haunt because it is part of the waiting line, this place is excellent for the price!
A portion of the proceeds has gone to help the Pope Memorial Humane Society (Cocheco Valley Humane Society) that helps rescue animals. Haunted Overload has been a huge supporter of this organization for a very long time and it is a great program.
Haunted Overload is also regarded as one of America's Must See Haunts by multiple sources! So, is $26 worth the trip? Damn skippy it is! Typically, they open the second weekend of October every Friday through Sunday, and the last few Thursdays of the month as well (depending on the how the month falls).
So, get your friends and family, purchase as many tickets as you possibly can, bring an empty cooler for cider, and go have a great October evening at Haunted Overload!
---
How Did We Get These Scores

Promo Images:
Click to Enlarge
---
Guest ReviewsGuest Average: 9.34 out of 10
Carol Salemi – 10/10 – October 28, 2017This place has to be seen to be believed. Between the giant woodsy sculptured characters and the …show more amazing sets it is a breathtaking site. It has the most beautiful artistic lighting effects I have seen anywhere. The handmade props, wonderful costumes and creative makeup add finishing touches to all the characters that inhabit this scary place. PS- I am one of those actors that has worked for over 20 years at several haunts across the country and give up the paid gigs to volunteer here because it feeds the need to be both scary and artsy while having fun with your fright family.
Spooky Kisses – 9.02/10 – October 15, 2021https://www.youtube.com/watch?v=a9iAoYvuXEQ this is my youtube video part 1 we also have part 2 – I …show more personally thought it was gorgeous and amazing art work w giant structures – I felt like the scare actors became my friends after shooting there 5 times – I fell in love with it and felt like omg! they are going to cast a spell on me and I will start working there like a zombie lol
Jon – 9/10 – October 21, 2022This haunted attraction is great. From the physical setup to the characters, they do a great job. …show more The only draw back, and I mean only, is this haunted venue has a loooooong line to get in. The wait to go thru was an hour and forty minutes. We got there at 850P for our 9pm tickets and did not get into the attraction until 1030P. Yes it was a long wait but was well worth it!