Haunted Overload – Full Review
Haunted Overload is a Haunted Attraction located in Lee, NH.
20 Orchard Way, Lee, NH 03861View All Details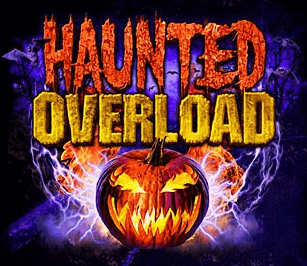 Features:

Free Parking, Food/Concessions, Gift Shop/Souvenirs, You will NOT be touched, Original Characters, Uncovered Outdoor Waiting Line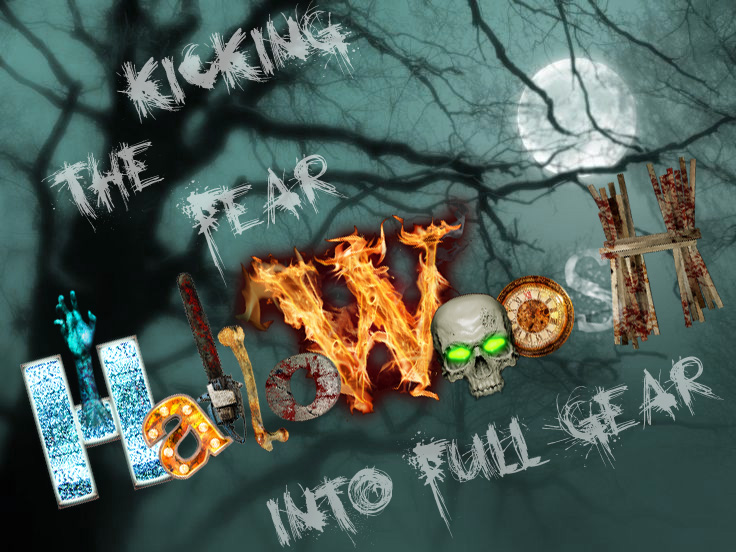 This attraction was reviewed on October 16, 2021 by Team Hallowoosh.
How Do We Get These Scores?

Final Score:

8.78
How Did We Get This Score?

Summary:
It's been an incredible sixteen years since Haunted Overload became more than an elaborate backyard display and began its journey to become one of the most talked-about haunts in the whole world. Sometimes I have to stop myself while I venture through this excellent work of art and appreciate the fact that I'm standing in the middle of something that people from all over the globe travel to see.
The crew at Haunted Overload have gone well above and beyond to create this world. I say the same thing every single year; this is as close as you can get to walking into the world of Halloween, outside in the cool, crisp breeze of autumn and tucked in the beautiful woods of New Hampshire. And at night, the area transforms into a phenomenal collection of haunted artwork that would baffle even the most creative minds in the film industry.
Throughout the year, Haunted Overload is constantly uploading new videos and photo shots from within the attraction. It's a little unreal every time I check social media in the early spring when snow is still on the ground, and the owner and crew are getting everything ready. I believe, this year, they paid a lot of attention to their new shipment of skeletons. Pretty sure they already had about a thousand skeletons, but there they were with another little army of bones. And if it's not detailing props in the off-season, I can always count on seeing a few pictures of actual literal forestry work! At the beginning of March, when it's still 40 degrees outside, they are up on 50-foot ladders cutting down limbs. All so they can provide us, guests, one hell of a show seven months later.
---
Cast: 8.42
How Did We Get This Score?

The characters at Haunted Overload have always been a bit unique in my perspective. This attraction is unlike the majority I've seen, where actors have an area to hide in and told to pop out when the guests come through. There is very little of the 'popping out' style at Haunted Overload. I think of it more as a creepy village of characters who were minding their own business until the customers started walking through their town and giving them weird looks. Many of the characters I see are usually strolling through the areas, almost like a living museum.
However, there are plenty of characters that have their own designated areas. The funhouse always has their band of freakshow performers. The church is known to house a dark priest with a goat head and a horned nun. It's always a fun treat to see the redneck character playing his banjo.
And this year, we got a special treat in the waiting line with a few brand new characters. They had much more dialogue than any character I've ever seen before at Haunted Overload because they mainly improvised their interactions with every guest who walked by them. It started as a doctor and a nurse with German accents making regular comments about the weather and how fun it is to wait in line. Then another one came into the picture and interacted with them about finding more 'test subjects.' I noticed a few of these characters hanging out all over the central area outside of the ticket booth. Almost all of them had their mini speaker and microphone, so plenty of guests could hear what they were saying. There has always been more than enough haunted Halloween eye candy to gawk at while waiting in line, but this year, it was nice to see a few interactive characters playing with people right before we headed into the main attraction.
---
Costuming: 9.43
How Did We Get This Score?

Before I even visited Haunted Overload for the first time, I remember reading an article that talked about how they were one of the only haunts that only use costumes and makeup that they have created. Every single mask and piece of clothing was custom-made by them. And that style of haunting still is alive and well today at this incredible attraction. Costumes and masks at Haunted Overload are not general pieces that I have found anywhere else. They are all customized and detailed to a level that makes them very unique to their characters.
I've always enjoyed the wide variety of different masks at this attraction. Quite a lot of characters wear a mask that transforms them into creatures of the night. And when I say 'creatures,' I do mean creatures! Some of these masks are actual skulls of animals. Others are something out of a deranged creative kid's nightmare that I can barely begin to describe. Most of the time I was there, my head was going in all directions, trying to take it all in. Then, out of the corner of my eye, I see something moving right next to me. I didn't even have time to realize that it was a seven-foot-tall, blackout eye socket bone face, long black fingered, ceremonial robe wearing, shaman sort of creature with a bird's nest on top of their head. That's too much to take in, even if they were standing in the spotlight directly in front of me. This attention to detail is just to describe ONE of the many crazy creative and unique characters, and another excellent reason why this attraction is appropriately named Haunted Overload.
---
Customer Service: 8.24
How Did We Get This Score?

Haunted Overload is located at DeMeritt Hill Farm in Lee, New Hampshire. A small patch of woods (that doesn't feel small once you are inside) sits between the road and the open fields of the orchard. Although the haunt is full of colorful lights, it's not very easy to see it from the road. You'll be able to find the entrance marked by a police cruiser with their red and blues flashing. A big apple sign with DeMerritt Hill's name and a traffic attendee waiving people safely into the property is directly across the street. There are two parking areas, and the one closest to the attraction fills up quickly. Before the introduction of timed ticketing, the lots would fill up much faster.
Speaking of timed ticketing, this isn't a new concept for Haunted Overload, but they enforce it much more now. After a few years of visiting this attraction with no online tickets, I had to pray they still had one or two tickets for sale. Luckily, I never had an issue, but I came very close to being denied entry on more than one occasion. For the last few years now, they have been scanning the tickets practically inside the attraction itself. Guests walk through a good handful of displays before even showing that they've purchased a ticket for the evening. And now they have a little tent set up closer to the parking area where a few people will remind guests that the ticket scanning happens within the haunt and to have your phone or printed out copy ready.
---
Atmosphere: 9.76
How Did We Get This Score?

Something that might surprise other fans of the haunted house industry is that Haunted Overload doesn't have any animatronics. While most haunts have, at the very least, one or two props that come to life when the guests walk by, you won't find any of those at this attraction. But, what they lack in a few items that many other haunts have, they make up for tenfold in other areas.
I've never been to another haunt where I can look up into the canopy of trees and see almost every color of the rainbow reflecting down at me. I've never seen a place do so well with creating their very own world made out of scrap wood and twigs and branches and somehow bring it to life without making them move. The sounds pumped into the woods constantly put me in the mindset that I have crossed over into another realm.
For those who have never heard or seen anything about Haunted Overload before, their big claim to fame is large towering structures entirely made of scrap pieces of wood. Some of which the guests walk straight into because that's just how big they are. And many of these monstrosities look as if evil gods have taken over the area and tried to rise up from the ground. All the possessed elements of mother nature gathered around to form some kind of face, and now they are frozen in time. Every time I walk through them or past them, I feel like I am being watched. Almost like when you walk by a creepy painting, and you could swear their eyes are following you. I can honestly say I have never seen anything quite like the spectacle that is Haunted Overload
---
Special Effects:

9.4
How Did We Get This Score?

The journey into Haunted Overload can begin at Diana's Bakery right in front of the parking area. While DeMeritt Hill Farm is an excellent apple orchard, the bakery is a must for any visitor. We pick up a few apple cider doughnuts and some fresh cider every year we go. And, this year, they also have gluten-free options and plenty of other baked goods. Some of these include whoopie pies and apple dumplings, and even some cotton candy!
As we made our way into the attraction, things quickly went from light-hearted to dark and spooky. We walked down the tree line of the woods, passing jack-o-lantern scarecrows and corn stalk huts along the way. We even got to see the headless horseman on a real black horse! Continuing the walk down the path, we looked to our right over the hill and caught the last glimpse of a night sky before going into this thickly settled forest full of evil.
The attraction does not officially start until you reach the skull castle. But, on the way there, we traveled through what felt like a five-minute adventure into the world of Halloween! There were giant reapers, a witch-burning scene, and plenty of wooden demon heads with fog pouring out of their mouths! Plenty of queue line actors walking back and forth caused many guests to scream out loud just from looking at them. At the time, there was no confusion that we were in a haunted attraction. If there was any confusion at all, it would be that we thought we got in for free because we were clearly inside an attraction already!
---
Theme:

8.15
How Did We Get This Score?

The story of Haunted Overload begins a long time ago in a small secluded village that once stood here. A weary and suspicious traveler came through the town and was looking for shelter. The townspeople did not think too kindly of the stranger, especially when he revealed his evil powers. They captured him and hanged him over a rock. But, his body vanished from the rope, and the only proof of his existence was two demon footprints that somehow carved their way into the rock beneath the hanging branch. A curse was put on the town, and an evil spirit consumed it. All the townspeople then became creatures of evil. The buildings became rotten and fit only for the vilest of characters. Anyone who passed through the town would also succumb to this evil spirit. And now this town of evil rises every year in October, yearning to claim its next residence.
---
Scare Factor:

7.7
How Did We Get This Score?

Despite the screams we hear coming pouring out of the woods every year, I've always found that the beauty of Haunted Overload is much more captivating. Of course, plenty of people get an excellent scare at this attraction, but I just can't take my eyes away from these majestic works of art. That said, Haunted Overload is still one of the creepiest haunts I have ever visited!
The scariest part of Haunted Overload is that they must have at least five hundred static bodies placed everywhere! They have bodies wrapped in white sheets, bodies covered in rotting burlap! And now even bodies wrapped in twigs like a bunch of vines attacked them! Furthermore, I never know if I can trust that they are just static props or if they are someone waiting for me to get too close. These things are everywhere, hanging above us, and hiding behind every corner! The thing that makes Haunted Overload so incredibly creepy is that we NEED to point our eyes in all directions at all times because the scares and the sights are everywhere!
---
Entertainment & Value:

8.85
How Did We Get This Score?

Haunted Overload has tickets for $28 on a timed ticketing system. They also offer a day walkthrough on select days for only $8. The trail this year took us about 24 minutes, which isn't much different from years past. And I always mention how there is a good chunk of time spent in the waiting line that is pretty much a haunted attraction experience of its own. The timed tickets are timed for when you can park your car and not when they will let you enter the attraction.
So to make the most of your night at Haunted Overload, I would strongly suggest getting there early. Enjoy some, or all, of the delicious goodies at the bakery before they close or sell out. And enjoy your time surrounded by the amazing sights they have built for your viewing pleasure. Haunted Overload truly is a must-see attraction that thousands of people from all over the world come to see!
---
How Did We Get These Scores

Promo Images:
Click to Enlarge
---
Guest ReviewsGuest Average: 9.34 out of 10
Carol Salemi – 10/10 – October 28, 2017This place has to be seen to be believed. Between the giant woodsy sculptured characters and the …show more amazing sets it is a breathtaking site. It has the most beautiful artistic lighting effects I have seen anywhere. The handmade props, wonderful costumes and creative makeup add finishing touches to all the characters that inhabit this scary place. PS- I am one of those actors that has worked for over 20 years at several haunts across the country and give up the paid gigs to volunteer here because it feeds the need to be both scary and artsy while having fun with your fright family.
Spooky Kisses – 9.02/10 – October 15, 2021https://www.youtube.com/watch?v=a9iAoYvuXEQ this is my youtube video part 1 we also have part 2 – I …show more personally thought it was gorgeous and amazing art work w giant structures – I felt like the scare actors became my friends after shooting there 5 times – I fell in love with it and felt like omg! they are going to cast a spell on me and I will start working there like a zombie lol
Jon – 9/10 – October 21, 2022This haunted attraction is great. From the physical setup to the characters, they do a great job. …show more The only draw back, and I mean only, is this haunted venue has a loooooong line to get in. The wait to go thru was an hour and forty minutes. We got there at 850P for our 9pm tickets and did not get into the attraction until 1030P. Yes it was a long wait but was well worth it!