Haunted Town Hall – Full Review
Haunted Town Hall is a Haunted Attraction located in Lafayette, OH.
103 S High Street, Lafayette, OH 45854View All Details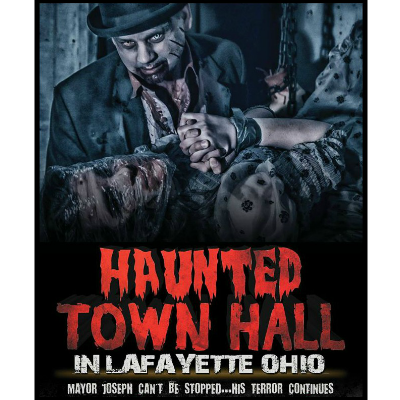 Features:

Free Parking, Restrooms/Porta Potties On-Site, Gift Shop/Souvenirs, You will NOT be touched, Original Characters, Covered Outdoor Waiting Line, All-Indoor Attraction, Family Friendly

Team Mysterious Misery reviewed this attraction on October 21, 2017.
Final Score:

7.37
Summary:
There is something strange about the Town Hall that sits on High Street in Lafayette, Ohio. The corrupted Mayor Joseph and his friends on the dark side are blood thirsty. When you pull up you will realize you are not in your safe zone.
Ned and his horde are back again this year making new nightmares happen. If you were fortunate enough to go to the Town Hall last year it is safe to say you can make a trip back this year and things will not be the same. The team created four completely new scenes, which also brings about new costuming and new roles for the cast. If you are feeling lucky enough, adventure into the five minute escape room called Containment. Although there are lots of exciting changes this year, Haunted Town Hall still brings all the essentials that are needed for a night of punishment from Mayor Joseph.
---
Cast:

7.58
The impressive group of twenty-five actors arrives nightly with the mission to scare and entertain you. They accomplish this goal with ease and passion. This is a multi-level haunt so when you hear twenty-five actors and think this can't be enough people to be effective, guess again. Each cast member does so well that you feel like they are constantly in your face and that you might need a minute of personal space. The cast at Haunted Town Hall is very interactive with their victims. They love to have conversations with you and always relate it right back to the haunt. We tried several times hoping to throw them off topic or for them to break out of character and we were unsuccessful. Each cast member enhanced their scene and helped keep the timing of the haunt, which is important. Our stand out was Bubba. We saw him in a few places and in each place he was able to exchange interactive dialogue with us. Even when we saw him outside he remained in character. He also gave us a loving party gift, a severed head.
---
Costuming:

7.15
The costuming at the Haunted Town Hall is portrayed accurately in each scene. Masks are used effectively throughout the haunt and some also provided an element of originality so you may see some masks here that you haven't seen at other haunts this season. One astonishing thing about this haunt is that each cast member takes the initiative to help create their character by working on their own makeup. They share skills and work on it in the off-season to help each member create a skill set in their makeup applying techniques. Most costumes seemed to fit the cast for their safety. Razor definitely captivated everyone in the group not only by his height but with his whole costume.
---
Customer Service:

7.55
The Haunted Town Hall used to be a real working Town Hall so they are usually in the center of the area, which is the case for this one. It is in the middle of Lafayette, so it is easy to find. You will notice the line when you get close. The negative is it was the old town hall so parking isn't amazing. You have to park on the side streets around the building. Some changes have been made this year which put additional people as well as local law enforcement out and about making sure there is nothing harmful going on. Staff has access to each other via headsets and walkie talkies to get you the most accurate information possible. They have plans in place in case an emergency would arise. As you wait to pass the time to your death, escaped souls wander the queue lines looking to see who would make a good fit in the afterlife. This haunt is not handicap accessible as it is many levels with stairs and demented walls that make you feel like you are going mad.
---
Atmosphere:

7.5
When you arrive at 103 South High Street in Lafayette there is no doubt that you have reached a haunted attraction. The vintage building has classic bricks with the glow of bright red lights beating against it. It has black letters that say "Town Hall" on the front of the building. Again, in true town hall fashion, it is in the middle of the town. Upon arrival you will see a line wrapped around the brick building of people dying to get in. You will hear the clamors and chatter of people in the line. You will hear people screaming from inside and see some of them trying to run out in terror to save their lives. While you are insane enough to stay in line you will meet some of Mayor Joseph's victims.
---
Special Effects:

7.07
Haunted Town Hall did a favorable job at knowing when to employ their special effects and when basic would be just the right amount. There were scenes that were just totally dark and the placement of these areas were highly effective. Then there were scenes where the lighting took over and helped set the story. Some areas were quiet which was good because you needed to communicate with each other to get out alive. There were other areas with music and other distracting sounds so they could keep your focus off of becoming Mayor Joseph's next victims. The scenes were very well detailed and that helped make some of the basic effects seem even more realistic. One of our favorites were the walls in a particular area. If you have seen drunk Uncle Jim Bo staggering after a binge, he will have nothing on you as you try to make it through the walls. The court room will definitely hold your attention because of the realistic possibilities. Just remember the trap doors will get you every time.
---
Theme:

7.7
Major Henry Joseph was a good man with good intentions for his community. That changed when he took office and had to step inside the Town Hall. The sickness manifested and took him over. Mayor Joseph changed to a power hungry, greedy man. He ran the town with a hand that was so firm that most of the time blood was on it. The residents speculated that the mayor got sucked into something dark but the speculation became rumors when he was found face down on High Street after 'committing' suicide from the window.
This is the story you will hear at the Town Hall. You will also hear the legends of how it is truly haunted from all the victims of Mayor Joseph. The Haunted Town Hall does an exceptional job at its theming. From the moment you meet the Mayor you can follow the same process as some of his victims as they tried to escape. However, there are a few things that just don't seem to fit with this theme. The items are scary but if consistency in theme is what you are looking for, these few areas will be noticeable.
---
Fright Effect:

7.13
Haunted Town Hall has a good story and legitimate information to support their story. Haunted Town Hall employs different types of scares that are not predictable. Instead, the scares seem to come out of everywhere and hiding in all the places you least expect it. Some of the good old fashion haunt basics are here and they are utilized effectively. Blacked out trap doors seem to be hiding and the loud noise in conjunction with an effective cast member is a double threat to those easily scared. Tormented souls who can keep you engaged to help distract the evilness coming at you can also lead to a bad night. In the parts where things might not have been insanely scary to us, they were amusing.
---
Value:

7.35
This two story brick adventure gives you about seventeen minutes to find your way out before it is to late. The admission for just the haunt is $10 for adults and $8 for kids 12 and under. So this haunt gives you 1.7 minutes of fright for every dollar you spend. If you are feeling especially lucky you can add on the new 5 minute escape room, Containment, for $7.00 extra dollars. So we think at $10.00 for this haunt is an exceptional price but we think the best deal is when you join the escape room and the haunt for the bonus combo ($15.00). The night we attended the line was super long so you might want to take advantage of the fast pass offer also.
General Admission: $10 per an adult
$8.00 for children 12 and under
Escape Room: $7.00 per a person
Fast Pass for haunt: $20 per a person
Escape Room & Town Hall: $15.00 an adult,
$13.00 per child
Ultimate: Fast Pass Escape Room and Haunt: $25 per a person
---
Promo Images:
Click to Enlarge
---
Guest ReviewsGuest Average: 9.67 out of 10
sarah – 10/10 – September 28, 2019The Haunted town hall is a very family friendly place with tons of things hidden and i personally …show more love going here because they always catch you off guard!!
Josh – 10/10 – October 6, 2018Great haunt, worth more them $10 !!
Will be returning next year !!!
Niki – 9/10 – October 14, 2014It was indoors! So many rooms, so many scares! We loved it!
---
Past Awards
---
2020 Awards
Best Costume - Razor (Given by: Team Mysterious Misery)
Best Theme (Given by: Team Mysterious Misery)
---