Haunted Town Hall – Full Review
Haunted Town Hall is a Haunted Attraction located in Lafayette, OH.
103 S High Street, Lafayette, OH 45854View All Details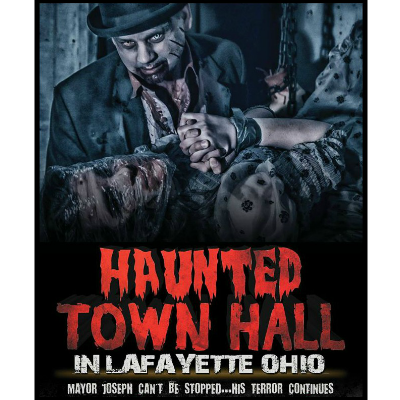 Features:

Free Parking, Restrooms/Porta Potties On-Site, Gift Shop/Souvenirs, You will NOT be touched, Original Characters, Covered Outdoor Waiting Line, All-Indoor Attraction, Family Friendly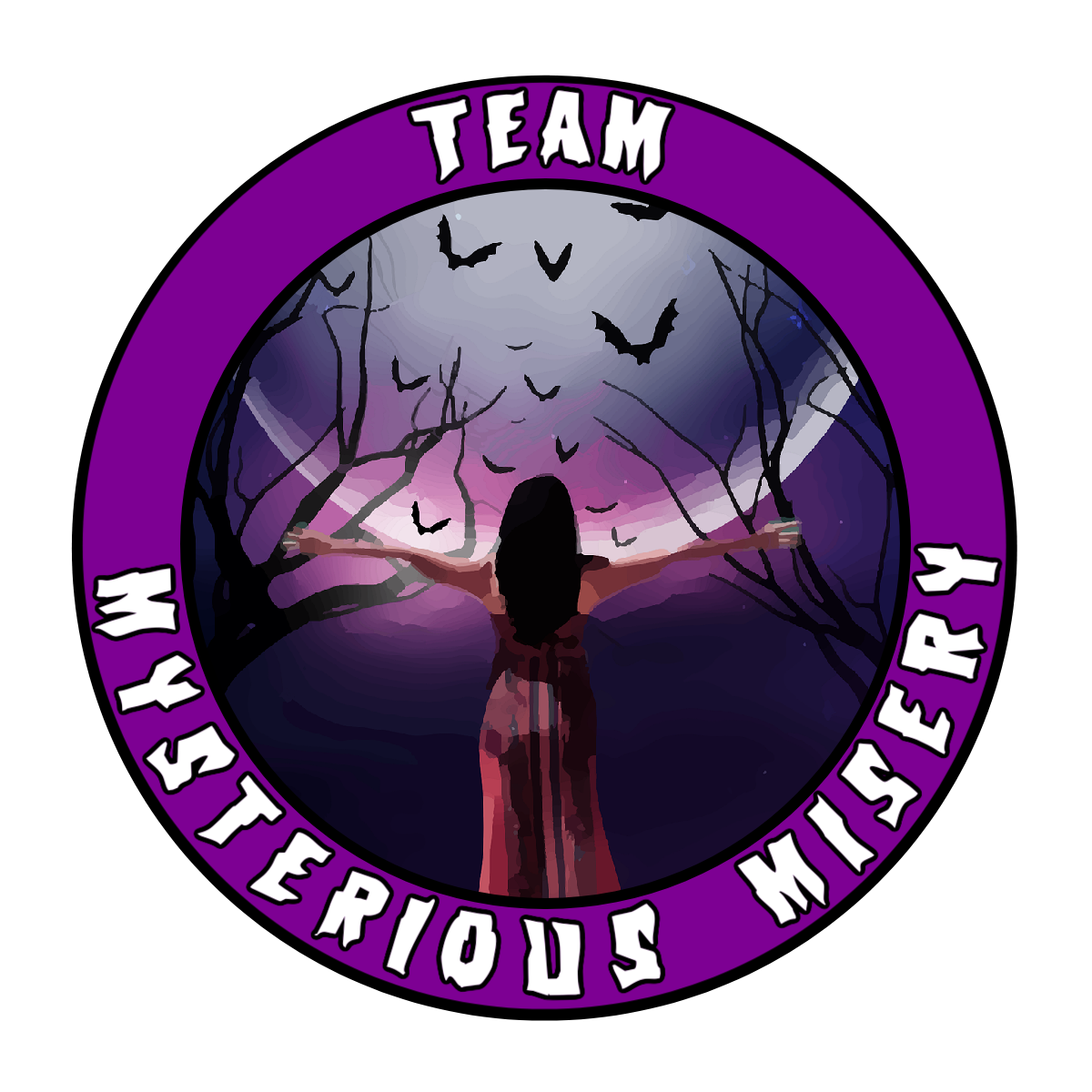 This attraction was reviewed on October 6, 2018 by Team Mysterious Misery.
How Do We Get These Scores?

Final Score:

8.13
How Did We Get This Score?

Summary:
The Haunted Town Hall is a two-story indoor haunted attraction that has changed every year. Ned and his team do a stellar job at telling the story of Mayor Joseph and his reign of terror. This year is no different; in fact, this year has greatly improved. This is a haunt that is budget-friendly and worth the road trip. Go find out for yourself if Mayor Joseph wanted to be done… or if the darkness pushed him out.
---
Cast: 8.12
How Did We Get This Score?

The Haunted Town Hall harnesses a horde group of Mayor Joseph's misfits. On an average night, you will get up and close and personal with at least 28 of them. However, it will feel like these creatures are never-ending because they like to get close. You will get very few chances to catch your breath as the cast does a fabulous job at eliminating dead zones and presenting high energy levels.
You will never see any cast member break character, trust me as we have tried. They do an amazing job at portraying their character and believing in themselves. They do so well at this that it is easy to get lost in the moment and believe you could easily come across BoBo and talk about the government.
The cast does a fantastic job at giving you more than just the usual, 'Boo, I am scaring you.' They offer unique conversations and interesting dialogue. They like the back-and-forth banter with patrons and they handle it very well. There is a nice variety of cast at this haunt. Each plays their role with ease and enhances the scenes.
Our shout-outs go to BoBo and a character we are calling Bubbles.
---
Costuming: 8.08
How Did We Get This Score?

The horde group at this haunt likes to be in your face, so the benefit you get to see is the details of the makeup and the great use of masks in this haunt. One of the amazing things about The Haunted Town Hall is that most of the cast members take pride in their character, so they make/put together their own costumes to match their scenes.
We were shocked to find out that the makeup is done by the cast themselves, and that the veterans help guide the newbies on how to enhance their characters. This year, to help in this area, The Haunted Town Hall has built a makeup room, so they have a space to help each other create the most hideous things you've ever seen.
An additional benefit of the cast working on their own characters is that they are very creative. Some creatures are more detailed than others, while others are so realistic that you forget you are in a haunt.
---
Customer Service: 8.16
How Did We Get This Score?

The Haunted Town Hall is easy to find; it is a 2-story building that is in the middle of an old town. You will see it lit up with signage and lights. The line that wraps around the building is a good indication that you have reached the haunt.
Parking can be tricky at this haunt, as most of it is on side streets of a neighborhood; just be patient and keep driving around. This haunt is not handicap accessible as it is an old building, but they utilize it well. They have security on site to keep things orderly and moving.
It is very easy to find details of The Haunted Town Hall. Just look at Facebook or their website to find all details from hours to even being able to purchase tickets in advance.
They have an amazing and professional staff. We interacted with Ned and Dave who were full of information. Tracy gets our shout-out here, as she does her tough job amazingly well. Tracy keeps the crowd in line from getting restless as she interacts with each group, keeping the haunt moving with her timer and being aware of it. She also walks you into the first room and gives you the run down before the nightmares start.
---
Atmosphere: 8.36
How Did We Get This Score?

The Haunted Town Hall thrives in this area with the benefit of having a two-story brick building that was once' wait for it… a town hall! This alone makes this haunt seem very legit and believable. As you drive by to find a parking spot, just the facade of the building with the lights and the energy gives you a feeling of anticipation.
While standing in line, you are presented with creatures that have escaped and it amps up the energy of the night even more. When you get close to the front, you will see a running video which prepares you for the inside. Then, you meet Tracy and she gives you the rundown; though, that won't fully prepare you for what you are about to experience.
---
Special Effects:

8.06
How Did We Get This Score?

This is our third year visiting The Haunted Town Hall and we have to say they put their game face on in this area. In the areas where music/sounds were used, they got them right. The music/sound enhances the scenes perfectly and nothing seems out of place. The scenes are creative and very detailed. Some of the scenes have small details that help make the area a more realistic experience. You can easily tell this haunt is thought-out and doesn't seem like something that is just thrown together.
Everything at The Haunted Town Hall works together effortlessly to provide entertainment. Some of the special effects you will encounter is the zombie girl, who the doctor must hold up to try to get back in. Another is a black room upstairs that we like to call shock and awe. Some of the special effects are props that you can find at a store and some are engineered by Ned and his team. The props are correctly done and provide the scares that are needed.
---
Theme:

8.25
How Did We Get This Score?

If you want to visit a haunt that does storytelling, The Haunted Town Hall is your place.
The story is about Mayor Henry Joseph who had no idea of the sickness that multiplied behind the walls of the Haunted Town Hall… before it was too late. He had good intentions until the sickness got to him, and then he changed. The changes affected everyone in Lafayette. One day, Mayor Joseph was found face first on High Street in a pool of blood. No one knows exactly what happened, but the darkness still lives. You can read the entire story on the website and it will help you understand the attraction as you go through it.
You can easily tell what the theme is by either reading it on the website or Tracy will tell you about it when she locks you in the first room. The theme is very prominent and follows through the whole haunt. The building and location help enhance this theme and makes it a more realistic experience. The theme is well-executed and you become a part of the history as the darkness creeps in. We came across one or two things that didn't seem to fit and hope the haunt will make those changes for next year.
---
Scare Factor:

7.92
How Did We Get This Score?

The Haunted Town Hall has been in this business for seven years and they have improved each year in providing a delightfully-horrifying night of entertainment. The scares come from everywhere, many are unpredictable and they have a wide variety of horrifying tricks for everyone. Drop doors are used effectively (they got me, anyway).
They have elaborate scares that keep the most veteran haunted attraction goers on their toes. The Haunted Town Hall has some small items that you wouldn't think would do much, but these small items are what I heard patrons talking about the most. They don't single out one person, they come after each person in your group, so don't think you will escape by being in the middle.
The timing is impeccable at this haunt. It is a self-guided haunt, but we never experienced one bottle neck and each scene was ready to go for the next group. The finale is not scary, but it is entertaining.
---
Entertainment & Value:

8.23
How Did We Get This Score?

The Haunted Town Hall is worth the money that you spend to visit the attraction. We are sure that you will have a good night of scares and entertainment. It took us about 17 minutes to go through this attraction, but this will depend on your group as it is a self-guided tour. At 17 minutes, and provided you pay the basic admission rate, the haunt is providing you with 1.13 minutes of scares and entertainment for each dollar you spend. If you are close by, or even if you have to road trip like us, the haunt is still very much with the trip.
The basic haunt-only ticket for an adult is $10.00 and children are $8.00. If you have a group of 20, call ahead and each person in your group will get a discount of $8.00 a person. They have a five-minute escape room that is an additional $7.00. If you want to do a combo of the Haunt and the Escape Room adults will pay $15.00 and kids will pay $13.00. On a busy night, it is worth the $25.00 Fast Pass for both the haunt and the escape room. You can buy your tickets online via the website.
---
How Did We Get These Scores

Promo Images:
Click to Enlarge
---
Guest ReviewsGuest Average: 9.67 out of 10
sarah – 10/10 – September 28, 2019The Haunted town hall is a very family friendly place with tons of things hidden and i personally …show more love going here because they always catch you off guard!!
Josh – 10/10 – October 6, 2018Great haunt, worth more them $10 !!
Will be returning next year !!!
Niki – 9/10 – October 14, 2014It was indoors! So many rooms, so many scares! We loved it!
---
Past Awards
---
2020 Awards
Best Costume - Razor (Given by: Team Mysterious Misery)
Best Theme (Given by: Team Mysterious Misery)
---