Haunted Town Hall – Full Review
Haunted Town Hall is a Haunted Attraction located in Lafayette, OH.
103 S High Street, Lafayette, OH 45854View All Details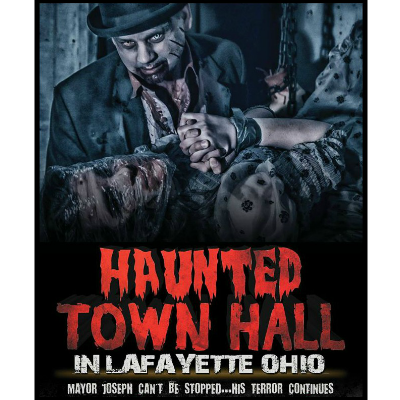 Features:

Free Parking, Restrooms/Porta Potties On-Site, Gift Shop/Souvenirs, You will NOT be touched, Original Characters, Covered Outdoor Waiting Line, All-Indoor Attraction, Family Friendly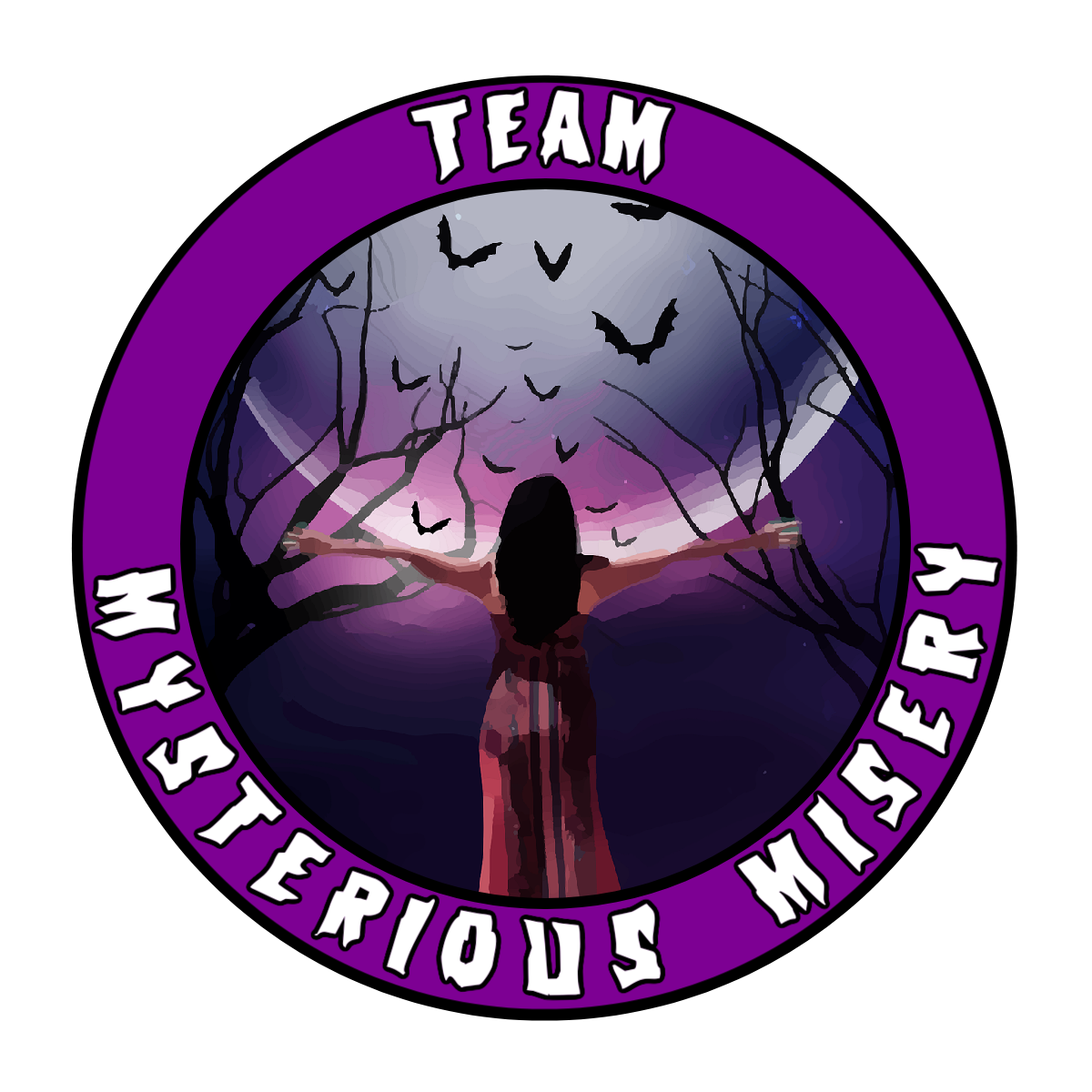 This attraction was reviewed on October 18, 2019 by Team Mysterious Misery.
How Do We Get These Scores?

Final Score:

8.15
How Did We Get This Score?

Summary:
The Haunted Town Hall is a two-story indoor haunted attraction that changes each year. This year they have added four new rooms/scenes to keep the haunting fresh. The owners have been helping Mayor Joseph keep the evil alive for eight seasons. Mayor Joseph and his reign of terror will be around every corner offering up terror and delight. You are brave enough to go in but are you lucky enough to make it out?
---
Cast: 8.13
How Did We Get This Score?

On the night we attended the Haunted Town Hall there were about 37 cast members inside serving up some wicked fears. In this two-story indoor haunted attraction, the cast seemed to fill the spaces and there were very few dead zones. They were easily able to navigate through the haunt to keep the scares going. Some had big reactions and others were just perfectly placed and eerie. The girl in the dentist room who faces the wall and leans back is so good and she never says a word. The girls that are on the floor, again, are another example of not having to say anything but providing scares.
Many of them were unscripted, which is always nice to see. I am a fan of when the cast can be on their feet and talk to you and never break character. This creates a unique experience for the guest and most of this cast could do that with no problems. One example is when Razor and I jokingly talked about how ugly another member in my party was. It may not have been scary, but it was entertaining. The brother and sister duo are very good, I always try throwing them off by talking about something random and they go with it and incorporate it into what they are doing.
The cast does a good job in their roles. They know what scene they are in and they work very hard to make it better. You will not get basic jump out and boo from this cast. They work with their props and the areas in their scenes. They interact with the patrons. They know how to offer different types of scares. From using drop doors effectively to just being in your way with a goofy grin on their faces.
---
Costuming: 8.09
How Did We Get This Score?

The Haunted Town Hall does not have a set of professional makeup artists. However, what they do have is a talented cast who have a love for the special effects of haunt makeup. Armed with YouTube and not being afraid to fail, they give it hell. Their skills stand out on many of their team members. Their creative makeup designs were detailed. They also help each character feel realistic in their respective scenes.
The costumes in this haunt vary from scene to scene. In some rooms you will find complete costumes but with just face paint. However, they fit exactly into their scene. Some rooms you will come across elaborate face paint and over-the-top wardrobes. The costumes helped keep the scene very realistic and help immerse you into the haunt.
Very few masks are utilized at this haunt. The ones that do use them, get it right. My favorites of the night were both masked creatures. First up is Razor. He is a very tall creature with creepy long fingers. His teeth are sharp and pointy. He is a complete costume even on stilts and he was amazing to see. The other one was the dragon. He is new this year. He came out of the darkness and was amazing. His details are great and he highlighted the scene.
---
Customer Service: 8.2
How Did We Get This Score?

Haunted Town Hall makes sure that they do customer service very well each night of operation. We had no problems plugging in the address to our GPS and it getting to the destination. On the drive in we noticed a well-lit sign at the end of road. It was on the corner by some popular business in the area so that you know you are headed the correct way. Parking can be a little tricky. Due to the location of the historical building there is not a parking lot, so you must park on side streets. I did notice the owners letting people know where they could and couldn't park, which I thought was helpful.
The ticket booth is well-lit and easy to find. However, to not have to stand in their long ticket line, you can buy your tickets online. You can find additional information about the haunt before arriving such as times, locations, tickets and more with a quick Google search that will lead you to the website. The queue lines are marked so that you know which line to get into based on the ticket you bought. The attraction is not handicap accessible. There are small hallways and stairs that you will climb. All the safety plans are in place for many emergency situations. They even have a sheriff on-hand nightly.
The team does a great job at being present and visible to patrons. If you have a question, they are around to help you and make sure you get all the answers you need. Two of my favorites are both the door women. One worked the door of the haunt and the other of the escape room. They do awesome at setting the tone but also being personable and answering questions.
On the night we attended, something unique happened at the haunt and it threw me off guard. A marriage proposal took place at the haunt. The team at the Haunted Town Hall did very well at helping plan the event for the groom. I am not used to seeing this type of thing happen at haunts, but it did. Haunted Town Hall told us this wasn't there first one either. Congrats to the happy couple, may you be happy until DEATH do you part.
---
Atmosphere: 8.38
How Did We Get This Score?

We traveled deep into Allen County, Ohio for this haunt. As we made our way to Haunted Town Hall we traveled on some backroads, you know the ones where the good radio stations get lost. When you reach the Haunted Town Hall, you will notice it is a two-story brick building with a clock tower and a rich history. From 1899 to 1933, the Town Hall was a focal point in the Village. The town clock was said to be a proud part of the community's history. Many local events were held in the Town Hall, but then that's when the haunting story of Mayor Joseph takes place.
To park you must drive by the haunt which has an eerie glow from the red flood lights enhancing the brick. You will see the line wrapped about the building. As you park and walk up there is an excitement in the air as patrons patiently wait or are tormented by the evilness that is outside. On the night we attended Bryan the Ghostbuster came by. Nothing like the screaming sirens coming down the street as he made a couple laps around the building. He parked his vehicle out front and made a statement that there was a lot of paranormal activity going on in this area.
You get to the white double door that has a red glow. Above the door it just says Town Hall and then you are next to go in and face Mayor Joseph. You step in with a lady and she tells you everything you need to know from the history, to the rules and what you may encounter. She then gives the clue word and the haunting starts immediately.
---
Special Effects:

8.08
How Did We Get This Score?

The Haunted Town Hall utilizes its creativity with special effects. We experienced many in-house created props which makes them unique and new to look at it. This haunt does a great job at providing many kinds of special effects and putting them in areas that will make the most impact. The special effects in the scenes work cohesively together to provide fear or sometimes a good chuckle. Each scene was well done, and nothing seemed out of place.
There were a couple special effects that jumped out at me that I'd like to mention, this way you take the time to enjoy them. There is a room in the haunt that feels and looks like it is made from burlap. It is a unique room and brings a different feeling about. The owners told me how it was made, and I would have never guessed the process that was used. Barney the Cave Demon is a special effect that is not to be missed. When I say ginormous that isn't even a good enough word to describe it. It is placed in a great position to maximize the scares in the haunt. There is a new room at the Haunted Town Hall this year call The Tomb. The whole room is created by many special effects that work together. Hearing how it came together it is the use of many skills to make the effects seem realistic and the timing to be perfect.
Some of the other effects that caught our attention were the drop doors. The startling sounds they produce get my heart rate going every time. The fog room is very different as you are waving the fog away you are not paying attention. It is a great distraction from the evilness lurking about. Claustrophobic walls, narrow hallways, lowered ceilings, and shock pads are all special effects waiting for you at The Haunted Town Hall. Will you find each of them?
---
Theme:

8.28
How Did We Get This Score?

From 1899 to 1933, the Town Hall was a focal point in the Village. The town clock was said to be a proud part of the community's history. Many local events were held in the Town Hall, but then that's when the haunting story of Mayor Joseph takes place. Sickness and darkness are now what resides in the Haunted Town Hall. Mayor Henry Joseph took office being a family man, what you would call a good old boy. However, greed and power can change anyone they say. The ugly darkness takes over the mayor as he strives to gain more power. He does more and more dark things and hurts residents, ruling with an iron fist is an understatement. Eventually, the evilness that lurks behind the doors had enough. The town found Mayor Joseph dead on the street. Some say he jumped others say the evilness pushed him because he wasn't doing things correctly. We may never know; all we know is if you go in, will you be taken over?
The theming at the Town Hall fits very well. The location and the history of the building set the stage for what you might experience. It helps the believability and makes it more immersive for the patrons. The Town Hall was many things in its day and the team uses that to their advantage by making sure the scenes help tell the story of the Town Hall. As soon as you enter the attraction, the guide tells you the story so that you are familiar with the characters as you may face them. The theme is well executed at The Haunted Town Hall.
---
Scare Factor:

7.96
How Did We Get This Score?

Mayor Joseph and all the evilness that lurks behind his doors are waiting for you at The Haunted Town Hall. They are ready to torment you and send you crying through the streets, if you can make it. They will do this with varieties of scares, special effects, and a great cast.
The Haunted Town Hall made me jump a few times. It is not necessarily the in-your-face-scares that get me, but they utilized special effects in the great places that startled me. There were rooms that I entered that I had no idea what would come at me or what I would experience until it was to late. Everything seemed properly timed so that everyone could get a good scare in your group. The only downside was the black maze is just that and if you get people in there that are too scared or just lost, it can bottleneck. In each area they seemed to single out a different person in our group. How is it that before I even entered the haunt, they know my name? They are great with distractions. They use them to their advantage and I hardly ever saw what was coming at me.
At this haunt I met some ugly creatures as well as some entertaining ones. I was shocked. I was startled. I walked in rooms where I couldn't see anything. I walked in rooms that made me feel like I was walking sideways. With that being said, I think the Haunted Town Hall has something for everyone. They try to be as family friendly as possible, but on the night we attended, we saw multiple kids either too scared to go in or crying about hallway through.
Take a night and see what Mayor Joseph's evilness can offer you.
---
Entertainment & Value:

8.25
How Did We Get This Score?

Haunted Town Hall general price for a child (13 & under) is $8.00 and an adult (13 & over) is $10.00. This still to us is hard to believe as they are still one of the cheaper haunts around. However, if you want a great deal you should take advantage of the combos. The combos include The Haunted Town Hall and the Containment Escape room at $13.00 for a child and $15.00 for an adult. Fast passes for every age are $20 for just the Haunted Town Hall. For $25.00 you get the best deal by being able to Fast Pass the Haunted Town Hall and the Containment Escape Room. On the night we went, we got there a little after opening and there was a long line, so take advantage of those Fast Passes at that price.
It took our group about 20 minutes to get through the haunt and this may vary based on your experience. If you pay the basic admission for the haunt only of $10.00, you are getting 2 minutes of Mayor Joseph's evilness for every $1.00 you spend. That is a great price.
If you have a large group of 20 or more people, they offer group pricing at $8.00 per person. However, to get this price you need to contact the haunt first and speak to someone.
On-site they offer Containment, which is a five-minute escape room. You are immersed into HTH Industries. This is a nuclear reactor facility in the middle of its lockdown protocol. You have 5 minutes to get the hell out of dodge. If you would like to try and get it out this attraction is $7.00 by itself or is apart of many of the combo pricing listed above.
They offer concessions stands on most nights with your basic snack foods. On certain Saturdays during operation season they have food trucks available. I mean, how can you go wrong with $2 tacos while you wait in line? There is merchandising available on-site, as well. Get a cool sticker for your water bottle, contacts for your costume or some cool gear to wear.
---
How Did We Get These Scores

Promo Images:
Click to Enlarge
---
Guest ReviewsGuest Average: 9.67 out of 10
sarah – 10/10 – September 28, 2019The Haunted town hall is a very family friendly place with tons of things hidden and i personally …show more love going here because they always catch you off guard!!
Josh – 10/10 – October 6, 2018Great haunt, worth more them $10 !! Will be returning next year !!!
Niki – 9/10 – October 14, 2014It was indoors! So many rooms, so many scares! We loved it!
---
Past Awards
---
2020 Awards
Best Costume - Razor (Given by: Team Mysterious Misery)
Best Theme (Given by: Team Mysterious Misery)
---