Enter the following:
Haunted Town Hall – Full Review
Haunted Town Hall is a Haunted Attraction located in Lafayette, OH.
103 S High Street, Lafayette, OH 45854View All Details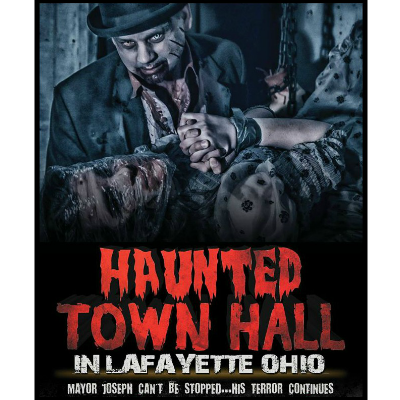 Features:

Free Parking, Restrooms/Porta Potties On-Site, Gift Shop/Souvenirs, You will NOT be touched, Original Characters, Covered Outdoor Waiting Line, All-Indoor Attraction, Family Friendly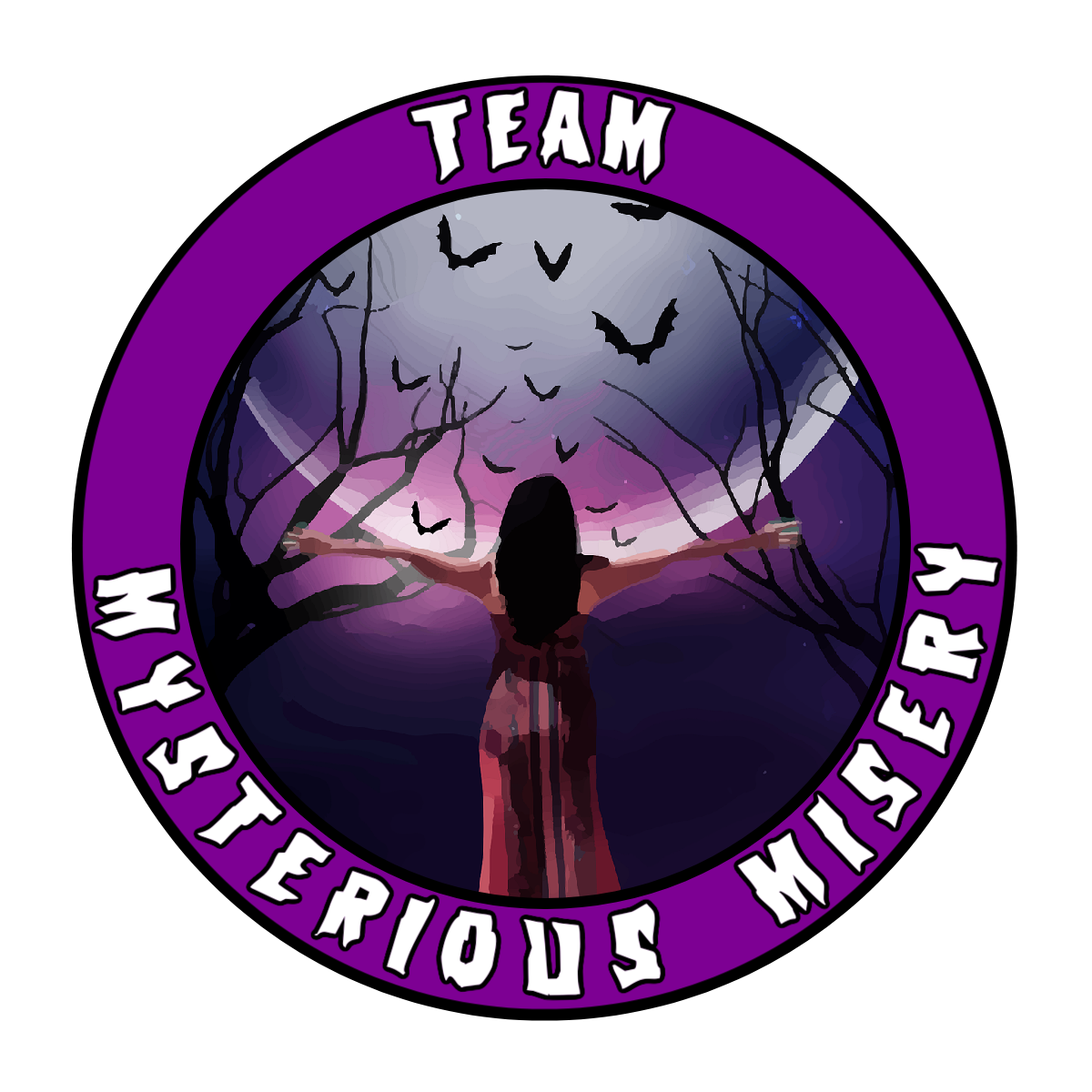 This attraction was reviewed on October 2, 2021 by Team Mysterious Misery.
How Do We Get These Scores?

Final Score:

8.17
How Did We Get This Score?

Summary:
Haunted Town is celebrating its 10th year in the haunt industry. That is a task that doesn't come easy. We would like to start by Congratulating Ned, Dave, and their team on this accomplishment. Life decided to happen, but they did not let that scare them away from the task at hand. Instead, they grabbed it by the horns and gave it so much hell.
This haunt offers an amazing price paired with an electric cast. Haunted Town Hall is one you want to celebrate with it. The terror that Mayor Joseph has set free is unleashing all the evilness in Lafayette, Ohio. Can you make it through the area without any punishment?
---
Cast: 7.94
How Did We Get This Score?

Twenty-eight plus actors bring terrifying delight every haunt night. The day we decided to give the haunt a try there were twenty-eight scheduled to pack in every scream they could get from patrons. These twenty-eight moves around like silent ninjas moving into all the best places and providing in your face scares over and over again. With this ability they make their team seems like there is a large amount of them and they also keep dead zones to a minimum (that is no favor for those who need a break). The twenty-eight did a great job at keeping patrons on track and not loosing any guest all the while being terrifyingly amazing.
No cast member ever broke character or was out of place. This is a great thing for patrons because you mind will never need to say why is that doctor in a swamp area. This helps in keeping the scenes believable and enhancing the visuals. The cast being in character keeps the storytelling of the haunt on track and leaves no room for guessing. Some characters will be low and creepy where others tower over you and make you feel small. Each character was ready to incite fear and torment each person in your group, whether you were ready or not.
The cast has always been good at keeping their speech to match the theme of their scenes and fir its10th anniversary do not expect anything different. They are better than the normal 'Boos' and 'I got you' This cast is quick on its feet and can banter with the best of them. The tormented dentist can keep up his dialogue while continuing to rip parts out of a patient and never miss a beat. Then there is BoBo; he has been with the haunt for a long time and is one I look forward to seeing his scene. He always remembers me and can incorporate it in his scene.
I can not forget fast talking, Tracy. Everyone comes in to contact with Tracy as she is the front of the house spotlight. She is a great storyteller and really sets the scenes and does it with speed and accuracy. The night we attended she was giving the crow a PSA on why flipflops and crocs are not wise choices at a haunt.
---
Costuming: 8.08
How Did We Get This Score?

Masks are used at the Haunted Town Hall but used efficiently and correctly. Shocking reviewer news, one of my favorite characters wears a mask at this haunt! This character moves stealth-like in the dark and then quickly leans over into your personal space. This is where you can enjoy Razor and all the details of his properly fitted mask and costume (or not because you may be running like your ass is on fire). I appreciate seeing no skin behind the mask with blacked-out eyes. Some other patrons probably don't notice because the terror is too real.
If the cast is not wearing a mask, they are rocking the look placed by a skilled makeup artist. Ned and two other makeup artists use their skill set to complete characters on every opening night. The completed makeup is well thought out based on the character and their scene to help enhance the storyline.
One thing I would love to see is the characters that are in your personal space be enhanced so that if you aren't running like hell, you can enjoy all the details of a skilled makeup artist. The characters are all well thought out and placed in scenes that match.
Their costumes fit well with the person wearing them which makes each more realistic. They were also incorporated in unique ways that you could hardly tell they were there.
---
Customer Service: 8.26
How Did We Get This Score?

For ten years this team has kept the Haunted Town Hall running efficiently and safely. Just add this year as another successful year. There is a plethora of information about the Haunted Town Hall that can be found on their Facebook page or on their website above.
For your visit to Haunted Town Hall, it is recommended to go to the website and buy your tickets online due to the limited number sold. If you want to go on a whim there is still a ticket booth (white trailer on the side of the haunt) where you can purchase in-person.
Our GPS has been flawless at getting us to these attractions if you plug in the correct address. You can get that address from any of the information sites, including this one! The lights and huge crowd will gain your attention as you get close, this is a haunt that is hiding.
The traffic on haunt nights is busy around the haunt due to normal traffic, haunt traffic, and people looking for places to park. Parking can be tricky at times due to the awesome location of this haunt. Once you arrive you can enter the covered queue line based on what ticket you purchased.
Haunted Town Hall has gotten the green light from the state fire marshal, inspectors, and many others on their safety plans. I would say this haunt is not handicap accessible and includes stairs and tight passageways. On the night we attended, there were sheriffs in place to help with people in the streets but in case there would be an emergency they are ready. If you have any questions, there are lots of staff roaming around. Open your pie hole if there is a question or concern and all of the knowledgeable and friendly staff will help you.
They have lots of great merchandise to purchase when you exit the haunt so look over there and you will be surprised at what you find. Make sure you bring your smart choices to this haunt, the stupid choices could cost you…
To celebrate their 10th year they have added the Speakeasy 5-minute Escape Room straight from the twisted minds of Ned and Dave. What we noticed is many younger adults did not know what a Speakeasy was. Well here you go, here's your knowledge of the day: A speakeasy is an illicit establishment that sells alcoholic beverages. Speakeasy bars came into prominence in the United States during the Prohibition era. Try your luck and see if you can get out of Mayor Joseph's speakeasy before the cops seize the facility.
---
Atmosphere: 8.42
How Did We Get This Score?

October nights are always beautiful night skies with perfect moons to see the tormented souls in the air. The night we decided to brave Mayor Joseph was no different. The drive in brings you past a sobering graveyard on a two-lane road. You will see the glowing lights and the crowds of people. In your head, you will probably think what the hell happened here. Then you will quickly see the two-story brick building that was built in 1899 in all its glory. As you search for parking you may see the old statute and flag post at the end of the street validating the originality of the building.
Once you find your spot and walk towards the building, the screams of patrons start to hit close to home. They will be loud screams of people begging to make it out alive. You never know what creature, that the Mayor created, will be outside looking for frightful pleasure as you wait to enter. When you get to the large white door with the single red bulb the storyteller will set the presidents of the night and all the haunted house vibes will start to warm your body.
---
Special Effects:

8.06
How Did We Get This Score?

Haunted Town Hall has a blackout maze that is the most twisted Alice In Wonderland shit I have ever been a part of. It has been here for years and every year when I reach the beginning, I take a deep breath and enter. However, this year I got the enjoyment of leading the group. What I wasn't aware of is the shocking surprise you get when you must touch the walls in a blacked-out area.
Drop panels create a sound that startles me most of the time due to their sheer loudness. At a previous haunt that used none, I was like a drop panel would be great. Then I entered the Haunted Town Hall with their plethora of drop panels that kept me hopping all night. When you least expect one, it will probably get a good jump out of someone in your group too.
Detailed scenes that are thought and planned for keep the flow and the storytelling in place. The details quickly help you gather your thoughts to wrap your mind around your new location. Each new location deploys an arsenal of things to assault your senses. The lighting in the scenes and on props with perfect timing helps to create a scare. In some places, there is a lack of lighting that still succeeds.
Sounds and Smells. This is one haunt that utilizes smells, and, in some places, you don't know what is worse the desire to haul ass or to upchuck on the floor. Sounds are used effectively as well to either create the screen or scare the piss out of you when you had no idea it was around. Shock pads, moving headstones, and textured walls are just some of the things Mayor Joseph wants you to enjoy.
At some point someone in your group will be in tap-out mode, hell it could be you. If you are not dragging someone to the exit, remember that Buffalo Springfield song where the lyrics say "Hey, what's that sound? Everybody look, what's going down?" Remember to look down and up as something strange is happening all around you while you try to exit Mayor Joseph's torment.
---
Theme:

8.25
How Did We Get This Score?

In the ten years of the Haunted Town Hall they have continually used the same theme and have expanded upon it year after year. This helps the haunt become cohesive and gives them an iconic character in Mayor Joseph.
If you want to know the whole story while you are making your journey there or beforehand go to http://hauntedtownhall.com/index.php/the-story/ and it will give you the complete story.
The basis is Henry Joseph entered the Town Hall as the new mayor but a good and righteous man whose sole intention was to leave the community a better place for his family. (That's what most politicians think when they take office). The sickness that hid behind the doors of the Town Hall thought otherwise. The sickness came out to play and corrupted him. Residents speculated that the Mayor was involved in something 'dark' and that he had become mentally unstable during his time as Mayor. Mayor Joseph was found early one morning lying face down on the on High St in a pool of blood. The lingering questions were was is suicide or was he punished? The world may never know but we may get clues from what lurks inside the walls.
However, if you decided just to show up the validity of the space and the building itself will give you clues as what you might expect. When you step into the haunt the storyteller tells you a little about the backstory so that things make sense as you walk through the haunt. As you journey through the haunt you will see most scenes match to the story. The few scenes that do not match perfectly if you use a little imagination, you can create the connection.
---
Scare Factor:

7.98
How Did We Get This Score?

Mayor Joseph's reign has been ten plus year tormenting patrons just like you who show up and think your Billy Bad Ass. The next we see is you running out of the exit frantically holding on to a friend. We entered as a group of three. This is a self-guided tour but timed very well that we did not miss out on anything due to a group in front of us. Each completed scene was ready for us before we even entered. The cast does an amazing job at getting the scares from your group and then double dipping from a hidden area that you don't know about. Characters who want to play fun games with you, remember stupid guesses get stupid prizes, so good luck. Razor towers over you while the floor crawlers stay under you. It is an assault from every direction aimed at every member in your group. Your senses get kicked into over drive as each scene has at least one thing (if not more) to assault them. Special effects from something simple as a shock pad to larger ones like claustrophobic walls provide some kind of scare or enjoyment for each member of your group.
---
Entertainment & Value:

8.51
How Did We Get This Score?

Haunted Town Hall is open for its tenth year. Ten years and they have managed to keep prices reasonable so many patrons can enjoy. Go out and celebrate with the haunt this year I am sure they are looking for a few more souls to fill up the place.
It took our group of four 24 minutes to complete the self-guided haunt. Here comes my disclaimer: this time is not set in stone and will change on group size if you run in terror, hide in a corner, or walk. With that being said, if I pay the general admission price of $12.00 per adult, I am getting 2 minutes of entertainment/scares for every dollar I spend. That is a crazy good deal for this haunt and compared to other haunts in the area.
Children's prices are $10 for the haunt only for children 12 and under making it an even better deal. They have the fast pass option still available at $24.00 per person. If you take that option, you will get one minute for every dollar which is said to be the industry standard. They have combos that include the escape room also at a reasonable rate. If the haunt is not your thing you can do just the escape room as a standalone option for $7.00. They still have the group option, but you need to contact Haunted Town Hall to make those arrangements before purchasing.
---
How Did We Get These Scores

Promo Images:
Click to Enlarge
---
Guest ReviewsGuest Average: 9.67 out of 10
sarah – 10/10 – September 28, 2019The Haunted town hall is a very family friendly place with tons of things hidden and i personally …show more love going here because they always catch you off guard!!
Josh – 10/10 – October 6, 2018Great haunt, worth more them $10 !! Will be returning next year !!!
Niki – 9/10 – October 14, 2014It was indoors! So many rooms, so many scares! We loved it!
---
Past Awards
---
2020 Awards
Best Costume - Razor (Given by: Team Mysterious Misery)
Best Theme (Given by: Team Mysterious Misery)
---