Haunted Town Hall – Full Review
Haunted Town Hall is a Haunted Attraction located in Lafayette, OH.
103 S High Street, Lafayette, OH 45854View All Details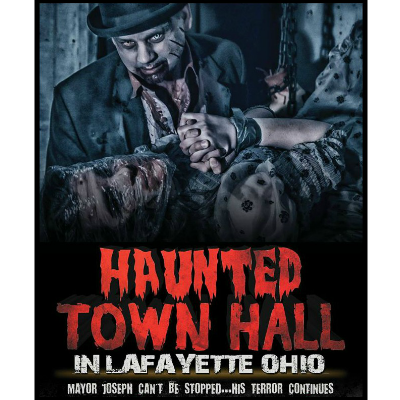 Features:

Free Parking, Restrooms/Porta Potties On-Site, Gift Shop/Souvenirs, You will NOT be touched, Original Characters, Covered Outdoor Waiting Line, All-Indoor Attraction, Family Friendly

Most Recent Video from The Scare Factor:
(Scroll for Scores and Written Review)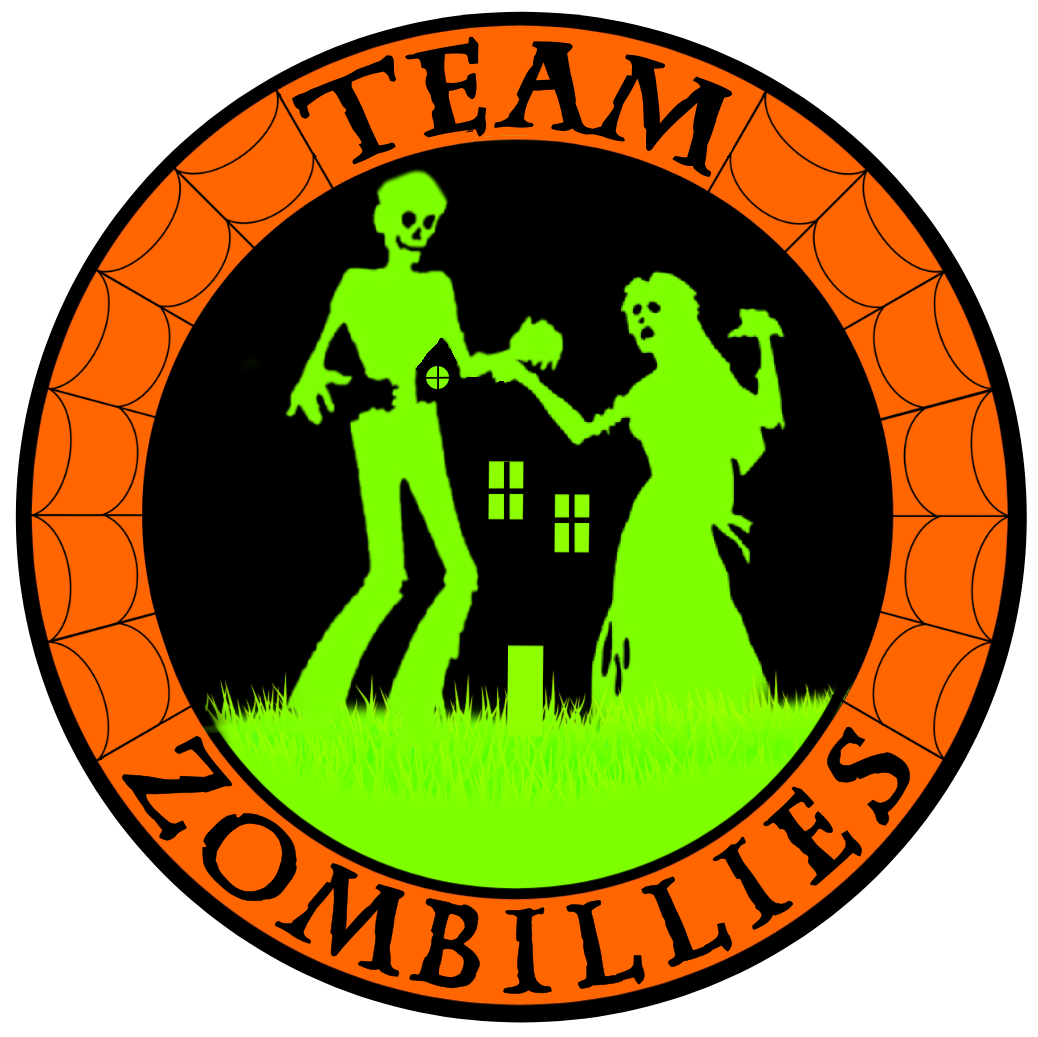 This attraction was reviewed on September 23, 2023 by Team Zombillies.
Co-Reviewed By: Team Mysterious Misery
---
About Our Reviews and Rating System
---
Final Score: 8.06
Final Scores – By Category

Final Scores – By Attraction

Summary:
It was the first night of autumn. Screams pierced the darkened air of Lafayette, Ohio. As we questioned their source, we heard them again, followed by maniacal laughter. The sounds echoed from within the old town hall building's large, looming clock tower.
Locals know it as the creepy town hall, but haunt enthusiasts call it The Haunted Town Hall. And why is it haunted? Rumors say that Mayor Henry Joseph is behind it all, and he can't be stopped!
But one thing is certain: something sinister is lurking within the walls of the eerie brick building. It was our turn to brave the terror and uncover the truth behind the rumors!
---
Cast Score: 8.03
Cast Scores – By Question

Cast Scores – By Attraction

Cast Review:
Both living and undead cast members were evenly spread throughout the attraction. They hid behind walls, in the shadows, and sometimes in plain sight, ready to pick a fight! Many of them worked with their surroundings well. They had impeccable timing, referred to items in their scenes, and showcased energetic performances.
This crew had a way with words. From threats to throw us in a pit, warning assailants of our arrival and a funny "Mama" bit, the cast members kept our adventure exciting and frightening. Several of them reiterated parts of the story or fed off the dialogue of others, which helped to create a more immersive experience. While a few spouted out some generic phrases, such as, "What are you doing here," overall, we were impressed with the quality of the dialogue.
Several entertainers were quick-witted and quickly responded to our verbal interactions. The hillbillies bantered with us seamlessly. After a group of them warned us of the disappearance of Mama (after we said we were looking for her), they directed us to Cletus for more information. When we found Cletus, he already knew what we were asking about and told us a funny story about her. We won't spoil the surprise, but make sure you ask him where she is when you visit the haunted house!
The mohawked clown was also on his toes. As we entered his maze, he greeted us with a playful, "Wanna play a game?" We quickly responded, "Sure, what game?" to which he yelled out, "I'll juggle your eyeballs!" We promptly picked up the pace, as that was not the game we sought. Plus, it seemed like that was only a one-player game.
The new Bookeeper was a creepy entity, warning us and taking down the names of lost souls as we passed through. For those familiar with this attraction, the iconic doctor who has been here for a while has been moved to the front of the house. However, a new doctor is in, and she filled his shoes well! She was the calmest of the bunch, yet she seemed genuinely stressed out in her attempt to put the organs back inside her helpless (hopeless?) patient.
---
Costuming Score: 7.85
Costuming Scores – By Question

Costuming Scores – By Attraction

Costuming Review:
The residents and experiments within donned a variety of costumes and looks, with an emphasis on makeup. From bloody plaid tops to fully dressed freaks, the cast members were transformed into an assortment of creatures that matched the areas we found them in. While we would have liked to see more detail on some of them, the dark corridors made it challenging to get a good look, and they blended in well enough to serve their purpose.
The costumes highlighted the essence of the characters they portrayed. We saw a chilling black and white prison uniform, several sinister clown jumpsuits, bloody makeup, cracks in the skin, a vintage dress, ghoulish greyed-out skin, and hillbilly looks complete with coonskin caps and weapons.
The doctor was the best-looking resident we encountered. She was in full costume with a long lab coat, sinister makeup, colored contacts, and razor-sharp teeth. The Bookkeeper looked intimidating, towering high above us on stilts with a long black cloaked robe. However, it needed repair on one of the shoulders. The clown in the sparking cage also wore a detailed costume.
---
Customer Service Score: 9.06
Customer Service Scores – By Question

Customer Service Scores – By Attraction

Customer Service Review:
At night, if you look for the building with the red light and white front door in this small Ohio town, you've likely found the Town Hall. Although they don't have a designated parking lot, street parking can be found all around the building.
We always park behind the building, so the first thing we see is the merch shop, but the ticket booth is on the other side of the building. So, if you're facing the front, you can purchase tickets to the ride-hand side of the structure. A well-built temporary tent covered the main waiting line in case of inclement weather.
The staff members that we encountered were friendly and helpful. They were happy to answer any questions we had and made sure we were there long enough to see all of the festivities.
This is a two-story building where you must navigate multiple steps of stairs, making it not* wheelchair accessible. There is some intentional uneven flooring and additional steps with rails nearby inside. The attraction's exit takes guests down a fairly steep flight of stairs, so we don't recommend that you come flying out of this one.
Before arriving, we were able to quickly find their pricing, hours, and storyline on their website. They also have other helpful links and an FAQ section that we recommend you check out before visiting.
---
Immersion Score: 8.25
Immersion Scores – By Question

Immersion Scores – By Attraction

Immersion Review:
The ominous red glowing building immediately caught our attention. As we stared up at it, bats circled the old clock tower, giving it that extra creepy vibe. This is an authentic Town Hall building, but the Grim Reaper statue out front let us know that it was no longer in use, at least not for what it was originally intended for.
Other than the menacing building, there wasn't much going on outside. It is in the middle of a small town, and we were informed that making a lot of noise is frowned upon.
Inside was an entirely darkened environment where the walls and floors conspired to transport us into a manic world. Other than a few barren walls here and there, it was encompassing. The inaugural tale narrated at the commencement of this year's journey exhibited a marked improvement in its overall construction. As we journeyed through, we saw notations of this storyline that helped bring it to life. Although it is a crazy and convoluted one, it mostly worked.
Rumor has it Mayor Joseph came into town to become a mayor. In his time, he saw many drunks around the city. He wanted to clean it up, so he started arresting them, confining them to the Town Hall's cells. Well, eventually, he was packing them in. Realizing this, he went rogue and started killing them off. Then, realizing he could make money from them, he opened the Speakeasy (escape room). After that, they continued to be too much for him to handle, so he hired local hillbillies to help him. Now, this is where things really fly off the handle.
The hillbillies made a pact with a vampire doctor who was experimenting with heroin. In time, they started having a falling out with the vampire, ultimately deciding the latter's fate with a sun tan. We all know what happens to vampires when you take them out in the shiny sun, right?
As they say, the devil is in the details. We can assure you there's a charred vampire, dead folks, and many body parts behind those walls. However, there are some differences between the story online and the story told before entering. All we know is that there were hillbillies, there was a crazed doctor, there were common areas to the building, and then, there were clowns…
---
Special FX Score: 8.2
Special FX Scores – By Question

Special FX Scores – By Attraction

Special FX Review:
A large variety of effects filled this building, from floor to ceiling. They were realistic and placed effectively.
The creepy corridors were filled with overgrowth, invasions, and death. The lighting was eerie and atmospheric, highlighting spider webs hanging from the ceiling and moving bookshelves lining the walls. Large biting creatures would emerge from the walls at ankle level, and a large pit in the floor made walking around without paying attention impossible. Even a burning body looked charred and smelled like it, too!
For such a small building, there was so much to experience inside! A creepy stairwell showcased the shadow of an encaged corpse on the wall and served as a creepy transition. An eerie eyeball projection appeared on another wall, and an upside-down room disoriented us. Were we upside down, or was it upside down?
Unique smells and scents filled the air. Poppers, a video screen, a haunted cemetery, and simulated lightning added to the chaotic atmosphere. We had to open a few doors, make our way around things (not just through the middle of scenes), and navigate a very interesting off-camber passage through the dark! We also had to dodge body parts – lots of realistic and freshly dismantled body parts!
The sounds were primarily low in volume, resulting in sound bleed from other rooms at times. An old phonograph playing music caught our attention, as well as a bluegrass tune and effective whispers in the dark.
---
Scare Factor Score: 7.79
Scare Factor Scores – By Question

Scare Factor Scores – By Attraction

Scare Factor Review:
Amidst the surreal setting, unsettling and enigmatic entities waited in the shadows, accompanied by jarring sounds and unexpected jolts. We didn't know when or where something, or someone, would strike! This kept the haunt unpredictable, which elicited screams from our resident scaredy cat of the group.
Jump scares came in the fashion of quick reveals, mostly from behind walls. They weren't always humanistic, either. We were also attacked by things that go bump in the night, howl at the moon, or rise from graves. Loud poppers made several of us get air, and a creepy red tunnel cleverly hid anything outside the light.
Big scares come in small packages. Not only is this building creepy in its own right, but it also throws many different types of scares at guests, including a chainsaw chase, intimidation, disorientation, gore, spiders, clowns, heights, confined spaces, and more. One of the nastiest scares was, by far, the body that was completely split open with bloody entrails sprawled out everywhere. But that's not the craziest part; their heart was still beating in their lifeless body!
There's a scare in there guaranteed to get anyone in the cemetery. Their claustrophobic tunnel is also super tight and will make nearly anyone uncomfortable. In the dark, beware of what you touch or what may touch you.
Although the finale of the haunt is different from the rest, it has been used for several years. However, with this building's layout, it's tricky to have a super frightening finale here due to the stairs directly after the last room. We would love to see something that wraps up the story here, perhaps confirming, once and for all, whether the rumors are true.
---
Entertainment & Value Score: 7.67
E&V Scores – By Question

E&V Scores – By Attraction

E&V Review:
Our screaming good time lasted about 14 minutes. General admission tickets are $15. At this rate, the MPD (minutes of entertainment received per dollar spent) is 0.93. Although this is on the lower side, the entertainment inside was mostly nonstop. We were delighted with our journey and would not hesitate to visit them when we're in the area.
On busy nights, Fast Passes can be purchased for $30.00. If you can, it's better to stick with the general admission pricing, but if you're in a hurry and the lines are super long, we get it. We would like to note here that a group purchased Fast Pass tickets online on the night of our visit. There was hardly a line when they showed up, and we watched management fix them up with general admission instead. Not all places will do something like that, and we commend them for doing so!
In addition to the haunt itself, we didn't notice any additional entertainment outside or during our wait other than one actor who came out to interact briefly. Right before we left, the Columbus Ghostbusters pulled up to exterminate some ghosts, putting on quite the show before we entered.
There is a gift shop right at the exit of the haunt. For those who want to try their luck at an escape room, the Speakeasy is a 5-minute game for an additional $7. It is difficult, and we recommend trying it; good luck! Concessions can be found at the ticket booth.
We had a blast making our way through this haunting adventure and digging into the secrets of Mayor Joseph. Now it's YOUR turn to brave the terrors and uncover the truth behind the rumors. Dare you enter?
---
View Full Score Sheet
---
Pics We Took From Our Visit:
---
Promo Images:
Click to Enlarge
---
Guest ReviewsGuest Average: 9.67 out of 10
sarah – 10/10 – September 28, 2019The Haunted town hall is a very family friendly place with tons of things hidden and i personally …show more love going here because they always catch you off guard!!
Josh – 10/10 – October 6, 2018Great haunt, worth more them $10 !! Will be returning next year !!!
Niki – 9/10 – October 14, 2014It was indoors! So many rooms, so many scares! We loved it!
---
Past Awards
---
2020 Awards
Best Costume - Razor (Given by: Team Mysterious Misery)
Best Theme (Given by: Team Mysterious Misery)
---
---
Past Awards
---
2020 Awards
Best Costume - Razor (Given by: Team Mysterious Misery)
Best Theme (Given by: Team Mysterious Misery)
---
Join ourspookyadventures!
We visit Halloween haunted attractions year-round! Follow us for haunted house walkthrough videos, behind the scenes footage, and more!