Review of Headless Horseman Hayrides and Haunted Houses Haunted Attraction
Review of Headless Horseman Hayrides and Haunted Houses Haunted Attraction
Review of Headless Horseman Hayrides and Haunted Houses Haunted Attraction
Headless Horseman Hayrides and Haunted Houses – Full Review
Headless Horseman Hayrides and Haunted Houses is a Haunted Attraction located in Ulster Park, NY.
778 Broadway, Ulster Park, NY 12487View All Details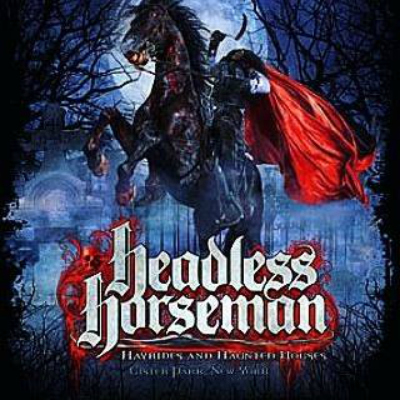 Features:

Free Parking, Food/Concessions, Gift Shop/Souvenirs, Optional Games/Midway, Special Events, "Hi-Tech" Attraction, Uncovered Outdoor Waiting Line, Indoor/Outdoor Attraction

Team Scare Response Unit reviewed this attraction on October 2, 2016.
Final Score:

8.95
Summary:
Forget what you know about Mr. Ichabod Crane and his encounters with the cranium-lacking stallion rider. Up in Ulster County, NY, there is a haunt that adds chapters to the tale of The Headless Horseman each year… building on the base premise and supplying visitors to this realm with an urban legend that is constantly evolving. Come visit this quaint little village with shops, souvenirs and sadistic maniacs. Come hear and watch the story of Mae and Claudia, the Horseman's daughters, and what tortures they had to overcome in their ascent from cursed childhood to dominion over the worlds of the mythological and the undead (check out their website for the full story). Then hop from hotel, to diner, to cornmaze, to sideshow, to biological contamination to' magic? Sure, why not? You'll need something to take your mind off the terrors' if you manage to escape them.
---
Cast:

8.9
Be careful of the creeps at this haunt; some of them seem friendly and pretty good-natured, but that's just them waiting for you to let your guard down. Don't believe me? Just ask the cute clown girl who is more than happy to take you home with her' or the host of Two Raven Manor; he is just dying to have you for dinner. The cast here is very interactive and they stay in character no matter what their victims may say. There are a few moments in the hayride where the audio forces the actors to be a bit rigid, but other than that, they are very fluid in their scares and are willing to improvise if they find a good opportunity to do so.
---
Costuming:

8.6
From simple cloaks and masks to detailed makeup jobs, this haunt incorporates different types of costume ideas throughout their many themed rooms and areas. With 9 different mini-haunts set in their one overall attraction, each one houses characters that are believable to their territory. That is, albeit one interesting combination choice, which you come across during the hayride through the orphanage where the two sisters stayed. I won't give it away here because I know I got a good laugh at just how random it was, but it did feel a little out of place. Other than that though, all the outfits and makeup were spot-on and very fitting into their rooms.
---
Customer Service:

8
We arrived just as they opened, so we didn't have a line to wait in to see if there was any line entertainment. But, in the Midway (or what I call 'The Village'), there are performers with props and even live spiders to keep guests entertained… or creeped out. Since the haunt is indoors/outdoors, there is the risk of damp or wet ground after a light rain. But, if the weather becomes severe, they close the haunt down and encourage any guests who had tickets for that night to contact them. The staff is polite and helpful here and, if you have anyone in your group who cannot (or just will not) go into the haunt, they are welcome to stay in the Midway to enjoy some pumpkin pie, shopping or a magic show.
---
Atmosphere:

9.2
This is one of the few occasions where the atmosphere before the haunt is not exactly creepy or foreboding, but it works out for the better. It is obvious you are at a haunt by the entrance and two small sets that they have as soon as you enter. But, when you come in, you are immediately in the Midway, which is a bunch of shops, a magic show stage and even a children's area. It's not until you get on the hayride and are taken into the heart of darkness that you realize what you signed up for. A storyteller aboard the hayride recites the tale of the horseman's daughters, their mother's deal with the devil, his betrayal and the daughters' plan. All the while, the story unfolds all around you with actors coming out of (sometimes literally) the woodwork, portraying what the storyteller says. This creates a great atmosphere of suspense and literally puts you into the story as you eventually escape the horseman himself.
---
Special Effects:

9.6
If you want special effects in your haunt, Headless Horseman is one of the best haunts to go to. At least that I have seen. Do you like fire? They have pyrotechnics. Do you like magic? Well… guess what, Harry Potter… they've got it here. Do you want The Great Pumpkin to get up and do squats in front of you? Well, alright… that's a bit weird; but guess what, he's here and he does! It's not just the big stuff that captures your attention, either; the amount of detail put into each of their areas is nicely done. Even the sets during the hayride seem like they are put together painstakingly-well, inside and out… even if you only see it for a few seconds as you ride by. There were some houses that I craned my neck to look into as we passed and there were no empty spaces… no voids; everything had props, design, animatronics, dolls… something. There was stuff in my face with realistic-looking bees dangling at the end of them, which made one girl actually scream out, 'Oh my GOD! Are these real?!? Ewww!!' Though I will admit, I was a little disappointed when there was no Nicholas Cage wannabe with a cage full of bees on his head screaming, 'Not the bees!' But, it's ok… no points deducted for that.
---
Theme:

9.2
One ticket price, 9 different haunts all in one place and each one stuck to its theme very well. There may have been a few, as the kids put it, 'wtf' moments in some of the haunts… but overall, if the theme was the story of the horseman, then that's what you got. If the theme was a circus of DOOM, then you got clowns and sideshow animatronics. Some of them, like 'The Feeding,' had mini backstories that they informed you about over a looped recording that played while you waited in line to get into it. The level of depth they went into with their themes and stories was very nicely done.
---
Fright Effect:

8.4
When it came to the hayride, if you were sitting on the inside of the cart, then the scares were not as effective. Although, I think we were just unlucky since it was just our small group of 3 that got put on the inside. Other than that, however, scares were provided to each member of the group as you walk through the many different mini-haunts. There was a good use of distractions to keep the party looking one way while someone prepared a scare on the other side. There was a small sense of predictability to some of the scares, but they did their best to keep you on your toes. Unfortunately, we could see guests missing out on the last haunt of the attraction… given that the 8th haunt ends with a chainsaw chasing you into the Midway (where you might believe you've reached the end of the attraction). This 'false finale' and the temptation of food and souvenirs could cause the real finale to be missed… and that's a little upsetting.
---
Value:

9.7
Headless Horseman is more than just a haunt; it's an experience. It's something you can make a night out of. Before you go inside, you can grab a quick bite to eat like a burger or hot dog from one of their stands, then enjoy the hour-long tour, then grab yourself a slice of pumpkin pie and some apple cider while you take in a magic show. You get a hayride, a cornmaze, some great special effects and some great actors. There aren't just haunt souvenirs, but Fall and Halloween decorations and various knick-knacks. Finally, they have a lot of space to play with and they make very good use of it all.
---
Promo Images:
Click to Enlarge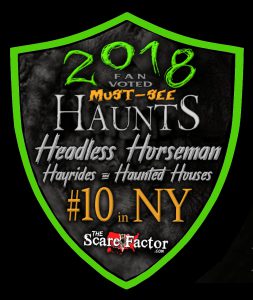 ---
Guest ReviewsGuest Average: 6 out of 10
Tyler Brown – 6/10 – October 15, 2016My brothers and I went here 2 years ago and we were very disappointed by it I mean the themeing and …show more the hayride was great but it wasn't scary.The spacing was terrible you be in a line of people walking through the haunted houses and attraction and that mean you see other people getting scared so you know what coming or the actors just focus on the front and the back of the lines. If they could fix the spacing issue I think it be a great haunt I like to fill like it just are group walking through the terrifying experience