Headless Horseman Hayrides and Haunted Houses – Full Review
Headless Horseman Hayrides and Haunted Houses is a Haunted Attraction located in Ulster Park, NY.
778 Broadway, Ulster Park, NY 12487View All Details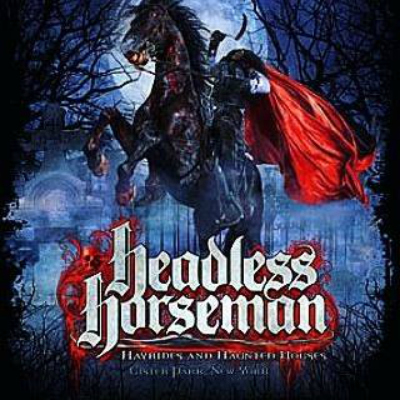 Features:

Free Parking, Food/Concessions, Gift Shop/Souvenirs, Optional Games/Midway, Special Events, "Hi-Tech" Attraction, Uncovered Outdoor Waiting Line, Indoor/Outdoor Attraction

Team Scare Response Unit reviewed this attraction on October 14, 2017.
Final Score:

8.74
Summary:
25 years ago, a sinister spirit was summoned from the depths of hell, and he rode forth to slay his way into our hearts. Headless Horseman up in Ulster Park, New York is spending 2017 ringing in its 25th year, and guests are invited to partake in a trip down memory lane on its hayride, reminiscing of fonder times, including killer cults of children, devilish daughters of death, and more. With a hayride, and 8 mini-haunts all linked together, strap in for over an hour of screams and laughs.
---
Cast:

8.4
With a hayride that retold the tales of Horseman's past themes, as well as multiple different themed mini-houses, the cast varied in both their personalities and their roles. There were decoys, distractions, main scares, subtle scares, a little of everything, and each of them fulfilling their role nicely. The hayride relies on short scenarios, so dialogue is used extensively during the first part of this haunt. After the hayride, the scaractors up the interactivity with guests, engaging in some comedic banter, or sneaking into the group to scare unknowing guests who think their friend is still behind them. The only downside is the number of scaractors. There were many lulls in scares, and obvious hidey-holes where scaractors should be but were not.
---
Costuming:

8.96
From creepy coffin makers, to cannibalistic cooks, and of course killer clowns, the costumes used here are all complete and believable. Mostly every costume fit the theme of where they were located, and was appropriate for the scaractor wearing it. The makeup was great and realistic, the masks fit the rest of the costume nicely, and overall everything just worked. One laughing inmate had a Slipknot-esque mask that fit his disturbing laughter, and of course the Headless Horseman himself made appearances, with his oversized shoulders. Headless costumes always make me laugh.
---
Customer Service:

7.88
There may not be many road signs directing guests to the haunt, but once you are there a big sign greets you, along with a very ominous house all decked out in spooky attire. Staff helps guide cars into parking spots, and to tickets booths. Most of the staff here is friendly and helpful, making small-talk with guests and joking around. There is nothing really dangerous about this haunt, though you may get some hay in your pants. There were a few roaming scaractors entertaining the line, including a very stealthy little girl, and a guy who would eat maggots for $1, but would make it sexy for $5. Needless to say, we made him do it sexy. I won't ever think of 'Careless Whisper' the same way.
---
Atmosphere:

8
Upon arriving you see a big house, all covered in decorations, looking like something out of a horror movie. Music is played at certain areas of the midway, but it is mostly radio hits rather than Halloween music or eerie sounds. Roaming scaractors and an animatronic Horseman on his horse entertain guests, as well as a magic show. So the atmosphere is a mix of fright and fairground. Gift shops and food stands take up more space than spooky sets, so it is possible to forget that you are at a haunt.
---
Special Effects:

9.22
The special effects used here are great. Pyrotechnics, fog effects, bungies and zip lines, these aren't your everyday sfx. Ranging from small animatronics to giant pumpkin king, the moving parts all looked amazing. Visually and audibly the scenes were detailed and well done. The boat area was dark and depressing, in a good way. The hotel was grungy and disgusting, in a good way. And this was our first encounter of what someone had told us was called the 'laser swamp,' so we were very captivated by this new effect, though we hear it is the newest big trend.
---
Theme:

N/A
Each individual area has its own small theme, though there is no overlapping theme that connects it all. The hayrides theme was 25 years of fear, with nods to multiple past themes. Each of the mini-haunts had their own theme, ranging from a hotel, to a diner, to a greenery with a bee shed.
---
Fright Effect:

8.72
A lot of misdirection is employed to keep guests caught off guard. Decoys and distractions are used a few times in each section. Scares come from left, right, in front, behind, and even above! Most of the scaractors would focus on the visibly nervous guests, causing for fun reactions when your friend goes to grab your arm, only to realize they grabbed a bloody psychopath that snuck into your spot.
---
Value:

10
The $50 ticket price may seem a bit steep, but you get well over an hour worth of haunt time. You get a well put together hayride, and about 8 linked together haunts, as your main attractions, as well as a magic show and a handful of shops to spend your time and money in. Edibles range from donuts to brisket if you get hungry too, so that's a nice variety to refuel on, once you burn all that energy off by running for your life.
---
Promo Images:
Click to Enlarge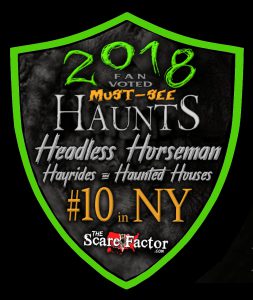 ---
Guest ReviewsGuest Average: 4 out of 10
Tyler Brown – 6/10 – October 15, 2016My brothers and I went here 2 years ago and we were very disappointed by it I mean the themeing and …show more the hayride was great but it wasn't scary.The spacing was terrible you be in a line of people walking through the haunted houses and attraction and that mean you see other people getting scared so you know what coming or the actors just focus on the front and the back of the lines. If they could fix the spacing issue I think it be a great haunt I like to fill like it just are group walking through the terrifying experience
Christina – 2/10 – October 27, 2023Waste of time and money! Security was very rude. The tickets were expensive and the attractions …show more weren't even scary.